Teleradiology Services Market
Teleradiology Services Market (Type of Service: General Reporting, Consultation, Auditing, and Others; Modality: X-Ray, Ultrasound, Computer Tomography [CT], Magnetic Resonance Imaging [MRI], Nuclear Imaging, and Others; Coverage: Day Time Coverage and After Hours/Night Time Coverage; Specialty: Cardiology, Neurology, Oncology, Musculoskeletal, Gastroenterology, and Others; and End User: Hospitals, Diagnostic Imaging Centers, Ambulatory Surgical Centers, Clinics, and Others) - Global Industry Analysis, Size, Share, Growth, Trends, and Forecast, 2021-2031
Category :

Healthcare

Format :
Disproportionate Number of Radiologists in India Creates Training Scope amid COVID-19 Pandemic
Since the world is dealing with the COVID-19 pandemic, stakeholders in the teleradiology services market are increasing the availability of their products and services. In the emergency setting, teleradiology ensures that when a scan is conducted, it can be reported immediately and treatment decisions can be taken in real-time. However, the disproportionate number of radiologists in metro cities of India, and an even worse number in tier-2 cities, is emerging as a hurdle for market growth during the ongoing pandemic.
Due to this disproportionate number, companies in the India teleradiology services market should capitalize on this opportunity to provide training to medical students for increasing the availability of radiologists in tier-2 cities of India. Other developing economies such as Africa, Latin America, and the Middle East also hold lucrative business expansion opportunities.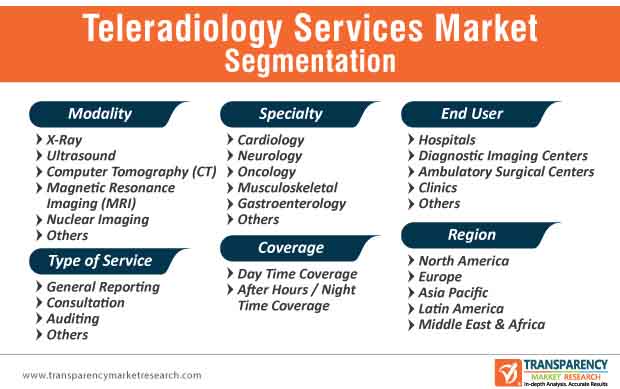 Request a sample to get extensive insights into the Teleradiology Services Market
Virtual Workplaces Help Group Radiology Departments, Overcome Implementation Challenges
The teleradiology services market is expected to cross the value of US$ 19.7 Bn by 2031. However, obstacles in the implementation of teleradiology involves issues in network connectivity, stringent regulations, and need for manpower. A poor network infrastructure creates hurdles in the recall of data from web-based server, while licensing & complicated patient cases affect services and medical outcomes. There is a need to invest in medical infrastructure to overcome implementation hurdles.
On the other hand, advantages such as developing virtual workplaces to group all radiology departments in different cities of countries are assisting stakeholders in the market to expand their revenue streams.
To understand how our report can bring difference to your business strategy, Ask for a brochure
Partnerships Help Support Out-of-hours Reporting Services with Dual-qualified Radiologists
Companies in the teleradiology services market are setting their collaboration wheels in motion to improve patient quality of life. Integral Diagnostics - a provider of medical imaging services in Australia and Medica Group - a teleradiology services provider in the U.K., are partnering to provide teleradiology reporting services in New Zealand and the U.K. This is evident since general reporting is predicted to dictate the highest revenue share among all types of services, and the domain is anticipated to grow exponentially during the assessment period.
Stakeholders in the teleradiology services market are increasing their focus on short-term goals such as providing access to a pool of dual-qualified radiologists who are capable of supporting acute out-of-hours reporting services.
Development of Medical Imaging Software Paves Way for Healthcare Digitalization Projects
The U.S. and Europe hold lucrative growth opportunities for stakeholders in the teleradiology services market, as this technology is being exploited as a modern method to diagnose diseases. This explains why the market is estimated to clock a robust CAGR of ~11% during the forecast period. With the onset of the coronavirus pandemic, online counselling has gained impetus and is paving the future of healthcare services.
The proliferation of telemedicine is creating revenue opportunities for companies in the teleradiology services market. However, digitization in medicine is surging at a relatively slow pace. This is when healthcare software companies including Andersen are stepping in to engage in medical imaging software development for surgery assistance and other healthcare digitalization projects.
Speedy Teleconsultations, MRI Services Create Business Opportunities for Service Providers
Teleradiology has been at the forefront of telemedicine since its inception. Companies in the teleradiology services market are establishing stable revenue streams with the successful analysis of an MRI (Magnetic resonance imaging) image. Even analysts at Transparency Market Research (TMR) opine that MRI is estimated to dominate the highest revenue share among all modalities in the teleradiology services market.
Successful use of teleradiology is being witnessed in a small Belgian hospital that conducts several thousand teleconsultations a year, while efficiently recording its surgical operations and conferences. Archiving information has been helpful in reducing the time physicians spend on consultations and training sessions.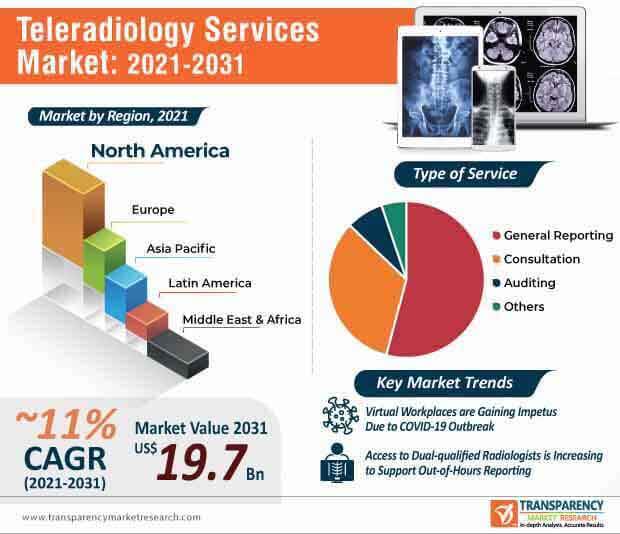 Stuck in a neck-to-neck competition with other brands? Request a custom report on Teleradiology Services Market
Analysts' Viewpoint

In an environment such as in Maharashtra, India, where the COVID-19 pandemic has triggered the demand for an increasing number of chest X-rays and CT scans, teleradiology has emerged as a valuable tool. Teleradiology services are being outsourced by many service providers to support overworked radiologists at busy urban hospitals. However, several healthcare facilities are relatively slow in adoption of new technology, including teleradiology, and facing implementation challenges. Hence, companies in the teleradiology services market should set up virtual workplaces and offer training programs to healthcare professionals to increase the availability of dual-qualified radiologists that are fast in adoption of teleradiology and teleconsultations.
Teleradiology Services Market: Overview
According to Transparency Market Research's latest report on the global teleradiology services market for the historical year 2017 & 2018 and forecast period 2021–2031, increasing domestic outsourcing of teleradiology services in developed countries and rising demand for precise & accurate diagnosis of radiology procedures such as CT scan & MRI are projected to boost the teleradiology services market during the forecast period
According to the report, the global teleradiology services market was valued over US$ 6.4 Bn in 2020. It is anticipated to expand at a CAGR of ~11% from 2021 to 2031.
Shortage of Radiologists Globally: Key Driver
As per the Association of American Medical Colleges (AAMC), the U.S. is estimated to experience a shortage of up to nearly 122,000 physicians by 2032, as the demand for physicians continues to rise at a rapid pace as compared to supply
The shortage of radiologists is not restricted to developed countries such as the U.S. and the U.K. – other countries are struggling as well. In Australia, the shortage of radiologists has affected hospital care and service delivery in some areas, with many scans being sent offsite to be analyzed due to the limitations of staffing onsite.
There is a shortage of sub-specialty radiologists who are capable of interpreting complicated scans. Furthermore, financial constraints on public healthcare providers limits their ability to invest only in trainee radiologists. Thus, it becomes a challenge for the industry to retain and recruit radiologists.
Demand for diagnostic imaging is increasing at a rapid pace than the supply, which is fueling the need for outsourcing the diagnostic reporting workload, thereby driving the teleradiology services market
Increased Number of Specialized Modalities Leading to Longer Read Times to Boost Market
X-ray is the most common modality; however, other modalities such as ultrasound, CT scan, and MRI are expanding at significantly higher growth rates due to the advantage of greater detection and visibility of soft tissues, cancers, and tumors
Increase in demand for specialized modalities is propelling the requirement of specialist radiologists who are capable of interpreting complicated imaging examinations
MRI and CT scan, which take longer time to report, are expanding, thereby increasing the demand for radiologist resources. This shortfall can be overcome by utilizing teleradiology services, which, in turn, is projected to drive the global teleradiology market.
Rise in Demand for Out-of-Hours Reporting
Out-of-hours reporting is usually required in case of emergency/trauma for time-critical applications (e.g. neurology), or if there is suspicion of serious injury. A patient suffering from such conditions requires rapid and accurate diagnosis.
Emergency diagnostic examinations are conducted on-site; however, diagnostic image is transmitted externally to a teleradiologist for reporting to be handled in a short turnaround time (e.g. <1 hour), depending on the urgency due to the lack of on-site radiologists working out-of-hours or the sub-specialty radiologists
Out-of-hours reporting has been a major driver for several reading services companies. For instance, the U.K.-based reading service provider Medica Group witnessed an increase in revenue from out-of-hours reading services from US$ 16 Mn in 2015 to more than US$ 28 Mn in 2019.
Issues Due to System Integration and Communication to Hamper Market
Teleradiology is the electronic transmission of radiographic images from one geographic location to another for the purposes of diagnosis and/or consultation
Accessing all relevant clinical information is more difficult for teleradiologists, as they typically interpret exams from many institutions operating on different PACS and electronic medical record systems
Problems regarding quality of care also can arise due to emergency room referrers often do not know off-site image readers, and generally the more the referrer knows and trusts the radiologist, the more they trust their medical opinion
Survey conducted in the U.S. found that in up to 10% of teleradiology cases, the scans were unreadable due to poor image quality, raising other concerns regarding quality of care
Additionally, sometimes there are incompatibilities between Picture Archival and Communication Systems (PACS) of different vendors or a lack of integration with PACS and Radiology Information Systems. This hampers the teleradiology services market globally.
Teleradiology Services Market: Competition Landscape
This report profiles major players in the global teleradiology services market based on various attributes such as company overview, financial overview, product portfolio, business strategies, and recent developments
Leading players operating in the global teleradiology services market are

4ways Healthcare Limited
Africa Telerad Limited
Euro American Teleradiology
Medica Group plc
Mednax Services, Inc.
ONRAD, Inc.
Real Radiology, LLC
Specialty Teleradiology, Inc.
StatRad (NucleusHealth)
TeleConsult Europe (TCE)
Telemedicine Clinic (UNILABS)
Teleradiology Solutions
USARAD Holdings, Inc.
Teleradiology Services Market: Key Developments
Key players in the global teleradiology services market are engaged in regulatory approvals, development of new services, and acquisition & collaborative agreements with other companies. These strategies are likely to fuel the global teleradiology services market over the next few years. Few expansion strategies adopted by players operating in the global teleradiology services market are:

In February 2021, Medica Group plc announced the launch of a joint venture-MedX with Integral Diagnostics Limited. The joint venture gives Integral Diagnostics access to Medica's market leading teleradiology expertise and clinical governance framework for application in Australia and New Zealand. MedX is estimated to provide teleradiology reporting services and increased reporting capacity in Australia, New Zealand, the U.K., and Ireland.
In November 2020, Medica Group plc acquired of Global Diagnostics Ireland, thereby expanding its geographic reach, customer base, and service offering. Global Diagnostics is a market leader for teleradiology services in Ireland.
In September 2020, Mednax, Inc. entered into a securities purchase agreement with Radiology Partners, Inc. to divest its radiology services medical group, and the transaction closed on December 15, 2020. The purchase consideration was comprised of US$ 885 Mn paid in cash at closing, subject to certain cash, minimum net working capital, indebtedness and other adjustments.
In March 2020, Medica Group plc and Qure.ai announced a strategic partnership to develop AI tools for prioritization and improved efficiency of radiology scan workload
In February 2020, Nano-X Imaging Ltd. announced partnership with Siemens Healthineers-backed USARAD, which leverages a radiology marketplace platform to offer radiology services by over 300 board certified radiologists to over 500 medical facilities in all 50 states of the U.S. and 15 countries
In October 2019, Teleradiology Solutions collaborates with Skype Telemedicine. The agreement covers remote radiology interpretation services to Bahraini hospitals as well as healthcare faculties across Arabian Gulf.
In September 2018, private equity firm ECI Partners LLP acquired healthcare services company 4Ways Healthcare Ltd. from Synova Capital (on June 29, 2015, Synova Capital acquired 4Ways Healthcare Ltd.)
In August 2018, Real Radiology, LLC announced the acquisition of Argus Radiology Consultants, LLC. Argus offered high-level reads with state-of-the-art technology. The acquisition assisted the company in the alignment of two 100% radiologist owned-and-operated organizations.
In November 2017, Unilabs announced the acquisition of Telemedicine Clinic, a leading provider of teleradiology and telepathology services in Europe. TMC has a network of radiologists and pathologists across Europe as well as an office in Sydney to facilitate a 24/7 on-call service.

The report on the global teleradiology services market discussed individual strategies, followed by company profiles of treatment providers of teleradiology services. The competition landscape section has been included in the report to provide readers with a dashboard view and a company market share analysis of key players operating in the global teleradiology services market.
Global Teleradiology Services Market - Scope of Report
TMR's report on the global teleradiology services market studies past as well as current growth trends and opportunities to gain valuable insights of these indicators of the market during the forecast period from 2021 to 2031. The report provides revenue of the global teleradiology services market for the period 2017–2031, considering 2020 as the base year and 2031 as the forecast year. The report also provides the compound annual growth rate (CAGR) for the global teleradiology services market during the forecast period.
The report has been prepared after extensive primary and secondary researches. Primary research involved bulk of research efforts, wherein analysts carried out interviews with industry leaders and opinion makers. Secondary research involved referring to key players' product literature, annual reports, press releases, and relevant documents to understand the global teleradiology services market.
Secondary research also included Internet sources, statistical data from government agencies, websites, company presentations, sales data, and trade associations. Analysts have employed a combination of top-down and bottom-up approaches to study various phenomenon in the global teleradiology services market.
The report includes an elaborate executive summary, along with a snapshot of the growth behavior of various segments included in the scope of the study. Furthermore, the report sheds light on the changing competitive dynamics in the global teleradiology services market. These indices serve as valuable tools for existing market players as well as for entities interested in entering the global teleradiology services market.
The report delves into the competitive landscape of the global teleradiology services market. Key players operating in the global teleradiology services market have been identified, and each one of these has been profiled for distinguishing business attributes. Company overview, financial standings, recent developments, and SWOT are some of the attributes of players in the global teleradiology services market that have been profiled in this report.
Key Questions Answered in Global Teleradiology Services Market Report
What is the scope of growth of companies present in the global teleradiology services market?
What will be the Y-o-Y growth of the global teleradiology services market between 2021 and 2031?
What is the influence of changing trends in technologies on the global teleradiology services market?
Will North America continue to be the most profitable market for teleradiology services market?
Which factors are anticipated to hamper the growth of the global teleradiology services market during the forecast period?
Which are the key companies in the global teleradiology services market?
Research Methodology
TMR has utilized a unique research methodology to conduct comprehensive research on the growth of the global teleradiology services market and arrive at conclusions on its growth prospects. This research methodology is a combination of primary and secondary research, which helps analysts warrant the accuracy and reliability of the drawn conclusions.
Secondary methods referred to by analysts during the production of the global teleradiology services market report include statistics from company annual reports, SEC filings, company websites, investor presentations, regulatory databases, government publications, and industry white papers. Analysts have also interviewed senior managers, product portfolio managers, CEOs, VPs, and market intelligence managers, who contributed to the production of TMR's study on the teleradiology services market as primary methods.
These primary and secondary methods have provided exclusive information during interviews, which serves as a validation from the teleradiology services market leaders. Access to an extensive internal repository and external proprietary databases enabled this report to address specific details and questions about the global teleradiology services market with accuracy. The study also uses the top-down approach to assess the revenues for each segment and the bottom-up approach to counter-validate them. This has helped in reaching TMR's estimates on future prospects of the global teleradiology services market more reliably and accurately.
Regional Segmentation of Teleradiology Services Market
North America
Europe

Germany
U.K.
France
Italy
Spain
Rest of Europe

Asia Pacific

China
India
Japan
Australia & New Zealand
Rest of Asia Pacific

Latin America

Brazil
Mexico
Rest of Latin America

Middle East & Africa

GCC Countries
South Africa
Rest of Middle East & Africa
Global Teleradiology Services Market - Segmentation
Type of Service

General Reporting
Consultation
Auditing
Others

Modality

X-Ray
Ultrasound
Computer Tomography (CT)
Magnetic Resonance Imaging (MRI)
Nuclear Imaging
Others

Coverage

Day Time Coverage
After Hours/Night Time Coverage

Specialty

Cardiology
Neurology
Oncology
Musculoskeletal
Gastroenterology
Others

End User

Hospitals
Diagnostic Imaging Centers
Ambulatory Surgical Centers
Clinics
Others

Region

North America
Europe
Asia Pacific
Latin America
Middle East & Africa
Custom Market Research Services
TMR offers custom market research services that help clients to get information on their business scenario required where syndicated solutions are not enough.
REQUEST CUSTOMIZATION

Teleradiology Services Market