System on Chip (SoC) Market
System on Chip (SoC) Market (Type - Digital, Analog, and Mixed Signal; Application - Telecommunication, Consumer Electronics, and Automotive) - Global Industry Analysis, Size, Share, Growth, Trends and Forecast 2017 - 2025
Electronics & Semiconductors
TMRGL23996
2017-05-10
114

Pages
Global System on Chip Market: Snapshot
System-on-chip or SoC refers to a singular microchip, which packs a variety of necessary components, such as electronic circuits, communication nodes, and other parts of an electronic device. SoCs comprise both hardware and software that are employed in a number of electronic devices such as mobile phones and tablets. Over the past few years, the rising global demand for such mobile computing devices and other miniaturized consumer electronics has led to a significant rise in the use of SoCs. Moreover, the development of technologically advanced SoCs, which has led to inclusion of more features within a specified area of SoC, leading to better resistivity of wires and higher interconnectivity, has further helped in the overall growth of this market globally.
The market is expected to exhibit a promising growth rate over the next few years. Transparency Market Research states that the market will expand at a 8.4% CAGR from 2017 to 2025. With this growth rate, the market, which was valued at US$45.89 bn in 2016, is expected to rise to a valuation of US$89.03 bn by 2025.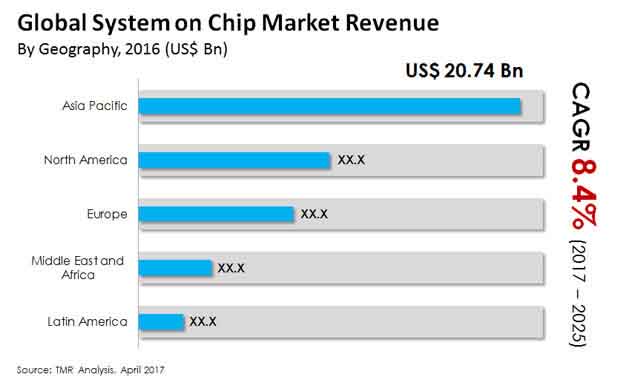 Demand for SoCs to Remain Strong in Consumer Electronics Application Segment
On the basis of application, the report segments the global market for system on chip into telecommunication, consumer electronics, and automotive. In 2016, the consumer electronics segment, followed by the telecommunication segment, formed one of the most lucrative application areas for SoC. The segment, accounting for a significant 37.1% of the global market in 2016, is expected to remain the leading contributor of revenue throughout the forecast period as well.
This growth is attributed to the world's rising appetite for technologically advanced consumer electronics devices such as smart phones, tablets, and wearables. The rising adoption of the IoT (Internet of Things) technology across industrial as well as consumer sectors and the vast advancements in the field of networking services have also helped in broadening the scope of use of SoC in consumer electronics. Moreover, the rising demand for products with low power consumption in addition to being technologically advanced in circuit architecture has further bolstered the demand for SoC in consumer electronics and telecommunications segments.
APAC to Remain Leading Contributor of Revenue to Global Market
In terms of geography, the SoC market has been segmented in the report into North America, Europe, Asia Pacific (APAC), Middle East & Africa (MEA), and Latin America. On the basis of revenue contribution to the global market, the APAC SoC market dominated in 2016, followed by the North America market. APAC accounted for more than 45% of the global market in the said year and is expected to hold the top spot throughout the forecast period.
The region's market for SoCs has majorly benefitted from the thriving market for consumer electronics, boasting a massive consumer base as well as some of the world's leading manufacturers of consumer electronics. The increased adoption of IoT-based technological applications across a number of industry verticals has been also been a key reason backing the overall growth of the SoC market in APAC. Over the forecast period, however, North America is expected to emerge as one of the most promising destinations for companies in the SoC market.
The report estimates that the North America SoC market will exhibit a 9.2% CAGR from 2017 to 2025, much higher than the rate of growth expected in the Asia Pacific market over the same period, 7.9% CAGR.
Some of the leading players operating in the global SoC market are Apple Inc. (The U.S.), Broadcom Limited (Singapore), Infineon Technologies (The U.S.), Intel Corporation (The U.S.), Qualcomm Inc. (The U.S.), Samsung Electronics (South Korea), STMicroelectronics N.V. (Switzerland), Taiwan Semiconductor Manufacturing Co. Ltd. (Taiwan), Toshiba Corporation (Japan), and MediaTek Inc. (Taiwan).
Demand for Reduced Consumption of Energy to Drive System-On-Chip Market
A system on a chip is abbreviated as SoC. The system is essentially centers around an integrated circuit (IC), which takes an entire single platform and then incorporates a computer system or an entire electronic onto it. The growth of the global system-on-chip market is estimated to be influenced by future objectives of the technology industry. Going forward, the primary objectives of the industry are as follows
Reduction in the wastage of energy
Saving up on the costs of spending
Diminishing the physical space occupied by large systems
It is with system on a chip technology, all of the above mentioned goals can be achieved. It helps in sizing down multichip designs onto one single processor that makes use of much less energy. These chips have enabled creation of plentiful transportable devices that can be carried conveniently to any location without compromising on the functionalities and capabilities of the device. Hence, these chips are often utilized in systems related to embedded system, smartphones, Internet of Things (IoT) and other such technologies.
Technological Progress to Play a Decisive Role in the Market
Robotics technology finds ample use in a wide variety of applications in industries such as healthcare, defense, military, electronics, and automotive. This helps various end user sectors to complex tasks with least errors. System on chips find use in robots to make an offering of a software platform that can provide support to operating system drivers, machine learning frameworks, and network interfaces. The incorporation of system on a chip technology in robots is estimated to lessen the overall ownership cost together with reduced time to market these robots, which is likely to drive the global system-on-chip market.
These chips assist in the minimization of space constraints by enabling easy integration of many components such as transistors, diodes, integrated circuits, controllers, and processors. In addition, manufacturers of these chips are emphasizing on further development of system on chip technology to meet up with the rising demand for cobots from various end use sectors. All these factors are likely to propel growth of the global system-on-chip market in the years to come.
Global System on Chip (SoC) Market: Overview
This report provides analysis of the System-on-Chip (SoC) market globally, during the forecast period from 2017 to 2025. The scope of this report includes competitive analysis of various market segments based on the types and applications. Analysis of SoCs with its applications in different industry verticals along with in-depth scrutiny of the SoC market across different geographic segments has also been considered under the scope of this report. A SoC is similar to a central processing unit (CPU) of a computer. However it is much smaller in size and all the components such as microprocessor, memory and peripherals among others are packaged together onto the chip.
The components of a SoC vary depending on the device it is to be used in. Generally SoC consists of a graphic processing unit (GPU), microprocessor, timing sources, memory, analog interfaces, peripherals, external interfaces, power management circuits and voltage regulators among others. The small form factor combined with computing power of SoCs has led to its integration into various devices such as smart phones, smart washing machines, tablets, smart air-conditioners, smart television, set-top boxes, industrial automation applications and electrocardiogram telemetry devices among others. Thus SoC contains everything that is present within the motherboard of a computer but consumes much lesser space and power while giving similar or better performance that has resulted in growing applications across different industries.
Global System on Chip (SoC) Market: Drivers and Restraints
Increasing number of smart electronic devices has been steadily rising over the years. It is seen that the growing number of smartphones, laptops and smart wearable devices has led to the rising demand for SoC globally. In addition to this, technological advancement has also led to inclusion of more features within SoC that has acted as a major driver for this market. Moreover, it is also the growing functionalities within a single IC that has allowed lowering of costs for these SoCs further boosting the market. Cost effectiveness in advanced SoCs does not affect the overall resistivity and capacitance of IC that has also been another important driver for this market.
Considering all these drivers there are certain restraints that negatively affects this market. One such restraint being the high costs associated with the application of these SoCs. Another important restraint being the overlapping of functionalities in a SoC that may occur because of fixing all chips within a single substrate. With all these drivers and restraints it is the reduction in the overall cyclical time that is likely to provide huge growth opportunities for this market in the coming years.
Global System on Chip (SoC) Market: Segmentation
The global SoC on the basis of different types has been segmented into digital, analog, mixed signal and others. Telecommunication, consumer electronics, automotive and others are the various application segments on the basis of which this market is segmented. Regions that are considered under this report comprises of North America, Asia Pacific, Europe, Middle East, Africa and Latin America. Revenue has been provided in USD billion for this market along with the CAGR for the forecast period of 2017 to 2025.
The report also includes competitive profiling of leading players in the industry and their market share to aid in strategic decision making. The market attractiveness analysis along with company market share analysis included in this report provides insight into various market dynamics, industry competition and strategies adopted by market leaders. This report also provides breakdown as well as assessment of various factors impacting the market growth, which includes the drivers, restraints and opportunities. These factors helps in determining various trends and their likely impact on the overall market growth. Post consideration of all these factors affecting the SoC market, this report also includes a holistic analysis and growth estimation of the global SoC market for the forecast period 2017 to 2025.
Companies mentioned in the report
Some of the leading players in the global SoC market are Apple Inc. (The U.S.), Broadcom Limited (Singapore), Infineon Technologies (The U.S.), Intel Corporation (The U.S.), Qualcomm Inc. (The U.S.), Samsung Electronics (South Korea), STMicroelectronics N.V. (Switzerland), Taiwan Semiconductor Manufacturing Co. Ltd. (Taiwan), Toshiba Corporation (Japan) and MediaTek Inc. (Taiwan) among others.
The market has been segmented as follows:
By Type

Digital
Analog
Mixed Signal
Others

By Application

Telecommunication
Consumer Electronics
Automotive
Others

By Region

North America
Europe

The UK
Germany
France
Italy
Rest Of Europe

Asia Pacific

China
Taiwan
India
Japan
South Korea
Rest Of APAC

Middle East and Africa (MEA)

UAE
South Africa
Rest Of MEA

Latin America

Brazil
Rest Of Latin America
Custom Market Research Services
TMR offers custom market research services that help clients to get information on their business scenario required where syndicated solutions are not enough.
REQUEST CUSTOMIZATION

System On Chip Market 2017 2025