Synthetic Leather Market
Synthetic Leather Market (Product Type: Polyurethane and Polyvinylchloride; and End User: Footwear [Performance Footwear and Fashion Footwear], Furnishing [Couch & Sofa and Chairs], Interior [Interior décor & Surfacing and Wall Tiles], Automobiles [Seats, Doors, Dashboard, Steering Cover, and Others], Sporting Goods, Garments [Fashion Apparel, Fashion Accessories, and Performance Apparel], Luxury Goods [Hard Luxury and Soft Luxury], and Others) - Global Industry Analysis, Size, Share, Growth, Trends, and Forecast, 2019 - 2027
Chemicals & Materials
TMRGL22364
2020-01-09
385

Pages
High Demand for Eco-friendly and Sustainable Synthetic Leather Products
Over the past decade, the global demand for synthetic leather has witnessed significant growth. The soaring demand for synthetic or faux leather is driven by a range of factors, including evolving consumer trends, mounting concerns over the impact of traditional leather on the environment, ascending demand for animal-free products, and growing awareness regarding the attributes of synthetic leather, among others. At present, synthetic leather is increasingly being used in a range of applications, which include footwear, interior designing, furnishing, automotive interiors, garments, and luxury goods.
Animal cruelty regulations and policies across the world are playing a critical role in boosting the prospects of the synthetic leather market, as more number of consumers are inclined toward purchasing products that are animal-free. Over the past few years, the prices of traditional leather have increased consistently worldwide, which, in turn, has propelled the demand for cost-effective alternatives such as synthetic leather. The physical and functional properties of synthetic leather are at par with that of traditional leather – a factor that is playing a key role in increasing the demand for synthetic leather. Due to these factors, the synthetic leather market is projected to reach a value of ~US$ 157.3 Bn by 2027 from ~US$ 85.5 Bn in 2018.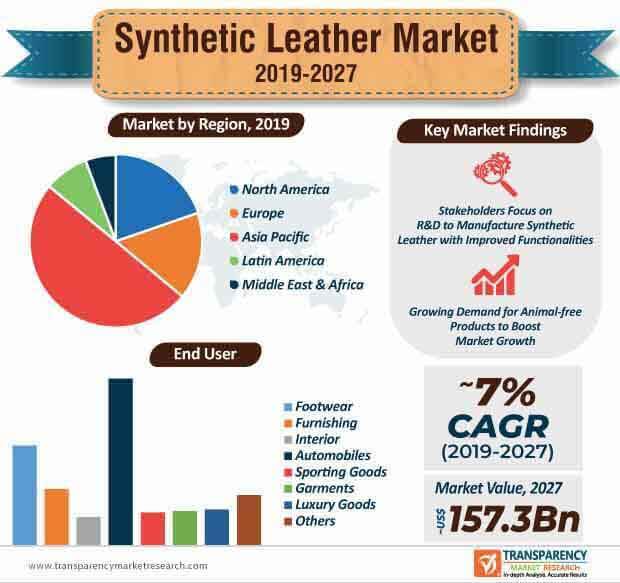 To gauge the scope of customization in our reports Ask for a Sample
Adoption of Polyurethane Synthetic Leather Gains Momentum
In the past few years, the adoption of ethically manufactured materials, such as synthetic leather in various end-use industries has grown at a rapid pace. Increasing number of consumers are leaning toward purchasing greener and sustainable products, which, in turn, has increased the demand for polyurethane leather. The polyurethane product type segment is projected to account for ~ 67% share of the synthetic leather market, in terms of value, and is expected to reach a value of ~US$ 12.2 Bn in 2019.
Get an idea about the offerings of our report from Report Brochure
The demand for polyurethane leather is gaining significant momentum, as this type of synthetic leather is highly durable and flexible. Since polyurethane leather is developed using a range of artificial chemicals and without using animal products, it is gradually gaining popularity as 'vegan leather'. Since no animals are harmed during the manufacturing of polyurethane, consumer affinity toward using products made from this leather is growing, which, in turn, is accelerating the growth of the synthetic leather market. As polyurethane leather does not fade when exposed to sunlight, it is increasingly being used in interiors of automobiles.
Rise in R&D Investments to Develop Sustainable Synthetic Products
Within the synthetic leather market, research and development activities have played a pivotal role in differentiating the overall attributes of synthetic leather from traditional leather. Stakeholders in the synthetic leather market landscape are investing in research and development activities to develop synthetic leather with superior properties. Upcoming and established players in the current market landscape are engaged in the development of synthetic leather with various textures, colors, patterns, and functionalities. Several companies are entering into strategic partnerships to develop innovative and sustainable synthetic leather in tune with evolving industry trends. For instance, BASF and Greentech entered into an agreement wherein the companies announced the launch of a joint laboratory for the development of synthetic leather. The new research and development center will be predominantly focused on the manufacturing of sustainable and efficient synthetic leather by leveraging the innovative technologies of BASF. Furthermore, the companies announced that the collaboration will also facilitate the production of new prototypes that they aim to commercialize for different applications.
Participants in the current synthetic leather market are also aiming to streamline their quality control processes. At present, owing to the ascending demand for synthetic leather across various industrial verticals such as footwear, automotive, furnishing, garments, etc., companies are expected to align their product development activities with the requirements of each of these industries. Despite being at the forefront of technology and innovation, North America and Europe are likely to fall behind Asia Pacific, in terms of value and market share. The Asia Pacific region is expected to account for ~50% share of the synthetic leather market in 2019 and the trend is expected to continue during the forecast period. Lucrative opportunities offered by India and China coupled with multiple initiatives by governments of these countries promoting the manufacturing of synthetic leather are expected to fuel the market growth across the Asia Pacific region.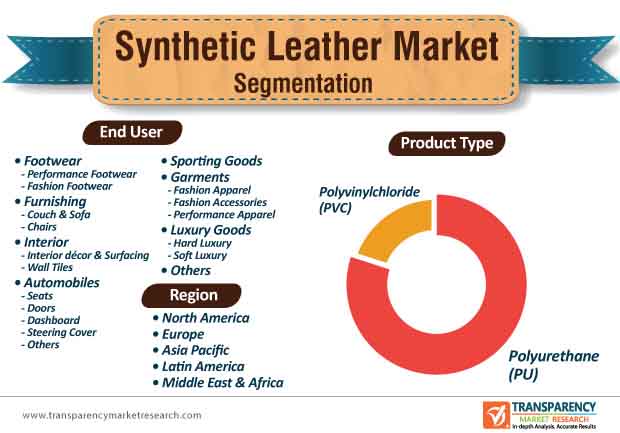 Looking for Regional Analysis or Synthetic Leather Market, ask for a customized report
Analysts' Viewpoint
The synthetic leather market is expected to expand at a CAGR of ~7% during the forecast period. In the current scenario, consumer trends suggest a tectonic shift toward the adoption of animal-free and sustainable products, which is anticipated to accelerate the demand for synthetic leather worldwide. Market players should focus on expanding their product portfolio and invest in research and development activities to gain a competitive edge in the synthetic leather market landscape. Prominent market players should consider mergers and acquisition with regional market players to expand their global footprint.
Synthetic Leather Market: Overview
Synthetic leather, also known as artificial or faux leather, is a substitute for traditional leather in upholstery, clothing, footwear, and other products. Demand for the synthetic leather has been rising in the last few years, as synthetic leather and traditional leather have similar appearance.
Synthetic leather provides a wide range of colors and textures at a lower price compared to that provided by traditional leather
Rapid Expansion of Automotive Interior Materials Industry to Drive Global Market
Rapid rise in population and disposable income has been propelling the demand for passenger and commercial vehicles, especially in developing countries such as China and India. The total number of new cars and light commercial vehicles (LCVs) sold across the globe were 86.01 million units in 2018, up from 79.77 million units in 2015.
Thus, an increase in automotive sales and constant changes in consumer preferences in the automotive industry, especially in terms of automotive interior settings and looks, has been driving the demand for high-grade synthetic leather in the last few years
Traditional leather is heavy, expensive, and difficult to handle; consequently, it is being replaced by synthetic leather in automotive interior settings ranging from seat covers to dashboards
Synthetic leather is used in buses, trucks, cars, motorcycles, as it is highly elastic, comfortable, and resistant to high as well as low temperatures. Car owners are heavily investing in synthetic leather interiors to enhance the appearance of their cars as well as their driving experience.
Therefore, expansion of the automotive interior materials industry is anticipated to drive the global synthetic leather market during the forecast period
Shorter Lifespan Compared to Traditional Leather to Hamper Market
Synthetic leather has relatively shorter lifespan as compared to traditional leather, as prolonged exposure to heat and moisture degrade synthetic leather at a more rapid pace
Synthetic leather is chemically treated to make it resistant to sunlight, scratches, and fire; however, it becomes weak and susceptible to degradation, due to wear and tear. Synthetic leather is available at an affordable price, however, it requires high level of care and maintenance and needs to be protected from direct sunrays to extend its lifespan
In hot and humid environments, synthetic leather can easily degrade, as it is not breathable. Moist skin easily sticks to it on contact.
Moreover, synthetic leather can be more easily torn or punctured through misuse or other means, as compared to traditional leather
Unlike synthetic leather, traditional leather is known to have lifespan of 20–30 years if cared for properly
Thus, shorter lifespan of synthetic leather is likely to act as a restraint to the market during the forecast period
Eco-friendly Materials and Processes to Offer Opportunities
Synthetic leather is more eco-friendly as compared to traditional leather; however, it can be made more eco-friendly and acceptable by changing certain aspects
Companies are presently shifting their focus toward recycled products to manufacture synthetic leather in order to promote sustainable development. Synthetic leather manufacturing companies are trying to develop new technologies and processes in order to minimize harmful effects of their operations on the environment.
Companies are switching toward usage of recycled polyester ultra-fine microfibers as a raw material for their products. With this, they are not only preventing these microfibers from causing pollution, but are also reducing the demand for crude oil and petroleum-based products to a large extent. They are also minimizing the level of carbon dioxide (CO2) emitted from processing and manufacturing of virgin polyester fibers.
Companies are also shifting toward water-based polyurethane in order to reduce the burden on the environment as compared to typical organic solvents that contain dimethyl formamide (DMF). Water-based polyurethanes can be utilized as an excellent leather-coating chemical. They have inherent flexibility, resistance to abrasion, and better tensile property. Moreover, they have a lower rate of emission of volatile organic compounds (VOCs) and hazardous air pollutants (HAPs), which makes them more useful in comparison with other solvents used for leather finishing.
Manufacturers are also adopting the direct spinning method in place of the composite manufacturing method of extraction. In the direct spinning method, high-quality raw materials are spun directly into a thread, which is subsequently cut into short, ultra-fine microfibers. In the composite manufacturing method, organic solvents containing substances, such as trichloroethylene, are used. Trichloroethylene is carcinogenic in nature.
Key Strategies Adopted by Companies
On July 31, 2019, Asahi Kasei Corporation announced that it would operate regional headquarters in Thailand in order to expand its presence in the market in ASEAN. The company also declared that ASEAN is not only an important region for manufacturing, but it is also becoming a key market, which it wants to capitalize on.
On July 17, 2019, Asahi Kasei Corporation announced plans to expand the production capacity of its Lamous artificial suede at its Nobeoka plant in Miyazaki, Japan, by 4 million square meters/year. This is expected to increase the company's total production capacity to 14 million square meters/year upon completion in 2021.
In July 2018, Teijin Limited announced that it had agreed to acquire J.H. Ziegler GmbH, a leading supplier of automotive interior materials in Germany. The acquisition cost stood at around US$ 137.8 Mn (EUR 125 Mn). Ziegler GmbH provides advanced nonwoven lining structures, including materials with superior ventilation capabilities that not only help prevent wrinkles, but also maintain the luxurious appearance of traditional leather materials.
Asia Pacific to Dominate Synthetic Leather Market
Asia Pacific dominated the global synthetic leather market in 2018. The market in the region is estimated to expand at a significant pace during the forecast period, due to the rise in demand for sustainable and eco-friendly materials in the region. However, countries such as India and Vietnam consume PVC synthetic leather in large quantities, as it is inexpensive as compared to the PU synthetic leather. Increase in disposable income of the urban population is driving the footwear industry in Asia Pacific, wherein consumers are willing to pay more for premium products.
Europe is also a lucrative region in the synthetic leather market. Footwear and automobile industries in Europe are witnessing significant demand for synthetic leather. Countries in Europe such as Germany, France, and Italy have various manufacturing units that require synthetic leather as their raw material and hence, the demand for synthetic leather is estimated to remain stable in the near future.
North America is a moderately attractive region of the global market. Rapid rate of urbanization and developments in standard of living are key factors propelling the demand for synthetic leather in the region.
Synthetic Leather Market is Highly Competitive
The global synthetic leather market is highly fragmented, with the presence of a large number of players operating at local, regional, and international levels
Key players operating in the global synthetic leather market include

Asahi Kasei Corporation
FUJIAN POLYTECH TECHNOLOGY CORP.,LTD.
Mayur Uniquoters Limited
Toray Industries, Inc.
Zhejiang Hexin Holdings Co., Ltd.
Alfatex Italia SRL
H.R.Polycoats Pvt. Ltd.
FILWEL Co., Ltd.
Nan Ya Plastics Corporation
Teijin Limited
Achilles USA, Inc.
San Fang Chemical Industry Co., Ltd.
Kuraray Co., Ltd.
Synthetic Leather Market – Scope of the Report
A latest study collated and published by Transparency Market Research (TMR) analyzes the historical and present-day scenario of the global synthetic leather market to accurately gauge its future development. The study presents detailed information about important growth factors, restraints, and key trends that are creating the landscape for the future growth of the synthetic leather market, to identify opportunistic avenues of the business potential for stakeholders. The report also provides insightful information about how the synthetic leather market will progress during the forecast period of 2019-2027.
The report offers intricate dynamics about the different aspects of the synthetic leather market that aids companies operating in the market in making strategic development decisions. TMR's study also elaborates on significant changes that are highly anticipated to configure the growth of the synthetic leather market during the forecast period. It also includes key indicator assessment to highlight the growth prospects of the synthetic leather market, and estimate statistics related to the market progress in terms of volume (million square meters) and value (US$ Mn).
This study covers a detailed segmentation of the synthetic leather market, along with key information and a competitive outlook. The report mentions company profiles of key players that are currently dominating the synthetic leather market, wherein various developments, expansions, and winning strategies practiced and executed by leading players have been presented in detail.
Key Questions Answered in TMR's Report on Synthetic Leather Market
The report provides detailed information about the synthetic leather market on the basis of comprehensive research on various factors that are playing a key role in accelerating the growth of the market. Information mentioned in the report answers path-breaking questions for companies that are currently functioning in the market and are looking for innovative ways to create a unique benchmark in the synthetic leather market so as to help them make successful strategies and target-driven decisions.
Which end user will emerge as a revenue generator for the market during the forecast period?
How are key market players successfully earning revenue in the competitive synthetic leather market?
What will be the Y-o-Y growth of the synthetic leather market between 2019 and 2027?
What are the winning imperatives of market frontrunners in the synthetic leather market?
Which finishing type is expected to have maximum potential for synthetic leather during the forecast period?
Research Methodology – Synthetic Leather Market
The research methodology adopted by analysts for combining the synthetic leather market report is based on detailed primary as well as secondary research. With the help of in-depth insights of the industry-affiliated information obtained and legitimated by market-admissible resources, analysts have offered riveting observations and authentic forecasts of the synthetic leather market.
During the primary research phase, analysts have interviewed industry stakeholders, investors, brand managers, vice presidents, and sales and marketing managers. Based on data obtained through the interviews of genuine resources, analysts have emphasized on the changing scenario of the synthetic leather market.
For secondary research, analysts have scrutinized numerous annual report publications, white papers, industry association publications, and company websites to obtain the necessary understanding of the synthetic leather market.
Synthetic Leather Market – Segmentation
TMR's research study assesses the synthetic leather market on the basis of product type, end user, and region. This report presents extensive market dynamics and progressive trends associated with different segments, and how they are influencing the growth prospects of the synthetic leather market.
Product Type

Polyurethane (PU)

Polyvinylchloride (PVC)

End User

Footwear

Performance Footwear
Fashion Footwear

Furnishing

Interior

Interior décor & Surfacing
Wall Tiles

Automobiles

Seats
Doors
Dashboard
Steering Cover
Others

Sporting Goods

Garments

Fashion Apparel
Fashion Accessories
Performance Apparel

Luxury Goods

Hard Luxury
Soft Luxury
Others

Region

North America

Europe

Asia Pacific

Latin America

Middle East & Africa
Custom Market Research Services
TMR offers custom market research services that help clients to get information on their business scenario required where syndicated solutions are not enough.
REQUEST CUSTOMIZATION