Synthetic Fiber Market
Synthetic Fiber Market (Synthetic Fiber Type - Polyester, Nylon, Acrylic, and Other Synthetic Fibres; End-Use Industries - Industrial Use, Apparel, Home Furnishing, and Others) - Global Industry Analysis, Size, Share, Growth, Trends, and Forecast 2017 - 2026
Chemicals & Materials
TMRGL2075
2017-12-18
170

Pages
Global Synthetic Fiber Market: Overview
Synthetic fibers are referred to man-made materials, which are produced with the help of chemicals having superior properties compared to natural fibers. Synthetic fibers are manufactured through polymerization of a variety of chemical substances. These fibers are more light-weight, stain-resistant, easy & convenient to dye, and durable. On the back of their favorable properties, synthetic fibers are widely employed for various applications in the fashion industry.
Growing Demand for Home Furnishings and Lightweight Automotive Parts to Drive Synthetic Fiber Market Growth
There has been a soaring interest among consumers regarding home furnishings, which require synthetic fibers for manufacturing bed linen, wall coverings, upholstery, blankets, and carpets. Robust expansion of the real estate sector is further propelling the demand for home furnishings, with growing number of retail stores providing high quality home furnishing products at affordable prices. In addition, automotive interior materials such as body cloth fabrics are usually made up of synthetic fibers. Adoption of electric and hybrid vehicles is the latest trend being observed in the automotive market, which require lightweight components, structures, and accessories for higher vehicle efficiency. Polyester is widely used in the interior fabric of these vehicles owing to their lightweight, and abrasion resistance properties. These factors will continue to influence growth of the global synthetic fiber market. However, stringent environmental regulations appertaining to synthetic fibers' non-biodegradability are likely to remain a major challenge for manufacturers in the global market.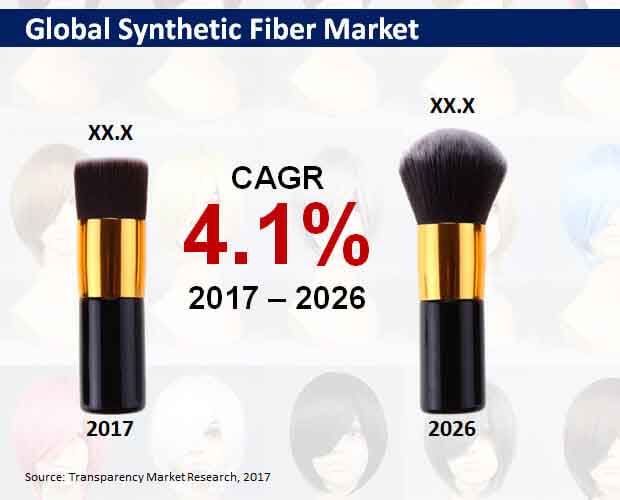 According to Transparency Market Research (TMR), the global market for synthetic fiber will ride on a spectacular CAGR during the forecast period (2017-2026). Worldwide adoption of synthetic fiber is estimated to reap over US$ 90,000 Mn revenues by 2026-end.
APEJ to Remain Most Financially Rewarding Market for Synthetic Fiber
Demand for synthetic fibers will witness a tremendous surge in Asia-Pacific excluding Japan (APEJ) on the back of adoption in various industrial applications such as automotive, filtration, clothing, and home furnishing. APEJ will continue to be the most financially rewarding region for growth of the synthetic fiber market. Europe is also expected to remain lucrative for expansion of the synthetic fiber market. Rapid expansion of the home furnishing and automotive industries, along with the expanding textile sector in the region will propel demand for synthetic fiber in the foreseeable future.
Apparel industry that includes work wear, children wear, menswear and womenswear, has been witnessing a rise in demand owing to rapid growth in urban population, which prefers purchasing easy to maintain apparel. Consumers across the globe demand for clothing that is convenient and offers protection in the hectic urban lifestyle. As apparel produced using synthetic fibers comprises all these qualities, their demand will witness a substantial rise among consumers globally. Apparel is anticipated to remain the fastest expanding end-use industry of synthetic fibers throughout the forecast period.
Polyester fibers comprise chemical and abrasion resistance properties, which in turn has spurred its adoption in production of clothing that is cost-effective, thereby targeting the middle-class population globally. In addition, demand for polyester is relatively higher in emerging countries, owing to availability of cheap labor boosting the productivity in the labor-intensive apparel industry. Polyester is expected to remain the dominant synthetic fiber type, in terms of revenues. However, sales of acrylic will register a relatively faster expansion in the market through 2026.
Competition Tracking
The global market for synthetic fiber is highly fragmented, with the presence of several international and regional players. Key market players have been profiled in the report, which include Lenzing AG, Indorama Corporation, Toray Industries, Inc., E. I. du Pont de Nemours and Company, Mitsubishi Chemical Holdings Corporation, China Petroleum Corporation, Reliance Industries Limited, Toho Tenax, Teijin Limited, Asahi Kasei Fibers Corporation, and Eastman. These market players are making extensive investments in research and development activities for developing synthetic fibers that are specific to applications including home furnishings, clothing, and filtration.
Retail Industry to Contribute Major Revenues to Global Synthetic Fiber Market Owing to Rising Popularity
Increasing Demand from the beauty and cosmetic industry is likely to help boost the global synthetic fiber market. Synthetic fibers are produced by chemical synthesis unlike natural fibers that are obtained from living beings directly. The most commonly used synthetic fiber today is polyester. Synthetic fibers are fabricated through polymerization of an assortment of compound substances. These fibers are all the more light-weight, stain-safe, simple and helpful to color, and solid. On the rear of their ideal properties, synthetic fibers are generally utilized for different applications in the design business.
The rapidly changing lifestyle, and the rise in disposable incomes of people have propelled them to focus on lifestyle-related goals. This further instigated interest among purchasers towards home goods. Such products require synthetic fibers for assembling bed cloth, divider covers, upholstery, covers, and covers. Hearty development of the land area is further impelling the interest for home goods, with developing number of retail locations giving great home outfitting items at reasonable costs. Additionally, automobile-related products such as body fabric textures are typically comprised of synthetic fibers. Appropriation of electric and crossover vehicles is the most recent pattern being seen in the car market, which requires lightweight parts, constructions, and adornments for higher vehicle effectiveness. Polyester is normally used for the interior of vehicles inferable from their lightweight properties. These variables will keep on impacting development of the worldwide synthetic fiber market. Notwithstanding, rigid natural guidelines relating to synthetic fibers' non-biodegradability are probably going to stay a significant test for producers in the worldwide market.
The retail industry is likely to emerge as the segment generating the highest revenue for the global synthetic fiber market. This is accountable to the booming industry, which further increased the demand for synthetic fiber products. Additionally, the advent of trendy lifestyle clothing for all men, women, and kid's sections are likely to help this market continue dominating the market in the coming years.
A recently compiled report by Transparency Market Research (TMR) on the global synthetic fiber market submits forecasts for the period 2017 to 2026, along with a detailed market analysis, and dynamics having potential to leave significant footprints on expansion of the market. In addition to provision of recent trends, impeding factors, and driving factors impacting the market expansion, an evaluation on imperative data with respect to different market parameters is rendered by the report.
Report Structure
The beginning chapter of this report, titled executive summary, delivers a précis of global synthetic fiber market. The executive summary contains imperative market numbers viz. the forecast (2017-2026) CAGR and the historical (2012-2016) CAGR. Market numbers delivered in this chapter concern with the market segments, especially the product and regional segments. Apropos to sales growth rate and revenues from sales of synthetic fiber worldwide, intelligence regarding financially worthwhile regions for expansion of the synthetic fiber market is incorporated in this report.
A chapter titled "overview" follows the executive summary, incorporating definition of "synthetic fiber" that proceeds an incisive market introduction. This chapter demonstrably portrays global synthetic fiber market's broad scope. The chapters succeeding overview explicate key dynamics affecting the synthetic fiber market's growth across the globe, and offer imperative nodes that include the bottom line of enterprises, global economy and fiscal stimulus. In addition, few chapters in this report deliver information regarding pricing analysis and the cost structure of global synthetic fiber market.
Market Taxonomy
Advancing ahead, the report delivers forecasts on global synthetic fiber market in terms of a segmentation-wise analysis. Segmenting the global market for synthetic fiber into synthetic fiber type, end use industries, and region, this report offers its readers with pertinent market numbers with respect to Y-o-Y growth comparison, and revenues comparison, coupled with market share comparison. Global market for synthetic fiber is branched geographically into Middle East & Africa (MEA), Asia-Pacific excluding Japan (APEJ), Japan, Europe, Latin America, and North America.
In this report, the reader will also gain access to information regarding competitive landscape of the market, which comprise market share analysis of leading companies operating in the market. The data offered in this section shed light on competition matrix based projected value share. The competition matrix benchmarks key market participants on the basis of their performance. Insights into market share, infrastructure facilities, top line growth, future outlook and recent developments is give in this section.Competitive Landscape
Research Methodology
The research methodology applied for compiling the report on global synthetic fiber market is tested & proven. Hence, the facts and figures pertaining to the synthetic fiber market provided in the report are highly accurate and credible. The research methodology involved exhaustive primary & secondary research that allowed analysts to make certain assessments. Moreover, data gathered using the research methodology underwent multilevel verification to ensure its authenticity and applicability.
Region

North America
Latin America
Europe
Japan
APEJ
MEA

Synthetic Fiber Type

Polyester
Nylon
Acrylic
Other Synthetic fibers

End Use Industries

Industrial Use
Apparel
Home Furnishing
Others
Custom Market Research Services
TMR offers custom market research services that help clients to get information on their business scenario required where syndicated solutions are not enough.
REQUEST CUSTOMIZATION

Specialty Synthetic Fiber