Sound Effects Software: Introduction
Sound effects software is a suite or standalone product used to record, edit, or generate digital audio. Sound effects software is commonly utilized by audio engineers and editors to remove, mix, edit, and rearrange sections of audio.
This software also helps apply effects and filters, merging audios, and adjusting the stereo channels of an audio component. The sound effects software also offers a wide range of professional filters, such as fast Fourier transform (FFT) filters, bandpass filters, high shelf filters, and others such as notch filters and equalizer peaks (EQ) filters. It helps with changes to audio components with a non-linear editing system.
A nonlinear editing system is a video, audio, or image editing framework in which the content is reconstructed, modified, rendered, and played back each time according to specified editing steps. Additionally, sound effects software also offers a multitrack editing function that allows the combination of audio from diverse tracks and modifies it with filters and effects in real-time.
The software also helps compress and convert audio components from one file format to another. Usually, these file formats include MP3, FLAC, WAV, AAC, etc. Various companies offer bespoke or custom software solutions to provide rapid and optimized user performance in audio editing.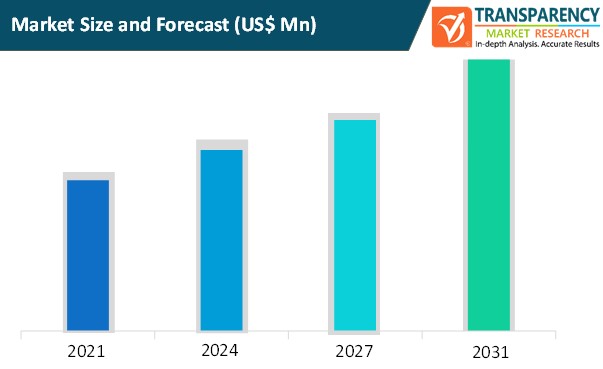 Global Sound Effects Software Market: Dynamics
Global Sound Effects Software Market: Key Drivers
Increase in adoption of sound effects software in all applications, such as playback, recordings, audio optimization, production, and radio, is driving the market growth
Multi-function sound effects software such as audio converter, audio grabber, editor, and recorder, offered by vendors also helps in adoption of cross-application software. Moreover, demand for good audio components is rising in all industries, especially media and entertainment
Increasing emphasis by entertainment companies on providing better sound, noise-reducing audio content is also fuelling the sound effects software market
A large number of new and well-known podcasters who are vigorously using audio editing software to advance audio quality are boosting the market. Furthermore, proliferation of the internet and a growing base of smartphone users around the world are driving the adoption of cloud-based or online audio editing software.
However, software compatibility issues with operating systems (OS) and limited shelf-life of the software version is limiting the use of sound effects software. Similarly, the increase of data corruption and security threats, such as malware and virus, are the main concerns of sound effects software.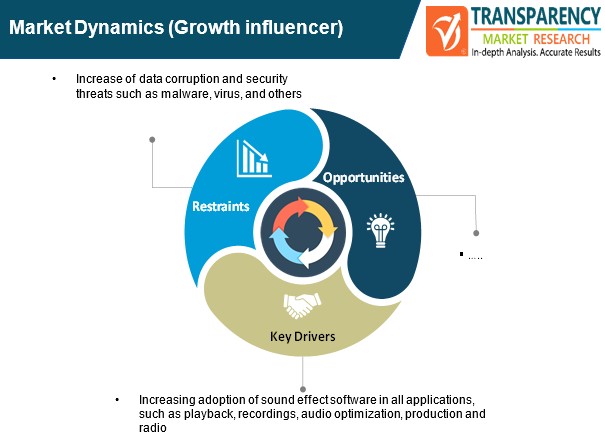 Impact of COVID-19 on the Global Sound Effects Software Market
COVID-19 is having a huge impact on small, medium and large businesses and various industries, such as textiles, manufacturing, automotive, hospitality, travel, and transportation, due to nationwide lockdowns across the globe
Online shows, entertainment places, and other sectors implemented new technologies during this pandemic, and hence, the demand for sound effects technologies in these sectors is expected to increase during COVID-19, which is projected to propel the sound effects software market globally
North America to Hold Major Share of the Global Sound Effects Software Market
The global sound effects software market can be divided into North America, Europe, Asia Pacific, Middle East & Africa, and South America
North America is expected to hold a prominent share of the global market, in terms of revenue. It is estimated to expand at a CAGR during the forecast period. North America is a leading industrial center as well as an important emerging market for several other sectors.
The sound effects software market in Asia Pacific is expected to expand during the forecast period due to government support, enhanced connectivity, and its importance for market leaders and the industry
Increasing internet penetration in commercial and residential spaces, a large consumer base, rising disposable revenue, and improving IT infrastructure are also key factors driving the sound effects software market in Asia Pacific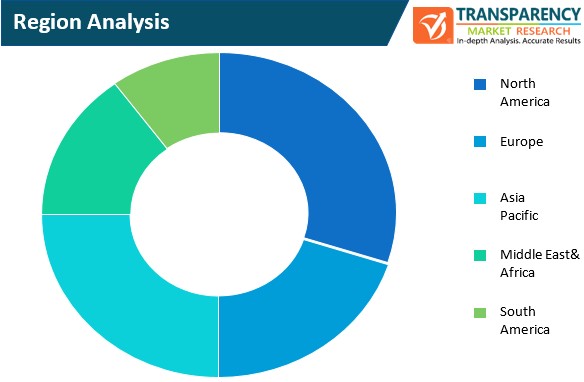 Global Sound Effects Software Market: Competition Landscape
Different players such as GRSites, 99Sounds, and AudioMicro, are active in the sound effects software market with a strong footprint and offer well-established technologies.
GRSites has a few hundred simple sound effects that can be downloaded for free and without registration. It has 1980 sound effects in 30 different categories, all available in WAV or MP3 format.
99Sounds has several high-quality sound collections created by several sound designers. Its goal is to provide free, commercial-quality sound effects and sample libraries. All of its products would always be 100% royalty-free and offered for both commercial and non-commercial use.
Key Players Operating in the Global Sound Effects Software Market Include:
GRSites
99Sounds
AudioMicro
Stock Music Site
Sound Dogs
Audio Network
Sound Ideas
Sound Bible
Audio Network
MAGIX Software GmbH
Pro Sound Effects
Soundly AS
Global Sound Effects Software Market: Research Scope
Global Sound Effects Software Market, by Deployment
Global Sound Effects Software Market, by Application
Radio Recording
Stage & Show
Entertainment Places
Others
Global Sound Effects Software Market, by Region
North America

U.S.
Canada
Rest of North America

Europe

Germany
France
U.K.
Italy
Rest of Europe

Asia Pacific

China
Japan
India
South Korea
Rest of Asia Pacific

Middle East & Africa

GCC
South Africa
Rest of Middle East & Africa

South America

Brazil
Rest of South America
This upcoming business intelligence report is intended to be a one-stop market research solution to guide organizations in taking timely and effective decisions for their business growth. The ongoing study is the culmination of our deep expertise on data science methods, combined with an unparalleled understanding of the external environment and analysis of the industries. Each of the reports by TMR aims at offering a detailed scrutiny of the value chain of our current and prospective customers, takes them from identifying value propositions, and subsequently assist their business executives to implement right strategies to create customer value. We believe that creating and sustaining the customer value is the key pivot on which business executives can create profits for their organizations and increase the market shares, continuously and with sustainability.
Each of our touchpoints through which we engage with the organization/enterprise during the primary research enables us to understand the internal environment it operates in and the ways in which the external environment influences its growth.
Always Evolving with Competition
Excellence is built into the DNA of TMR, and all our teams work collaboratively and committedly toward achieving that in whatever they do. From the very first interaction our teams of research analysts have with any interested market participant to the final preparation processes in each of our reports reflects a rigorous understanding of the dynamic industry environment that businesses operate in.
We relentlessly work to be a differentiator in whatever we do in the current era of hypercompetitive global environment. The result of our unceasing focus on excellence is reflected clearly in the insights and guidance we offer to our customers in order to empower them to create brand equity. Our simple yet very powerful underpinning for navigating the competition is to always keep evolving with changing business environments. Our close-kinit team of research analysts not only believe in this simple philosophy but also implement the same.
Constantly Innovating Our Research Methodologies and Models
We do not limit with any specific market research tool or one standard approach for obtaining or analyzing data. Undoubtedly, our report making process is ever-evolving to meet the customer needs and demands supported broadly by a vast knowledge of data science methods that we combine with business acumen our teams have built upon for several years. Evidently, our primary and secondary research data about customers and consumers have shown that we can go to any lengths to obtain them. This is followed by applying next-gen automation tools integrated with human judgement to clear the clutter, ascertain the most relevant and recent qualitative and quantitative insights, and package them in digestible chunks in our reports for our customers.
We Take Pride in No-One-Size-Fits-All Approach
Over the past several years, we have been conducting market intelligence studies across all industries for all types of organizations — big and small, profit and not-for-profit, and Fortune 500 and Unicorns, as we believe that a sound decision making must be based on no-one-size-fits-all approach. Without doubt, each of the organizations regardless of the industry they are in are affected differently by changes in political, economic, socio-culture, legal, ecological, and legal environments. The research models and the value chain analysis process that our analysts employ for conducting the study uphold this approach.
We look at myriad components of internal and external business environment affecting the growth strategies of organizations. Some of the broader aspects that we focus on are:
Our team of Analysts and Support Teams always strive to see the bigger picture in life cycle stages of any industry
The Teams focus on obtaining valuable insights into different models of competitive advantage while making an internal environment analysis
They keep on modifying the value chain analysis processes of organizations to understand on how customer value is created
Some areas of assessing market dynamics that are used in the research models and methodologies adopted by our analysts can be summarized as:
Corporate and business strategies underlying new brand positioning strategies
Mapping for strategic planning for business units
Various metrics for business portfolio analysis, including BCG matrix
Value chain analysis
These will help create and sustain competitive advantage for our prospects and current customers.
Key focus areas and agenda that underpin and catalyze our primary and secondary research initiatives and endeavors are:
What are some of the core competencies and distinctive competencies of new entrants and established players in the industry we are analyzing?
What are some of the branding opportunities that are emerging at a rapid pace?
What are the major competitive forces and elements of external environment shaping the industry life cycle stages of most organizations?
Why some competitive strategies are popular than others among leaders in a certain market?
What customer-based brand equity strategies companies have leveraged in a certain industry or set of related industries in a sector?
What are some of the key pricing strategies that companies in an industry are implementing for marketing their products internationally?
Identifying whether market-push or market-pull strategies are more relevant to a certain product or a service?
Disclaimer: This ongoing market research study is a meticulously planned activity where a broad array of factors and aspects that shape the marketing environment and industry are taken into account. However, keeping in mind the constantly changing nature of business dynamics and changing strategic intents, we are always actively making iterations and modifications in our approaches. As always, we are ready to tailor our insights and guidance to suit your requirements. Engage with us to know what more is there for your CXOs.
Sound Effects Software Market