Sodium Cyanide Market
Sodium Cyanide Market (Form: Solid and Liquid; End-use Industry: Mining, Dyes & Pigments, Chemical Intermediates, Pharmaceuticals, and Others) - Global Industry Analysis, Size, Share, Growth, Trends, and Forecast 2019 - 2027
Chemicals & Materials
TMRGL46848
2019-10-22
319

Pages
Sodium Cyanide Market: Increase in Gold Mining to Offer Newer Opportunities
The mining industry has historically used sodium cyanide for gold recovery since the latter half of the 19th century, and remains the largest of the end users of the sodium cyanide market. As the global demand for precious metal mining grows in popularity, it has caused a subsequent positive impact on the sodium cyanide market as well. Sodium cyanide is being used in mining operations to leach the gold from the ore, either by heap or vat leaching.
Manufacturers in the market are increasingly looking to meet this growing demand from the mining industry by expanding their production facilities. For instance, in 2018, Cyanco announced the expansion of its manufacturing plant in Nevada, USA, for the continuous supply of sodium cyanide around the world.
Of the other end users of sodium cyanide, the chemical industry, which held a smaller share of ~8% of the total global market value in 2018, is expected to grow the fastest at an average of ~5% over the forecast period. This can be attributed to the application of sodium cyanide for specific tasks such as electroplating and insecticides, and also as a precursor to several other compounds used in pharmaceuticals. The expected average growth indicates the presence of untapped opportunities for manufacturers in the sodium cyanide market to capitalise during the forecast years.
In 2018, by volume, the global sodium cyanide market registered sales of ~1,145 kilo tons, a figure that is estimated to grow during the forecast period of 2019 to 2027, to hit the ~1,700 kilo tons mark.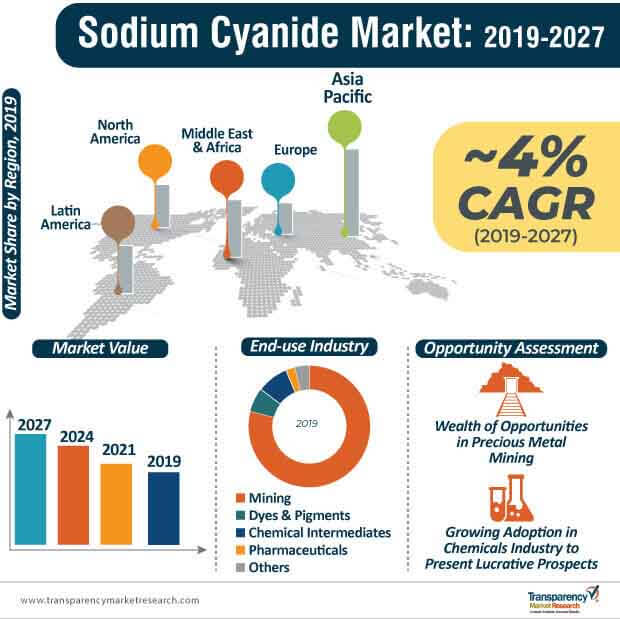 To gauge the scope of customization in our reports Ask for a Sample
Negative Impact of Sodium Cyanide on the Environment Restraining Market Growth
While it is rampantly employed across the mining industry, the use of sodium cyanide has been increasingly garnering attention in recent years due to the adverse effects it has on the environment. Sodium cyanide itself breaks down rapidly in water; however, the compounds it breaks down into can pose a great danger to the wildlife and humans in the area. This is particularly significant in the case of sodium cyanide spills into groundwater sources, which can cause widespread contamination that persists for long periods of time. For instance, the 2000 Baia Mare cyanide spill in Romania has been touted as one of the worst environmental disasters in Europe in recent times, which endangered human and wildlife across Hungary, Serbia, and Romania.
Get an idea about the offerings of our report from Report Brochure
The occurrence of sodium cyanide spills due in mining, which can have a negative impact on the environment, can restrain the potential growth of the sodium cyanide market.
Sodium Cyanide Market: Competition Analysis
The global sodium cyanide market is a consolidated landscape, with a small number of large-scale manufacturers holding a large share of the market, and numerous small- and medium-sized players vying for the rest of the pie of the market share. In 2018, established manufacturers in the market - Cyanco, Chemours, Orica Limited, Evonik Industries AG, and Australian Gold Reagents Pty Ltd. held ~70% share of the market. They are looking at establishing themselves as reliable players in the market, and are increasingly focusing on strengthening their distribution channels in regional markets as well. For instance, in May 2018, Australian Gold Reagents appointed Qube Bulk as its integrated provider of logistic services, covering the West Australian sodium cyanide supply chain from beginning to end.
Looking for Regional Analysis or Competitive Landscape in Sodium Cyanide Market, ask for a customized report
Analysts' Viewpoint
The global sodium cyanide market is set to grow rather modestly during the forecast period, primarily due to unabated demand from the mining industry. According to analysts at Transparency Market Research, manufacturers should invest into making regional and global sodium cyanide supply chains reliable for maximum gains in the foreseeable future. Players should also turn their attention toward the rapidly rising demand from the chemical industry, and focus on customising their products based on related requirements.

Although there is a possibility of the adverse environmental impact of improperly stored sodium cyanide, which can negatively impact the growth of the market, stakeholders are becoming increasingly responsible with its storage, transport, and handling. This is likely to shape the evolution of the landscape quite positively in the foreseeable future.
Sodium Cyanide Market: Description
Sodium cyanide is manufactured by treating hydrogen cyanide with sodium hydroxide at an elevated temperature. The compound is highly poisonous. It remains stable at high temperatures in the complete absence of carbon dioxide, air, and moisture. Sodium cyanide is widely used in gold mining due to its high affinity toward metals. Additionally, it is employed in other industries such as electroplating, agrochemicals, pharmaceuticals, ore extraction, dyes, cleaning metals, and chelating agents.
The cyanide production process has lower environmental impact vis-à-vis other leaching chemicals such as bromine, chlorine, and thiourea. Several other biological media are under consideration to recover gold from ores; however, no one has come up with a more cost-effective and productive method than leaching with cyanide. This factor is likely to drive the global sodium cyanide market.
Key Growth Drivers of Sodium Cyanide Market
Cyanide is one of few chemical reagents that dissolves gold in water. It is a common industrial chemical that is readily available at a reasonably low cost. For technical and economic reasons, cyanide is the chemical of choice for the recovery of gold from ores. It has been used in metal extraction since 1887. Currently, it is safely used and managed in gold recovery around the world. Highly dilute solutions of sodium cyanide, typically in the range of 0.01% and 0.05% cyanide (100 to 500 parts per million), are employed in gold mining operations.
Cyanide is employed in mining to extract gold (and silver) from ores, particularly low-grade ores, and ores that cannot be readily treated through simple physical processes such as crushing and gravity separation. The use of water-based solutions to extract and recover metals such as gold is called hydrometallurgy.
The demand for flotation reagents such as sodium cyanide has been increasing due to decline in the quality of gold and silver ores. Sodium cyanide, being economic, is widely used in the extraction of gold. The prices of gold have been fluctuating since the last few years. Therefore, manufacturers are focused on the extraction of gold from deeper mines that have been winding down. Consequently, demand for sodium cyanide has been rising significantly, as such, boosting the growth of the sodium cyanide market.
Local and foreign investments have been increasing in the mining sector in Latin America. This is driving the demand for reagents, such as sodium cyanide, for gold and silver extraction.
Almost 90% of global gold production utilizes sodium cyanide. Gold ore, after being crushed into powder, is added to the sodium cyanide solution. This results in the strong bonding of gold molecules to the sodium cyanide. The application of zinc then separates the cyanide from the gold, resulting in the formation of solid gold.
The consumption of sodium cyanide per ton of ore processed has been increasing, owing to gradual decline in the average content of gold across the globe.
Major Challenges for Sodium Cyanide Market
The use of cyanide (CN) compounds in the mining industry raises several conflicting and confusing issues. Mining regulatory authorities state that, cyanide rapidly breaks down in water in the presence of sunlight into largely harmless substances such as carbon dioxide and nitrate.
Cyanide oxidizes when exposed to air or other oxidants, and therefore, it decomposes. It is a deadly poison when ingested in a sufficiently high dose. However, it does not lead to chronic health or environmental problems when present in low concentrations.
Lucrative Opportunities for Sodium Cyanide Market
Approximately 90% of sodium cyanide is used for gold and silver processing in North America. Around 75% is used for this purpose, worldwide. Nonetheless, sodium cyanide is also employed as a chemical intermediate, specifically in locations with lack of local supply of hydrogen cyanide, since sodium cyanide can be transported and stored. For instance, sodium cyanide is primarily employed in chemicals in Japan and Europe, while it is majorly employed for gold extraction in North and South America, Australia, South Africa, and China.
Off late, the sodium cyanide market has transformed owing to fluctuation in the prices of gold. Gold mining companies have been investing in new grass root exploration projects. These companies are also expanding their activities in mines that have been winding down.
Asia Pacific to Dominate Sodium Cyanide Market
Asia Pacific and the Middle East & Africa are leading sodium cyanide exporters, while some countries in Latin America and Europe import large volumes of the product.
China is a key country in the sodium cyanide market in Asia Pacific, owing to the expansion of industries such as mining and chemicals in the country. China is a major hub for chemical- and medical-related products. Dyes, chemical pests, and casting products are employed in chemical- and medical-related products due to their superior properties such as cost effectiveness and efficiency as compared to other alternatives.
Mining End-use Industry to Account for Prominent Share
Based on end-use industry, the mining segment accounted for a major share of the global sodium cyanide market in 2018. The segment is anticipated to continue its dominance during the forecast period, due to its suitability in various end-use areas.
Sodium cyanide is commonly employed in mining applications to extract gold and other precious metals from their ores. It is sold as either a liquid or solid briquette. Its strength, usually quoted on a molar basis, can range anywhere from 98% and above.
Sodium cyanide is ideal for gold processing, as it is cost-effective, quick to process, and readily available. Approximately 85% to 90% of gold production companies utilize sodium cyanide.
Leading Players Actively Engage in Joint Ventures and R&D Activities
Key players operating in the global sodium cyanide market include

Cyanco
Australian Gold Reagents Pty Ltd
Asahi Kasei Corporation
Orica Limited
Sasol Limited
The Chemours Company
Evonik Industries AG
Changsha Hekang Chemical Co., Ltd.
Draslovka Holding B.V.
Gujarat Alkalies and Chemicals Limited
PJSC LUKOIL
Taekwang Industry Co, Ltd.
American Elements,
Wesfarmers Limited.

These companies engage in expansions, mergers & acquisitions, and joint ventures to maintain their share in the global sodium cyanide market.
On February 22, 2017, CyPlus Idesa S.A.P.I de C.V. officially opened its sodium cyanide production plant with an inauguration ceremony in Coatzacoalcos (Veracruz, Mexico). This new sodium cyanide plant has a capacity of 40,000 metric tons, and uses state-of-the-art hydrocyanic acid and cyanide technologies.
Sodium Cyanide Market - Scope of the Report
A latest study collated and published by Transparency Market Research (TMR) analyzes the historical and present-day scenario of the global sodium cyanide market, to accurately gauge its potential development. The study presents detailed information about the important growth factors, restraints, and key trends that are creating the landscape for the future growth of the sodium cyanide market, to identify the opportunistic avenues of the business potential for stakeholders. The report also provides insightful information about how the sodium cyanide market will progress during the forecast period of 2019-2027.

The report offers intricate dynamics about the different aspects of the sodium cyanide market, which aids companies operating in the market in making strategic development decisions. TMR's study also elaborates on the significant changes that are highly anticipated to configure the growth of the sodium cyanide market during the forecast period. It also includes a key indicator assessment to highlight the growth prospects of the sodium cyanide market, and estimate statistics related to the market progress in terms of value (US$ Mn) and volume (kilo tons).

This study covers a detailed segmentation of the sodium cyanide market, along with key information and a competitive outlook. The report mentions the company profiles of key players that are currently dominating the sodium cyanide market, wherein, various development, expansion, and winning strategies practiced and executed by leading players have been presented in detail.
Key Questions Answered in TMR's Report on the Sodium Cyanide Market
The report provides detailed information about the sodium cyanide market on the basis of comprehensive research on the various factors that are playing a key role in accelerating the growth potential of the market. Information mentioned in the report answers path-breaking questions for companies that are currently functioning in the market and are looking for innovative ways to create a unique benchmark in the sodium cyanide industry, so as to help them make successful strategies and take target-driven decisions.
Which type of sodium cyanide will emerge as a revenue generator for the market during the forecast period?
How are key market players successfully earning revenue out of the advantages of sodium cyanide?
What will be the Y-o-Y growth of the sodium cyanide market between 2019 and 2027?
What are the winning imperatives of market frontrunners in the sodium cyanide market?
Which end-use industry is expected to develop maximum application for sodium cyanide during the foreseeing period?
Research Methodology – Sodium Cyanide Market
The research methodology adopted by analysts for combining the sodium cyanide market report is based on detailed primary as well as secondary research. With the help of in-depth insights of the industry-affiliated information that is obtained and legitimated by market-admissible resources, analysts have offered riveting observations and authentic forecasts of the sodium cyanide market.
During the primary research phase, analysts interviewed industry stakeholders, investors, brand managers, vice presidents, and sales and marketing managers. Based on data obtained through the interviews of genuine resources, analysts have emphasized the changing scenario of the sodium cyanide market.

For secondary research, analysts scrutinized numerous annual report publications, white papers, industry association publications, and company websites to obtain the necessary understanding of the sodium cyanide market.
Sodium Cyanide Market - Segmentation
TMR's research study assesses the sodium cyanide market on the basis of form, end-use industry, and region. This report presents the extensive market dynamics and progressive trends associated with different segments, and how they are influencing the growth prospects of the sodium cyanide market.
Form

Solid

Liquid

End-use Industry

Mining

Dyes & Pigments

Chemical Intermediates

Pharmaceuticals

Others (including Textiles and Agrochemicals)

Region

North America

Latin America

Europe

Asia Pacific

Middle East & Africa
Custom Market Research Services
TMR offers custom market research services that help clients to get information on their business scenario required where syndicated solutions are not enough.
REQUEST CUSTOMIZATION