Smart Antenna Market
Smart Antenna Market (Type: Switched Multi-beam Antenna and Adaptive Array Antenna; Technology: MIMO [Multiple Input Multiple Output], MISO [Multiple Input Single Output], and SIMO [Single Input Multiple Output]; and Application: Wi-Fi Systems, Cellular Systems, WiMax Systems, Radar, and Others) - Global Industry Analysis, Size, Share, Growth, Trends, and Forecast, 2021-2031
Electronics & Semiconductors
TMRGL984
2021-04-21
167

Pages
Unprecedented Traffic on Networks amid Coronavirus Pandemic Boosts Demand for Smart Antenna
Remote working in healthcare settings and work from home initiatives have bolstered the growth of the smart antenna market during the coronavirus crisis. The growing adoption of 4G and 5G technologies is driving the global market. This is evident since cellular networks and Wi-Fi systems are witnessing increased traffic in home environments and residential spaces.
Due to the ongoing COVID-19 outbreak, defense forces in various countries are under pressure to safeguard borders since the socio-economic condition of several countries is vulnerable. Companies in the smart antenna market are capitalizing on this opportunity to increase the availability of products with defense forces since they play an essential role in safeguarding the nation.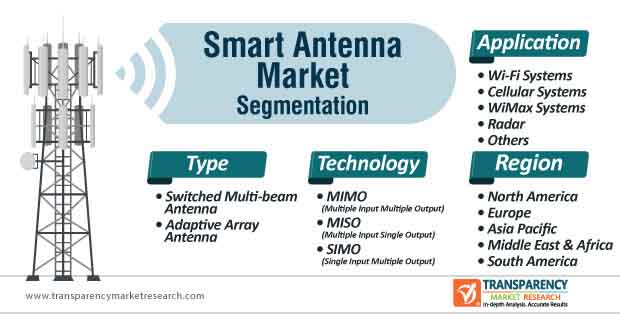 Request a sample to get extensive insights into the Smart Antenna Market
Manufacturers Optimize Thin Film Deposition Process to Improve Conductivity of Transparent Antennas
The Luxembourg Institute of Science and Technology (LIST) is inviting an internship in processing of smart antenna for autonomous IoT (Internet of Things) sensor units. This signals robust growth of the smart antenna market, which is estimated to expand at a favorable CAGR of 8.5% during the assessment period. However, transparent antennas are subject to low gain, owing to the use of resistive materials and thinner conductive materials. Such challenges are being countered by means of employing antennas in array structure or by optimizing the thin film deposition process to improve its conductivity.
Stakeholders are seeking to alleviate urban challenges in smart city initiatives to broaden their revenue streams.
To understand how our report can bring difference to your business strategy, Ask for a brochure
Digital Transformation of Vehicles, Computers, Factories Fuels Market Growth
Analysts at the Transparency Market Research (TMR) opine that the entire world will be connected to the Internet through satellites. Merck Group - a leading science and technology company is anticipating a digital future with smart antennas used in cars, airplanes, and households with easy access to the online world from any location.
Digital networking of vehicles, factories, and households will be translating into incremental opportunities for stakeholders in the global smart antenna market. The proliferation of self-driving cars such as Tesla, intelligent algorithms, and powerful computers are keeping companies in the smart antenna market busy with research and development. Thus, connectivity among different entities has become a crucial requirement for establishing digital transformation. Stakeholders are increasing efforts to enable powerful and reliable network connections for sending and receiving large quantities of data.
Wireless Communication, Autonomous Vehicle Applications Drive Demand for 5G Antenna Solutions
The smart antenna market is projected to reach US$ 15 Bn by 2031. Movandi - a fast growing 5G mmWave RF (radio frequency) solutions company is increasing the availability of 5G antenna solutions with the beam forming technology to improve the performance of multi-gigabit networks. Companies in the smart antenna market are providing 5G millimeter wave solutions for small cell and base station applications.
5G millimeter wave solutions are facilitating content delivery across mobile platforms, augmented reality services, and mission-critical vehicle-to-vehicle (V2V) applications.
Moderate Cost Antennas Combined with AI Help Design Mobile Communication Systems
The new range of smart antennas is capable of automatically switching its main beam to track a moving target. Companies in the smart antenna market are bolstering their production capabilities to develop solutions integrated with sensing element and signal processing element, which are suitable for mobile communication in railways and long straight spaces.
The development of mobile tech and the advent of mobile communication have led to the construction of flexible and variable short-range wireless communication channels. However, environmental adaptability has become a task for companies in the smart antenna market for designing of mobile communication systems in which antennas play a key role. Hence, companies are increasing the availability of moderate cost antennas combined with artificial intelligence (AI) instead of low-cost antennas to achieve environmentally cognitive intelligence.
Electromagnetic Computing Helps Build Wireless Communication Systems Suitable for Large Aircraft
Wi-Fi systems are expected to grow at an exponential rate in terms of revenue and CAGR during the forecast period. This explains why companies are increasingly focusing on smart antennas for 5G and 6G wireless systems. As such, there is a need for scientific approach to advance in the wireless technology. Continuous R&D using a scientific approach is helping to make antennas more powerful, maneuverable, and crucial for the advanced wireless technology. Companies are making use of electromagnetic signal processing techniques to control the antenna beam and track the moving station required for fast, dynamic, and effective beam forming.
The future of smart antenna market lies in electromagnetic computing. Companies are developing sophisticated antenna systems in the U.S. and Europe, which are suitable for electrically large aircraft, automobiles, and IoT systems. Thus, lucrative growth opportunities in countries of Asia Pacific such as India, Australia, and Japan are grabbing the attention of innovators. Companies are expected to team with researchers and interns to run projects that are realizing the importance of nanotechnology-based sensors and generators with IoT capabilities that complement low power wireless communication modules.
Liquid Crystal Technology Delivers Reliable Coverage for mmWave 5G Applications
Liquid crystal smart antennas are a breakthrough innovation for mmWave 5G applications. The liquid crystal technology is being used to develop phased array smart antennas that address the challenges faced by commercial mmWave 5G end-use cases. Challenges such as signal penetration, limited range of mmWave, and high infrastructure investment are hampering the growth of the smart antenna market. Hence, companies are increasing their focus on advanced technologies including beam-steering for effective coverage with the help of mmWave 5G.
Signal penetration is potentially challenging with mmWave 5G, since mmWave is easily blocked by buildings and poor weather. The limited range of mmWave is another roadblock for market expansion, since these frequencies only have a range of around 300 meters, which is significantly less than 4G. This has led to the demand for more equipment to deliver consistent and reliable coverage using liquid crystal smart antennas.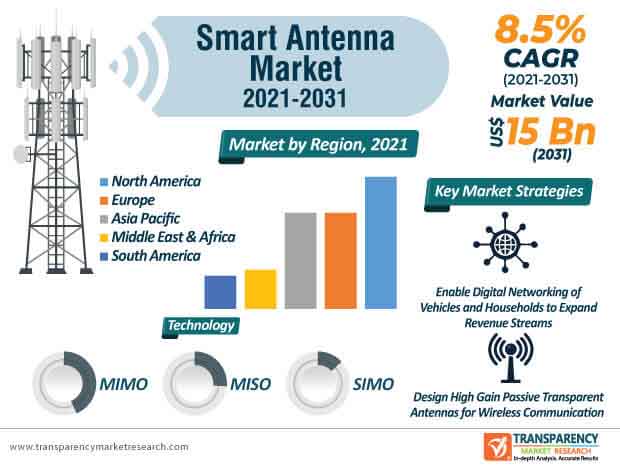 Stuck in a neck-to-neck competition with other brands? Request a custom report on Smart Antenna Market
Analysts' Viewpoint

Even though mmWave 5G faces issues in long-distance communications, users needing high speed communication over short distances are opting for liquid crystal smart antennas amid the ongoing COVID-19 pandemic. Companies are expected to collaborate with researchers and interns to gain proficiency in the designing and fabrication of high gain passive transparent antennas for wireless communication, which complement autonomous sensor units. The software-defined antenna solution providers are gaining recognition for using the holographic beam forming technology to enable continuous reuse of the same band of spectrum. As such, smart antennas have become increasingly important for small and low Earth orbit satellites in order to expand the global Internet coverage.
Smart Antenna Market: Overview
According to Transparency Market Research's latest research report on the global smart antenna market for the historical period of 2017–2019 and the forecast period of 2021–2031, usage of smart antennas in telecommunications, automobiles, IoT, and industrial sectors is expected to boost the global smart antenna market during the forecast period
In terms of revenue, the global smart antenna market is expected to reach the value of US$ 15 Bn by 2031, expanding at a CAGR of 8.5% during the forecast period
Rise in Demand for Smartphones: A Key Driver of Smart Antenna Market
Number of 'smart' consumer electronic devices has steadily grown over the years. More and more people are opting for smarter devices, which are mobile or portable.
Smartphones have become a viable alternative to laptops and personal digital assistants (PDAs), offering features such as SMS and voice messages coupled with multimedia functionality, Internet applications, inbuilt GPS capabilities, and high data processing capabilities
Poor signal quality, short battery life, and dropped calls are posing to be the biggest barriers to smartphone advancements. Moreover, wireless operators aim to support more users per base station in order to make the services affordable to subscribers and reduce the overall network costs.
Smart antenna systems bring high network performance and great power savings to smartphones. The traditional omnidirectional antennas, on the other hand, result in power wastage and introduces interference. Smart antennas use software to find the direction of the signal and then point themselves in the right direction. This, is turn, is capable of doubling the battery life over conventional antennas as well as prevent call drops. Thus, companies are largely developing smart antenna systems for smartphones.
The market for smart antennas is witnessing a significant parallel growth due to the ever-growing demand for smartphones, which is expected to further increase in the future
Wireless Communication Witnessing High Demand
Growing demand for wireless communication and need for high-speed communication networks are key trends promoting smart antenna market growth
Wireless systems are an essential part of mobile communication and they are becoming more crucial with rising demand for accessing information rapidly
Most pressing problem in wireless communication systems is spectral efficiency and interference. Wireless Internet, data communication, and mobile video are pushing the spectrum to its limits.
Smart antenna systems have emerged as a promising technology to enhance spectrum efficiency of present as well as future wireless communication systems by exploiting the spatial domain
Smart antennas can significantly improve the performance of wireless systems. These antennas enable operators of cellular, personal communications services (PCS), and wireless local loop (WLL) networks to offer efficient services.
Smart antennas also help to deal with two main impairments, which hamper the performance of wireless communication systems, namely: multipath and co-channel interference
Considering these factors, the growing demand for wireless communication is expected to positively impact the growth of the smart antenna market during the forecast period
Deployment of Navigation, Infotainment, and ADAS in vehicles
Recent years have seen a gradual increase in demand for vehicle radio services for navigation, infotainment, ADAS, and other features. However, for such vehicle radio services to run efficiently, a modern, connected car may require as many as 18 antennas, which is a major design challenge.
Designers are gradually opting for multi-band smart antennas in order to overcome this challenge, which combines multiple antennas in a single module that can be mounted underneath a vehicle's body surface
As such, the growing demand for such services in automobiles is leading to the expansion of the smart antenna market
Smart Antenna Market: Competition Landscape
Detailed profiles of providers of smart antennas have been provided in the report to evaluate their financials, key product offerings, recent developments, and strategies. Key players operating in the global Smart Antenna market are

Alcatel-Lucent International Holdings Inc. (Nokia)
ArrayComm
Broadcom Corporation
California Amplifier Inc.
Cobham Antenna Systems
Intel Corporation
Motorola Solutions Inc.
Samsung Electronics Co., Ltd.
Sierra Wireless, Inc.
Smart Antenna Market: Key Developments
Key providers of smart antenna, such as Intel Corporation, ArrayComm, and Alcatel-Lucent International Holdings Inc. (Nokia), are focusing on offering technologically advanced products to customers. Some other key developments in the global smart antenna market are highlighted below:

Intel Corporation is continuously taking efforts to introduce advanced technologies such as LTE and 5G technology to improve the speed of connectivity in order to meet the constantly increasing consumer demand for high speed data networks
Cadence and ArrayComm LLC announced a joint agreement for wireless communication software and IP development. Through this agreement, Cadence and ArrayComm will work together to deliver high performance commination software and IP tailored on Cadence's DSP core, not only for 5G, but also for future evolved new technologies.
Alcatel-Lucent International Holdings Inc. developed an innovative antenna for 5G with Orange, and German manufacturer, Kathrein. This new high-performance antenna system integrates both a multi-band passive antenna and a massive MIMO adaptive antenna technology into a single unit.

In the global smart antenna market report, we have discussed individual strategies, followed by company profiles of providers of smart antennas. The 'Competition Landscape' section has been included in the report to provide readers with a dashboard view and company market share analysis of key players operating in the global smart antenna market.
Smart Antenna Market – Scope of the Report
A new study on the global smart antenna market is published by Transparency Market Research (TMR). It presents detailed information on key market dynamics, including drivers, trends, and challenges for the global smart antenna market as well as its structure. TMR's study offers valuable information on the global smart antenna market in order to illustrate how the market is expected to expand during the forecast period i.e. 2021–2031.
Key indicators of market growth, which include value chain analysis and compound annual growth rate (CAGR) are elucidated in TMR's study in a comprehensive manner. This data can help readers interpret the quantitative growth aspects of the global smart antenna market.
An extensive analysis of business strategies adopted by leading market players is also featured in TMR's study on the global smart antenna market. This can help readers understand key factors responsible for growth of the global smart antenna market. In this study, readers can also find specific data on avenues for qualitative and quantitative growth of the global smart antenna market. This data would guide market players in making apt decisions in the near future.
Key Questions Answered in TMR's Study of Smart Antenna Market
What would be the Y-o-Y growth trend of the global smart antenna market between 2021 and 2031?
What is the influence of changing trends on types of smart antennas?
Would North America continue to be the most dominant regional market for providers of smart antennas over the next few years?
Which factors would hinder the global smart antenna market during the forecast period?
Which are the leading companies operating in the global smart antenna market?
Research Methodology
A unique research methodology is utilized by TMR to conduct comprehensive research on the global smart antenna market and arrive at conclusions on future growth prospects for the market. This research methodology is a combination of primary and secondary research, which helps analysts warrant the accuracy and reliability of the conclusions drawn.
Secondary research sources referred to by analysts during production of the report on the global smart antenna market include statistics from company annual reports, SEC filings, company websites, World Bank database, investor presentations, regulatory databases, government publications, and market white papers. Analysts have also interviewed senior managers, product portfolio managers, CEOs, VPs, and market intelligence managers who have contributed to production of TMR's study on the global smart antenna market as a primary research source.
These primary and secondary sources provided exclusive information during interviews, which served as a validation from leading players operating in the global smart antenna market. Access to an extensive internal repository as well as external proprietary databases allowed this report to address specific details and questions about the global smart antenna market with accuracy. The study also uses a top-down approach to assess the numbers for each segment and a bottom-up approach to counter-validate them. This has helped in making TMR's estimates on future prospects for the global smart antenna market more reliable and accurate.
Smart Antenna Market – Segmentation
TMR's study of the global smart antenna market segments the market based on the following:
Type

Switched Multi-beam Antenna
Adaptive Array Antenna

Technology

MIMO (Multiple Input Multiple Output)
MISO (Multiple Input Single Output)
SIMO (Single Input Multiple Output)

Application

Wi-Fi Systems
Cellular Systems
WiMax Systems
Radar
Others

Region

North America
Europe
Asia Pacific
Middle East & Africa
South America
Changing market trends and other crucial market dynamics associated with segments of the global smart antenna market have been discussed in detail in TMR's study.
Custom Market Research Services
TMR offers custom market research services that help clients to get information on their business scenario required where syndicated solutions are not enough.
REQUEST CUSTOMIZATION