Slewing Drives Market
Slewing Drives Market (Axis: Single Axis, Dual Axis; Gear: Worm Gear, Spur Gear; Application: Solar Trackers, Man Lifts, Wind Turbines, Hydraulic Machinery, Cranes, Drilling Equipment, Others; Distribution Channel: Online, Offline) - Global Industry Analysis, Size, Share, Growth, Trends, and Forecast, 2019 - 2027
Category :

Factory Automation

Format :
Slewing Drives – Modern Incarnations Driving Force Transition Improvements
Drive mechanisms have been a crucial area of focus in the heavy duty equipment and power generation industries. The integration of modern drive mechanisms and large-scale renewables for carbon reduction has meant that key components of the power value chain have gained higher emphasis.
A slewing drive is one such integral component where new developments have come to the fore, improving force transition over standard designs via more efficient meshing with radial gears. While the radical mechanism behind slewing drives is not new, modern incarnations of this essential industrial component feature many recent operational improvements – rotational smoothness, survivability load, and positioning accuracy.
Sensing the potential of the slewing drives landscape, Transparency Market Research (TMR), in its recent analytical study, covers key imperatives and dynamics for the manufacturers of drive mechanisms in general, and slewing drives in particular.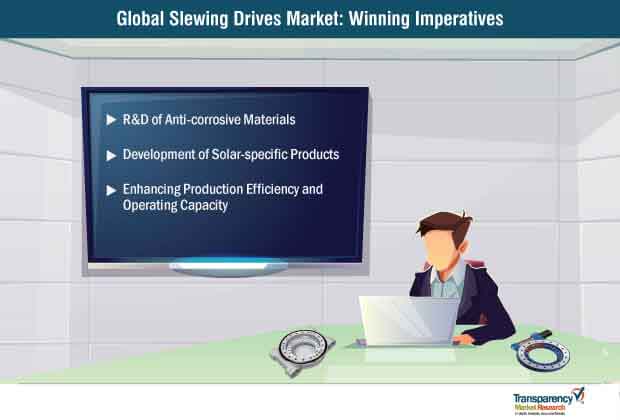 Planning to lay down future strategy? Perfect your plan with our report brochure here
The Step toward High-Precision & Non-Standard Customization
Stakeholders in the slewing drives market saw a marked rise in new OEM customers, complementing business margins, and driving investments in new production lines and capacity expansions. According to TMR's study, ~800 thousand units of slewing drives were sold in 2018, and the market is estimated to record ~ 4% CAGR through to 2027.
From the perspective of demand-side dynamics, as the construction machinery gets caught up in the new maintenance cycle abreast surging infrastructure development activities, there is huge requirement for load transmission components such as slewing drives. Additionally, structural adjustments in the manufacturing sector have led to a rise in new facilities, including automation and energy, which has driven the demand for high-quality slewing drives with emphasis on high-precision and non-standard customization.
Low-Maintenance and Performance Versatility – Key Focus Areas
In response to the growing demand from a wide range of applications, including wind turbines, solar tracker, and cranes, key players in the slewing drives market are focusing on the development of low-maintenance drives, engineered to ebb the on-field labor cost and offer greater protection. Environmental protection remains the prime focus to offset any corrosive damages, using robust enclosures that prevent operational hazards due to particles such as sand, dust, dirt, and even water.
Versatility in performance is another key aspect that has been gaining the attention of slewing drive manufacturers, devoid of the component's mechanism – vertical or horizontal. Slewing drives that offer a wide spectrum of torque have been introduced by established manufacturers to suit the various performance requirements of end users. Hourglass technology used in slewing drives have also witnessed significant advancements to cope up with the low-maintenance and performance versatility needs of customers. The focus on greater strength and accuracy has led manufacturers to focus on increased tooth engagement, which has consequentially complemented offering high torque in confined spaces.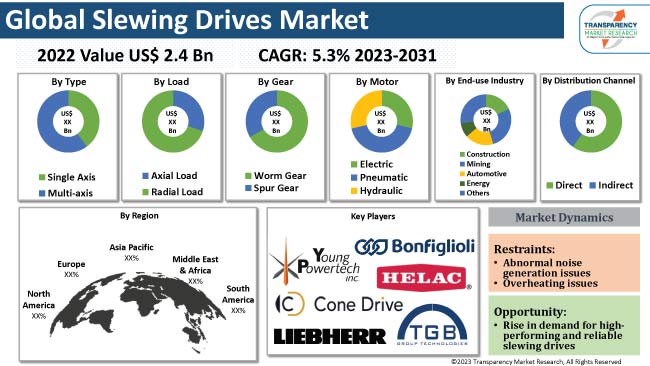 Want to know the obstructions to your company's growth in future? Request a PDF sample here
Slewing Drives Market – Winning Imperatives for Stakeholders
R&D of Anti-corrosive Materials
Key market stakeholders have strengthened their focus toward improving the reliability and lifecycle of slewing drives, and add to their application versatility. The R&D of new materials needed for slewing drives, and the R&D of auxiliary processes & materials do not meet the urging requirements for quality and performance level. This has further led manufacturers to emphasize more stringent internal standards that enable improved geometry, increased depth of hardened layer, and enhanced service life.
The research efforts of slewing drive manufacturers toward anti-corrosive materials to promote their application scope has resulted in the adoption of computer simulation technology to validate the load bearing capacity, while molding the product structure into the size of the optimized design.
Development of Solar-specific Products
There has been a marked rise in the application of slewing drives in solar tracking systems, such as single-axis and dual-axis trackers. Slewing drives have facilitated the operations of key solar tracking-relevant components, including linear Fresnel, solar dishes, and solar towers. Stakeholders in the slewing drives market, with their cutting-edge precision motion control solutions dedicated for multi-industry applications, have been focusing on the development of slewing drives for solar power trackers.
Customized slewing drives for efficient and cost-effective harnessing of solar power are coming to the fore, enabling a robust static and dynamic torque load capacity in compact packages. Key players have come up with the double-enveloping drive technology that offers precision and accuracy, along with an absolute zero backlash.
Focus on Production Efficiency and Operation Capacity
After gradual recovery of the slewing support landscape in recent years, it has been witnessed that, the demand for slewing drives is expected to maintain a steady momentum of growth. This ephemeral to the pervasive recovery stage of the slewing drives landscape, alongside growing infrastructure development activities and rise of renewable power generation plants, has been auguring well for market growth.
Leading players in the market are focusing on enhancing their production efficiency and operation capacity to cater to the growing demand, abreast the increasing number of manufacturing industries, which range from industrial automation and energy to amusement equipment. These capacity expansions by stakeholders are primarily focused toward manufacturing high-quality, high-precision, and to a certain extent - non-standard customized slewing drives.
Looking for exclusive market insights from business experts? Request a Custom Report here
Slewing Drives Market - Competition to Turn Intense Amid Supply Shortage & Price Volatility
The technology- and capital-intensive nature of the slewing drives market has meant that the threat of new market entrants is low. Strong distribution channels of slewing drive manufacturing giants, and brand preferences among customers, together, complement the lead of established companies in the market. Both, regional as well as global players have targeted client bases, which has further intensified the competition in the slewing drives market.
Key players are focusing on increasing their geographical footprint and technological expertise by entering into mergers & acquisitions. Recently, Dana Brevini UK completed the acquisition of Oerlikon Group's Drive Systems segment. The market position and expertise of Drive Systems segment is expected to solidify Dana as the only supplier having complete manufacturing, engineering, and e-propulsion design capabilities. Another example of such an acquisition is the one of Cone Drive by Timken. For Cone Drive, the deal marked the return to American ownership. This acquisition was the next step in the rapid business development for Timken.
Commercial cooperation agreements bode well for the development of mutual interests and partnerships between players. A key example of such an agreement is the natural extension of the joint venture of Dana Brevini UK – Leonessa Dana Brevini Yancheng – for further developing the mutual interests and partnerships of both companies. It has been observed that, the penetration of high-precision, high-value, and high-tech products is relatively low, while these rely on imports. R&D activities directed toward the discovery of new processes and materials for slewing drives are expected to augur well for the future growth of the market.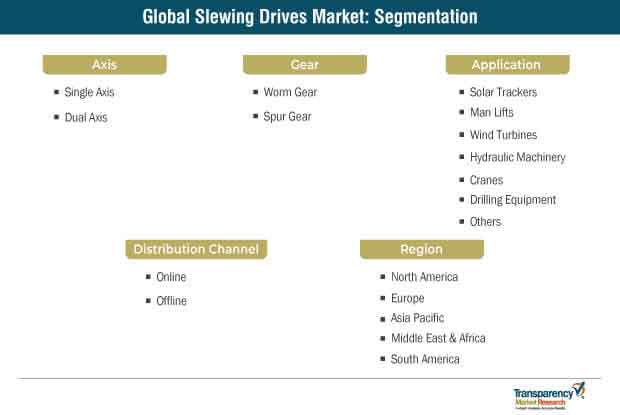 Analysts' Viewpoint of the Market

From a broader perspective, uncertainties in the future global trade landscape - with superimposed impacts and lags in regional policies – will render the slewing drives market to continue with its supply shortage and cost increase trend. The shift to high-quality and high-precision slewing drives is increasingly evident, with improvements in the economic structure of nations, worldwide. Authors of the report are of the opinion that, prospects for the slewing drives market seem promising, as traditional SMEs adapt to changes, enhance the entire management level, and gradually eliminate backward production capacity.
Slewing Drives Market: Overview
According to Transparency Market Research's latest market report on the slewing drives market for the historical period of 2017, base year 2018, and forecast years of 2019-2027, the demand for slewing drives is expected to rise with the increase in construction industries across the world during the forecast period.
Globally, revenue generated by the slewing drives market is estimated to be valued at ~ US$ 2.1 Bn in the year 2019, and expand at a CAGR of ~ 5% in terms of value throughout the forecast period of 2019 to 2027.
The slewing drives market is projected to reach a valuation of ~ US$ 3.2 Bn by the end of the forecast period (2027).
Increase in Construction Industry: Key Driver of the Slewing Drives Market
Government initiatives through the enhancement of manufacturing sector policies, and initiatives toward the usage of renewable energy resources such as wind energy and solar trackers are anticipated to boost the demand for slewing drives around the globe.
Slewing drives are widely used in the construction industry. According to a study, by 2030, the volume of construction output, globally, is anticipated to grow by 85%, to reach a value of US$ 15.5 trillion.
Slewing Drives Market: Increasing Need for Power Generation - Latest Trend
The global demand for power generation is increasing. This is not just due to the rise in industrial production, but also due to the extensive use of the Internet.
Several research studies have estimated that, within the next two years, over 51% of the world's population is expected to use the Internet, which currently stands at 34%. This shows that the demand for power generation is expected grow at a fast rate in the near future.
This is projected to create opportunities for power generation through renewable energy resources, and, in turn, the growing need for slewing drives.
Regular Maintenance and High Initial Cost a Major Challenge to Market Growth
Slewing drives need regular maintenance and lubrication, and if is not done, the remanufacturing cost of these drives tends to become quite high.
High initial cost due to customization – Slewing drives are mostly customized, and are fitted into solar trackers, hydraulic equipment, construction equipment, etc.
Slewing Drives Market: Competition Landscape
Detailed profiles of the manufacturers of slewing drives have been provided in the slewing drives market report to evaluate their financials, key product offerings, recent developments, and various strategies.
Key players operating in the global slewing drives market include the following:

AKSH Manufacturing Pvt. Ltd
Bonfiglioli Riduttori SpA
Cone Drive Operations, Inc.
IMO Group
Kavitsu Robotronix Pvt. Ltd
Kinematics Manufacturing LLC
Liebherr Group
Luoyang SBI Special Bearing Co., Ltd
TGB Group Technologies
Young Powertech Inc.
Slewing Drives Market: Key Developments
Some other key developments taking place in the slewing drives market are as follows:
In December 2018, Bonfiglioli finalized the acquisition of O&K Antriebstechnik Gmbh for US$ 19 million.
In September 2018, Kinematics introduced its new solar-specific products at the SPI (Solar Power International) in Anaheim. The company is estimated to increase the production of its new slewing drives, such as worm gear drives, pinion drives, and toothed belt drives.
In the global slewing drives market report, we have discussed individual strategies, followed by company profiles of the manufacturers of slewing drives. The 'Competitive Landscape' section is included in the slewing drives market report to provide readers with a dashboard view of the important companies in the landscape, and a company market share analysis of the key players that are currently operating in the global slewing drives market space.
Transparency Market Research (TMR), in its new analytical study, offers a long-term forecast of the slewing drives market for the period of 2019 and 2027. This study gives a global perspective of how growth will unfold in the slewing drives landscape, covering the interplay of trends and the most imperative market dynamics. Historical and forecast numbers, in terms of volume (thousand units) and value (US$ Mn), have also been offered for the global slewing drives market, as well key segments identified and analyzed in the report.
This report also offers a thorough assessment on the strategies implemented by slewing drive manufacturers, along with their efforts regarding new product development and R&D for innovation. Key players operating in the slewing drives market have been identified and profiled, including their company overview, product portfolio, general information, and contemporary strategies adopted. The occupancy of key players has been tracked and represented systematically in the concluding section of the report.
The report also gives a comprehensive assessment on the most influential trends in the slewing drives market. The growth determinants and deterrents of the slewing drives market have also been assessed in detail. Macro- and micro-economic aspects influencing the growth of the slewing drives market have been studied in detail in the key sections of the study.
The report further provides a comprehensive assessment on the associated industry, and how broader trends in this industry are impacting the demand & supply side dynamics of slewing drives. An in-depth analysis on pricing, value chain, and supply chain of the slewing drives market has also been offered in the key weighted sections of the report.
Key Questions Answered in the Slewing Drives Market Report
This global study highlights and analyzes some imperative aspects that enable the readers to get a better perspective of the slewing drives market. Key questions answered in the study include –
What is competition scenario in the slewing drives market?
What are key challenges faced by slewing drive manufacturers?
Are developed or developing markets lucrative for slewing drive manufacturers?
What are the most effective strategies implemented by players in the slewing drives market?
Why is the dual axis slewing drive preferred over the single axis category?
Which is the most lucrative application area for slewing drive sales?
Slewing Drives Market: Research Methodology
A methodical research approach backs the insights and forecast of the slewing drives market offered in this study. Analysts at TMR follow the bottom-up and top-down approach for validating the information and insights gathered on the slewing drives market via primary interviews and secondary researches. Insights gained from primary interviews have been used to validate the information gathered through secondary researches.
Key sources referred to while doing secondary research on the slewing drives market include company websites, investor presentations, press releases, financial reports, publications, and journals. The data triangulation method has been adopted for validating the intelligence compiled in this study, to filter any redundant or vague insights. This report serves as an authentic source of intelligence for the readers, so that they can make triumphant decisions for the future growth of their businesses in the slewing drives market.
Slewing Drives Market: Segmentation
The study offers a comprehensive assessment on the key segments of the slewing drives market, and important market numbers, including volume, value, and market shares, have been rendered. The study categorizes the slewing drives market on the basis of axis, gear, application, distribution channel, and region.
Axis

Single Axis

Dual Axis

Gear

Worm Gear

Spur Gear

Application

Solar Trackers

Man Lifts

Wind Turbines

Hydraulic Machinery

Cranes

Drilling Equipment

Others

Distribution Channel

Online

Offline

Region

North America

Europe

Asia-Pacific

Middle East & Africa

South America
Custom Market Research Services
TMR offers custom market research services that help clients to get information on their business scenario required where syndicated solutions are not enough.
REQUEST CUSTOMIZATION