Single Cell Protein Market
Single Cell Protein Market (Species: Yeast, Fungi, Bacteria, and Algae; and Application: Food & Beverages, Animal Feed & Pet Food, Dietary Supplement, and Others) - Global Industry Analysis, Size, Share, Growth, Trends, and Forecast, 2020-2030
Category :

Food & Beverages

Format :
Spirulina Acquires Publicity as Superfood During COVID-19 Outbreak
The single cell protein spirulina is gaining popularity as superfood for leading a healthy life. Health-conscious consumers are focused on consuming products that boost their immunity during the coronavirus pandemic. Manufacturers in the ASEAN single cell protein market have been taking advantage of this opportunity to innovate in spirulina, chlorella, and fusarium, among others, to develop nutritional supplements that support high-risk patients and undernourished children.
There is a growing awareness that modern diet is filled with depleted and over-processed convenience foods. Companies in the ASEAN single cell protein market are capitalizing on this opportunity to increase the availability of supplements that provide extra vitamins and minerals. Spirulina has a better nutrient profile than other plants, grains, and herbs.
Request a sample to get extensive insights into the Single Cell Protein Market
SCP Helps Source Sustainable, Renewable, High Protein Ingredients for Fish Feed
Companies in the ASEAN single cell protein market are establishing stable revenue streams by increasing the availability for fishmeal in the aquaculture industry. However, sourcing sustainable, renewable, and high protein ingredients for fish feed is one of the key challenges hindering market growth. Hence, stakeholders are increasing their research efforts to scale-up the processing of single cell protein (SCP) in fish feed to meet demands of stakeholders in the aquaculture industry.
Aquaculture is known as one of the fastest growing animal protein sectors. Hence, companies in the ASEAN single cell protein market are supporting the inclusion of SCP in fish feed to improve protein content in end-use fish products.
To understand how our report can bring difference to your business strategy, Ask for a brochure
SCP-rich Powders Avoid Interacting with Ingredients in Meat Analogs, Non-dairy Milks
New market players are emerging in the alternative protein space to source protein from the human microbiome. Brewed Foods, a subsidiary of alternative protein company White Dog Labs (WDL), is gaining recognition for its SCP-rich powder, which is being used in a wide range of food applications. Manufacturers in the ASEAN single cell protein market are taking cues from such companies to develop SCP powders that can be used to make plant-based meats and cheese without interacting with other ingredients.
Meat analogs and non-dairy milks are attracting SCP-rich powders. The growing trend of vegan food is translating into incremental opportunities for manufacturers in the ASEAN single cell protein market.
High Speed Production of SCP Ingredients Supports Multiplying Amount of Biomass
The ASEAN single cell protein market is projected to advance at a robust CAGR of 9.3% during the forecast period. SCP is gaining popularity as a rich source of protein for feed and food products, while also providing important lipids, vitamins, minerals, and carbohydrates. The ASEAN single cell protein market is predicted for exponential growth, since SCP-based ingredients can be produced at high speed as compared to plants and animals, thus multiplying the amount of biomass within few hours.
The aquaculture sector is gaining attention for demonstrating the inclusion of bacteria in diet, which helps to add a positive effect on growth, survival, and immune system in larvae and juvenile aquatic animals.
Alternative Bio-protein Feed Ingredients Gain Prominence in Asia's Aquaculture Industry
Asia holds lucrative business opportunities due to the growing trend of investments in biotechnology innovations that meet the demand of rapidly increasing population. Calysseo's FeedKind® single-cell protein project is gaining recognition for enhancing regional food safety and sustainability. Stakeholders in the ASEAN single cell protein market are establishing stable revenue streams in the aquaculture industry by producing alternative bio-protein feed ingredients.
Manufacturers in the ASEAN single cell protein market are fermenting natural gas to produce safe, nutritious, traceable, and affordable protein. Since Asia is creating emphasis on food security, alternative proteins are helping to build sustainable and resilient food systems, especially in Asia's aquaculture industry.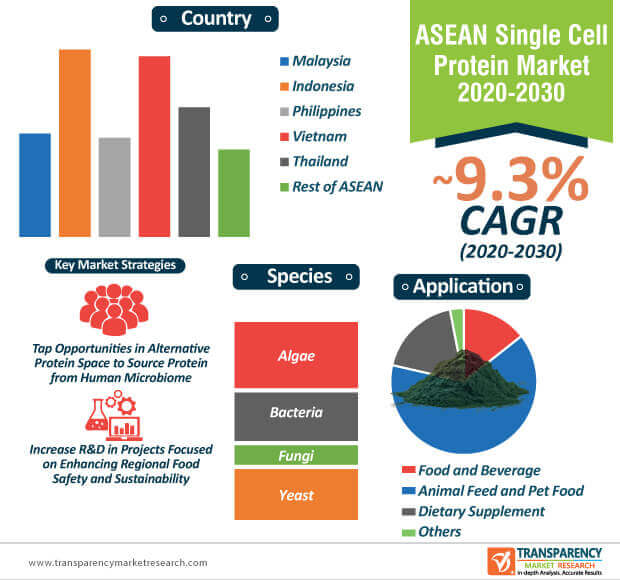 Stuck in a neck-to-neck competition with other brands? Request a custom report on Single Cell Protein Market
Analysts' Viewpoint

The high source of vitamin, lipids, minerals, and carbohydrates in single cell protein is being advised for boosting immunity in individuals during the COVID-19. Companies in the ASEAN single cell protein market are gaining extensive experience in processing, handling, and treatment of natural gas to increase the availability of alternative proteins. However, manufacturers are facing challenges in increasing SCP production, while striking a balance between SCP processing and its economics for commodity products. Hence, companies should gain a strong research base to find new strains, develop new processes, and successfully test on important commercial species to develop premium and affordable commodity products.
Single Cell Protein Market: Overview
The single cell protein market value in Malaysia stood at ~US$ 9.7 Mn in 2020, finds Transparency Market Research (TMR) in a recent study. According to the report, the market is expected to reach ~US$ 24.5 Mn by 2030, at a CAGR of 9.7% in Malaysia. The revenue from the Vietnam single cell protein market was valued over US$ 26.7 Mn in 2020, and is expected to cross US$ 69.4 Mn by the end of 2030.
With increasing complexity in consumer dynamics, owing to professional and personal commitments, along with a stressful lifestyle, consumers are seeking convenient and easy ways to increase nutritional intake. Supplements that can be easily carried and can be consumed on the go are appealing to customers, thus driving the demand for single cell protein for application in dietary supplement.
Manufacturers are constantly innovating ways for sourcing raw materials as well as producing products in most sustainable ways to attract more customers. Single cell protein contributes to the safety of the environment by utilizing less resources and reducing carbon footprint. These factors are expected to drive product sales in the upcoming years.
The Asian region consists of prominent countries in the ASEAN aquaculture industry, such as China, India, Indonesia, Vietnam, and Bangladesh, cumulatively producing around 50-60% of the total aquaculture production according to Food and Agriculture Organization of the United States. Single cell protein is a more cost-effective and nutritive alternative to fishmeal, and is expected to easily capture the expanding aquaculture industry over fishmeal, thereby stimulating growth for the market.
Single Cell Protein: Market Frontrunners
On the basis of species, algae accounts for highest market value share in 2020, owing to high protein content and increase in application in the animal feed industry
Vietnam among the other ASEAN countries is expected to exhibit highest incremental opportunity attributable to the organized aquaculture industry demanding fishmeal alternative for fish feed in Vietnam, along with increasing consumer awareness about the health benefits of single cell protein in different food products.
With increasing customer awareness regarding fortified food meeting the daily nutritional demand of the body, the demand for fortified food is experiencing strong growth. Single cell protein offering abundance protein in fortified food is set to experience high value CAGR during the forecast period.
Single Cell Protein Market: Dynamics
Suitability of single cell protein in animal feed to support market growth: Animal feed has become an essential element in the integrated food chain, as domestic animals make an important contribution to the global food supply. In order to meet customer demand for eggs, meat, milk, and other livestock products, the availability of regular supply of feed which is cost-effective, safe, and appropriate nutrients. However, with increasing demand and less pasture land for animals, concerns regarding healthy feed for the animals persist. Single cell protein can cater to these concerns of farmers, as it can be used in fodder for providing the necessary proteins to animals, along with being an economical alternative as compared to the animal feed available in the market. The single cell protein is proven to earn increased profits for farmers, as it is used in fodder for fattening of pigs, calves, breeding in fish, cattle farming, and animal husbandry. It offers an unconventional but a plausible solution to the growing problem of protein deficiency for animals.

Fecinor by Evonik Industries AG is a microbial solution for piglets that supports gut health, improves average daily weight gain, and feed conversion rate by reducing need for medication and production costs, thus increasing profits for farmers.

Focus on constant research and development in single cell protein market to drive growth: With a change in lifestyles and eating habits, deficiency of protein and other essential nutrients is occurring. Thus, manufacturers involved in the production of single cell protein seek more innovative products to offer single cell proteins for human consumption. Research has game changing potential and thus, key manufacturers are engaged in constant research and development for developing single cell protein with increased applications in the human food industry. With iterative and incremental procedures, manufacturers are developing innovative solutions with existing products being in constant innovation cycle to reduce toxic residues and nucleic acid for better human consumption, marking opportunities for sales growth in the food & beverages industry.

Lallemand Inc. carries out research for developing innovative new microbial products with external research partnerships as well as internal projects, and has collaborated with many top universities for carrying out research
Single Cell Protein Market: Strategies
Manufacturers in single cell protein are investing in R&D and advance technology in order to develop new products for increasing consumer base. Key players are expanding into new and potential region in order to increase the market presence and have a better hold over the ASEAN market. Manufacturers are also entering in strategic partnerships with players in a similar scope in order to diversify their product portfolio in plant-based proteins, and it is helping the manufacturers to strengthen their global presence.
Single Cell Protein Market: Players
Some of the key actors, including operating in the single cell protein market as profiled in the study are

Lallemand Inc.
NOVUS International
Evonik Industries AG
AngelYeast Co., Ltd.
Unibio A/S
Calysta, Inc.
Devenish Nutrition, LLC.
Alltech, Inc.
BIOMIN Holding GmbH
Parry Nutraceuticals
among others
Single Cell Protein Market – Scope of the Report
Transparency Market Research (TMR) has recently published a market study on the single cell protein market. It provides a detailed assessment of key market dynamics, including drivers, trends, opportunities & restraints, and detailed information about the single cell protein market structure. The market study presents exclusive information about how the single cell protein market will grow during the forecast period of 2020-2030.
Key indicators of market growth, which include year-on-year (Y-o-Y) growth of the market, value chain, supply chain analysis, and compounded annual growth rate (CAGR) are elaborated in the study in a comprehensive manner. This information is intended to help readers understand the quantitative growth prospects of the single cell protein market during the forecast period.
The study is intended to offer a holistic market overview to stakeholders in the single cell protein, including manufacturers, suppliers, distributors, cultivators, brands, and investors, and to help them develop winning growth strategies. Stakeholders in the single cell protein market, which include investors, industry experts, researchers, and journalists, and business researchers, can leverage the information and data presented in TMR's study.
The study also includes statistics and facts related to the macro as well as microeconomic factors that are affecting the expansion of the market. It also offers actionable insights into the future trends in the single cell protein market. Furthermore, small businesses and new entrants in the single cell protein market can make use of the information presented in this study based on which, they can make appropriate business decisions in order to gain momentum in the market.
Key Questions Answered in TMR's Report on Single Cell Protein Market
Which region will continue to remain the most profitable regional market for single cell protein market players?
Which factors will induce a change in the demand for single cell protein during the assessment period?
How will the changing trends impact the single cell protein market?
How can market players capitalize on low-hanging opportunities in the single cell protein market in developed regions?
Which companies are leading the single cell protein market?
What are the winning strategies of stakeholders in the single cell protein market to catapult their position at the forefront?
Single Cell Protein Market – Research Methodology
In TMR's study, a unique research methodology is used to conduct extensive research on the growth of the single cell protein market and identify future growth parameters. This research methodology is a combination of primary and secondary research to help analysts ensure the accuracy and reliability of the conclusions.
Secondary sources referred to by analysts for compiling the single cell protein market study include statistics from governmental organizations, trade journals, white papers, and internal and external proprietary databases. Analysts have interviewed senior managers, product portfolio managers, CEOs, VPs, marketing/product managers, and market intelligence managers, who contributed to the development of this report as a primary source.
Information acquired from primary sources and secondary sources is compiled in a comprehensive manner. This also acts as a validation from companies in the single cell protein market, which makes TMR's projections more accurate and reliable.
Single Cell Protein Market – Segmentation
TMR's study on the single cell protein market offers information divided into important segments - species, application, and region. This report offers comprehensive data and information about the important market dynamics and growth parameters associated with these categories.
Species

Yeast
Fungi
Bacteria
Algae

Application

Food & Beverages

Fortified Foods
Fortified Beverages

Animal Feed & Pet Food

Poultry Feed
Fish Feed
Livestock Feed

Dietary Supplement
Others

Country

Malaysia
Indonesia
Philippines
Vietnam
Thailand
Rest of ASEAN
Custom Market Research Services
TMR offers custom market research services that help clients to get information on their business scenario required where syndicated solutions are not enough.
REQUEST CUSTOMIZATION

Single Cell Protein Market