Global Sheet Face Masks Market: Overview
The skin care industry has witnessed remarkable growth in terms of both products and revenue over the past few years. The addition of innovative sheet face masks has presented the industry to expand in a new direction, catering to consumers who are consistently looking for self-grooming products. Owing to this reason, the global sheet face masks market has witnessed a stunning growth rate. According to the research report, the market is expected to be worth US$336.7 mn by the end of 2024 as compared to US$160.4 mn in 2015. During the forecast period of 2016 and 2024, the global market is expected to exhibit a CAGR of 8.7%.
Impact of Weather Patterns on Skin Boosts Uptake
The research report states that the steady rise in population and their growing demand for personal beauty and cosmetics products is encouraging the growth of the sheet face masks market globally. Emerging trends such as skin brightening and reversing the signs of aging are also playing a crucial role in the significant demand for sheet face masks. Changing weather patterns that are responsible for skin damages have also led to the increasing uptake of sheet face masks in recent years. The emergence of the fashion industry is also expected to support the higher adoption of these masks in the coming years. Additionally, incorporation of revolutionary anti-aging formula being incorporated in sheet the masks is also projected to augment their demand during the forecast period.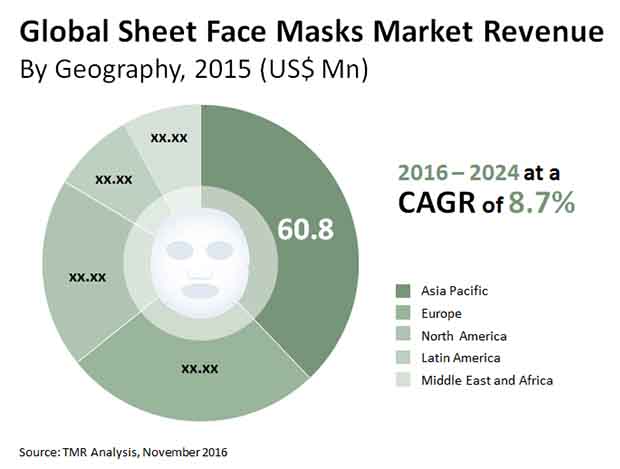 Asia Pacific to be Dominant Consumer of Sheet Face Masks
On the basis of geography, the global sheet face masks market is segmented into North America, Europe, Asia Pacific, Latin America, and the Middle East and Africa. Of these, Asia Pacific held the dominant share in the global market in 2015. Analysts estimate that the region will continue to dominate due to its huge population base with rising disposable incomes. The Strong presence of manufacturers is also projected to lend an impetus to the region the coming years. A significant pool of younger generation, their growing focus on appearance, and higher purchasing power are some of the key factors responsible for Asia Pacific's positive outlook in the overall sheet face market during the forecast period. These factors will also be responsible for growing demand for sheet face masks in growing economies of Latin America and the Middle East and Africa.
Hydrogel Sheet Face Masks to Emerge as Key Product in Global Market
The various fabrics used for making sheet face masks are non-woven, hydrogel, bio-cellulose, and cotton amongst others. The bio-cellulose segment is projected to show a rapid rise in the coming few years. This segment will be driven by its availability and affordability. Furthermore, convenience of using this mask as it made of natural fiber is also expected to boost the growth of this segment in the near future. The changing perception of several men toward grooming is also expected to give a fillip to this market. Hydrogel sheet face masks will follow suit as preference of consumers shifts towards these products. Furthermore, product innovation with natural elements such as aloe vera, honey, and aqua skin ampoule among others to make new masks is also expected to lure in new consumers.
The key players operating in the global sheet face masks market are Sephora Inc., Boss Biological Technique Ltd.., Dolce & Gabbana S.r.l., 3Lab Inc., Kracie Holdings, Ltd., Innisfree Corporation., BioRepublic Skin Care, Star Skin Beauty Group AG, Yunos Co. Ltd., and DECLÉOR Paris.
Global Sheet Face Masks Market: Overview
The cosmetics and personal care industry is testimony to some paradigmatic changes over the past few years brought about by an array of functional products, particularly in the skin care segment. Riding on the wave of several exciting beauty trends in recent years, innovations in face masks have veered off to new developments in self-grooming products. Sheet face masks are finding new consumers in the industry who are looking for cost-effective and less pricy options to treat a variety of topical skin issues. Equipped with a set of unique benefits of hydration and with an element of occlusion, these liquid-based formulations are gaining traction among youngsters and old alike. To add this, notable benefits of cleansing, nourishing, and beautifying the skin, the demand for sheet face masks is gathering steam in populations in numerous emerging and developed countries.
A notably emerging fashion industry with the fad for innovative technique has opened up new prospects for sheet face masks in the superior skin care. Ceaseless advertisement of sheet face masks as quick fix for a variety of beauty needs, especially on social media platforms, is contributing to the soaring popularity of sheet face masks.
The global sheet face masks market was worth US$160.4 million in 2015 and is projected to reach US$336.7 million by 2024 end. The market is anticipated to register a CAGR of 8.7% during 2016 – 2024. The report offers in-depth insights into the notable trends and growth dynamics, share and size of prominent segments, recent product innovations, lucrative prospects, and the competitive landscape.
Global Sheet Face Masks Market: Trends and Opportunities
The growing popularity inexpensive facial masks for a variety of skin needs in the beauty, cosmetics and personal care industries is a key factor driving the global sheet face masks market. The substantially pressing need for advanced face masks on-the-go for hydrating and nourishing among people with different types of skin is bolstering the uptake of sheet face masks. The rising demand for self-grooming products for men and women which can be used conveniently and beautifies their skin is also boosting the market.
The rising instances of the adverse effect of weather conditions on skin making it dull and leading to topical skin conditions has catalyzed the demand for these face masks in the cosmetics and personal care industry. A burgeoning disposable income in a number of developing and developed nations is accentuating the demand for skin care products for preventing aging.
Packing these one-size-fits-all sheet face masks with vitamins and minerals have led to product innovations. Relentless research into making sheet face masks affordable to masses in the cosmetics and personal care industry is a welcome move. The inclusion of natural and exotic materials, such as honey and aloe vera, is expected to create lucrative prospects over the assessment period.
Global Sheet Face Masks Market: Regional Outlook
The major regional markets for sheet face masks are Europe, North America, Asia Pacific, and the Middle East and Africa (MEA), and Latin America. Among these, Asia Pacific is the most attractive market and accounted for the leading global share in 2015. The growth of the market is fueled by a burgeoning population with vast disposable incomes willing to spend in cosmetics and personal care products. Furthermore, a rising millennial generation willing to splurge in innovative skin care products is also providing a substantial impetus to the growth. Meanwhile, emerging nations in regions of Latin America and the MEA will rise at a promising pace. The growth of these regional markets is driven mainly by a rapidly growing demand for cost-effective personal care products with anti-aging properties.
Companies mentioned in the report
A number of players in the global sheet face masks market are focusing on launching innovative formulations and adopting aggressive marketing strategies, in order to gain a better foothold in the market. In addition, several prominent players are diversifying their product portfolio to meet emerging consumer needs, to gain a competitive edge over others. Leading companies in the market are DECLÉOR Paris, Yunos Co. Ltd., Star Skin Beauty Group AG, BioRepublic Skin Care, Innisfree Corporation, Kracie Holdings, Ltd., 3Lab Inc., Boss Biological Technique Ltd.., and Sephora Inc.
The global sheet face masks market is segmented based on:
Fabric Type
Non-Woven
Cotton
Hydrogel
Bio-Cellulose
Others
Category Type
Premium Sheet Face Masks
Mass Sheet Face Masks
Geography
North America

U.S.
Rest of North America

Europe

U.K.
Germany
France
Italy
Rest of Europe

Asia Pacific

China
Japan
India
Rest of APAC

Latin America

Brazil
Argentina
Rest of Latin America

Middle East and Africa

U.A.E.
Saudi Arabia
South Africa
Rest of Middle East & Africa