Seaweed Extract Market
Seaweed Extract Market (Source: Red Seaweed, Brown Seaweed, Green Seaweed; Form: Liquid, Powder, Flakes; End Use: Food & Beverages, Agricultural Products, Animal Feed Additives, Cosmetics & Personal Care, Pharmaceuticals, Others) - Global Industry Analysis, Size, Share, Growth, Trends, and Forecast 2019 - 2029
Category :

Food & Beverages

Format :
Seaweed Extract Market: Increased Use of Seaweed Extract Fertilizers for Organic Farming
The agricultural industry is undergoing constant research and development. Around 1.4% of the world's farmland is organic, and there has been an increase of ~3 million organic farmers from the year 2016 to 2017. This is why, manufacturers in the seaweed extract market are developing novel offerings in seaweed extract fertilizers.
Seaweed extract fertilizers in the liquid and powder form are useful for generating organic nutrition sources in almost all types of plants. On a global level, as far as the seaweed extract market is concerned, ~167 tons of powdered seaweed extract is estimated to be produced in the year 2029. The global demand for organic cereals and grains has catalyzed the demand for nutrient-rich fertilizers. Crop growers consider seaweed fertilizers more superior to chemical fertilizers, due to high levels of organic matter, minerals, and fatty acids that contribute to crop growth.
In order to contribute towards organic food production and reduce environmental footprint, governments across countries are prohibiting the use of synthetic fertilizers. Thus, seaweed extract market players must innovate on offerings in seaweed extract fertilizers to help crop growers achieve higher crop yield and contribute towards soil quality improvement.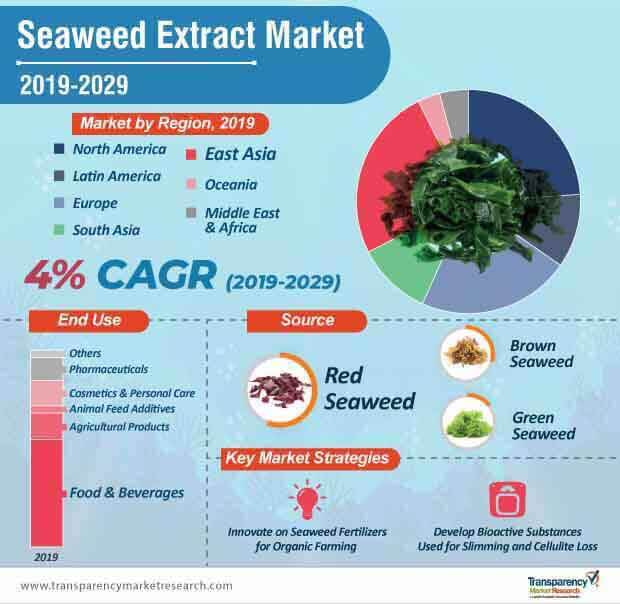 Request a sample to get extensive insights into the Seaweed Extract Market
Seaweed Extract Market Players Innovate Novel Offerings in Vegan Food and Cosmeceuticals
The food and beverage industry currently accounts for the highest revenue value with a benchmark of ~US$ 743 million in the seaweed extract market. Increasing trends of sustainable and vegan food are also shaping market growth. Apart from important applications such as stabilizing and texturizing agents in jams, confectionaries, and nutritional supplements, market players are introducing novel offerings such as seaweed-based vegan caviar.
This caviar is made from kelp seaweed, which is harvested from the seabed and developed to have an ingenious pearl-like finish, with fresh taste of the sea and saltiness. Seaweed caviar is a great value-addition to the vegan food landscape, as this caviar is sans animal ingredients, and its 'plant-based' attribute helps reduce environmental footprint.
Stakeholders in the cosmetics and personal care industry are using seaweed extract to develop bioactive substances for slimming and cellulite loss. Although cellulite is not a disease, it is a fundamental cosmetic issue in most post-adolescent women. As such, manufacturers are using brown seaweed extract to develop cosmetic formulations that help stimulate tissue metabolism and blood circulation, which reduces cellulite in the area of application.
To understand how our report can bring difference to your business strategy, Ask for a brochure
Organic Ingredients and Clean Label Influence Seaweed Extract Market Growth
Although manufacturers are increasing the use of seaweed extract in dairy products, pharmaceuticals, and pet food, they pose a potential risk for the increased consumption of iodine. Most seaweed contain high levels of iodine that can lead to thyroid dysfunction, if consumed in excess over an extended period of time, in a person's diet. As such, manufacturers are sourcing organic and high quality seaweed to avoid the risk of excess iodine and heavy metals for consumers.
Another factor that is hampering the growth of the seaweed extract market is the demand for clean-label products. Strict regulatory controls from governments and constant scrutiny of health-conscious consumers have forced stakeholders in the seaweed extract landscape to undertake multiple procedures to seek approval from authorities. As such, market players are introducing food and beverages using natural additives along with GMO-free (genetically modified organism-free) products.?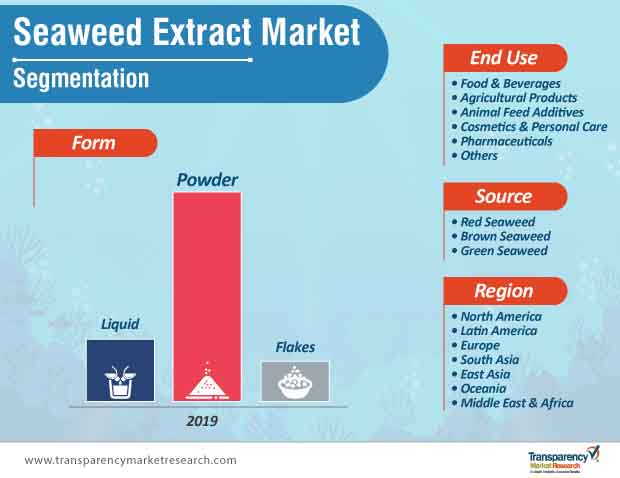 Stuck in a neck-to-neck competition with other brands? Request a custom report on Seaweed Extract Market
Analysts' Viewpoint of the Seaweed Extract Market

Analysts of the seaweed extract market gauge a moderate growth rate during the forecast period. Innovative applications of seaweed extracts are being made to produce biofuel, for e.g. biobutanol, as an alternative to diesel. Seaweed extracts are also increasingly being used in dairy products. For instance, in July 2018, Cargill Inc. — a leading producer of food and beverage ingredients, announced the launch of carrageenan extracts that serve as a cost-effective and sustainable texturizing agent for dairy products. Though the seaweed extract market is moderately fragmented, manufacturers face the challenge of the growing demand for clean-label products. As such, market players are overcoming this hurdle with the help of natural product claims. Manufacturers should focus more on providing innovative offerings in bio fertilizers and natural ingredients for food and beverage products.
According to Transparency Market Research's latest market report on the seaweed extract market for the historical period of 2014-2018 and forecast period of 2019-2029, globally, revenue generated by the seaweed extract market has been estimated to be ~1.5 Bn in 2019, and is expected to expand at a CAGR of ~4% in terms of value throughout the forecast period.
East Asia Stands Out in the Seaweed Extract Market in Terms of Sales & Growth
The production of seaweed has been high in East Asia, followed by Europe. However, as far as consumption is concerned, East Asia is also enjoying prominent growth in the seaweed extract market. This is owing to the numerous applications, growing demand, and high awareness of customers about the products that are being launched in the market.
In Oceania and MEA, the demand for seaweed extract remains low due to numerous reasons, but the main being unawareness and high price of seaweed extract in the region. However, demand is expected to rise in the coming years at a high rate. The consumption of seaweed extract is high in North America, in the foodservice sector, as consumers are willing to pay premium prices for clean label products.
Increasing Demand for Natural Ingredients from Cosmetics & Personal Care Industry
Increasing demand for personal care products in Asia Pacific is creating opportunities for players in the global seaweed extract market.
The ever-rising demand for personal care products and cosmetics with natural ingredients is also expected to result in significantly high sales of the ingredients used in these products.
Revenues that are generated from the sales of personal care products and ingredients are forecasted to increase substantially in regions such as China, Southeast Asia, and Japan over the forecast period.
Growing Use of Seaweed Extract in Pharmaceutical Industry
Seaweed extract products are widely used in the pharmaceutical industry for drug delivery systems.
Seaweed extracts have shown many applications from pharmaceutical drug formulations to tissue engineered scaffolds, and as a carrier/stabilizer in micro/nanoparticles systems.
The increasing demand for efficient drug delivery agents is expected to boost the demand for seaweed extracts.
Consumers Preferring Natural Additives in Food Products Instead of Synthetic Products
The number of health-conscious people is on the rise, globally. There is an increase in awareness about the food that they consume and its effect on health.
This has led to a shift in the consumption preference of people across the globe. Consumers readily opt-in for food products with natural additives.
Thus, there is an increased demand for natural additives such as seaweed extracts from the food & beverage industry, which is having a positive impact on the market.
Erratic Supply of Raw Materials Can Restrict Market
The global seaweed extract market is largely dependent on the steady availability of seaweed used as a raw material.
Clusters of major producers of commercial seaweed lie in particular geographical regions.
Disappointing harvests, or any political, environmental or socio-economic change in major countries of origin can suddenly change the global seaweed extract market situation.
Seaweed Extract Market: Competitive Landscape
Key manufacturers of seaweed extract such as DuPont de Nemours, Inc., Cargill, Incorporated, and CP Kelco are trying to increase their global presence in developing countries.
Tier I players in the seaweed extract market include DuPont de Nemours, Inc., Cargill, Incorporated, CP Kelco, Gelymar A., W Hydrocolloids, Inc., Compañía Española de Algas Marinas S.A., etc., which account for more than five percent of the global players present in the seaweed extract market.
Tier II players in the seaweed extract market include

ALGAIA
KIMICA Corporation
Arthur Branwell & Co. Ltd
Hispanagar
Marcel Trading Corporation
TBK Manufacturing Corporation
Others

Tier III usually consists of unorganized players in the seaweed extract market.
Seaweed Extract Market: Key Developments
Some of the key developments seen in the seaweed extract market during the past few years are as follows:

In November 2017, DowDupont completed the purchase of FMC Corp.'s Rockland seaweed processing plant. This purchase is expected to meet the demand for red seaweed products from consumers.
In June 2015, in collaboration with the International Formula Council, the FMC Corporation conducted and funded a study attesting to the safety of carrageenan in food consumed by infants.
In September 2016, FMC Corporation exhibited solutions under its health and nutrition segment, targeting pharmaceutical, nutraceutical, and nutrition industries, at the Supply Side West, 2016, which was an exhibition focusing on dietary supplements, food and beverages, and others that brings together suppliers and buyers.
Seaweed Extract Market - Scope of the Report
Transparency Market Research (TMR) recently published a market study on seaweed extracts. The study provides detailed assessment on key market dynamics, including the drivers, trends, opportunities & restraints, and detailed information about the seaweed extract market structure. The market study presents exclusive information about how the seaweed extract market will grow during the forecast period of 2019-2029.
Key indicators of market growth, which include year-on-year (Y-o-Y) growth of the market, value chain, supply chain analysis, and compounded annual growth rate (CAGR) are explained in TMR's study in a comprehensive manner. This information can help readers understand the quantitative growth prospects of the seaweed extract market during the forecast period.
The study is relevant for stakeholders in the seaweed extract market, including seaweed extract manufacturers, suppliers, distributors, and investors, and can help them in developing appropriate strategies to grow in the market. Stakeholders in the seaweed extract market, investors, industry experts, researchers, and journalists, as well as business researchers can leverage the information and data presented in TMR's study.
The study also includes statistics as well as facts related to the macro as well as microeconomic factors that are impacting the developments in the market. It also offers actionable insights based on the future trends in the seaweed extract market. Furthermore, small businesses and new entrants in the seaweed extract market too can make use of the information presented in this study, based on which, they can make appropriate business decisions in order to gain momentum in the market.
Key Questions Answered in TMR's Seaweed Extract Market Report
Which regions will continue to remain the most profitable regional markets for seaweed extract market players?
Which factors will induce a change in the demand for seaweed extract during the assessment period?
How will changing trends impact the seaweed extract market?
How can market players capture the low-hanging opportunities in the seaweed extract market in developed regions?
Which companies are leading the seaweed extract market?
What are the winning strategies of stakeholders in the seaweed extract market to boost their position in this landscape?
Seaweed Extract Market: Research Methodology
In TMR's study, a unique research methodology is utilized to conduct extensive research on the growth of the seaweed extract market, and reach conclusions on the future growth parameters of the market. This research methodology is a combination of primary and secondary research, which helps analysts ensure accuracy and reliability of the conclusions.
Secondary resources referred to by analysts during the production of the seaweed extract market study include statistics from governmental organizations, trade journals, white papers, and internal and external proprietary databases. Analysts have interviewed senior managers, product portfolio managers, CEOs, VPs, marketing/product managers, and market intelligence managers, who contributed to the development of this report as a primary resource.
Comprehensive information acquired from primary resources and secondary resources acts as a validation from companies in the seaweed extract market, and makes TMR's projection on the growth prospects of the seaweed extract market more accurate and reliable.
Seaweed Extract Market: Segmentation
TMR's study on the seaweed extract market offers information divided into important segments-source, form, end use, and region. This report offers comprehensive data and information about the important market dynamics and growth parameters associated with these categories.
Source

Red Seaweed
Brown Seaweed
Green Seaweed

Form

End Use

Food & Beverages
Agricultural Products
Animal Feed Additives
Cosmetics & Personal Care
Pharmaceuticals
Others

Region

North America
Latin America
Europe
South Asia
East Asia
Oceania
Middle East & Africa
Custom Market Research Services
TMR offers custom market research services that help clients to get information on their business scenario required where syndicated solutions are not enough.
REQUEST CUSTOMIZATION