Global Roofing Market: Snapshot
Roofing materials are a vital necessity in construction, as they comprise the primary barrier against natural elements such as rain. The growth of the construction industry in recent years has thus been vital for the global roofing market. The roofing market has benefited from the diversity of construction activities demanded across the world, as it has led to steady investment and consolidation of lucrative revenue avenues. The global roofing market is likely to exhibit consistent growth in the coming years on the back of the continued construction industry boom in developing regions.
According to Transparency Market Research (TMR), the global roofing market is likely to exhibit a CAGR of 6.4% between 2016 and 2024. The market, valued at US$71.2 bn in 2015, is expected to rise to US$124.5 bn by 2024.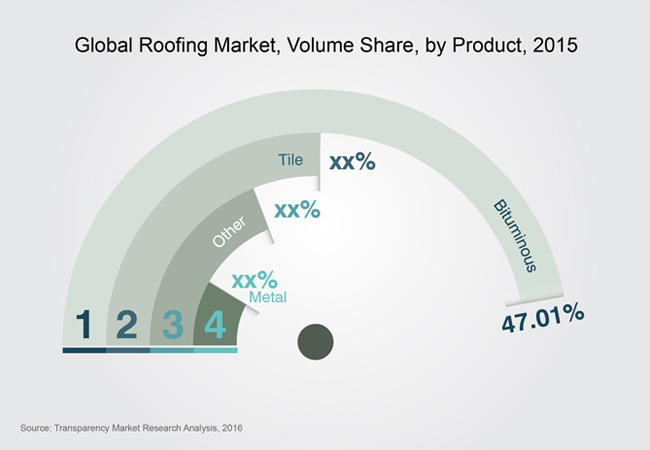 Rising Demand for Eco-friendly Roofing could Shape Roofing Market
The essential driver for the global roofing market is the steady growth of the construction industry in developing regions and sustained demand for revenue generating operations from the construction industry in developed economies. Urbanization initiatives have picked up steam in several rising economies, which has driven the demand from the global roofing market, as a key part of the construction industry. Steady emigration from rural regions in underdeveloped regions is likely to lead to the formation of growing urban centers in several countries; the high volume of emigration is likely to ensure steady demand for new housing, leading to steady demand from the global roofing market.
While the roofing market is matured in developed regions such as North America and Europe, renovation activities aimed at staying abreast of changing environmental regulations are likely to play a key role in the roofing market in these regions. The global roofing market is likely to interact significantly with the energy conservation initiatives being supported throughout developed countries, as roofing materials are exposed to the elements and thus comprise a key part of the building in terms of its environmental impact.
Widespread adoption of environmentally oriented roofing systems could help establish an economy of scale, which would help players distribute the innovative materials in developing regions at affordable costs. High costs of advanced roofing materials remain one of the most influential restraints on the global roofing market, making these developments important for the market's growth.
Asia Pacific Likely to Sustain Strong Position in Global Roofing Market
The rapid growth of emerging economies in Southeast Asia is likely to help the Asia Pacific roofing market in the coming years, leading to the region establishing firm dominance in the global roofing market. Apart from urbanization initiatives, which have become key parts of the economic plans of several Asia Pacific countries, industrial growth in dynamic economies such as India, China, Japan, and South Korea is also likely to contribute significantly to the growth of the roofing market in the region. Asia Pacific accounted for over 40% of the global roofing market in 2015 and is likely to remain similarly dominant in the coming years.
The Middle East is also likely to be a major player in the global roofing market in the coming years due to the rapid pace of construction in the affluent economies. Residential as well as industrial construction has prospered in the region in recent years due to the high pace of economic growth in countries such as the UAE, Saudi Arabia, Qatar, and Kuwait, and is likely to remain a key driver for the global roofing market in the coming years.
The report profiles leading players in the global roofing market in order to shed light on the market's competitive dynamics. Key companies examined in the report include Johns Manville, Carlisle, GAF, Atlas Roofing Corporation, Firestone Building Products Company, IKO Industries Ltd., and Owens Corning.
This report analyzes and forecasts the market for roofing at the global and regional level. The market has been forecast based on volume (million square meter) and revenue (US$ Mn) from 2016 to 2024. The study includes drivers and restraints of the global roofing market. It also covers the impact of these drivers and restraints on demand for roofing during the forecast period. The report also highlights the opportunities in the roofing market at the global and regional level.
The report includes a detailed value chain analysis, which provides a comprehensive view of the global roofing market. Porter's Five Forces model for the roofing market has also been included to help understand the competitive landscape in the market. The study encompasses market attractiveness analysis, wherein end-users are benchmarked based on their market size, growth rate, and general attractiveness.
The study provides a decisive view of the global roofing market by segmenting it in terms of products and applications. These segments have been analyzed based on present and future trends. Regional segmentation includes the current and forecast demand for roofing in North America, Europe, Asia Pacific, Latin America, and Middle East & Africa. The report also covers demand for individual product and application segments in all the regions.
The study includes profiles of major companies operating in the global roofing market. Key players profiled in the report include Atlas Roofing Corporation, Duro-Last Roofing, Inc., CertainTeed Corporation, Braas Monier Building Group Services S.A., GAF, Johns Manville, IKO Industries Ltd., Owens Corning, Firestone Building Products Company, TAMKO Building Products, Inc., and Carlisle. Market players have been profiled in terms of attributes such as company overview, financial overview, business strategies, and recent developments.
The report provides the estimated market size of roofing for 2015 and forecast for the next nine years. The global market size of roofing has been provided in terms of volume as well as revenue. Market numbers have been estimated based on key product segments and application segments of roofing. Market size and forecast for each major product and application have been provided in terms of global and regional markets.
In order to compile the research report, we conducted in-depth interviews and discussions with a number of key industry participants and opinion leaders. Primary research represents the bulk of research efforts, supplemented by extensive secondary research. We reviewed key players' product literature, annual reports, press releases, and relevant documents for competitive analysis and market understanding. Secondary research also includes a search of recent trade, technical writing, internet sources, and statistical data from government websites, trade associations, and agencies. This has proven to be the most reliable, effective, and successful approach for obtaining precise market data, capturing industry participants' insights, and recognizing business opportunities.
Secondary research sources that are typically referred to include, but are not limited to company websites, annual reports, financial reports, broker reports, investor presentations, SEC filings, EPDM Roofing Association (ERA), International Green Roofing Association (IGRA), internal and external proprietary databases, and relevant patent and regulatory databases such as Asphalt Roofing Manufactures Association (ARMA), American Society for Testing and Materials (ASTM), Factiva, and Bloomberg, national government documents, statistical databases, trade journals, market reports, news articles, press releases, and webcasts specific to companies operating in the market.
Primary research involves e-mail interactions, telephonic interviews, and face-to-face interviews for each market, category, segment, and sub-segment across geographies. We conduct primary interviews on an ongoing basis with industry participants and commentators in order to validate the data and analysis. Primary interviews provide firsthand information on market size, market trends, growth trends, competitive landscape, and outlook, etc. These help validate and strengthen secondary research findings. These also help develop the analysis team's expertise and market understanding.
The report segments the global roofing market as:
Roofing Market - Product Segment Analysis
Bituminous roofing
Metal roofing
Tile roofing
Others (Including RCC, Plastics, etc.)
Roofing Market - Application Segment Analysis
Residential
Commercial
Non-commercial
Roofing Market - Regional Analysis
North America

U.S.
Rest of North America

Europe

France
U.K.
Spain
Germany
Italy
Rest of Europe

Asia Pacific

China
Japan
ASEAN
Rest of Asia Pacific

Latin America

Brazil
Rest of Latin America

Middle East & Africa (MEA)

GCC
South Africa
Rest of MEA