RFID Locks Market
RFID Locks Market (Access Device - Key Cards, Mobile Phones, Wearables and Key Fobs; Application - Hospitality, Automotive, Aerospace & Defense, Residential, Manufacturing, BFSI, Retail, Transportation & Logistics, Others (Government & Public Utilities, Healthcare, etc.)) – Global Industry Analysis, Size, Share, Growth, Trends, and Forecast 2018 - 2026
Category :

IT & Telecom

Format :
RFID Locks Market: Snapshot
RFID locks are designed to perform unlocking and locking operations. Each access device contains the encoded data on the RFID chip. When the access device comes in the vicinity of the lock's (reader's antenna), the chip transmits the data, thus identifying the user. Enhanced security, compliance, audit trails, and efficiency are just a few of the reasons people are looking to deploy electronic security. Since the 1970's, RFID locks have progressed significantly when they were prominently used in the hospitality industry and relied upon holes that were pierced into the cards. The market for RFID locks is expected to grow at a CAGR of 16.9% during the forecast period 2018-2026. The market is expected to reach 16,450.6 Mn in 2026.
With increase in property crime, home invasions and burglaries in the past few years, demand for RFID lock solutions across the residential and other sectorsis unceasingly increasing, which is expected to propel growth of the RFID locks market in the forthcoming years. Furthermore, increasing smartphone penetration and its user friendly experience is providing a better channel for companies to reach out to customers and offer their product services rightinto the customers hand by enabling them to control the door locksmore conveniently. This would lead to increase in the smart lock user base, thus supporting the growth of the RFID locks market.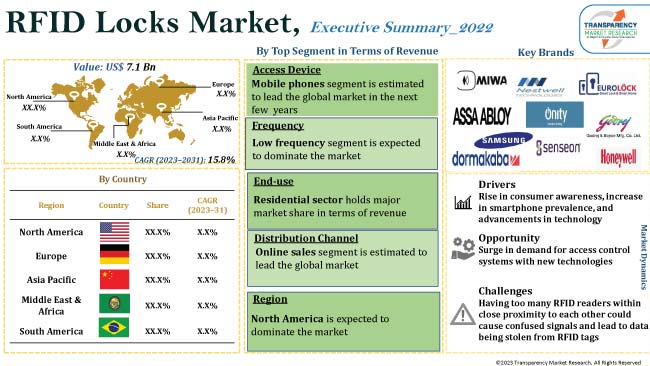 The RFID locks market is segmented in terms of access device and application. Based on access device, themarket is further bifurcated into key cards, mobile phones, wearables, and key fobs. In terms of application, the market is segmented into hospitality, automotive, aerospace & defense, residential, manufacturing, BFSI, retail, transportation & logistics, and others (governments & public utilities, healthcare, etc.). Growth of the market is majorly due the increasing number of people opting for latest solutions and technologies available in the market, aiming at ensuring high levels of security and automation in the premises. Apart from this, interoperability of multiple devices with a high level of convergence would lead to greater market attraction. All these factors are expected to drive the RFID locks market during the forecast period. However, low IT literacy is hampering large-scale acceptance by consumers and thus is a major concern restraining the market. Similarly, unaffordable prices of security solutions is restricting the potential customer base in regions such as Asia Pacific and MEA,thus limiting the growth of the RFID locks market. However, rapid development in terms of innovations, and growing adoption and awareness of having advanced security solutions among the population in emerging economies especially in China, India, and in Southeast Asian countries is anticipated to offer lucrative opportunities to the RFID lock market players in longterm.
Based on region, the RFID locks market is segmented into North America, Europe, Asia Pacific, Middle East & Africa, and South America. Demand for RFID locks in North America is growing mainly due to rising renovation activities of residential units. Construction activityis the driving factor for the RFID locks market in North America. The construction of residential and non-residential buildings is creating demand for new locks that are installed directly into the building. Additionally, it is also creating demand for the retrofit business largely due to increasing number of people/companies upgrading their existing lock systems.Furthermore, the market in Europe is expected to grow significantly due to presence of major leading players such as ASSA ABLOY. Apart from ASSA ABLOY, TYCO International PLC, and Siemens are also some of the major players operating in this region. Numerous strategies are adopted by players such as new product development, strategic alliances, partnerships and acquisitions, in Europe. The market in Europe is also expected to grow due to the increasing adoption rate of smart homes coupled with significant amount of construction spending. Major growth in the RFID locks market in Europe is mainly seen in countries such as the U.K., Germany, and France. The high adoption rate of data connectivity and medium penetration rate of access control devices makes this region a gold mine of opportunities for companies.
Enhanced security needs of customers driving adoption of security solutions across the world have encouraged many regional and global companies to extend their product portfolio across the world. Some of the major players in the global RFID locks market are Honeywell International Inc., Godrej & Boyce Manufacturing Company Ltd., Assa Abloy Group, Nestwell Technologies, United Technologies Corporation, Siemens AG, Vivint, Inc., Samsung Electronics Co Ltd., and dorma+kaba Holdings AG.
RFID Locks Market: Overview
This comprehensive report by Transparency Market Research analyzes and forecasts the RFID locks market at the global and regional level. The report provides analysis of the global RFID locks market for the period from 2016 to 2026, wherein 2018 to 2026 is the forecast period and 2017 is the base year. Data for 2016 is provided as historical information. The report covers all the major trends playing a major role in the growth of the RFID locks market over the forecast period. It also highlights various drivers, restraints, and opportunities expected to influence the market's growth during this period. The study provides a complete perspective on the RFID locks market growth in terms of revenue in US$ Mn and volume in thousand units, across different geographical regions namely North America, Europe, Asia Pacific, Middle East & Africa, and South America. The report would help suppliers and distributors to understand the current and future trends in the market and formulate their strategies accordingly.
The market overview section of the report showcases the market dynamics and trends such as the drivers, restraints, and opportunities that influence the current nature and future status of this market. The report also provides the value chain analysis for the RFID locks market. These market estimates have been analyzed by taking into account the impact of different political, social, economic, technological, and legal factors along with the current market dynamics affecting the market growth.
Global RFID Locks Market: Scope of the Report
The RFID locks market is segmented by access device, application, and region. By access device, the market is segmented into key cards, mobile phones, wearables, and key fobs. Based on application, the market is segmented into hospitality, automotive, aerospace & defense, residential, manufacturing, BFSI, retail, transportation & logistics, others (government & public utilities, healthcare, etc. Revenue data is estimated for all the above mentioned segments.
The report also includes competitive profiling of the key players associated with the market around the globe. The important business strategies adopted by leading players, their market positioning, financials, SWOT analysis, and recent developments have also been identified in the research report. The competitive landscape section of the report gives an overview about the major contributing regions/countries by key players.
Global RFID Locks Market: Research Methodology
The RFID locks market data estimates are the result of our in-depth secondary research, primary interviews, and in-house expert panel reviews. In order to compile the research report, we conducted in-depth interviews and discussions with a wide range of key industry participants and opinion leaders. Primary research represents the bulk of our research efforts, supplemented by extensive secondary research. Primary research involves telephonic interviews, e-mail interactions, and face-to-face interviews for detailed and unbiased reviews on the RFID locks market, across geographies. Primary interviews are usually conducted on an ongoing basis with industry experts and participants in order to get latest market insights and validate the existing data and analysis. Primary interviews offer new and fresh information on important factors such as market trends, market size, competitive landscape, growth trends, etc. These factors help to validate and strengthen secondary research findings. Moreover, the data collected and analyzed from secondary and primary research is again discussed and examined by our expert panel. We reviewed key players' product literature, annual reports, press releases, and relevant documents for competitive analysis and market understanding purposes. Secondary research includes a study of recent trade journals, technical writing, internet sources, and statistical data from government websites, trade associations, and agencies. This has proven to be the most reliable, effective, and successful approach for obtaining precise market data, capturing industry participants' insights, and recognizing business opportunities.
Global RFID Locks Market: Competitive Dynamics
Major strategies adopted by RFID locks providers include strategic acquisitions and partnerships. Major players such as Assa Abloy, KABA group, Samsung Electronics Co., Spectrum Brands, Inc., UTC (Onity, Inc.), and Salto Systems are working toward integration and creation of user-friendly and effective analytics solutions. During the forecast period, it is estimated that the established players in the market would either get merged into large enterprises or would give tough competition to the emerging players in the market. It is estimated that large RFID locks vendors would acquire regional players to improve their distribution networks in domestic as well as international markets. Details such as financials, business strategies, SWOT analysis, recent developments, and other such strategic information pertaining to these players have been duly provided as part of company profiling.
Market Segmentation: Global RFID Locks Market
Access Device

Key Cards
Mobile Phones
Wearables
Key fobs

Application

Hospitality
Automotive
Aerospace & Defense
Residential
Manufacturing
BFSI
Retail
Transportation & Logistics
Others (Government, Public Utilities, Healthcare, etc.)

Geographic

North America

The U.S.
Canada
Rest of North America

Europe

The U.K.
Germany
France
Rest of Europe

Asia Pacific (APAC)

China
India
Japan
Rest of Asia Pacific

Middle East & Africa (MEA)

GCC Countries
South Africa
Rest of MEA

South America

Brazil
Rest of South America
Custom Market Research Services
TMR offers custom market research services that help clients to get information on their business scenario required where syndicated solutions are not enough.
REQUEST CUSTOMIZATION