Renal denervation is a minimal invasive procedure used for the treatment of drug resistant or treatment resistant hypertension. This procedure reduces blood pressure by ablation of renal nerves. With rising incidences of uncontrolled and treatment resistant hypertension, demand for RDN devices is expected to grow in future. Benefits of the RDN procedure such as shorter treatment time and permanent effects over drug treatment, which indirectly reduces the cost of treatment, will also accelerate the market growth. Furthermore, increasing awareness of the RDN process and expected approvals from regulatory bodies such as FDA will boost the demand for RDN devices globally.
WHO estimates indicate that in 2012 more than 1.2 billion people were suffering from hypertension. Clinical data collected from various regions shows the global prevalence of hypertension to be about 38% to 45%. Moreover, new data released by National Health and Nutrition Examination Survey (NHANES) indicates the occurrence of hypertension in the US to be around 30%. After studying data from various clinical studies it is observed that more than 25% to 45% of hypertensive people suffer from uncontrolled hypertension and 15% of these people are observed to have treatment resistant hypertension. This represents a positive outlook for RDN procedure as it considerably reduces the blood pressure in patients with treatment resistant hypertension, thus providing a huge basis for growth of the market.
Europe is the largest as well as fastest growing regional market for RDN devices followed by Asia-Pacific. Europe is expected to maintain its dominating position with a strong double digit growth through 2021. The RDN devices market in North America is expected to accelerate due to FDA approvals in the next 4-5 years coupled with the high incidence of lifestyle-related cardiovascular diseases in the region. Aging population along with a high incidence of diabetes will boost the demand for RDN devices in Asia-Pacific, which is estimated to have a large percentage of population that has not even been diagnosed. Large numbers of hypertensive people have not yet been diagnosed with uncontrolled hypertension globally and are still trying many alternate therapies and medications and struggling to control hypertension.
Due to insufficient clinical data, market players are currently struggling to get approvals from regulatory bodies. However, some leading players have received certification by adding innovation to their products coupled with strong research and development activities. Currently, only five devices have received approval for CE mark certification which includes Medtronic's Symplicity, Boston Scientific's (Vessix Vascular) V2, St. Jude's EnligHTN, Covidien's OneShot and ReCor Medical's Paradise with not a single RDN therapy receiving approval from the US FDA. Medtronic is the leading player in the RDN devices market and contributes for more than 85% of the global market share. ReCor Medical Paradise is the only ultrasound denervation system that has CE certification. However, in the coming years, a high threat of new entrants is expected with innovative technologies which will reduce procedure time and have greater efficacy. Yet with all the challenges, the renal denervation procedure is considered a boon to treatment of uncontrolled hypertension and thus, the market growth in coming years is expected to be very strong.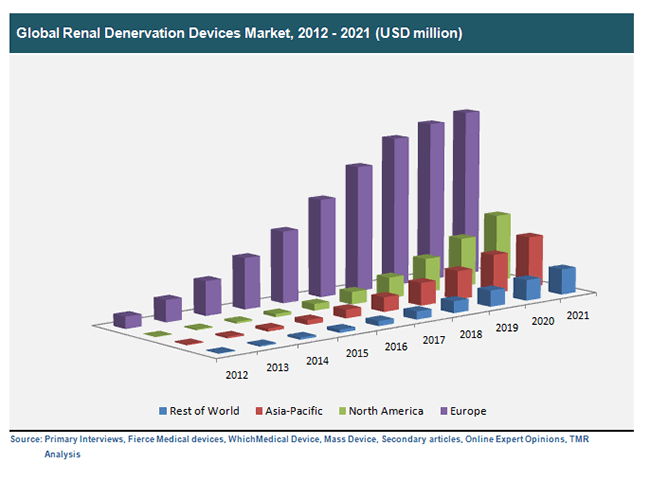 The study comprises of a strategic analysis of the global market for renal denervation devices, and growth forecast for the period from 2012 – 2021. The scope of the report includes competitive analysis of various market segments based on the product, technology and in-depth scrutiny for different regional markets such as North America, Europe, Asia-Pacific and the rest of the world. The Porter's Five Forces analysis included in the report provides an insight into market dynamics and industry competition. The report also offers a PESTLE analysis on the market segments with regards to the future, segregated in different chapters. The report details across from 2012 to 2021 which includes the information of all projected activities in every phase of the report. The market forecast has been separated in three groups of years (2012-2015, 2015-2018 and 2018-2021) to include a separate analysis of each group. The unique analysis in this way covers all current and predicted future activities though this period and highlights key milestones in the progress of this market in the coming years.
This report provides complete insights on the RDN devices market and also analyzes various factors responsible for market growth. These factors determine various existing trends and their impact on market growth. In all, the report includes a holistic analysis of the global renal denervation devices market, and provides an estimate of growth for the period 2012 – 2021, keeping in mind the various factors affecting the market.
This report also analyzes current trends for hypertension treatment methods and advantages of renal denervation systems over other methods which act as a catalyst for the growth in the market. The report provides analysis of the most popular RDN device platforms such as Medtronic's Symplicity, Covidien's OneShot, Boston Scientific's (Vessix Vascular) V2 system, and other emerging devices which will enable stakeholders to map their strategies.
The report also analyzes growth strategies implemented by existing players which will guide emerging players to develop their own strategies and helps existing players to structure their planning process. The report also includes entry barriers to be considered to cater to the exact business opportunities in this market. Additionally, to aid in tactical decision making, the report also includes competitive profiling of leading players, recent developments in the industry and various business strategies adopted by them. This report will help manufacturers, suppliers and distributors in the renal denervation field to plan and implement their roadmap in different market areas such as emerging geographies and new technologies.
1.2

Renal Denervation Devices: Market Segmentation
The study segments the market by technologies used for denervation such as Radiofrequency, Ultrasound, Micro-infusion of drugs (Chemical) and radiation. The report also segments the market according to the brand of products available in the market, particularly, Symplicity, EnligHTN, OneShot, V2 and others. Finally the report has given an in-depth analysis of the epidemiology, growth drivers and restraints by geography in the final section.
The global renal denervation devices market is expected to grow at the compounded annual growth rate of 139.7% by the year 2015 owing to increasing number of population suffering from hypertension. This market is also witnessing the trend of increasing usage of minimally invasive procedures; however, preference for drug based therapy from patients may pose a serious challenge to the growth of this industry. Renal artery denervation is a new device based therapeutic model designed for treatment of hypertension and is gaining popularity among medical device entrepreneurs. Although renal denervation devices industry is in its developing phase, it has attracted most large players for investing in this industry due to the tremendous growth potential of this market.
Renal denervation is a catheter based therapy that makes use of radiofrequency or ultrasound energy for disrupting the renal arteries nerves whose hyperactivity may lead to treatment resistant hypertension. Real denervation devices offer complementary approach to the management of resistant hypertension. Aging population and increasing health issues due to hypertension is giving rise to the use of renal denervation devices. Advancements in technology and emergence of new market players are also boosting the growth of this industry.
Market Segmentation
Based on Technology
Renal Artery Denervation Procedure
Radio Frequency Renal Artery Denervation Systems
Ultrasound Renal Artery Denervation Systems
Microinfusion Renal Denervation Systems
This research report analyzes this industry based on its market segments and major geographies. Geographies analyzed under this report are North America, Europe, Asia Pacific and Rest of the World.
This research report also includes complete analysis of
Current market trends
Industry drivers
Factors limiting market growth
Industry structure
Market projections for upcoming years
Report also provides analysis of recent technological developments in this industry, Porter's five force model analysis, and complete company profiles of top industry players. This report includes review of micro and macro factors significant for existing market players and new entrants along with detailed value chain analysis.
Major Players
Some of the major players dominating this industry are Boston Scientific Corp., Medtronic Inc., ReCor Medical Technology, St. Jude Medical Inc, Ardian, CardioSonic, Covidien, Kona Medical, Maya Medical, Mercator MedSystems, Vessix Vascular and others.