Rainwear Market
Rainwear Market (Type: Rain Jacket, Rain Pant, Rain Suit, and Others; Size: Small, Medium, and Large; Material: Polyester Fabric, Nylon, Vinyl, Gore- Tex, and Blended; Application: Bike Riding, Camping & Hiking, and Others; End User: Men, Women, and Kids; and Distribution Channel: Online [Company-owned Website and e-Commerce) and Offline [Hypermarkets/Departmental Stores, Specialty Stores, Chain & Franchises, and Others]) - Global Industry Analysis, Size, Share, Growth, Trends, and Forecast, 2020 - 2030
Consumer Goods & Services
TMRGL74601
2020-05-25
190

Pages
Emergency Services Workers Use Raincoats amidst Shortage of PPE during COVID-19 Outbreak
The demand for raincoats is burgeoning amidst the coronavirus (COVID-19) pandemic as individuals seek extra protection from pathogens. On the other hand, Pakistani aid workers at The Edhi Foundation are utilizing raincoats and rubber boots to deploy emergency medical services due to the shortage in the PPE (Personal Protective Equipment) supply. Thus, companies in the Pakistan rainwear market are capitalizing on this trend to boost their production capacities and increase the availability of raincoats to support the emergency services aid workers.
It has been found that Pakistan has reported the highest number of COVID-19 cases in Southeast Asia, resulting in increased morbidity and mortality rates. Moreover, a lack of public awareness about the novel virus is creating a stress on Pakistan's healthcare systems. Hence, it has become crucial for manufacturers to increase their production of raincoats, since the cash-strapped government of Pakistan is now seeking help from non-profit organizations. This is likely to fuel the growth of the rainwear market.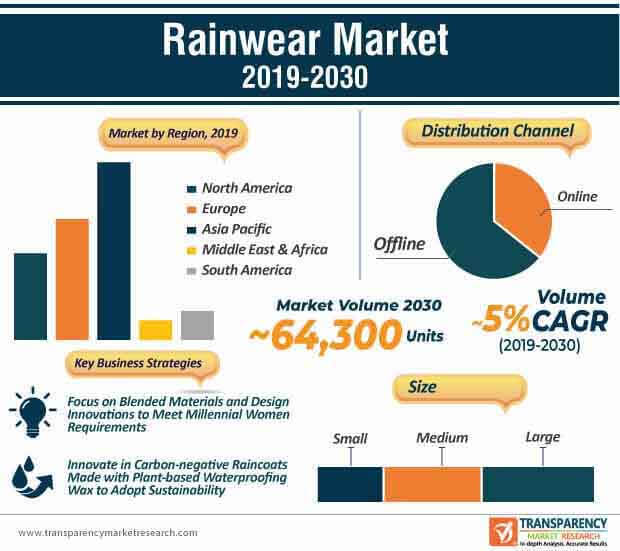 Request a sample to get extensive insights into the Rainwear Market
Color-blocking Style and Carbon-negative Rainwear Boost Design Innovations
Rainwear is growing as a fashion statement, especially among millennial women. The color-blocking street style trend is gaining strong grounds in the rainwear market. As such, the rainwear market is largely fragmented with tier 2 and tier 3 market players dictating more than 50% of the market stake. Design innovations such as lace transparent raincoats and water-repellant trench coats are becoming increasingly popular among women. Hence, tier 2 and tier 3 players should innovate in similar design trends to gain a competitive edge over market players.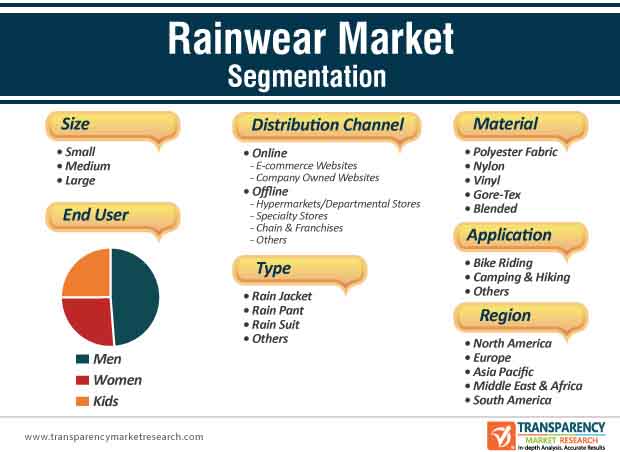 To understand how our report can bring difference to your business strategy, Ask for a brochure
The growing awareness about carbon tax in the U.S. has helped to significantly reduce greenhouse emissions in the rainwear market. This has sparked innovations in sustainable rainwear. For instance, Charlotte McCurdy is a conscious designer and researcher has introduced a water-resistant jacket made from biopolymers of algae. Thus, the trend of carbon-negative rainwear is anticipated to surge in the coming years.
Materials with Water & Wind-proofing Membranes Increase Uptake of Products
Multilayer rainwear is being preferred by customers who seek extra protection from rainwater. For instance, Vigilante— a travel-oriented apparel brand has gained proficiency in the development of their three-layer rainwear V10 Max that delivers exceptional water protection. Companies in the rainwear market are introducing proprietary technologies, such as durable water repellence and windproofing membranes to increase the uptake of products. As such, the revenue of blended materials is estimated to account for the highest share of the rainwear market and is anticipated to cross ~US$ 2 Bn marks by 2030.
Manufacturers are using water & wind-proofing membranes to deploy high rain protection whilst maintaining high breathability in rainwear. There is a growing demand for ultra-light tricot coating in rainwear for trail hiking and bike riding end uses. Gender-neutral functionalities such as water-proof zippers with rose gold accents are growing popular among users. Thus, manufacturers are increasing R&D to develop protective gear that can be used in every season.
Manufacturers Reduce Wastage by Recycling Brass Snaps and Polyester Materials
Companies are increasing efforts to deploy sustainable innovations in rainwear products to reduce carbon footprint. However, adopting sustainability has its unique challenges. The rainwear market is anticipated to progress at a CAGR of 6% during the forecast period. However, achieving 100% of sustainability has its limitations. Hence, Faire Child— a Canada-based children's protective clothing store announced to collaborate with the engineering faculty at Dalhousie University to establish a standard brass snap removal procedure for recycling of the rainwear products.
The trend of recycling is surging in the rainwear market in order to minimize the carbon footprint. Hence, manufacturers are making rainwear from 100% recycled polyester to reduce the environmental impact. They are increasing efforts to reduce raw material wastage and instead recycle them to produce rainwear products. Companies are increasing their research efforts to develop recycled rainwear, which is also waterproof to help customers venture outdoors with a sound consciousness about the environment.
Stuck in a neck-to-neck competition with other brands? Request a custom report on Rainwear Market
Analysts' Viewpoint
Emergency services workers in non-profit organizations are using raincoats and rubber boots to protect themselves from coronavirus pathogens due to the shortage of PPE in Pakistan. As such, lightweight rubberized raincoats and innovative material blends are meeting fashion requirements of millennial women.

Sustainability and recyclability of materials are helping to reduce environmental carbon footprint. However, limitations with the recyclability of materials, such as lack of standard processes for removal of brass snaps, is crippling recycling activities. Hence, companies in the rainwear market should collaborate with engineering candidates in renowned universities and the rainwear industry to reduce waste associated with the recycling of materials.
Rainwear Market: Overview
According to Transparency Market Research's latest report on the global rainwear market for the period 2018–2030 (wherein 2020 to 2030 is the forecast period and 2019 is the base year), rising population of working class people coupled with continued improvement in rainwear products has fueled the demand for rainwear across the globe
In the report, revenue generated by the global rainwear market has been mentioned in terms of value (US$ Mn) and volume (Million Units) throughout the forecast period
Rising Working Class Population: A Key Driver of Rainwear Market
The major factor driving the growth of the market is the increasing safety awareness among employees and individuals across the globe. In addition, availability of personal protective equipment products through offline and online platforms is the other factor contributing toward market growth.
Exponential growth in working population: The rise in working class population in emerging economies is likely to drive the domestic demand for rainwear during the forecast period. The middle class population was 1.8 billion in 2009, 3.5 billion in 2017, and expected to touch 5.3 billion by 2030. This suggests that the spending power of the working class is expected to increase during the forecast period. Demand for rainwear is projected to be high in future, as more people travel to work. Demand is projected to be fueled also by urbanization and changing climatic conditions. Many countries in 2019 experienced heavy rainfall and floods due to abnormal changes in weather patterns. This is set to drive the rainwear market during the forecast period.
Challenges Associated with Raw Material and its Adverse Impact on Environment: A Key Restraining Factor of the Market
Sustainability is a growing concern in the textile and clothing industry, which makes use of a quarter of all the chemicals manufactured around the world. They are used to modify the properties of fabric such as flame retardancy, feel, and water-repellency, as well as color. Many consumers around the world are now worried about the environmental impact of the products they buy, which may act as a restraint to the rainwear market. On the other hand, consumers who prefer a car, public modes of transport, or who walk to work prefer umbrellas over raincoats. Umbrellas are easier to handle and carry around, which makes them a good alternative. The price of rainwear products is also an important factor, which may act as a restraint to the market.
Rising Demand for Sustainable, Lightweight, and Durable Rainwear: A Key Demand Trend in Rainwear Market
Sustainable products, along with lightweight, durable, flexible, and affordable rainwear products are seeing considerably high demand. People who are involved in outdoor sports activities prefer good quality rainwear. The trend of participating in outdoor recreational activities is increasing. Hence, the demand for sports rainwear is expected to be high.
Rainwear Market: Competition Landscape
Detailed profiles of manufacturers in the rainwear market have been provided in the report to evaluate their financials, key product offerings, recent developments, and strategies
Key players operating in the global rainwear market include

Columbia Sportswear Company
The North Face
Patagonia
Black Diamond Equipment
Wildcraft
NZ Seasonal Wear Private Limited
Stutterheim
Ducktail Raincoats
Splashy Rainwear
WaterShed LLC.
New Aashi Rainwear
Rainwear Market: Key Developments
In April 2020, The North Face, an American company, launched a new line called "Remade." The Remade collection line features damaged, returned, or defective North Face garments given new life by the design team. This was initiated to eliminate waste and to honor Earth Day.
In January 2020, the company Patagonia, Inc. collaborated with Toray for spring season 2020 and launched the "Torrentshell3L" product line of waterproof/ breathable jackets. The new jacket consists of custom designed hydrophobic membrane with 100% recycled face fabric.
Rainwear Market – Scope of the Report
A new study on the global rainwear market has been published by Transparency Market Research (TMR). It presents a wealth of information on key market dynamics, including the drivers, market trends, and challenges, as well as the structure of the global rainwear market. TMR's study offers valuable information about the global rainwear market to illustrate how the market would grow during the forecast period 2020 - 2030.
Key indicators of market growth, which include value chain as well as supply chain analyses, and Compound Annual Growth Rate (CAGR) are elucidated in TMR's study in a comprehensive manner. This data can help readers interpret quantitative growth aspects of the global rainwear market during the forecast period.
An extensive analysis on business strategies of leading market players is also featured in TMR's study on the global rainwear market. This can help readers understand principal factors to foresee growth in the global rainwear market. In this study, readers can also find specific data on the qualitative and quantitative growth avenues for the global rainwear market, which is expected to guide market players in making apt decisions in the future.
Key Questions Answered in TMR's Rainwear Market Study
What are the key factors influencing the rainwear market in each region?
What will be the CAGR of the global rainwear market between 2018 and 2030?
What is the future scope and changing trends in technologies in the global rainwear market?
Which factors will impede the growth of the global rainwear market during the forecast period?
Which are the leading companies in the global rainwear market?
Research Methodology – Rainwear Market
A unique research methodology has been utilized by TMR to conduct a comprehensive research on the growth of the global rainwear market and arrive at conclusions on the future growth prospects of the market. This research methodology is a combination of primary and secondary research, which helps analysts warrant the accuracy and reliability of the drawn conclusions.
Secondary sources referred to by analysts during the production of the global rainwear market report include statistics from company annual reports, SEC filings, company websites, World Bank database, investor presentations, regulatory databases, government publications, and industry white papers. Analysts have also interviewed senior managers, products portfolio managers, CEOs, VPs, and market intelligence managers, who contributed to the production of TMR's study on the rainwear market as a primary source.
These primary and secondary sources provided exclusive information during interviews, which serves as a validation from rainwear industry leaders. Access to an extensive internal repository and external proprietary databases allows this report to address specific details and questions about the global rainwear market with accuracy. The study also uses the top-down approach to assess the numbers for each segment and the bottom-up approach to counter-validate them. This has helped in making TMR's estimates on the future prospects of the global rainwear market more reliable and accurate.
Rainwear Market – Segmentation
TMR's study on the global rainwear market includes information categorized into seven sections - by type, size, material, application, end user, distribution channel, and region. Changing industry trends and other crucial market dynamics associated with these sections of the rainwear market are discussed in detail.
Type

Rain Jacket
Rain Pant
Rain Suit
Others

Size

Material

Polyester Fabric
Nylon
Vinyl
Gore - Tex

Application

Bike Riding
Camping & Hiking
Others

End User

Distribution Channel

Online
Commerce
Company-owned Website

Region

North America
U.S.
Canada
Rest of North America
Europe
Germany
France
U.K.
Rest of Europe
Asia Pacific
China
India
Japan
Rest of Asia Pacific
Middle East & Africa
GCC Countries
South Africa
Rest of MEA
South America
Brazil
Mexico
Rest of South America
Custom Market Research Services
TMR offers custom market research services that help clients to get information on their business scenario required where syndicated solutions are not enough.
REQUEST CUSTOMIZATION