PTFE Gasket Market
PTFE Gasket Market (Type: Virgin PTFE, Filled PTFE, Expanded PTFE, and Restructured PTFE; Structure: Flat, Envelope, Spiral, and Others; and Application: Energy, Pharmaceutical, Chemical & Petrochemical, Agriculture, Oil & Gas, and Others) - Global Industry Analysis, Size, Share, Growth, Trends, and Forecast, 2019 - 2027
Factory Automation
TMRGL75719
2020-02-03
265

Pages
Companies Expand Product Portfolio to Support Biotechnology Production Processes
The demand for PTFE gaskets is soaring, since stakeholders in various manufacturing facilities are aiming to reduce downtime associated with hygienic seal failure. Manufacturers in the PTFE gasket market are innovating in new materials to expand their product portfolio in a wide range of applications. For instance, in May 2019, manufacturer of niche peristaltic pumps and associated fluid path technologies, Watson-Marlow Fluid Technology Group, announced the launch of new PTFE and Viton® gaskets to offer contamination-free applications in biotechnology production processes.
Consistent demand for new materials in PTFE gaskets supporting bioprocessing components has triggered the PTFE gasket market growth. Thus, introduction of novel PTFE gaskets has helped to boost the credibility of manufacturers as leading providers of fluid management components. New materials such as fluoropolymer elastomer, PTFE, and synthetic rubber are benefitting stakeholders at manufacturing plants to achieve the highest level of chemical and steam resistance. These attributes are leveraging the productivity levels of workers at biotechnology production units. Companies in the PTFE gasket market are increasing R&D to develop high-purity gaskets that deploy unparalleled sealing performances.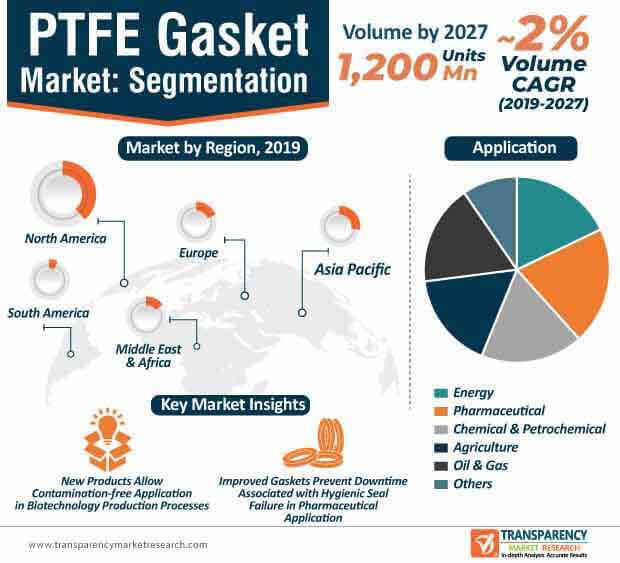 Request a sample to get extensive insights into the PTFE Gasket Market
Unitized Seals Reinforce Confidence in Pharmaceutical Manufacturing
Companies in the PTFE gasket market are developing engineered products to meet stringent standards of purity in the pharmaceutical space. PTFE gaskets are growing popular to reduce downtime due to improper hygienic seal material in pharmaceutical applications. As such, the pharmaceutical application segment is expected to dominate the PTFE gasket market, in terms of value and volume during the forecast period. Hence, manufacturers are increasing efforts to comply with strict standards to maintain consistency for hygienic seal selection between multiple facilities in the pharmaceutical industry.
Abiding the FDA guidelines has helped companies to bolster their credibility credentials in the global PTFE gasket market landscape. For instance, Rubber Fab - a Garlock Hygienic Technologies company, has launched their product Tuf-Flex®, a unitized seal promising purity, performance, and flexibility in pharmaceutical manufacturing. Unitized seals are serving as a cost-efficient solution for pharmaceutical manufacturers, since these seals outperform conventional sanitary gaskets and eliminate costly process interruptions.
Collaborations with Survey Development Companies Help to Increase Availability of Fully Adaptable Solutions
Different workplace environments have given rise to a myriad of solutions, yet none of the sealing solutions are fully available for universal adoption. This issue poses as a major challenge for companies in the PTFE gasket market, which explains a sluggish growth rate of ~3% of the market during the forecast period.
To understand how our report can bring difference to your business strategy, Ask for a brochure
The PTFE gasket market is largely fragmented with regional and local players accounting for market share of 25-30% and 45-50%, respectively. Since emerging players lack the capital and technical expertise to tackle complex issues faced by stakeholders in the value chain, the market growth has slowed down. Hence, leading players are collaborating with third-party survey development companies to solve specific issues faced by manufacturers in various end markets. For instance, Garlock Sealing Technologies - a leading supplier of fluid sealing products, collaborated with an insights services company and interacted with chemical processor companies with the help of exhaustive questionnaires.
Hexagonal Profile PTFE Gaskets Deploy Superior Compressibility and Sealing in Chemical Processing Environments
Apart from pharmaceutical and energy industrial applications, companies in the PTFE gasket market are tapping opportunities in the chemicals and petrochemicals to broaden their scope for new revenue streams. For instance, companies are gaining expertise to develop next-gen PTFE gaskets that deploy superior compressibility and sealing in chemical processing applications. Companies in the PTFE gasket market are interacting with engineers in chemical processing companies to help streamline their process operations and projects.
With the help of questionnaires and surveys, companies are increasing their efforts in ground-level research to compile a comprehensive list of properties that make PTFE gaskets ideal for universal adoption. With increased tests and analysis, manufacturers are able to develop workable and finalized versions of PTFE gaskets. In the chemical processing environment, there is a need for efficient sealing solutions with enhanced surface profiles. Manufacturers are increasing the availability of PTFE gaskets that allow flexibility in installation and assembly to end users. PTFE gaskets with hexagonal profile are growing popular as a truly innovative product in the chemical processing space.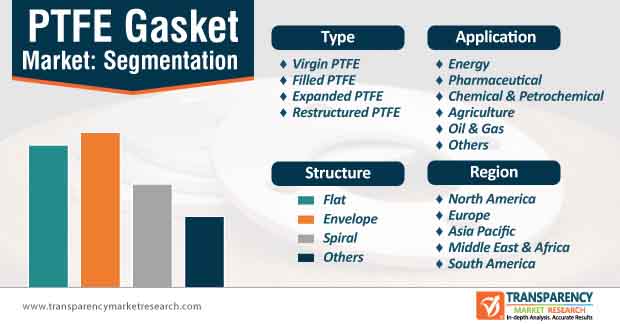 Stuck in a neck-to-neck competition with other brands? Request a custom report on PTFE Gasket Market
Analysts' Viewpoint
Apart from pharmaceutical & chemical industry application, manufacturers in the PTFE gasket market are increasing the availability of sealing solutions for stakeholders in food and cryogenic industries. Expanded PTFE (ePTFE) products are also growing popular in energy, power plant technology as well as in the production sector.

Manufacturers can stabilize their business through application in pharmaceutical and chemical industries. However, asbestos-free gasket solutions are posing as a threat to PTFE products, since the former significantly minimizes gasket creep and cold flow problems. Hence, manufacturers should collaborate with survey development companies to develop gaskets that cater to specific requirements of stakeholders in various end markets.
PTFE Gasket Market: Overview
According to Transparency Market Research's latest market report on the PTFE gasket market for the period 2019-2027 (wherein 2019 to 2027 is the forecast period and 2018 is the base year), high usage of PTFE gaskets in different industries such as chemicals, oil & gas, and pharmaceuticals, and increasing consumption from these industries is expected to drive the PTFE gasket market. The strong chemical resistance offered by PTFE gaskets is also one of the major factors driving this market.
Globally, revenue generated by the PTFE gasket market accounted for ~US$ 1922.8 Mn in 2018, which is expected to expand at a CAGR of ~3% in terms of value during the forecast period
Rise in Demand for PTFE Gaskets Due to its Characteristics: A Key Driver
PTFE or Polytetrafluoroethylene is a fluoropolymer, which finds application in various industries due to its unique properties. Rapid growth of petrochemical and chemical industries is expected to increase the adoption of PTFE gaskets globally. Currently, pharmaceutical and agriculture industries is growing at a fast rate. PTFE gaskets help in carrying out operations smoothly by reducing vibration and providing a noise-free environment. They have low friction property and are highly resistive to acid, bases, and solvents.
Moreover, high melting temperature, high resilience, high corrosion resistance, longer product life, low co-efficient of friction, and considerable insulation properties increases its value as a sealing material and makes it suitable in applications of various end-use industries. These factors are expected to drive the demand for PTFE gaskets during the forecast period.
Growth of Chemical & Petrochemical Sector: Market Opportunity
PTFE gaskets find application in chemical, petrochemical, energy, food processing, oil & gas, agriculture, pharmaceuticals pipeline, and other industries
Customized product offerings based on various filler types are expected to create better opportunities in the near future
PTFE gaskets are used as a reliable sealant in chemical and petrochemical industries due to its high chemical resistance. The U.S. and Europe are witnessing exponential growth in the healthcare industry, which is expected to fuel the PTFE gasket market.
High Cost of Raw Materials a Major Barrier to Market Growth
Raw materials are an important aspect in gasket manufacturing. A gasket functions as a sealant, and is made from various material such as PTFE or Teflon, paper, rubber, silicon, metal, neoprene, nitrile, rubber, fiberglass, and plastic polymer.
Rise in sale of PTFE gaskets due to their high strength and non-contamination nature is leading to rise in demand for PTFE as raw material. A significant restraint faced by PTFE gasket manufacturers is the fluctuation in the cost of PTFE as raw material for manufacturing PTFE gaskets, which can create a major barrier to growth of the market.
PTFE Gasket Market: Competition Landscape
Detailed profiles of manufacturers of PTFE gaskets have been provided in the report to evaluate their financials, key product offerings, recent developments, and strategies
Key players operating in the PTFE gasket market include

ERIKS NV
Valqua Ltd.
James Walker & Co.
Freudenberg Sealing Technologies
Teadit
Frenzelit GmbH
Henning Gasket & Seals, Inc.
The Flexitallic Group Inc.
Garlock Sealing Technologies
Nichias Corporation
PTFE Gasket Market: Key Developments
Prominent manufacturers in the PTFE gasket market are increasing investments in equipment and personnel to fulfill the demand in the market. Manufacturing companies are also planning to expand their presence in various geographies through mergers & acquisitions and tie-ups with distributors and retailers.
Other key developments by manufacturers in the PTFE gasket market are as follows:
Teadit is expanding its product portfolio by introducing innovative products to enhance its customer base. In June 2016, the company re-launched Teadit 30SH – PTFE sheet. This new high tech sheet with improved characteristics allows more permissible stress.
In November 2019, the Flexitallic Group Inc. expanded its geographical presence by opening a new facility in Wales and South West England. The increasing demand for industrial gaskets and sealing solutions has led to need for expansion.
PTFE Gasket Market – Scope of the Report
A new study on the global PTFE gasket market has been published by Transparency Market Research (TMR). It presents a wealth of information on key market dynamics, including the drivers, market trends, and challenges, as well as the structure of the global PTFE gasket market. TMR's study offers valuable information about the global PTFE gasket market to illustrate how the market would grow during the forecast period, 2019–2027.
Key indicators of market growth, which include value chain as well as supply chain analyses, and Compound Annual Growth Rate (CAGR), are elucidated in TMR's study in a comprehensive manner. This data can help readers interpret quantitative growth aspects of the global PTFE gasket market during the forecast period.
An extensive analysis on business strategies of leading market players has also been featured in TMR's study on the global PTFE gasket market. This can help readers understand principal factors to foresee growth in the global PTFE gasket market. In this study, readers can also find specific data on the qualitative and quantitative growth avenues for the global PTFE gasket market, which is expected to guide market players in making apt decisions in the future.
Key Questions Answered in TMR's PTFE Gasket Market Study
What are the key factors influencing the PTFE gasket market in each region?
What will be the CAGR of the global PTFE gasket market between 2017 and 2027?
What is the future scope and current trends in the global PTFE gasket market?
What is the revenue of the global PTFE gasket market based on segments?
Which key strategies are used by top players of the global PTFE gasket market?
Which are the leading companies in the global PTFE gasket market?
Research Methodology – PTFE Gasket Market
A unique research methodology has been utilized by TMR to conduct comprehensive research on the growth of the global PTFE gasket market and arrive at conclusions on the future growth prospects of the market. This research methodology is a combination of primary and secondary research, which helps analysts warrant the accuracy and reliability of the drawn conclusions.
Secondary sources referred to by analysts during the production of the global PTFE gasket market report include statistics from company annual reports, SEC filings, company websites, World Bank database, investor presentations, regulatory databases, government publications, and industry white papers. Analysts have also interviewed senior managers, product portfolio managers, CEOs, VPs, and market intelligence managers, who contributed to the production of TMR's study on the PTFE gasket market as a primary source.
These primary and secondary sources provided exclusive information during interviews, which serves as a validation from PTFE gasket industry leaders. Access to an extensive internal repository and external proprietary databases allows this report to address specific details and questions about the global PTFE gasket market with accuracy. The study also uses the top-down approach to assess the numbers for each segment and the bottom-up approach to counter-validate them. This has helped in making TMR's estimates on the future prospects of the global PTFE gasket market more reliable and accurate.
PTFE Gasket Market – Segmentation
TMR's study on the global PTFE gasket market includes information categorized into four sections - by type, structure, application, and region. Changing industry trends and other crucial market dynamics associated with these sections of the PTFE gasket market have been discussed in detail.
Type

Virgin PTFE

Filled PTFE

Expanded PTFE

Restructured PTFE

Structure

Flat

Envelope

Spiral

Others

Application

Energy

Pharmaceutical

Chemical & Petrochemical

Agriculture

Oil & Gas

Others

Region

North America

U.S.
Canada
Rest of North America

Europe

U.K.
Germany
France
Rest of Europe

Asia Pacific

China
India
Japan
Rest of Asia Pacific

Middle East & Africa

GCC Countries
South Africa
Rest of Middle East & Africa

South America

Brazil
Rest of South America
Custom Market Research Services
TMR offers custom market research services that help clients to get information on their business scenario required where syndicated solutions are not enough.
REQUEST CUSTOMIZATION