Psyllium Products Market
Psyllium Products Market (Nature: Organic and Conventional; Type: Psyllium Seed, Psyllium Husk, and Psyllium Husk Powder; and Application: Food & Beverages, Pharmaceuticals, Dietary Supplements, Animal Feed, and Others) - Global Industry Analysis, Size, Share, Growth, Trends, and Forecast, 2020 - 2030
Category :

Food & Beverages

Format :
Psyllium Products Help Manage Cholesterol Levels and Treat Diarrhea
Medicinal advantages of psyllium husk and powder are being noticed in home remedies to regulate cholesterol levels. High prevalence of cardiovascular diseases in individuals worldwide has created a demand for psyllium products. As such, psyllium husk dictates the highest revenue among all product types in the psyllium products market, where the market that is currently valued at ~US$ 215 Mn is anticipated to reach ~US$ 525 Mn by the end of 2029.
Though North America dictates the highest revenue among all regions in the psyllium products market, India is one of the leading producers of psyllium worldwide. Psyllium products are being extensively used in home remedies as a laxative to help stimulate digestion. Apart from managing cholesterol levels, psyllium is being pervasively used to treat diarrhea, blood sugar levels, and it also boosts weight loss. Thus, health-conscious consumers are one of the major target audiences in the psyllium products market.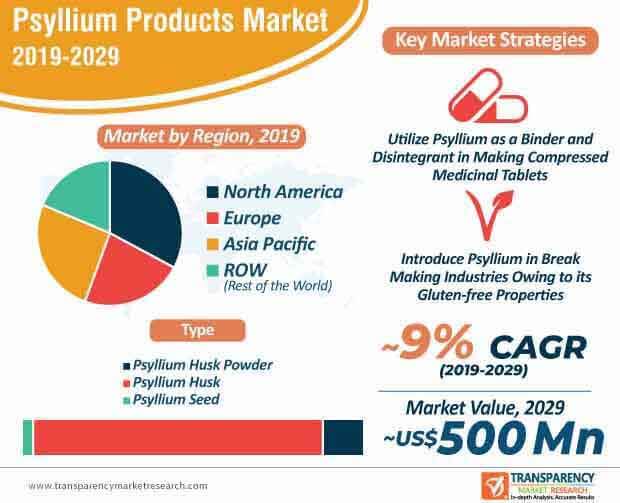 Request a sample to get extensive insights into the Psyllium Products Market
Gluten-free and Disintegrant Properties of Psyllium Find Application in Bakery Items
Psyllium acts as an effective binder and disintegrant in making compressed medicinal tablets. This is evident since pharmaceutical application segment dominates the highest revenue in the psyllium products market, where the market is estimated to reach an output of ~121,400 metric tons by the end of 2029. Hence, manufacturers are investing in capacity additions to produce psyllium husk and powder. For instance, Altrafine Gums— an India-based manufacturer of guar gum powder, has an extensive portfolio of psyllium husk powder, cassia tora powder, and fenugreek gum powder, among others. As such, companies are increasing the availability of fiber supplements in the form of capsules and powder.
To understand how our report can bring difference to your business strategy, Ask for a brochure
Apart from pharmaceutical products, companies in the psyllium products market are tapping into opportunities in bakery. Gluten-free properties of psyllium products are being increasingly used as a binding agent in bread making industries. Psyllium is being highly publicized as paleo-friendly food to control and reduce weight.
Gradual Dosage Increase of Psyllium Prevents Gastrointestinal Side Effects
The psyllium products market is projected to expand at a healthy CAGR of ~9% during the forecast period. However, the humble psyllium husk is linked to several health complications due to overconsumption. It has been found that fiber supplements made from psyllium might interfere with the body's ability to absorb certain medications such as aspirin and carbamazepine. Hence, companies in the psyllium products market are increasing awareness to allow the individual's body become accustomed to the added amounts of fiber. In order to avoid gastrointestinal side effects, companies are suggesting to gradually increase the consumption of psyllium products to prevent issues of gas and bloating.
Due to psyllium's high nutritional values such as proteins, vitamin B1, glycosides, and the likes, companies in the market for psyllium products are aiming for their expansion in the global market. They are increasing awareness that gluten-free products are beneficial for brain health. Thus, companies are targeting gluten-free products for individuals suffering from brain fog and fatigue.
Coronavirus Creates Curiosity in Consumers for Fiber Supplements and Other Ayurvedic Products
The psyllium products market is suffering due to the growing COVID-19 (coronavirus) crisis, as several ayurvedic products suppliers have temporarily suspended their routine business activities. However, many individuals are growing increasingly aware about the benefits of psyllium products such as fiber supplements and powder in order to achieve optimum immunity. These efforts by individuals are being taken to combat the life-threatening symptoms of coronavirus. As such, there is a growing demand for tailored health solutions from leading biohackers in the psyllium products market, who are designing personalized regimens for individuals wanting to fight off infections.
Stakeholders in the ayurvedic products sector are increasing efforts to conduct video consultations through popular social media networking mobile apps to educate individuals on the advantages of psyllium and other medicinal fibers.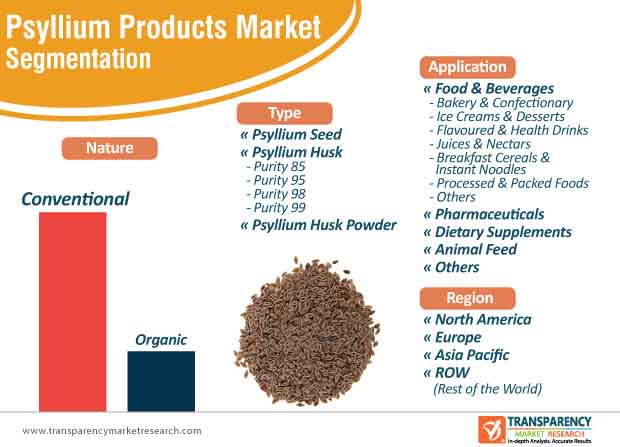 Stuck in a neck-to-neck competition with other brands? Request a custom report on Psyllium Products Market
Analysts' Viewpoint
Though the COVID-19 outbreak has paralyzed routine business activities of companies in the psyllium products market, there is an increasing awareness about psyllium-induced fiber supplements and other ayurvedic products. The demand for natural ingredients is being met by pharmaceutical companies that are producing psyllium tablets and capsules for individuals suffering from high cholesterol and blood sugar levels.

Moreover, psyllium has promising growth potential in the bakery and confectionary sector. However, side effects of psyllium such as gastrointestinal complications due to overconsumption pose a barrier for its widespread adoption. Hence, companies should increase awareness about gradual dosage of psyllium products and encourage consumers to follow healthy lifestyle habits for effective results.
Psyllium Products Market: Overview
The global psyllium products market's value is estimated to be ~US$ 215 Mn in 2020, finds Transparency Market Research (TMR) in a recent study. According to the report, the market is expected to reach ~US$ 525 Mn by 2030, at a CAGR of ~9.2%.
The psyllium products market is anticipated to be a lucrative business due to increasing demand from various end-use industries. The psyllium products market is also expected to propel by the rising demand from vegan population, as they are looking for alternatives such as plant-based products.
Rising concerns regarding good quality food products and growing consciousness towards well-being are the key factors due to which, consumers opt for organic psyllium products. Organic psyllium products have less pesticides and have no or negligible additives or chemicals. Hence, consuming these organic products provide mental as well as physical fitness to consumers. The rising trend of fitness among consumers is pushing the market players to include organic products in their product portfolio. As a result of this, producers of psyllium products are anticipated to witness a significant opportunity if they launch organic psyllium products in the consumer-driven market.
Psyllium Products: Market Frontrunners
Organic and conventional psyllium products are the key segments, by nature; among these, the leading segment is conventional accounting for the approximately 90.7% of the market in 2020 in terms of value.
Psyllium husk is the leading segment of the global psyllium products market in terms of product type. It is followed by psyllium seed and psyllium husk powder. These segments accounted for 3.8% and 5.4% of the market, respectively, based on value.
Food & beverages, pharmaceuticals, dietary supplements, and animal feed, and others are the main segments of the global psyllium products market based on application. Among these segments, pharmaceuticals and dietary supplements hold approximately ~75% market share in terms of market value.
North America holds the leading share in the global market that is approximately ~32.9% and followed by Asia Pacific, and Europe, which is 24.2% and ~27.4% of total market share, whereas rest of world (ROW) accounts for the remaining market share.
Psyllium Products Market: Trends
Numerous Health Benefits Driving the Market for Psyllium Products

Psyllium is a rich source of vitamins, minerals, and antioxidant components, due to which, it has multiple uses in several end-use industries. Psyllium has laxative properties, which also help in eliminating toxic materials from the body. Psyllium products are beneficial for those having gastrointestinal disorders such as constipation, diarrhea, and also maintain blood pressure and sugar levels. According to a global report by WHO, 8.5% of the adult population were suffering from diabetes in the year 2015. All these factors are driving the growth of the market for psyllium products.
Applications of Psyllium Products in Cosmetics and Personal Care Products to Aid Growth
The growing demand for psyllium and its derivatives in cosmetics and personal care products is boosting global psyllium products market. Rising per capita income, increasing urbanization, and growing trend of self-grooming are the major factors fueling the demand for psyllium in personal care products and cosmetics. Psyllium products have been used in the cosmetics and personal care, as they maintain skin health due to the presence of vital vitamins and nutrients. Psyllium-based cosmetic and personal care products are also used in preventing numerous skin problems, such as rashes and acne, thus, giving a boost to the market for psyllium-based cosmetic and personal care products.
Psyllium Products Market: Strategies
Key players in the global psyllium products market are introducing various psyllium-based products via e-Commerce/online retailing, and are also providing concessions on their products to expand their online business
Product Launches and Key Innovations: Manufacturers have started offering products that improve the digestive health as well as help in improvement of celiac diseases

In 2019, Nestle S.A. has acquired Sweet Earth Foods. Under this brand, the company has launched a new product line of frozen pizzas presenting crusts mixed with psyllium fiber, ancient grains, rosemary, and carrot.
Target Region for Market
In terms of value, North America holds the dominant market share and is anticipated to continue leading the global market during the forecast period, followed by Europe
Psyllium Products Market: Players
Some of the key manufacturers operating in the psyllium products market, as profiled in the study, are

Now Health Group, Inc.
Nature's Sunshine
Patanjali Ayurveda
Dabur India Ltd.
Rama Gum Industries (India) Limited
Procter & Gamble
Nature's Bounty Co. (Puritan's Pride)
Reckitt Benckiser Group plc,
Psyllium Products Market - Scope of the Report
Transparency Market Research (TMR) has recently published a market study on the psyllium products market. It provides a detailed assessment of key market dynamics, including drivers, trends, opportunities, and restraints, and detailed information about the psyllium products market structure. The market study presents exclusive information about how the psyllium products market will grow during the forecast period of 2020-2030.
Key indicators of market growth, which include year-on-year (Y-o-Y) growth of the market, value chain, supply chain analysis, and compounded annual growth rate (CAGR) are elaborated in the study in a comprehensive manner. This information is intended to help readers understand the quantitative growth prospects of the psyllium products market during the forecast period.
The study is intended to offer a holistic market overview to stakeholders in the psyllium products, including manufacturers, suppliers, distributors, and investors, and to help them develop winning growth strategies. Stakeholders in the psyllium products market, which include investors, industry experts, researchers, and journalists, and business researchers, can leverage the information and data presented in TMR's study.
The study also includes statistics and facts related to the macro as well as microeconomic factors that are impacting expansion of the market. It also offers actionable insights into the future trends in the psyllium products market. Furthermore, small businesses and new entrants in the psyllium products market can make use of the information presented in this study, based on which, they can make appropriate business decisions in order to gain momentum in the market.
Key Questions Answered in TMR's Psyllium Products Market Report
Which region will continue to remain the most profitable regional market for psyllium products market players?
Which factors will induce a change in the demand for psyllium products during the assessment period?
How will the changing trends impact the psyllium products market?
How can market players capitalize on the low-hanging opportunities in the psyllium products market in developed regions?
Which companies are leading the psyllium products market?
What are the winning strategies of stakeholders in the psyllium products market to catapult their position in the forefront?
Psyllium Products Market: Research Methodology
In TMR's study, a unique research methodology is used to conduct extensive research on the growth of the psyllium products market and identify future growth parameters. This research methodology is a combination of primary and secondary research, to help analysts ensure the accuracy and reliability of the conclusions.
Secondary resources referred to by analysts for compiling the psyllium products market study include statistics from governmental organizations, trade journals, white papers, and internal and external proprietary databases. Analysts have interviewed senior managers, product portfolio managers, CEOs, VPs, marketing/product managers, and market intelligence managers, who contributed to the development of this report as a primary resource.
Information acquired from primary resources and secondary resources is compiled in a comprehensive manner. This also acts as a validation from companies in the psyllium products market, which makes TMR's projections more accurate and reliable.
Psyllium Products Market – Segmentation
TMR's study on the psyllium products market offers information divided into important segments — nature, type, application, and region. This report offers comprehensive data and information about the important market dynamics and growth parameters associated with these categories.
Nature

Type

Psyllium Seed
Psyllium Husk
Psyllium Husk Powder

Application

Food & Beverages
Pharmaceuticals
Dietary Supplements
Animal Feed
Others

Region

North America
Europe
Asia Pacific
ROW (Rest of World)
Custom Market Research Services
TMR offers custom market research services that help clients to get information on their business scenario required where syndicated solutions are not enough.
REQUEST CUSTOMIZATION