The global ocular drug delivery technology market is consolidated in nature. The top three companies operating in the market, namely Santen Pharmaceutical Co., Ltd., Alimera Sciences, and Valeant Pharmaceuticals International, Inc. (Bausch & Lomb Incorporated) account for over half the share in it. Of them, Santen Pharmaceuticals and Valeant Pharmaceuticals have a stronghold over the market because of their wide array of topical ocular drug products. Alimera Sciences captured 14% to 18% market share in 2016 due to commercialization of Iluvien manufactured by pSivida Corp.
Keen manufacturers – both large and small regional ones – in the global ocular drug delivery technology market are collaborating with hospitals and other suppliers or acquiring other companies in order to bolster their positions. They are also looking to expand their share with a robust pipeline of products in ophthalmic sector. Competition in the market will likely heat up in the near future on the back of favorable reimbursement policies of governments and increasing number of research grants.
A report by Transparency Market Research predicts the global ocular drug delivery technologies market to expand at a steady 6.8% CAGR between 2017 and 2025 to become worth US$18.124 bn by 2025-end vis-à-vis revenue from US$ 10.2 bn in 2016.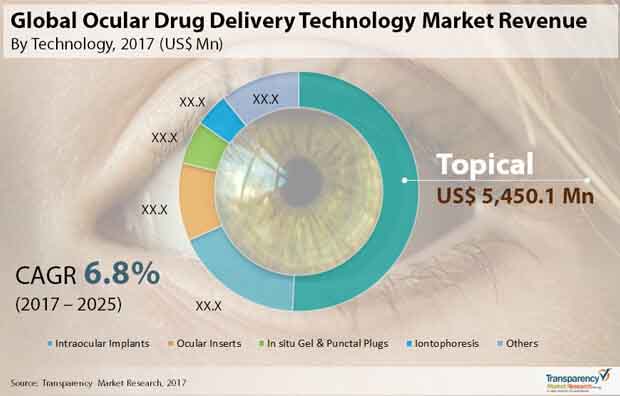 Helpful Reimbursement Policies Makes North America Market Leader
Depending upon the type of technology, the global ocular drug delivery technology market can be segmented into topical, ocular inserts, iontophoresis, intraocular implants, and in-situ gel and punctal plugs, among others. Of them, the topical segment dominates the market revenue-wise. Going forward too, the topical segment is expected to retain its leading share of about 50.2% in revenue till 2025. This is mainly because of the growing pool of elderly and the rising number of regional players in the ophthalmic technology market.
Geographically, the key segments of the global ocular drug delivery technology market are North America, Europe, Asia Pacific, Latin America, and the Middle East and Africa. North America, at present, is a dominant region because of the strong demand for targeted drug delivery to the posterior eye and concentration of prominent manufacturers. In 2016, the region held a substantial 52.5% share in the market.
Rising Instances of Glaucoma Pushing up Demand
Some of the primary growth drivers in the global ocular drug delivery technology market is the low bioavailability of drugs in conventional ocular therapies, increasing occurrence of glaucoma and macular degeneration, increasing preference among patients for targeted ocular drug delivery techniques, and approval of the FDA for new ocular drug delivery techniques.
However, there are a number of factors serving to restrain the market as well. As per the lead analyst of the TMR report: "Ocular inserts and implants provide advantages such as high corneal penetration, greater dissolution area, and sustained release of medication. However, the foreign body sensation in the eye due to the solidity of the implants lead to discomfort accompanied by irritation, drug dilution, and excessive lachrymation. Therefore, even though they provide enhanced drug delivery alternatives, the discomfort is likely to arrest the growth of this segment."
This review is based on the findings of a TMR report, titled, "Ocular Drug Delivery Technology Market (Technology - Topical, Ocular Inserts (Non-Erodible and Erodible), Iontophoresis, Intraocular Implants (Biodegradable and Non-Biodegradable), and In Situ Gel & Punctal Plugs; Formulation Type - Suspension, Solution, Emulsion, Liposomes & Nanoparticles, and Ointments; Disease Type - Glaucoma, Diabetic Retinopathy, Macular Degeneration, Diabetic Macular Edema, and Cataract; End User - Hospitals, Ambulatory Surgical Centers, Ophthalmic Clinics, and Homecare Settings) - Global Industry Analysis, Size, Share, Growth, Trends, and Forecast 2017 - 2025."
Global Ocular Drug Delivery Technology Market, by Technology
Topical
Ocular Insert
Iontophoresis
Intraocular Implants

Biodegradable
Non-Biodegradable

In Situ Gel & Punctal Plugs
Others
Global Ocular Drug Delivery Technology Market, by Formulation Type
Solution
Suspension
Emulsion
Liposomes & Nanoparticles
Ointment
Global Ocular Drug Delivery Technology Market, by Disease Type
Glaucoma
Macular Degeneration
Diabetic Retinopathy
Cataract
Diabetic Macular Edema
Dry Eye Syndrome
Others
Global Ocular Drug Delivery Technology Market, by End user
Hospitals
Ambulatory Surgical centers
Ophthalmic Clinics
Homecare Settings
Global Ocular Drug Delivery Technology Market, by Region
North America
Europe

Germany
U.K.
France
Italy
Spain
Russia
Rest of Europe

Asia Pacific

India
China
Japan
Australia & New Zealand
Rest of Asia Pacific

Latin America

Brazil
Mexico
Rest of Latin America

Middle East & Africa

GCC Countries
South Africa
Rest of Middle East & Africa