Prebiotic Ingredients Market
Prebiotic Ingredients Market (Source - Vegetables, Cereals, Roots, Others; Ingredients - Fructo-oligosaccharide, Mannan-oligosaccharide, Galacto-oligosaccharide, Inulin, Others; End Use - Clinical Nutrition, Dietary Supplement, Functional Food & Beverage, Dairy Products, Infant Formula, Breakfast Cereal & Cereal Bars, Meat Products, Animal Nutrition, Pet Food) - Global Industry Analysis, Size, Share, Growth, Trends, and Forecast 2019 - 2027
Category :

Food & Beverages

Format :
Prebiotic Ingredients Market: Health & Wellness Spending Continues to Create Opportunities
Prebiotics, often overshadowed by the massive popularity garnered by probiotics, are finally getting their due – our new research finds demand for prebiotic ingredients has grown at nearly 6% annually since 2015, propelling global sales to the US$ 4.5 billion mark in 2018. As the global dietary supplements industry fights a 'perception battle', prebiotics are emerging as a bright spot. However, it is also pertinent to note that prebiotics still command a market value that pales in comparison to their popular counterparts, the probiotics; this continues to be a challenge for prebiotic ingredients suppliers.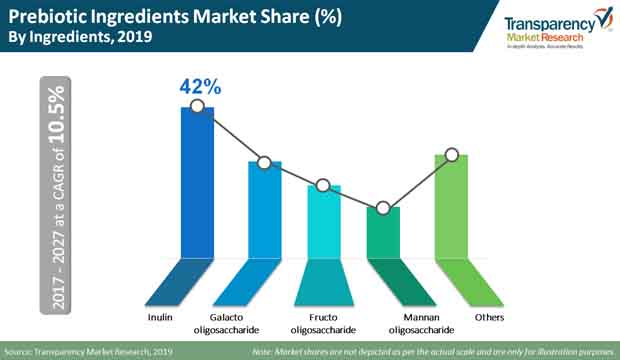 Prebiotic Ingredients Market - Buoyed by Consumer Preference for 'Less-Marketing, More Science'
The surge in demand for prebiotic ingredients—although a recent phenomenon—is paradoxical. Over the years, many dietary supplements have faced a legitimacy crisis, as lack of scientific literature on their actual health benefits hasn't been really forthcoming. However, armed with humungous marketing budgets, the dietary supplements industry has prodded along. And, the status-quo hasn't entirely changed; instead, it has witnessed an evolution which has created space for 'less-marketing, more-science' based products—a playing ground more level and conducive for prebiotic ingredients manufacturers.
While consumer awareness and inquisitiveness about the scientific literature has helped prebiotic ingredients suppliers, the trust factor consumers once placed in probiotics is now being challenged. Scientific research, most notably from University of Copenhagen, has ruled that there is "lack of evidence" surrounding the actual health benefits of probiotics. The prebiotics industry has used these findings to 'educate' consumers on the benefits of using a combination of probiotics and prebiotics instead.
Scramble Toward Asia Pacific in Prebiotic Ingredients Market – The 'Switch' from 'Pro' to 'Pre'
As these perception battles support the momentum in the prebiotic ingredients market, gains have also been driven by a range of macro-economic factors, ranging from growing urbanization, increasing disposable income, and resurgency in retail sales. The impact of these broader factors has been especially palpable in the emerging countries of Asia Pacific.
The functional food and dietary supplement industry remained concentrated in North America and Europe for a long time. However, in the last decade or so, a new demographic of consumers in Asia Pacific has induced a scramble among the world's biggest food and beverage brands. Currently, dietary supplements is a multi-million dollar business in Asia Pacific, and probiotics are easily available in hypermarkets and retail stores.
The plethora of opportunities emerging in Asia Pacific are not lost on prebiotic ingredients industry. However, to succeed in the highly lucrative and fiercely-competitive markets of Asia Pacific, a holistic strategy to capture market share from probiotic industry is required. In a region as cost-sensitive as Asia Pacific, all consumer awareness initiatives and marketing strategies can boomerang if product pricing is out of sync with consumer expectations.
Asia Pacific also offers unique advantages in terms of sourcing prebiotic ingredients. Many countries in the region are agrarian, and the various prebiotic ingredients, including fructo-oligosaccharide, mannan-oligosaccharide, galacto-oligosaccharide, and inulin are easily available to prebiotic manufacturers. As is the case globally, inulin remains the ingredient of choice for prebiotic companies in Asia Pacific. Galacto-oligosaccharides and fructo-oligosaccharides follow suit, with mannan-oligosaccharides being the least preferred of all prebiotic ingredients.
Prebiotic Ingredient Market – Consolidated Globally, Fragmented Locally
The prebiotic ingredients market shows varied a level of competitive landscape. On a global level, a handful of multinational companies account for a sizeable market share. However, regionally, and also on a country-wide level, smaller players hold sway. Prebiotic companies have to comply with a number of regulations, especially those outlining the marketing and advertising of the products. Guidelines on labelling are also present, which puts pressure on prebiotic ingredients suppliers to be transparent in how they source their products. The degree of competition is high in the prebiotics market, and considering the undercurrents impacting probiotics and dairy supplements, it is highly likely that the landscape will become more competitive during the course of the forecast period.
The companies profiled in this study on prebiotic ingredients market include Koninklijke FrieslandCampina N.V., Roquette Frères S.A., Kerry Group plc, Ingredion Incorporated, Cargill, Incorporated, Yakult Honsha Co.,Ltd., Cosucra Groupe Warcoing SA, BENEO GmbH, Fonterra Co-operative Group Limited, Sensus America, Inc., and Jarrow Formulas, Inc.
Prebiotic Ingredients Market to Gain Momentum Owing to Rising Demand from Food and Beverage Industry
The growing demand for healthy beverage items worldwide is expected to promote the growth of the global prebiotic ingredient market. In the coming years, numerous dietary enhancements have confronted an authenticity emergency, as absence of logical writing on their genuine medical advantages hasn't been truly impending. In any case, equipped with humungous showcasing spending plans, the dietary enhancements industry has nudged along. Furthermore, business as usual hasn't completely changed; all things being equal, it has seen an advancement which has made space for 'less-promoting, more-science' based items—a playing ground more level and favorable for prebiotic fixings makers.
The global prebiotic ingredients market is classified on the basis of source, ingredients, end use, and region. In terms of source, the market is grouped into roots, cereals, vegetables, and others. Geographically, the market is dominated by North America, with Europe in close competition. Furthermore, the market in Asia Pacific will witness notable growth in the coming years owing to the increasing adoption of probiotics from supermarkets and hypermarkets.
There is developing interest in Indian shoppers for stomach related wellbeing fixings, especially prebiotics, in food items. India's probiotics market is to a great extent zeroed in on creature feed, and probiotic items for human utilization are as yet a specialty area. Mindfulness exercises by organizations, for example, Yakult keeps on driving buyer mindfulness about probiotic items that will thusly keep on filling market development. Besides, developing dairy utilization in China is driving interest for esteem added dairy items. China's reliance on imported dairy decreases its ability to build up its own cycles, and subsequently will in general repeat innovations created in Japan. China has an enormous inulin source. Licensed innovation security for these items should be thought of, with numerous imitator items known to exist. The medical advantages of prebiotics and probiotics in China is as of now problematic, thus the deals are commonly determined by viva voce.
A recently published report on the prebiotic ingredients market presented by Transparency Market Research (TMR) offers a detailed overview of the market backed by an in-depth research with respect to historical and current prebiotic ingredients market scenario. The TMR study provides an evaluation of the prebiotic ingredients market over a 10-year forecast period of 2018 to 2027. The report covers the crucial factors driving the growth of the global prebiotic ingredients market, opportunities for prebiotic ingredients market players, key developments and trends shaping the dynamics of the global prebiotic ingredients market. Moreover, the study provides key insights pertaining to market segments. The study propounds vital aspects regarding the prebiotic ingredients market, offering a holistic overview to readers.
The TMR study highlights the key factors driving the prebiotic ingredients market growth while recognizing the restraining factors that are likely to impact the overall market expansion. The well-scrutinized evaluation of transforming prebiotic ingredients industry trends are also comprised in the market study to aid clients in taking informed decisions backed by the exhaustive information enclosed in the report. The TMR report also discusses the macro- and micro-economic factors that directly or indirectly influence the growth of the prebiotic ingredients market, allowing readers to gain an in-depth glance in the future possibilities pertaining to the market for prebiotic ingredients.
The study offers a thorough prebiotic ingredients market share assessment of the prebiotic ingredients based on the key manufacturers. A report section showcases country-wise global prebiotic ingredients and offers a market outlook for 2018 to 2027, setting a forecast within the report perspective. The study illustrates the key developments and activities undertaken by the leading prebiotic ingredients providers operating in the market. The list of prebiotic ingredients market players discussed in the report enhance the credibility of the comprehensive research publication.
The report is divided in sections: source type, ingredients type, end use type, and region, to understand individual aspects of the prebiotic ingredients market in detail, providing great value and exclusive market insights to clients. The report evaluates the prebiotic ingredients market in terms of market value (US$ Mn) and volume (Tons).
The study initiates with an overview of the global prebiotic ingredients market. This section elaborated the market for prebiotic ingredients followed by the inclusion of TMR's assessment of market drivers and restraints, key trends, from both demand and supply perspectives. The inclusion of impact analysis of the key growth drivers and restraints in accordance with the weighted average model better equips and supports clients with clear, thorough decision-making insights.
Research Methodology
The report considers average selling price of prebiotic ingredients across geographies to calculate the market size. Moreover, data points including market segmentation by source type, ingredient type, and end use type, regional segment, and qualitative inputs procured from primary respondents have been combined to arrive at apropos market estimates. The prebiotic ingredients market forecast presented in the report evaluates the total revenue that is anticipated to be generated throughout the prebiotic ingredients market over 2018-2027. When developing the market forecast, the preliminary aspect involves sizing up the current market, which forms the basis on which the market is estimated to shape in the forthcoming years. Considering the characteristics of the market, we triangulated the market outcomes based on various assessment results, with respect to both the demand and supply side. However, quantifying the prebiotic ingredients market through said segments and regions is more a matter of quantifying expectations and recognizing opportunities rather than rationalizing them after the completion of the forecast.
It is vital to note that in scenarios such as the continually fluctuating global economy, we only present forecasts in terms of CAGR but also evaluate the market based on key parameters including Year-on-Year (Y-o-Y) growth to comprehend the predictability of the market and recognized the correct opportunities in the prebiotic ingredients market. The aforementioned prebiotic ingredients market segments have been analysed in terms of Basis Point Share (BPS) to understand the individual segments and their relative contribution to the overall market growth. The detailed information remain vital for the identification of various key trends in the prebiotic ingredients market.
Another significant feature of report is the evaluation of prebiotic ingredients market based on source, ingredient, end use, and region with regard to absolute dollar opportunity which is traditionally ignored while conducting market forecast. However, the absolute dollar opportunity is critical is evaluating the level of opportunity that a prebiotic ingredients market player can cite to achieve, as well as to recognize latent resources from a sales perspective in the prebiotic ingredients market. In an attempt to understand the key growth segments in terms of performance and growth of the prebiotic ingredients market, TMR developed a market attractiveness index. The resulting index should help companies identify tangible market opportunities.
The final report section includes a prebiotic ingredients market competitive landscape that provides report audience with a competitive dashboard, based on categories of market players across the value chain, their presence in the prebiotic ingredients market portfolio and key differentiators. Prebiotic ingredients market structure and company market share analysis has been well-assessed in this section of the report. The prebiotic ingredients market share is anticipated on the basis of sales of prebiotic ingredients across the globe. The key sources referred include investor presentations, company annual reports, company press releases, and analyst presentations. The outcome has been triangulated with retailers, distributors, and industry experts across the value chain.
Some of the prominent market players features in this section include:
BENEO GmbH
Roquette Frères S.A.
Koninklijke FrieslandCampina N.V.
Ingredion Incorporated
Cargill, Incorporated
Kerry Group plc
Fonterra Co-operative Group Limited
Cosucra Groupe Warcoing SA
Sensus America, Inc.
Yakult Honsha Co.,Ltd.
Jarrow Formulas, Inc.
Region

Latin America
North America
Western Europe
Eastern Europe
Asia-Pacific Excluding Japan
Middle East and Africa
Japan

Source Type

Cereals
Vegetables
Roots
Others

Ingredient Type

Mannan-oligosaccharide
Fructo-oligosaccharide
Inulin
Galacto-oligosaccharide
Others

End Use

Meat Products
Clinical Nutrition
Functional Food & Beverage
Breakfast Cereal & Cereal Bars
Dairy Products
Infant Formula
Dietary Supplement
Animal Nutrition
Pet Food
Custom Market Research Services
TMR offers custom market research services that help clients to get information on their business scenario required where syndicated solutions are not enough.
REQUEST CUSTOMIZATION