Inulin Market
Inulin Market (Nature: Organic and Conventional; Source: Agave, Chicory, Jerusalem Artichoke, and Others; Form: Powder and Liquid; and Application: Food & Beverages, Dietary Supplements, Pharmaceuticals, and Animal Feed) - Global Industry Analysis, Size, Share, Growth, Trends, and Forecast, 2021-2031
Food & Beverages
TMRGL82559
2021-07-23
297

Pages
Changing Consumer Preference for High Nutritional Ingredient Boosts Inulin Market
Inulin is a dietary fiber found in a variety of fruits, vegetables, and herbs, including wheat, onions, bananas, leeks, artichokes, and asparagus. Plants commonly contain inulin, and some producers add it to processed foods. Inulin is also a polymer of fructose molecule (fructan). Like other fructans, it is prebiotic, meaning that it nourishes the good bacteria in the gut. Moreover, the gut bacteria transform inulin and other prebiotics into short-chain fatty acids, which sustain colon cells and present several other health benefits. Inulin molecules link collectively in a way that the small intestine cannot break down, and instead travel to the lower gut and feed beneficial bacteria. Moreover, inulin is a starchy substance and is most commonly used for medicine obtained by soaking chicory roots in hot water. Hence, the growing demand for pharmaceuticals and rising trends of ingredients derived from natural products are expected to propel the demand for the global inulin market during the forecast period.
Various plants that contain inulin have been around for several thousand years, and some humans consumed more inulin as compared to the present. Inulin is not digested or embodied in the stomach. It runs to the bowels where bacteria are able to use it to grow. It fosters the growth of specific kinds of bacteria that are affiliated with improving bowel function and overall health. Furthermore, inulin reduces the body's ability to gain certain sorts of fats. Inulin is usually used by the mouth for high blood fats, including cholesterol and triglycerides. It is also utilized for weight loss, costiveness, diarrhoea, and diabetes. Inulin has been proven effective for elderly people with once or twice a week bowel movements to have a bowel movement daily.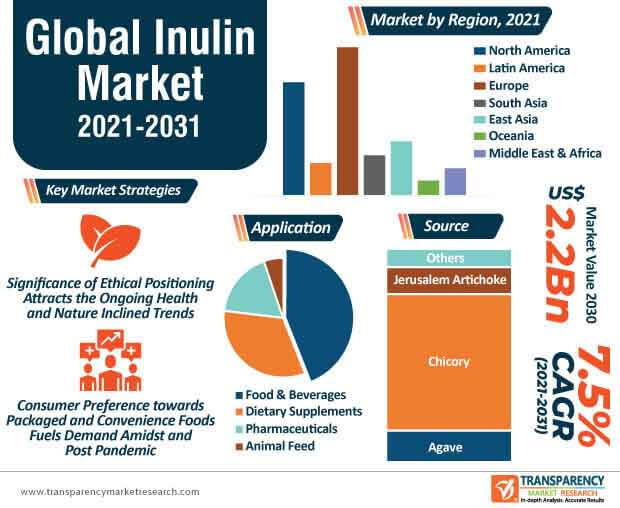 Request a sample to get extensive insights into the Inulin Market
Major Players Likely to Evaluate Next Steps to Address Declining Demand
The outbreak of the COVID-19 pandemic has severely impacted almost every industry, of which many have been highly responsive. The inulin market leaders have rallied to enable the supply of raw materials, direct workforce safety, and manage unfolding government restrictions all while starting to plan for ways to supply inulin to end-use industries. Major market players have put crisis-response instruction centers in place to suitably manage and bring stability to an otherwise uncertain time. However, the global inulin market has witnessed a surge in the demand from the pharmaceutical sector, owing to an increased number of hospitalized people across the world. However, restrictions in the global supply chain caused a lack of inulin in several pharmaceutical medicines. With available alternatives for inulin at the time of the pandemic, the demand curve went down for the global inulin market. Furthermore, the food & beverage segment remained affected due to limited raw materials, insufficient workforce, and restricted supply chain. This hampered the demand for inulin from the food industry, which affected the inulin market severely.
On the path to recovery, COVID-19 has intensified the focus on risk management, as businesses reassess their supply chain policies, and steps to make them more flexible and resilient to disruption. It includes the potential for future disruptions to the workforce, as modifications in design and operating models will drive redistribution of expertise and new skill sets. Various businesses are considering revaluating their strategies, risk sensitivity, and the overall network footprint to address these types of risks. Moreover, businesses are considering the excess capacity they might need, dual sourcing, and geographic diversification. As buying decisions are impacted and will be reliant on the way businesses assess their contract development and manufacturing organizations (CDMOs). This includes weighing solvency risks, controlling amount, merging with partners in diversifying locations, and other considerations that balance cost and risk.
To understand how our report can bring difference to your business strategy, Ask for a brochure
Variety of End-use Applications of Inulin Ensures Price Stability
Growing popularity of prebiotic ingredients and increasing awareness campaigns for low fat and calorie reduction are expected to fuel the global inulin market during the forecast period. Moreover, government authorized food and drugs organizations across several nations have recognized inulin as a safe product, ensuring consumer safety. In addition, the growing use of inulin in the formation of cheese, ice creams, and yogurts is driving the demand from the dairy industry. In the food & beverage sector, the growing importance of low caloric sugar products is propelling the demand for inulin on a global scale. Additionally, as the market price of inulin is stable, it is expected to support application development and penetration. The abundance of chicory root, one of the basic sources of inulin, especially in Europe and Asia, is anticipated to maintain stable supply rates and evade market volatility. All these factors are likely to contribute to the growth of the global inulin market in the near future.
Consumer shifts toward health and fitness are generating better opportunities for the inulin manufacturers for dietary supplements and functional foods. Moreover, consumers' expenditure on clinical nutrition due to wellness trends is influencing the growth of the inulin market. Inulin is also trending for its higher nutritional content that includes rich fibers and the presence of minerals such as potassium and calcium, proteins, and vitamins including vitamin C. In many regions, especially in North America, old age people are rapidly adopting dietary supplements to live a longer life. This rise in inulin adoption is likely to attract new consumers toward the inulin market during the forecast period. However, an increasing number of probiotic and prebiotic ingredients is likely to prove restraining factors for the global inulin market.
Europe to Dominate Inulin Market with Steady Demand Curve
Europe holds major share of the inulin market and is likely to dominate the market in the near future. The presence of beneficial regulatory policies for the inclusion of functional ingredients, mainly in food & beverages applications in Europe is one of the primary reasons for the region's steady growth rate. However, with increasing old age population and surging consumption of infant food formula, the inulin market in Asia Pacific is expected to gain notable growth during the projected period. In addition, North America is anticipated to account for a significant share of the rising consciousness of consumers toward calorie reduction in the region. The global inulin market is anticipated to reach the value of US$ 2.2 Bn by 2031, expanding at a CAGR of 7.5% during the forecast period.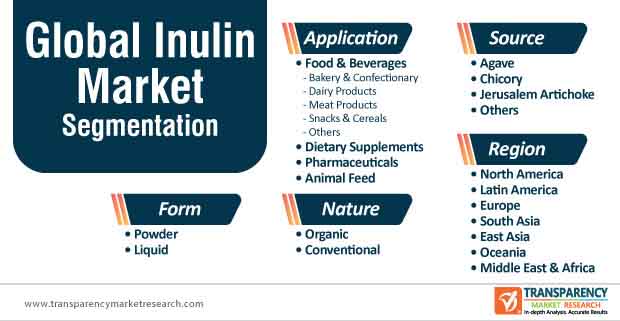 Stuck in a neck-to-neck competition with other brands? Request a custom report on Inulin Market
Analysts' Viewpoint

The growing prevalence of various diseases is driving researchers and scientists to innovate and develop solutions for customers. The health-benefiting properties of inulin are being increasingly adopted in the pharmaceutical industry for the treatment of various disorders. The food & beverages industry is one of the larger end users, and is witnessing an increased demand for sports and performance drinks, ready-to-drink beverages, energy drinks, and other enhanced and enriched beverages. Furthermore, as inulin is plant-based and natural, it is increasingly attracting consumers inclining toward a vegan diet. All these factors are contributing toward the growth of the global inulin market during the forecast period.
Inulin Market: Overview
The global inulin market stood at around US$ 1 Bn in 2021, finds Transparency Market Research (TMR) in a recent study. According to the report, the market is expected to reach US$ 2.2 Bn by 2031, at a CAGR of 7.5%. The revenue from the Europe inulin market is estimated to be valued at US$ 378.2 Mn in 2021 and reach US$ 697.8 Mn by the end of 2031.
In established markets such as Europe and North America, consumers are more inclining toward buying value-added products, preferably with clean labels, natural ingredients, organic, plant-based, and other alternatives that are increasingly part of a healthy diet. With the increasing health consciousness among consumers, the demand for organic inulin is also increasing in the region.
Manufacturers are more focused on innovative ways to source raw materials to produce products in a sustainable way to ensure the safety and quality of the products
Manufacturers are also focusing on organic inulin production, which is expected to drive the inulin market in the upcoming years
Consumers are increasingly looking at ingredient lists to assure themselves that the products they are purchasing are good for their consumption or of their pets. Consumers are consciously choosing natural and healthy food products to support their health and wellbeing. Thus, transparency and comprehensibility of ingredients are becoming increasingly significant in the food and animal feed sectors.
Inulin Market: Frontrunners
The inulin market in North America is estimated to value US$ 285.1 Mn in 2021, with U.S. accounting for 82.1% of the market
Brazil is anticipated to lead the Latin America inulin market with an estimated value of US$ 31.9 Mn in 2021, followed by Mexico with US$ 19.5 Mn
The inulin market in Europe is estimated at US$ 378.2 Mn in 2021. Based on application, the food & beverage segment contributes US$ 170 Mn, dietary supplements segment contributes US$ 127.2 Mn, pharmaceuticals segment contributes US$ to 69.9 Mn, and the animal feed segment contributes US$ 11.1 Mn.
The performance of the South Asia inulin market is forecast to accelerate, with an expected value CAGR of 9.8% during the forecast period. This is expected to drive the market in the region to value US$ 241.9 Mn by the end of 2031.
Growing economic and political stability, increasing urbanization, growing employment, rapidly developing infrastructure, rising disposable income, and high consumer expenditure across Asia Pacific and Middle East & Africa offer high potential growth for the inulin market
Inulin Market: Dynamics
Increasing demand for inulin in pharmaceutical industry to bolster sales: The increasing prevalence of various diseases has enabled scientists in the pharmaceutical industry to innovate and look for more alternatives to develop solutions for customers. Inulin has health beneficial properties and hence, is increasingly used in the pharmaceutical industry for treating various disorders. Inulin is a polysaccharide with an extensive range of therapeutic uses such as a vehicle in drug delivery vehicle, as a diagnostic tool or as a dietary fiber with additional health benefits. With many health benefits, it is majorly used in medicines for supporting the immune system and treating various digestive problems. Change in lifestyle and eating habits has led to increased digestive disorders among consumers, thus, increasing the demand for inulin in the pharmaceutical industry.
Rising consumption of sports nutrition and nutraceuticals products: The decline in diabetes, obesity, and cholesterol through consumption of inulin fiber has led to increase demand for dietary fibers for nutraceuticals products. Inulin are also known for keeping the gut healthy. Eating enough fiber can prevent or relieve constipation, helping waste to move smoothly through the body. For any sports person, dietary fibers are important. As soluble fiber helps to soften stools and support muscle performance, endurance, and repair muscles before, during, and after training, dietary fibers such as inulin is very useful. Thus, dietary fiber foods are creating opportunities for manufacturers of dietary fiber in the sector of nutraceutical and sports nutrition. This rise in intake of energy supplements by athletes will boost the growth of the inulin market during the forecast period.
High consumption of inulin as fat replacer propel market: Inulin is an ideal fat replacer and easily incorporated in moist or semi-moist food products. Inulin as a fat replacer is used to provide some or all of the functional properties of fat, while providing fewer calories than the fat being replaced. Inulin is used in a variety of products, from baked goods to frozen desserts. It is perfectly suited for low-fat products, in which it can improve body and mouthfeel, reduce the caloric value of products without compromising taste or texture, and improve the stability of dairy mousses and foams.

BENEO provides Orafti®, which is a naturally sourced fiber from chicory root, does not compromise on taste or texture. It can be used for making various food products.
Inulin Market: Strategies
Manufacturers in the inulin market are investing in research and development activities for mandatory alteration in inulin and produce superior quality inulin. The manufacturers are also focusing on product development to ensure that the company product portfolio remains innovative with the ongoing market trends and end-user feedback. The manufacturers in the inulin market are focusing on organic production, owing to the increasing number of consumers inclining toward organic and clean label ingredients. They are also entering a strategic partnership with key players in the same scope to increase production capacity as well as strengthen the presence in the market.
Europe Wheat Starch Market: Key Players
Some of the prominent key players operating in the global inulin market are

Ingredion Incorporated
Cargill Incorporated
Archer Daniels Midland Company
Tereos S.A.
BENEO
Nexira
COSUCRA
Sensus
NOW Health Group, Inc.
Steviva Brands, Inc.
Naturel West Corp EU B.V.
The Tierra Group
The Green Labs LLC
IntrinsicOrganics
Bioway (Xi'An) Organic Ingredients Co.,Ltd, among others
Inulin Market – Scope of Report
Transparency Market Research (TMR) has recently published a market study on the global inulin market. It provides a detailed assessment of key market dynamics, including drivers, trends, opportunities & restraints, and detailed information about the inulin market structure. The market study presents exclusive information about how the inulin market will grow during the forecast period of 2021-2031.
Key indicators of market growth, which include year-on-year (Y-o-Y) growth of the market, value chain, supply chain analysis, and compounded annual growth rate (CAGR) are elaborated in the study in a comprehensive manner. This information is intended to help readers understand the quantitative growth prospects of the inulin market during the forecast period.
The study is intended to offer a holistic market overview to stakeholders in the inulin market, including manufacturers, suppliers, distributors, cultivators, brands, and investors, and to help them develop winning growth strategies. Stakeholders in the inulin market, which include investors, industry experts, researchers, and journalists, and business researchers can leverage the information and data presented in TMR's study.
The study also includes statistics and facts related to the macro as well as microeconomic factors that are impacting expansion of the market. It also offers actionable insights into the future trends in the inulin market. Furthermore, small businesses and new entrants in the inulin market can make use of the information presented in this study, based on which, they can make appropriate business decisions in order to gain momentum in the market.
Key Questions Answered in TMR's Report on Inulin Market
Which country will continue to remain the most profitable region for inulin market players?
Which factors will induce a change in the demand for inulin during the assessment period?
How will the changing trends impact the inulin market?
Which companies are leading the inulin market?
What are the winning strategies of stakeholders in the inulin market to catapult their position at the forefront?
Inulin Market: Research Methodology
In TMR's study, a unique research methodology is used to conduct extensive research on the growth of the inulin market and identify future growth parameters. This research methodology is a combination of primary and secondary research to help analysts ensure the accuracy and reliability of the conclusions.
Secondary sources referred to by analysts for compiling the inulin market study include statistics from governmental organizations, trade journals, white papers, and internal and external proprietary databases. Analysts have interviewed senior managers, product portfolio managers, CEOs, VPs, marketing/product managers, and market intelligence managers who contributed to the development of this report as a primary source.
Information acquired from primary and secondary sources is compiled in a comprehensive manner. This also acts as a validation from companies in the inulin market, which makes TMR's projections more accurate and reliable.
Inulin Market – Segmentation
TMR's study on the inulin market offers information divided into important segments — nature, source, form, application, and region. This report offers comprehensive data and information about the important market dynamics and growth parameters associated with these categories.
Nature
Source

Agave
Chicory
Jerusalem Artichoke
Others

Form
Application

Food & Beverages

Bakery & Confectionary
Dairy Products
Meat Products
Snacks & Cereals
Others

Dietary Supplements
Pharmaceuticals
Animal Feed

Region

North America
Latin America
Europe
South Asia
East Asia
Oceania
Middle East & Africa
Custom Market Research Services
TMR offers custom market research services that help clients to get information on their business scenario required where syndicated solutions are not enough.
REQUEST CUSTOMIZATION