Pozzolan Market
Pozzolan Market (Material Type: Artificial Pozzolan [Fly Ash, Silica Fume, Blast Furnace Slag, and Glass Powder] and Natural Pozzolan [Metakoaline, Pumicite, Volcanic Ash & Tuff, and Diatomaceous Earth]; and End Use: Residential, Commercial, Roads & Highways, Marine, and Industrial Plants) - Global Industry Analysis, Size, Share, Growth, Trends, and Forecast, 2019 - 2027
Category :

Chemicals & Materials

Format :
PPC Gains Prominence in House Construction Projects Due to Cost-effectiveness
Portland pozzolana cement (PPC) is being highly preferred in house construction projects. This is explains why the revenue of residential end use segment of the pozzolan market is projected for aggressive growth, where the volume is estimated to reach ~560,100 kilo tons by the end of 2027. PPC is acquiring popularity as an alternative to ordinary Portland cement (OPC), since the former is less expensive than OPC. Moreover, the strength of PPC is almost equivalent to OPC 53 grade cement. Companies in the pozzolan market are benefitting from PPC, since the novel cement offers better resistance against chemicals.
Manufacturers are tapping incremental opportunities by increasing the application of PPC in masonry, plaster, and tiling works. Likewise, the trend of greening concrete mixes is growing prominent in the market landscape. Pozzolan is being integrated with alternative materials such as high silicate coal fly ash, rice husk ash, and volcanic ash, among others.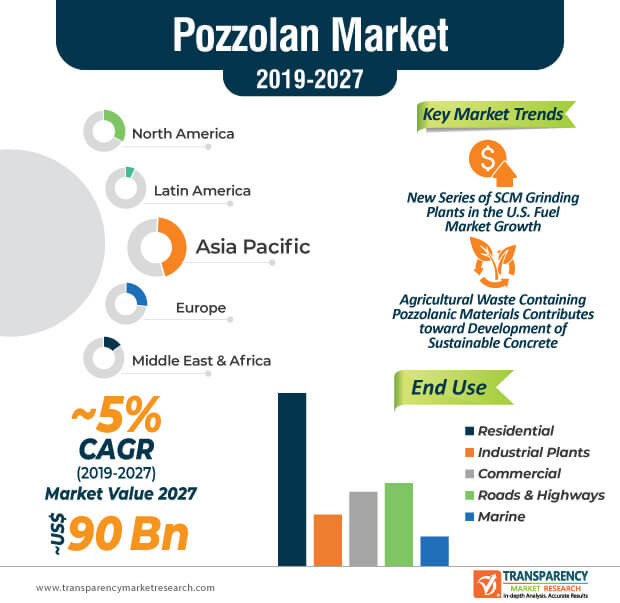 To gauge the scope of customization in our reports Ask for a Sample
New Zealand's 2050 Zero Carbon Initiative Creates Incremental Opportunities for Pozzolan Market Players
The pozzolan market in Asia Pacific is expected to generate the highest revenue, where the market is estimated to progress at a favorable CAGR of ~5% throughout the forecast period. Likewise, companies are unearthing value-grab opportunities in New Zealand's 2050 zero carbon goal. Since OPC is subject to excessive carbon footprint, end users are exploring opportunities to replace OPC with greener alternatives. Hence, pozzolan is being highly publicized to significantly reduce carbon emissions.
Get an idea about the offerings of our report from Report Brochure
According to standard regulations in New Zealand, builders are permitted to substitute general purpose cements with pozzolans or fly ash and ground granulated blast furnace slag, among others. HR Cement— a New Zealand owned and operated cement company, announced to commission a grinding plant to substitute significant amounts of general purpose cement with natural pozzolans. Thus, the pozzolan market is undergoing a change as companies increase their testing capabilities to validate the strength and performance of pozzolans. Moreover, stable local supply of natural pozzolans in New Zealand is eliminating the dependence on the coal industry.
Manufacturing Artificial Pozzolan Helps Overcome Supply Issues Associated with Natural Pozzolan
The growing number of supplementary cementitious materials (SCM) grinding plants in the U.S. are contributing toward the overall revenue growth of North America. For instance, Charah Solutions— a leading provider of fossil services and solutions, announced to open its new series of SCM grinding plants at Oxnard in California, U.S. This is evident since the revenue of North America is anticipated for lead the pozzolan market, where the overall market value is expected to reach ~US$ 90 Bn by the end of 2027.
Companies in the pozzolan market are increasing their production capacities to grind natural pozzolans by gaining efficacy in advanced grinding technologies. However, supply chain issues associated with natural pozzolans pose as a challenge for manufacturers. Hence, manufacturers are investing in technologies to make their own pozzolanic materials with the help of calcined clay. On the other hand, companies are working on environmental permits to source natural pozzolan mines.
Suspension of Operations Grows Prominent as COVID-19 Spreads
The unprecedented outbreak of the COVID-19 (coronavirus) has left a long-term impact on the global pozzolan market. For instance, Lehigh Cement— a supplier of building materials and aggregates announced to suspend its operations at New York in response to the coronavirus pandemic. Companies in the pozzolan market are reducing their local staff due to plant closures. However, the staff is receiving layoff-related benefits, whilst companies are providing assistance in health insurance payments.
Companies are waiting to have free movement in the market so that employees can be rehired to resume work in full operation. On the other hand, companies such as Raysut Cement announced the receipt of 44,000 tons of clinker via the port of Sohar, Al Batinah North Governorate. This announcement was a strategic move to stockpile and meet Oman's cement demand throughout the coronavirus crisis.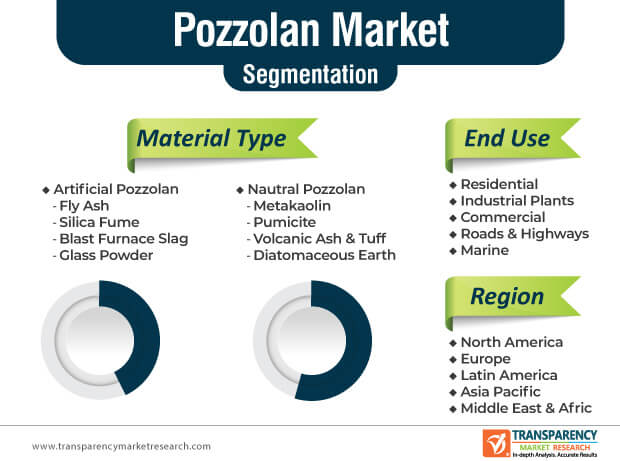 Looking for Regional Analysis or Competitive Landscape in Pozzolan Market , ask for a customized report
Analysts' Viewpoint
Small-scale cement and pozzolan companies such as the Egypt-based Misr Cement Qena, announced to donate US$ 127,000 to the government's Tahya Misr coronavirus rapid response fund toward the ongoing social responsibility amidst the COVID-19 outbreak.

Natural pozzolan is being pervasively used to meet unique needs of the ever-expanding concrete industry. Moreover, natural pozzolan is cost competitive as compared to general purpose cement. However, a considerable amount of capital investment is required to transition pozzolan into a usable raw material. Hence, companies in the pozzolan market should gain efficacy in new cement milling technologies to achieve the desired results after securing capital investment.
Pozzolan Market: Overview
Pozzolan is a siliceous or siliceous and aluminous material, which has little or no cementitious value. However, in finely divided form and in the presence of moisture, pozzolan reacts with calcium hydroxide at normal temperatures to form compounds having cementitious properties.
Thus, pozzolan are cementitious materials. There exist two types of pozzolan: natural and artificial. Natural pozzolan is a pyroclastic rock that is rich in siliceous or siliceous and aluminous volcanic glass. Metakoline, pumicite, diatomaceous earth, and volcanic ash are types of natural pozzolan.
Artificial pozzolan is basically a byproduct of various industrial processes, mostly wherein combustion of coal is high. Fly ash, silica fume, blast furnace slag, and glass powder are different types of artificial pozzolan.
Pozzolan is widely used in the construction industry to produce blended cement. Demand for pozzolan Portland cement is high, as it produces less heat of hydration and offers higher resistance to attack of high-pressure water than normal Portland cement.
High Availability of Pozzolanic Materials to Drive Pozzolan Market
Pozzolanic materials are classified into natural and artificial. Artificial pozzolanic materials comprise fly ash, silica fumes, and blast furnace slag, while natural materials include metakoline, pumice, and volcanic ash.
Fly ash is one of the residues generated from coal combustion. It is composed of fine particles and it has cementitious property. When used as a pozzolanic material, fly ash significantly enhances the basic characteristics of concrete, in both fresh and hardened states.
Using fly ash reduces the cost of concrete materials, environmental concerns related to carbon dioxide emissions, and rise in temperature that occurs when concrete cures
Natural pozzolanic materials, such as volcanic ash and pumice, produce environmentally sustainable concrete. Also, they yield mixtures with high workability, strength, and durability.
Availability of pozzolanic materials is high, owing to increased industrialization and mining activities worldwide. This, in turn, is anticipated to fuel the global pozzolan market during the forecast period.
Long Setting Time of Pozzolan to Hamper Pozzolan Market
Use of pozzolan is high in the construction industry. Demand for pozzolanic Portland cement is rising, due its favorable properties.
Use of pozzolan offers advantages such as low costs and durability. However, it also has disadvantages such as long setting time and sluggish, early strength development when mixed with concrete. The long setting time is particularly noticeable in cold weather, owing to less amount of bleed water rising to the surface. Different techniques have been tried to increase the reactivity of natural pozzolan to overcome these disadvantages. Thermal, mechanical, and chemical activation are employed to activate the pozzolanic activity of natural pozzolan.
Thus, long setting time of pozzolanic materials is likely to hamper the global pozzolan market during the forecast period
Surge in Demand for Sustainable Construction Materials Worldwide to Provide Opportunities to Pozzolan Market
Currently, various companies operating across the value chain of the global construction sector are setting internal carbon reduction targets; developing innovative green products; advocating sustainability standards; and integrating into the circular economy
Internal carbon pricing has emerged as a preferred tool for companies to measure, manage, and mitigate their climate risk to prepare for future. In 2017, almost 1,400 companies used internal carbon pricing or planned to use it, while only 150 companies used it in 2014.
The International Financial Corporation (IFC) estimates that investment opportunity in green buildings would be valued at more than US$ 16 Trn by 2030, in compliance with the Paris Agreement and domestic policy targets in 21 key, emerging markets
Thus, use of pozzolanic materials in the global construction industry is likely to contribute to green buildings significantly and reduce carbon emissions marginally in the near future. This, in turn, is anticipated to boost the global pozzolan market during the forecast period.
Recent Developments, Expansions, Acquisitions, and New Contracts in Pozzolan Market
In 2019, Charah Solutions, Inc. opened the third of its new series of grinding plants for supplementary cementitious materials at Oxnard in California, the U.S. The new grinding unit would be focused on grinding natural pozzolan. The plant would be using Charah's patented grinding technology to produce pozzolan, which would be marketed under the company's MultiPozz brand.
Asia Pacific to be a Highly Lucrative Region of Pozzolan Market
Asia Pacific is anticipated to be a highly attractive region of the global pozzolan market during the forecast period. The market in Asia Pacific is estimated to expand at a significant pace between 2019 and 2027, as the construction industry in the region is booming. Investments in urbanization and industrialization are increasing, especially in countries such as China, India, South Korea, and Singapore.
North America held a significant share of the global pozzolan market in 2018. North America is moving toward adoption of sustainable construction materials. This is likely to drive the market in the region during the forecast period.
Pozzolan Market is Highly Fragmented
The global pozzolan market is highly fragmented. Several international, as well as local players, hold a significant share of the global market.
Major players operating in the global pozzolan market are

Charah Solutions, Inc.
Sunrise Resources plc
Kirkland Mining Company
I-Minerals Inc.
Burgess Pigment Company
Nevada Cement Company
IMERYS
Hess Pumice Incorporated
CR Minerals Company, LLC.
Vulcan Ceramics Co Pvt Ltd
CARBO Ceramics Inc.
Pozzolan Market – Scope of the Report
A latest study collated and published by Transparency Market Research (TMR) analyzes the historical and present-day scenario of the global pozzolan market in order to accurately gauge its future growth potential. The study presents detailed information about important growth factors, restraints, and trends that are creating a landscape for future growth of the global pozzolan market in order to identify opportunities for stakeholders. The report also provides insightful information about how the global pozzolan market would expand during the forecast period i.e. 2019–2027.
The report offers intricate dynamics about different aspects of the global pozzolan market, which aids companies operating in the market in making strategic decisions. TMR's study also elaborates on significant changes that are anticipated to configure growth of the global pozzolan market during the forecast period. It also includes key indicator assessment that highlights growth prospects for the global pozzolan market and estimates statistics related to the market in terms of value (US$ Mn) and volume (kilo tons).
This study covers detailed segmentation of the global pozzolan market, along with key information and a competition outlook. The report mentions company profiles of players that are currently dominating the global pozzolan market, wherein various developments, expansions, and winning strategies practiced by these players have been presented in detail.
Key Questions Answered in TMR's Report on Pozzolan Market
The report provides detailed information about the global pozzolan market on the basis of comprehensive research on various factors that are playing a key role in accelerating growth of the market. Information mentioned in the report answers path-breaking questions for companies that are currently operating in the global market and are looking for innovative methods to create a unique benchmark in the global market so as to help them design successful strategies and make target-driven decisions.
Which type segment of the global pozzolan market would emerge as a revenue generator for the market during the forecast period?
How are key market players successfully earning revenues in the global pozzolan market?
What would be the Y-o-Y growth trend of the global pozzolan market between 2019 and 2027?
What are the winning imperatives of leading players operating in the global pozzolan market?
Research Methodology – Pozzolan Market
The research methodology adopted by analysts for compiling the report on the global pozzolan market is based on detailed primary as well as secondary research. With the help of in-depth insights of the market-affiliated information obtained and legitimated by market-admissible resources, analysts have offered riveting observations and authentic forecasts of the global pozzolan market.
During the primary research phase, analysts have interviewed market stakeholders, investors, brand managers, vice presidents, and sales and marketing managers. On the basis of the data obtained through interviews of genuine resources, analysts have emphasized the changing scenario of the global pozzolan market.
For secondary research, analysts have scrutinized numerous annual report publications, white papers, market association publications, and company websites to obtain the necessary understanding of the global pozzolan market.
Pozzolan Market – Segmentation
TMR's research study assesses the global pozzolan market based on material type, end use, and region. The report presents extensive market dynamics and progressive trends associated with different segments and how they are influencing growth prospects for the global pozzolan market.
Material Type

Artificial Pozzolan

Fly Ash
Silica Fume
Blast Furnace Slag
Glass Powder

Nautral Pozzolan

Metakaolin
Pumicite
Volcanic Ash & Tuff
Diatomaceous Earth

End Use

Residential

Industrial Plants

Commercial

Roads & Highways

Marine

Region

North America

Europe

Latin America

Asia Pacific

Middle East & Africa
Custom Market Research Services
TMR offers custom market research services that help clients to get information on their business scenario required where syndicated solutions are not enough.
REQUEST CUSTOMIZATION