Potato Flakes Market
Potato Flakes Market (Nature: Organic, Conventional; Form: Frozen, Dehydrated; End Use: Bakery Products, Extruded Snacks, Soups and Premixes, Frozen Food, Baby Food, Meat Processing; Distribution Channel: Direct Sales [HoReCa, Food Industry], Indirect Sales [Modern Trade, Convenience Stores, Specialty Stores, Online Retailers, Departmental Stores, Other Distribution Channels]) - Global Industry Analysis, Size, Share, Growth, Trends, and Forecast, 2019 - 2029
Category :

Food & Beverages

Format :
Companies Collaborating to Develop Innovative Drum Dryers to Increase Production Capacities
Manufacturers in the potato flakes market are teaming up to develop record-sized potato drying drums to increase their production capabilities. For instance, food processing companies - Idaho Steel and Kiremko - have teamed up to build drum dryers that provide an exuberant output of potato flakes within a matter of few hours. Manufacturers in the potato flakes landscape are innovating the newest technologies to increase their production capacities of drum dryers. They are increasing efforts in R&D to build multipurpose drum dryers that not only dry potato mash but also mill the mash into flakes or powder.
With the introduction of high-tech drum dryers, manufacturers in the potato flakes market are gaining credibility on a global level by providing state-of-the-art turnkey solutions to the potato industry. Latest design innovations in drum dryers help in the production of premium-quality food products. In this way, manufacturers in the potato flakes market are capable of fulfilling the global consumer demand for high-quality potato products. To maintain longer and stronger partnership ties, companies are aiming to strengthen their partnerships by onboarding individuals with the best engineering talent. They are investing in manpower to achieve common organizational objectives, such as the development of leading technology in the market. In order to use these leading technologies to their full potential, companies are launching training programs to educate employees about the various functions of drum dryers through factory visits, workshops, and assembly-line inspections.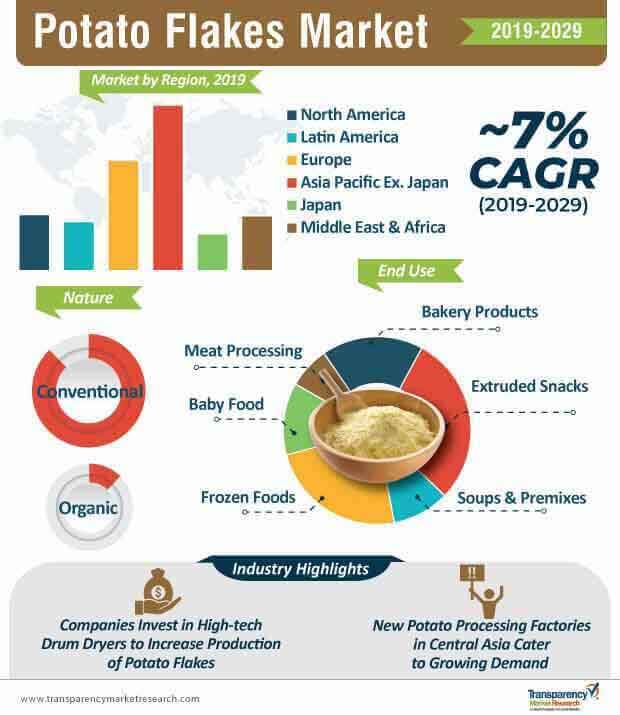 Request a sample to get extensive insights into the Potato Flakes Market
New Food Processing Factories in Central Asia Help Manufacturers Gain Monopoly
There is the growing emergence of new potato processing factories in Central Asia. Ever-increasing population growth is one of the key factors for the increased consumption of potatoes. Thus, manufacturers in the potato flakes market are eyeing strategic growth in Central Asia, since there aren't many large-scale food processing factories in the region. In this way, they are able to gain a monopoly in the region's market landscape. In order to achieve dominance in the region, manufacturers in the potato flakes ecosystem are streamlining their production activities by utilizing the best potatoes grown in domestic farms. This is justified, since the organic production of potato flakes is gaining impetus on a global level, as compared to the production of conventionally-produced potatoes.
To understand how our report can bring difference to your business strategy, Ask for a brochure
The potato flakes market is flourishing in Central Asia due to increasing population growth. Companies in the potato flakes landscape have seen a shift in the production practices of the region, since increased population has led to the large-scale cultivation of potatoes. As such, companies are adopting modern technologies of cultivation, such as mechanized irrigation and harvesting. They are importing high-quality potatoes from other counties to strengthen the domestic supply chain in countries in Central Asia.
Newer Technologies Contribute to Energy Efficiency and Reduce Environmental Impact
Certain challenges in the potato flakes landscape are predicted to negatively influence market growth. For instance, rapid development of food factories in developed and developing economies has added to the environmental stress. Due to this, strict regulations have been implemented by governments to minimize the environmental impact caused as a result of pollution, emissions, and excessive energy and water consumption. The emergence of new potato processing factories is contributing to the global revenue growth of the potato flakes market. But factors such as solid waste generation and negative impacts on the aquatic habitat have given rise to strict regulations in the potato flakes space.
There is the growing need to improve water and energy efficiency for potato processing factories. To overcome the challenges in food processing, companies in the potato flakes market are adopting two key operations - non-thermal processing and membrane processes. To achieve higher water efficiency, companies are practicing reconditioning treatments that help reuse water for other purposes than just potato processing. To reduce the volumes of food processing waste, companies in the potato flakes market are relying on the production of renewable energy, since potatoes are rich in various carbohydrates such as starch, cellulose, and hemicellulose. These practices help improve the bottom line of companies. Newer technologies such as molecular interactions via microwaves are gaining increased acceptance to achieve energy efficiency. Non-thermal methods also provide increased energy efficiency, and help minimize the impact on the nutritional and sensory attributes of food products.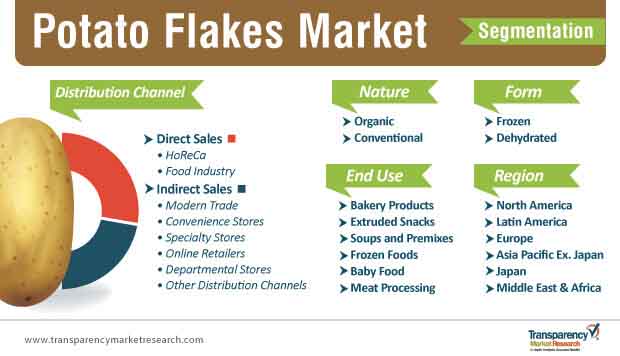 Stuck in a neck-to-neck competition with other brands? Request a custom report on Potato Flakes Market
Analysts' Viewpoint
The growing trend of ready-to-eat food is one of the key drivers for the exponential growth of the potato flakes market. Consumers are exploring ingenious ways to use instant potato flakes to make crispy meat cuisines, and provide the added texture and consistency in meals. However, potatoes are found to have increased amounts of carbohydrates and fat, which is creating a resistance for their adoption from health-conscious consumers. Hence, companies are capitalizing on alternative requirements, such as the growing need for potato starch, which serves as a substitute to processed potato flour. Companies should focus on increasing their production capabilities in regions such as Central Asia that are comparatively lenient in terms of import and export tariff duties.
Potato Flakes Market: Overview
According to Transparency Market Research's latest report on the potato flakes market for the historical period of 2014-2018 and forecast period of 2019-2029, revenue generated by the potato flakes market is estimated to be ~US$ 5.7 billion in 2019, and is expected to expand at a CAGR of ~7% in terms of value throughout the forecast period.
Asia Pacific is expected to hold a significant value share in the global potato flakes market, owing to the increased consumption of convenient and ready-to-eat food products.
In the global potato flakes market, Asia Pacific represents ~ 47% of the market share over the forecast period. This is attributed to flourishing HoReCa chains in the region, subsequently propelling the growth of the potato flakes market.
India is expected to be the most prominent market in Asia Pacific, growing at value CAGR of ~7% over the forecast period. The market in China is anticipated to experience healthy growth over the forecast period, owing to increasing urbanization and changing lifestyles.
Escalating Demand for Potato Flakes from Bakery Industry
Due to the increasing adoption of potato flakes in bakery products, soups, sauces, ready-to-eat meals, and other processed food products, there has been significant growth in the market.
Potato flakes are used as a thickener or base, for the preparation of ready-to eat vegetable gravies and soups.
Further, potato flakes are also used in the manufacturing of texturized potato products, potato chips, snack pellets, and others.
On the other hand, potato flakes are also gaining demand as an alternative for wheat flour, cornstarch which adds volume to stews, sauce, soups, and broths.
The burgeoning demand for potato flakes in the global food industry is expected to fuel the growth of the potato flakes market in the coming future.
Potato Flakes Market: Increasing Penetration of Established Players
Key market players such as Nestlé are now focusing more toward strengthening their supply chain by testing block chain technologies.
In April, 2019, Nestlé and Carrefour announced providing access to block chain data to its consumers for its brands, so as to create better visibility and transparency of the whole supply chain of it products.
Leading brands are currently gaining traction in the organized U.S. potato flakes market, and are creating opportunities for long-term growth in other regions such as Europe and Asia Pacific.
MacCain Foods, a global leader in potato specialty products, announced the acquisition of Serya, a Brazilian food company. This acquisition will enable McChain to expand its boundaries in the Brazilian market. Serya provides pre-formed specialty potato products in Brazil.
Increasing penetration of global players in the region results in the frequent launch of a large variety of potato flake products, which is expected to boost the overall growth of the potato flakes market substantially over the forecast period.
Potato Flakes Market: Competitive Landscape
Players are actively focusing on expanding their presence in Asia Pacific, one of the fastest-growing markets for potato-based products. The key strategy that companies are targeting is the expansion of their production capacities.
Rixona B.V. has started working on a new production plant in the Gansu Province in China, for the production of high quality potato flakes, with a capacity of 15,000 tons per annum.
Furthermore, companies are also emphasizing to offer quality products by offering BRC, IFS, HACCP, IFS, and ISO 9000 certified products, owing to the increasing demand for packaging and labelling transparency.
Companies are also focusing on offering Kosher and Halal certified products on customized requests, as countries in Asia Pacific contribute significantly to the per capita consumption of halal and kosher certified products.
Increasing their online presence is another key strategy that key players are focusing on.
Players are analyzing customer consumption/buying habits to derive new metrics of success.
Key players operating in the potato flakes market, as profiled in the study, include

Idahoan Foods
McCain Foods Limited
Nestle S.A., Inc.
Clarebout Potatoes NV
Goodrich Cereals
Lamb Weston Holdings, Inc.
Iscon Balaji Foods Pvt Limited
Lutosa SA
Patwary Potato Flakes Ltd.
Bem Brasil Alimentos LTDA
Rixona B.V.
Agrarfrost GmbH & Co. KG
Nahr-Engel GmbH
Basic American Foods, Inc.
Bob's Red Mill Natural Foods
others.
Potato Flakes Market: Key Developments
Some of the key developments in the potato flakes market during the past few years are as follows:
In March 2018, Nestle S.A. opened a new quality assurance lab in Araras, Brazil. The move was intended to enhance the company's organic product portfolio in the region. The company invested around US$ 6.9 Mn to construct this new facility. The quality assurance facility will ensure that its organic products are free from pesticides and genetically-modified organisms.
In April 2018, McCain Foods Limited completed a strategic investment with a highly innovative agriculture company, TruLeaf Sustainable Agriculture. With this partnership, the company is expected to set new standards for efficient crop production and environmental care.
In 2017, Lamb Weston Holdings, Inc. expanded its Richald Washington plant by 2,90,000 square feet, increasing its production capacity by approximately 300 million pounds, annually.
Potato Flakes Market - Scope of the Report
Transparency Market Research (TMR) recently published a market study on the global market for potato flakes. The study provides a detailed assessment on key market dynamics, including the drivers, trends, opportunities restraints, and detailed information about the potato flakes market structure. The market study presents exclusive information about how the potato flakes market will grow during the forecast period of 2019-2029.
Key indicators of market growth, which include Year-on-Year (Y-o-Y) growth of the market, value chain, supply chain analysis, and Compounded Annual Growth Rate (CAGR) are explained in TMR's study in a comprehensive manner. This information can help readers understand the quantitative growth prospects of the potato flakes market for the forecast period.
The study is relevant for stakeholders in the potato flakes market, including potato flake manufacturers, suppliers, distributors, and investors, and can help them in developing appropriate strategies to grow in the market. Stakeholders in the potato flakes market, investors, industry experts, researchers, and journalists, as well as business researchers can leverage the information and data presented in TMR's study.
The study also includes statistics as well as facts related to the macro as well as microeconomic factors that are impacting developments in the market. It also offers actionable insights based on the future trends in the potato flakes market. Furthermore, small businesses and new entrants in the potato flakes market too can make use of the information presented in this study, based on which, they can make appropriate business decisions in order to gain momentum in the market.
Key Questions Answered in TMR's Potato Flakes Market Report
Which regions will continue to remain the most profitable regional markets for potato flakes market players?
How will changing trends impact the potato flakes market?
How can market players capture the low-hanging opportunities in the potato flakes market in developed regions?
Which companies are leading the potato flakes market?
What are the winning strategies of stakeholders in the potato flakes market to upscale their position in this landscape?
Potato Flakes Market: Research Methodology
In TMR's study, a unique research methodology is utilized to conduct extensive research on the growth of the potato flakes market, and reach conclusions on the future growth parameters of the market. This research methodology is a combination of primary and secondary research, which helps analysts ensure the accuracy and reliability of the drawn conclusions.
Secondary resources referred to by analysts during the production of the potato flakes market study include statistics from governmental organizations, trade journals, white papers, and internal and external proprietary databases. Analysts have interviewed senior managers, product portfolio managers, CEOs, VPs, marketing/product managers, and market intelligence managers, who contributed to the development of this report as a primary resource.
Comprehensive information acquired from primary resources and secondary resources acts as a validation from companies in the potato flakes market, and makes TMR's projection on the growth prospects of the potato flakes market more accurate and reliable.
Key Segments of Potato Flakes Market
TMR's study on the potato flakes market offers information divided into five important segments-nature, form, end use, distribution channel, and region. This report offers comprehensive data and information about the important market dynamics and growth parameters associated with these categories.
Nature

Organic

Conventional

Form

Frozen

Dehydrated

End Use

Bakery Products

Extruded Snacks

Soups and Premixes

Frozen Foods

Baby Food

Meat Processing

Distribution Channel

Direct Sales

Indirect Sales

Modern Trade
Convenience Stores
Specialty Stores
Online Retailers
Departmental Stores
Other Distribution Channels

Region

North America

Latin America

Europe

APEJ

Japan

MEA
Custom Market Research Services
TMR offers custom market research services that help clients to get information on their business scenario required where syndicated solutions are not enough.
REQUEST CUSTOMIZATION