Global Polytetrafluoroethylene (PTFE) Market: Snapshot
Polytetrafluoroethylene (PTFE) is a fluoropolymer formed by the polymerization of monomer tetrafluoroethylene (TFE) in presence of an initiator. It is found in numerous product types ranging from flexible foam to elastomers and from rigid foams to solid compositions. Its unique features include extreme chemical inertness, excellent heat resistance, optimum dielectric properties, and low frictional coefficient. PTFE is also combined with other materials such as glass fibers, carbon, and graphite to improve its mechanical properties. It is a synthetic high molecular weight fluorocarbon comprising entirely of carbon and fluorine atoms. Additionally, PTFE is well known as Teflon, a registered brand of DuPont often used in cookware.
The global market for PTFE is highly concentrated dominated by a handful of players. Their plans and policies have considerable impact on the overall market. The global PTFE market is primarily gaining from the increasing demand for non-stick cookware. The expansion of the cookware industry will therefore pave way for the success of market players. Besides this, the rising application of PTFE in the automotive sector will boost the market in the coming years.
However, dwindling raw material prices could limit the scope for expansion. Nevertheless, the presence of untapped opportunities across developing regions, besides innovative strategies adopted by the leading players to gain pace will aid growth in the coming years. Between 2016 and 2024, the global PTFE market is forecast to exhibit a CAGR of 4.6%. At this pace, the market will reach US$5.18 bn by the end of 2024, from US$3.48 bn in 2015.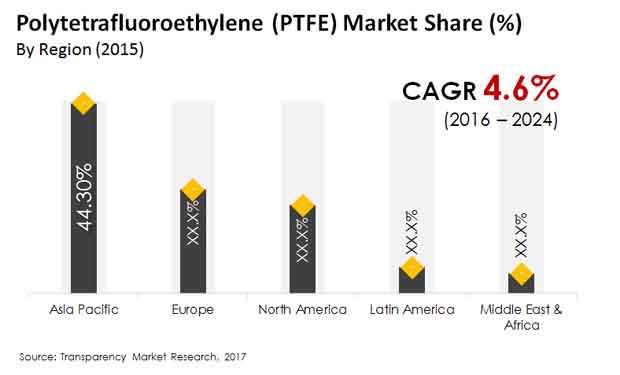 Micro Powder PTFE to Continue Dominating Global PTFE Market
PTFE is commercially available in granular, fine powder, micro powder and other form. Of these, micro powder PTFE, which also led the overall market with a share of 30.8% in 2015, is a low molecular weight micronized particle and used as additives in polymers, inks, paints, coatings and grease. Over the course of the forecast period, the micro powder PTFE segment is likely to continue as the market lead. Granular PTFE emerged as the second-leading product segment in the market in the same year. It is generally used for the manufacturing of semi-finished parts such as sheets, rods, billets, cubes. Fine powder PTFE is paste extruded powder, which is generally used for the manufacturing tapes, tubes, rods and wire coatings. Other products include dispersions, and liquids. Dispersion PTFE is used as an aqueous dispersion for coatings. Major manufacturers in PTFE market manufactures granular PTFE and this segment is likely to offer lucrative opportunity during the forecast period.
Growth in Chemical Industry to Seal Asia Pacific's Dominance as Leading PTFE Market
In terms of revenue, Asia Pacific held the dominant 44.3% of the global PTFE market in 2015, followed by Europe and North America. Dominance of Asia Pacific is likely to remain constant on account of the persistent growth witnessed in the region's chemical industry. In North America, chemical and industrial processing along with automotive will emerge as the leading application segments. Over the next few years, the demand for PTFE is expected to rise in the U.S. giving impetus to the North America PTFE market.
Meanwhile, the presence of leading players will steer growth in the Europe market for PTFE. Contrary to this, the Middle East & Africa will offer limited opportunities for growth, as the region is yet to be explored by the leading manufacturers.
Some of the leading manufacturers of PTFE catering to industry-specific applications are The Chemours Company, Daikin Industries, Ltd., 3M, Solvay, and Asahi Glass Co., Ltd. Manufacturers across the globe is trying to increase their market share through loyalty schemes, and competitive pricing.
Global Polytetrafluoroethylene (PTFE) Market: Overview
The report estimates and forecasts the PTFE market on the global, regional, and country levels. The study provides forecast between 2016 and 2024 based on volume (kilo tons) and revenue (US$ Mn) with 2015 as the base year. The report comprises an exhaustive value chain analysis for each of the end-use segments. It provides a comprehensive view of the market. The study includes drivers and restraints for the PTFE market along with their impact on demand during the forecast period. The study also provides key market indicators affecting the growth of the market. The report analyzes opportunities in the PTFE market on the global and regional level. Furthermore, the report analyzes substitutes of PTFE. It also provides the global average price trend analysis.
The report includes Porter's Five Forces Model to determine the degree of competition in the PTFE market. The report comprises a qualitative write-up on market attractiveness analysis, wherein end-use and countries have been analyzed based on attractiveness for each region. Growth rate, market size, raw material availability, profit margin, impact strength, technology, competition, and other factors (such as environmental and legal) have been evaluated in order to derive the general attractiveness of the market.
The study provides a comprehensive view of the PTFE market by dividing it into product, application, and geography. In terms of product type, the PTFE market has been segmented into Granular, fine powder, micro powder, others. In terms of application, the PTFE market has been segmented into Industrial and chemical processing, Automotive, Electricals and electronics and others. Application segments have been analyzed based on historic, present, and future trends, and the market has been estimated in terms of volume (kilo tons) and revenue (US$ Mn) between 2016 and 2024.
Global Polytetrafluoroethylene (PTFE) Market: Research Methodology
In-depth interviews and discussions with wide range of key opinion leaders and industry participants were conducted to compile this research report. Primary research represents the bulk of research efforts, supplemented by extensive secondary research. Key players' product literature, annual reports, press releases, and relevant documents were reviewed for competitive analysis and market understanding. This helped in validating and strengthening secondary research findings. Primary research further helped in developing the analysis team's expertise and market understanding.
Secondary research sources that were typically referred to include, but were not limited to company websites, financial reports, annual reports, investor presentations, broker reports, and SEC filings. Other sources such as internal and external proprietary databases, statistical databases and market reports, news articles, national government documents, and webcasts specific to companies operating in the market have also been referred for the report.
Global Polytetrafluoroethylene (PTFE) Market: Regional Segments
Regional segmentation includes the current and forecast demand for PTFE in North America, Europe, Asia Pacific, Latin America, and Middle East & Africa (MEA). Additionally, the report comprises country-level analysis in terms of volume and revenue for end-use segments. Key countries such as the U.S., Canada, Germany, France, the U.K., Spain, Italy, Japan, India, China, Mexico, South Africa, and Brazil have been included in the study. Market segmentation includes demand for individual application in all the regions and countries.
Companies Mentioned in Report
The report covers detailed competitive outlook that includes market share and profiles of key players operating in the global market. Key players profiled in the report include The Chemours Company, Daikin Industries, Ltd., 3M, HaloPolymer OJSC, Shamrock Technologies, Micro Powders, Inc., Reprolon Texas Solvay, and Asahi Glass Co., Ltd. Company profiles include attributes such as company overview, number of employees, brand overview, key competitors, business overview, business strategies, recent/key developments, acquisitions, and financial overview (wherever applicable).
The report segments the global PTFE market as follows:
Polytetrafluoroethylene (PTFE), by Product:
Granular
Fine Powder
Micro Powder
Others (include dispersions, liquids etc.)
Polytetrafluoroethylene (PTFE) Market, by Application:
Industrial and chemical processing
Automotive
Electrical and Electronics
Others (cookware, building & construction, and medical, etc.)
Polytetrafluoroethylene (PTFE) Market, by Region:
North America
Europe

Germany
Spain
Italy
France
U.K.
Rest of Europe

Asia Pacific

China
Japan
India
ASEAN
Rest of APAC

Latin America

Brazil
Mexico
Rest of Latin America

Middle East & Africa

GCC
South Africa
Rest of Middle East & Africa