Polyetheretherketone (PEEK) Market
Polyetheretherketone (PEEK) Market (Application - Automotive, Industrial, Aerospace, Electrical & Electronics, and Medical) - Global Industry Analysis, Size, Share, Growth, Trends, and Forecast 2016 - 2024
Chemicals & Materials
TMRGL2257
2017-02-28
90

Pages
Polyether Ether Ketone Market - Snapshot
Polyether ether ketone (PEEK) refers to a high performing engineering thermoplastic that is marked with an unusual blend of properties. The characteristics of the product range from outstanding chemical resistance to high mechanical strength to high temperature performance. The global polyether ether ketone market is likely to thrive on the widening scope of application of the product across many industries. The opaque, rigid material makes an offering of resistance to creep, fatigue, and wear. The product also offers very high temperature resistance, around 260°C temperature can be resisted by polyether ether ketone.
Increasing concerns about the environment such as high emission of carbon has resulted in generating demand for minimal fuel. This issues has compelled manufacturers of automobiles to emphasize on bringing in fuel efficiency through of overall weight of automobiles. Replacement of metals in vehicles with environment friendly and efficient alternatives is one such effective weight to diminish the weight of vehicles. In such cases, polyether ether ketone can come up as a popular substitute of metals in the automobiles sector. This factor is estimated to support growth of the global polyether ether ketone market in the years to come.
Environment Friendly Attributes to Pave Way for Rapid Growth of the Market
The scope of application for polyether ether ketone is widened by it excellent properties. Iyt is further increasing the product lines in various areas like clinical, food, industrial, semiconductors, and transportation. It is expected that the product will make an entry diverse areas and look for opportunities in the unexplored market of the world. Polyether ether ketone emits low harmful emissions, which make it an eco-friendly product.
Some of the probable applications of the material lie in the following areas
total replacement of disc
osterior dynamic stabilization
posterior rods
interspinous process decompression systems
The above-mentioned options are likely to be explored soon by the product. This factor is estimated to encourage growth of the global polyether ether ketone market over the period of analysis.
Polyetheretherketone (PEEK) Market: Snapshot
Due to its excellent mechanical properties, polyetheretherketone (PEEK) is found suitable for use across diverse industries. However, on account of being technologically sensitive, the PEEK market restrained to niche applications. While this could limit the scope for its expansion, strategies adopted by producers to bolster production capacities will steer lucrative opportunities for the market. In addition, the rising research funding aimed at novel product development will augment the market's pace of gains in the coming years.
On the down side, the high cost of a few grades of PEEK might inhibit its uptake across industries. Additionally, technological challenges of molding PEEK also create hindrances for the overall market. Nevertheless, with the development of new applications the market players will have immense opportunities to capitalize on in the future. Besides this, they are also expected to gain from the increasing demand across emerging regions.
Transparency Market Research (TMR) forecasts the global polyetheretherketone market to exhibit a CAGR 7.1% between 2016 and 2024. At this pace, the overall market is likely to reach US$832.6 mn by the end of 2024. The market was valued at US$451.5 mn in 2015.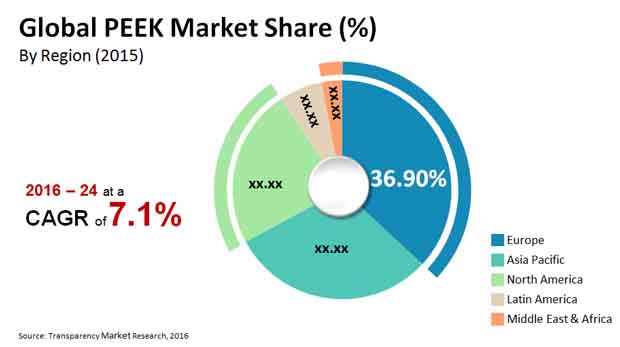 Asia Pacific to Report Higher CAGR than Dominant Regions
Europe and North America together constitute the leading regional segment in the global PEEK market. However, during the course of the forecast period, Asia pacific is forecast to showcase a higher CAGR of more than 7%. The rising vehicle production in countries such as Japan and South Korea, coupled with the expansion of the healthcare infrastructure across the emerging nations, will prove Asia Pacific more lucrative than other regions. While the demand from Germany will seal Europe's dominance in the global PEEK market, stagnancy witnessed in other countries will compel manufacturers to shift focus towards in emerging regions.
In Asia Pacific, PEEK manufacturers will find attractive opportunities in ASEAN, China, and India as well. Besides this, favorable growth is also expected in Latin America as the demand from countries such as Brazil and Mexico increase. In the Middle East & Africa, PEEK manufacturers will gain from the demand witnessed in the region's large oil and gas industries.
Electrical & Electronics Sector to Exhibit Lucrative Opportunities through Forecast Period
Based on application, medical, electrical & electronics, automotive, industrial, and aerospace are the key segments in the global polyetheretherketone market. Of these, the electrical & electronics segment emerged dominant in 2015 with a share of 25% in terms of revenue. Even when subjected to high temperatures, PEEK can retain its mechanical properties, which makes it an ideal choice for manufacturing the latest models in mobile phones and other electronic devices.
The market is also likely to gain from the rising demand for lightweight materials for manufacturing in automotive and aerospace segments. The use of lightweight materials is considered highly crucial in automobile manufacturing as they offer fuel efficiency thus improving the overall vehicle performance. PEEK also has good fatigue strength, it is biocompatible, and chemical resistant. These properties are deemed essential for medical implants, which explains the increasing application of PEEK in the medical sector. Besides this, PEEK pipes are used in chemical processing and oil & gas industries. Spurred by diverse applications of PEEK across industries, its demand is forecast to gain pace in the coming years.
Some of the most prominent enterprises operating in the global polyetheretherketone market are Victrex plc, Solvay SA, Evonik Industries, Panjin Zhongrun High Performance Polymers Co. Ltd. and Jilin Zhongyan High Performance Engineering Plastic Co., Ltd.
Polyetheretherketone (PEEK) is used in several challenging applications that require outstanding physical and chemical material properties. The polymer has properties similar to other high-performance plastics but with a continuous use temperature range that is significantly larger than the other plastics. PEEK is used in a wide range of application segments including automotive, industrial, aerospace, electrical & electronics, medical and other applications. Europe dominates the global PEEK market in terms of production and demand. Emerging regions are anticipated to grow at a fast pace during the forecast period. Countries such as China, India and Brazil are likely to provide lucrative opportunities to PEEK producers during the next decade
Global Polyetheretherketone (PEEK) Market – Scope of the Report
This report analyzes and forecasts the market for PEEK at the global and regional level. The market has been forecast based on volume (Tons) and revenue (US$ Mn) from 2016 to 2024, considering 2015 as the base year. The study includes drivers and restraints of the global PEEK market. It also covers impact of these drivers and restraints on demand for PEEK during the forecast period. The report also highlights opportunities in the PEEK market at the global and regional level.
The report includes detailed value chain analysis, which provides a comprehensive view of the global PEEK market. Porter's Five Forces model for the PEEK market has also been included to help understand the competitive landscape in the market. The study encompasses market attractiveness analysis, wherein end-users are benchmarked based on their market size, growth rate, and general attractiveness.
Global Polyetheretherketone Market – Key Segments
The study provides a decisive view of the global PEEK market by segmenting it in terms of end-users such as automotive, industrial, aerospace, electrical & electronics, medical and other applications. These segments have been analyzed based on present and future trends. Regional segmentation includes current and forecast demand for PEEK in North America, Europe, Asia Pacific, Latin America, and Middle East & Africa.
The report provides the actual market size of PEEK for 2015 and estimated market size for 2016 with forecast for the next eight years. The global market size of PEEK has been provided in terms of revenue. Market revenue is given in US$ Mn. Market numbers have been estimated based on key end-users of PEEK. Market size and forecast for numerous end-users have been provided in terms of global, regional, and country level markets.
Global Polyetheretherketone Market – Information Covered
In order to compile the research report, we conducted in-depth interviews and discussions with a number of key industry participants and opinion leaders. Primary research represented the bulk of research efforts, supplemented by extensive secondary research. We reviewed key players' product literature, annual reports, press releases, and relevant documents for competitive analysis and market understanding. Secondary research includes a search of recent trade, technical writing, Internet sources, and statistical data from government websites, trade associations, and agencies. This has proven to be the most reliable, effective, and successful approach for obtaining precise market data, capturing industry participants' insights, and recognizing business opportunities.
Secondary research sources that are typically referred to include, but are not limited to company websites, annual reports, financial reports, broker reports, investor presentations, SEC filings, Plastemart magazine, TPE magazine, internal and external proprietary databases, and relevant patent and regulatory databases such as ICIS, Hoover's, OneSource, Factiva and Bloomberg, national government documents, statistical databases, trade journals, market reports, news articles, press releases, and webcasts specific to companies operating in the market.
We conduct primary interviews on an ongoing basis with industry participants and commentators to validate data and analysis. These help validate and strengthen secondary research findings. These also help develop the analysis team's expertise and market understanding.
Companies Mentioned in the Report
The report comprises profiles of major companies operating in the global PEEK market. Key players in the PEEK market are Victrex plc, Solvay SA, Evonik Industries, Panjin Zhongrun High Performance Polymers Co. Ltd. and Jilin Zhongyan High Performance Engineering Plastic Co., Ltd. Market players have been profiled in terms of attributes such as company overview, financial overview, business strategies, and recent developments.
The global PEEK market has been segmented as follows:
Application Analysis

Automotive
Industrial
Aerospace
Electrical & Electronics
Medical
Others

Regional Analysis

North America
Europe

U.K
Italy
Spain
France
Germany
Rest of Europe

Asia Pacific

China
India
Japan
ASEAN
Rest of APAC

Latin America

Brazil
Mexico
Rest of LATAM

Middle East & Africa

GCC
South Africa
Rest of MEA
Custom Market Research Services
TMR offers custom market research services that help clients to get information on their business scenario required where syndicated solutions are not enough.
REQUEST CUSTOMIZATION

Polyether Ether Ketone Market