Global POS Terminal Market: Snapshot
The global POS terminal market is anticipated to expand a whopping 11.5% CAGR from 2017 to 2025 on account of the rising acceptance of POS terminals across Healthcare, retail, warehouse distribution, and hospitality sectors, asper Transparency Market Research (TMR). This market is characterized by the presence of a large number of players. The presence of numerous players is making this market extremely competitive but this competition will prove to be a positive influence for the growth of the market as this will inspire players to continually adopt advanced technology and come up with improved solutions. The market is expected to witness the entry of many new players during the forecast period.
POS terminals have several advantages including efficient maintenance of customer database, fast processing of bills, efficient inventory management, improved maintenance of customer loyalty programs, and management of special discount offerings.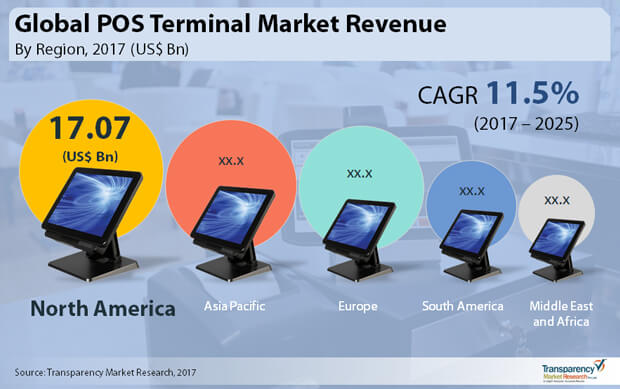 Mobile POS Terminals to See Increased Adoption in Future
In terms of terminal types, it is expected that in the years to come the fixed POS terminal will lead as against mobile type POS terminals. The fixed terminal accounted for a whopping 94% aftermarket in 2016. In the years to come however, it is anticipated that the adoption rate of mobile and wireless POS terminals will also increase on account of the ease of use, cost-effectiveness, and mobility as compared to the conventional POS which are fixed. The demand for mobile POS terminals is expected to increase among small and medium-sized businesses on account of the rising affordability. The growing penetration of smartphones and tablets is a key factor behind the growth of the mobile and wireless type POS terminals.
Retail to be Most Lucrative Application Area for POS Terminals
Among the various application areas of POS terminals such as grocery, supermarkets, restaurants, hospitality lodging, field service, healthcare, retail, government, and warehouse/distribution, the retail application area is leading on account of the rising popularity of technology driven payment options among small-scale retailers. The fastest growth however, is expected to be displayed by the healthcare sector in the years to come. With a 13.1% CAGR from 2017 to 2025 the healthcare sector will display a healthy growth in the years to come within the global point-of-sale terminal market. the warehouse application segment will also experience a healthy growth on account of the growing popularity of mobile POS terminals.
North America to Continue to Lead in POS Terminal Market Due to Booming Retail and Entertainment Sectors
In terms of components, the POS hardware segment is expected to lead. The POS hardware segment includes physical inventory scanner, pin pad, receipt printer, tag printers, wireless barcode scanners, cash drawer, payment terminal reader, workstation, and accessories. On the basis of geography North America leading the market in 2016 accounting for 30% of the total revenue achieved within the point-of-sale terminals Market. The booming retail and entertainment sector in North America was behind the growth of the POS Terminal Market in the region. The rising adoption of POS terminals among quick service restaurants and small retailers will continue to drive the growth prospects of the point-of-sale terminal market in North America. The market in this region is also driven on account of the compliance requirements such as MasterCard, Europa, and Visa which is in place in this region in order to ensure enhanced security of payments.
Global Point-of-Sale Terminal Market: Overview
Point-of-sale (POS) terminals market has gained significant momentum in recent years due to the ease of use and improved return on investment being offered by these systems. POS terminals have wide range of applications including payments, printing bills, inventory management and carrying out loyalty programs across various end-use verticals such as retail, hospitality and entertainment. The advanced POS systems offer higher reliability and durability as compared to traditional systems such as cash registers. The higher reliability of modern POS systems leads to significant reduction in total cost of ownership (TCO) and this in turn is aiding the growth in demand for POS solutions in small and medium size businesses. Mobile POS (mPOS) terminals have emerged as a contender for replacing the current transaction and payment techniques owing to its improved features such as mobility and better user experience. Mobile POS allows sales and service industries to conduct financial transactions at customers place, improving customer experience. Further, mobile POS terminals have low initial cost as compared to traditional fixed POS terminals systems leading to increasing demand from small and medium sized businesses. Further, hospitality and retail sector are experiencing significant growth in demand for mPOS solutions driven by improved return on investment and increased demand for customer analytics features.
Global Point-of-Sale Terminal Market: Scope of Study
The research report on the point-of-sale (POS) terminals market provides a detailed analysis of POS systems and helps in understanding driving forces behind the popularity of these systems across various end-use industries. It also provides an analysis of major sub-segments of the POS market for the years from 2015 to 2025. The report includes extensive analysis of the industry drivers, restraints, opportunities and market trends. The study provides comprehensive assessment of stakeholder strategies and imperatives for succeeding in the business. This research study focuses on market data and insights, including the size and growth of the POS terminals market. The report provides a thorough analysis of the emerging industry trends and the prevailing state of the market. It offers a comprehensive coverage of the underlying technological and economic factors influencing the POS terminals business. The prevalent competition in the market is identified through market share analysis of key players in the market. Furthermore, the value chain analysis and Porter's five forces analysis are included in the report, aiming to provide strategic insight across the supply chain of the POS terminals market. Additionally, the report also includes profiles of major market participants for better understanding of their contributions. The company profiles include overview of company, revenue, strategies followed by them for gaining competitive advantage and SWOT analysis.
Global Point-of-Sale Terminal Market: Market Segmentation
The report segregates the market based on type, components, applications and geography. POS terminals market has been categorized into two types' namely fixed POS terminals and wireless and mobile POS terminals. Components in the POS terminals market have been categorized into POS hardware and POS software. The study offers a complete understanding of different application sectors of POS terminals. The report includes various application areas of POS terminals such as restaurant, hospitality (lodging), healthcare, retail, warehouse / distribution, entertainment and others. Others segment includes application of POS in sectors such as field service, government, transportation, etc. The report aims to provide a comprehensive cross-sectional analysis of the component, type and application segments across North America, Europe, Asia Pacific and Rest of the World (RoW).
Global Point-of-Sale Terminals Market: Competitive Landscape
Key players in the market have been profiled in the report along with their business strategies and market positions. Companies profiled in this report include Ingenico S.A., NEC Corporation, PAX Technology Limited, NCR Corporation, Wincor Nixdorf International, MICROS Systems Inc., VeriFone Systems Inc., Cisco Systems Inc., Hewlett-Packard Company, Toshiba Corporation, Panasonic Corporation and Samsung Electronics Co. Ltd.
The global POS terminals market is categorized into the following segments:
POS Terminals Market, by Product Type
Fixed POS Terminals
Wireless and Mobile POS Terminals
POS Terminals Market, by Component
POS Terminals Market, by Application
Restaurant
Hospitality
Healthcare
Retail
Warehouse / Distribution
Entertainment
Others (Field Service, Government, Transportation, etc)
POS Terminals Market, by Geography
North America
Europe
Asia Pacific
MEA
South America