Photomask Market
Photomask Market (Photomask Type- Masters, Reticles; Trade Type- Merchant, Captive; Technology Type- Emulsion, Laser, E-Beam) - Global Industry Analysis, Size, Share, Growth, Trends and Forecast 2017 - 2026
Electronics & Semiconductors
TMRGL36626
2017-12-26
170

Pages
Integration of robotics is expected to be one of the key trends in the photomask market in the coming years. Increasing demand for smart home, smart infrastructure, smart cities, smart cars, etc., is driving Internet of Things (IoT) across various industries. This is resulting in the growing automation in the semiconductor industry, thereby driving the global market for photomask.
A new report by Transparency Market Research (TMR) expects the global market for photomask to experience sluggish growth, expanding at the CAGR of 2.3% between 2017 and 2026. The global market for photomask is also anticipated to reach US$ 4,249.1 million revenue by 2026 end.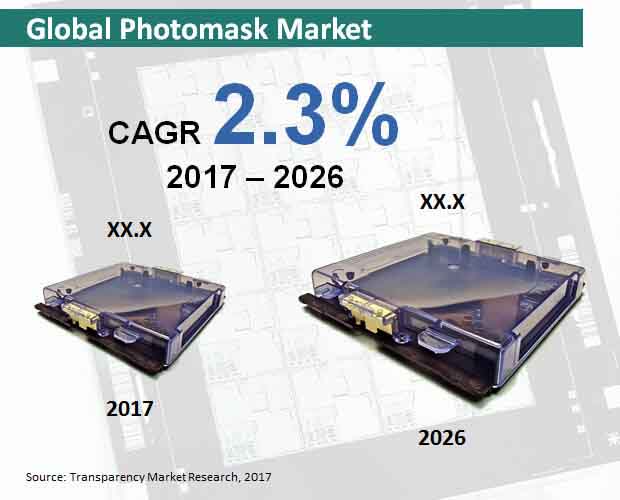 Masters to Emerge as the Highly Preferred Photomask Type
Masters is likely to emerge as one of the highly preferred photomasks. By 2026 end, masters is estimated to bring in close to US$ 2,600 million revenue. Masters mask is the photomask used to make copy masks. The circuit patterns are also made in the same size as actual size of circuit on wafers. Generally, masters mask consist the full image of final wafer and the resolution is also limited to around 1um-2um which is sufficient for many emerging or mature technologies.
Captive Trade Type to Gain Maximum Revenue Share
Captive trade type is likely to gain more than half of the revenue share by 2017 end. Captive trade type in the photomask market is estimated to reach nearly US$ 2,400 million revenue towards 2026 end. Mask shop is the factory which manufactures photomask for semiconductor industry. Captive mask shops are owned by biggest semiconductor corporations and are the part of in-house operations. Captive mask shops have also become a competitive necessity among the tier-1 device makers. Captive model is more beneficial when it comes to testing new mask sets, as merchant mask shop can only produce it but cannot test new mask sets. The time taken in mask production is also less as everything is done in-house.
Emulsion Technology to Gain Maximum Traction in the Market
Compared to the various technologies in the photomask market, emulsion technology is likely to be one of the most preferred technologies in the global market for photomask. By 2026 end, emulsion technology is estimated to reach around US$ 1,900 million revenue. Emulsion glass photomask has a good dimensional accuracy and also does not get affected from humidity induced problems. Hence, it is suitable for high accuracy and high-resolution process.
APEJ to Emerge as the Largest Region in the Global Market for Photomask
South Korea and China are the leading countries in APEJ for photomask. These countries are the home of most of the key electronics manufacturing companies. Also, China is witnessing a huge demand for semiconductor components, especially integrated chips. The Chinese government has also done some changes in its policy to encourage development of domestic semiconductor industry. Adoption of latest technologies in North American countries such as Canada and the U.S. and high concentration of prominent semiconductor companies are driving the market for photomask in the region.
Competition Tracking
LG Innotek Co., Ltd, Taiwan Mask Corporation, SK-Electronics Co., Ltd, HOYA Corporation, Toppan Printing Co., Ltd, Nippon Filcon Co., Ltd, Lasertec Corporation, Photronics, Inc., KLA-Tencor Corporation, and Applied Materials, Inc., are prominent market players in the global market for photomask. Market players are focusing on developing new sets of photomasks due to the shrinking size of semiconductor devices owing to the technological advancement in packaging of semiconductor such as 3D packaging.
Photomask Market to Attain Significant Heights from advancement of Internet of Things
Photomask is a photographic pattern used for making ultraviolet and microcircuit light via the mask attached to the photoresist that helps to transfer the pattern. Such lights are used for the production of display devices such as micro-electromechanical system or MEMS, display devices, standalone printed circuit board or PCB, and discrete semiconductor components. Photomask is perceived as a key empowering influence for lithographic arrangements. Thus, there is a progressing examination to grow new veil materials and high NA EUV lithography. With mechanical headway and presentation of new gadgets, there has been an increment sought after for high chip thickness, thus, producers are creating photomask that offers high chip thickness, empowering higher usefulness execution.
The key factor driving the worldwide photomask market remember the ascent for selection of customer electronic items, flood in use of mechanized frameworks across different industry verticals, and expansion sought after for semiconductors. In any case, intricacy in photomask creation and significant expense related with photomask producing hamper the market development. Besides, increment in concentration toward progression in advancements like Internet of Things (IoT) is relied upon to make new development roads for the worldwide photomask market.
Collaboration in mechanical technology is projected to be one of the critical patterns in the photomask market in the coming years. Expanding interest for keen home, savvy foundation, shrewd urban areas, brilliant vehicles, and so forth, is driving Internet of Things (IoT) across different enterprises. This is bringing about the developing computerization in the semiconductor business, accordingly driving the worldwide market for photomask.
Gadgets industry has been developing and has gotten perhaps the biggest buyer of hardware market worldwide. The development in populaces in enormous districts like China, India, and the U.S., has thusly expanded extra cash of individuals and spending on extravagance items and electronic gadgets. The monetary utilization for buyer electronic gadgets is expanding in India, inferable from development in working class populace. Notwithstanding, in such electronic gadgets, semiconductors, and ICs are needed for preparing, where photomask is important during wafer manufacture to draw design on wafer. Along these lines, this further expands the interest for photomask. Moreover, rise of advance innovations like IoT in hardware gadgets, which is adding to the increment popular for photomasks during the creation of parts utilized in electronic gadgets.
Global Photomask Market- Overview
Photomask is being used on a large scale in semiconductor and IC manufacturing. Moreover, the sales of semiconductor devices have also shown prominent growth in the recent years. This is driving the demand for new sets of photomasks in semiconductor manufacturing. Also, the innovation in processor technology by companies such as Intel, Qualcomm, Nvidia, etc., is also providing a growth opportunity for photomask manufacturers.
Photomask contains a pattern of ICs. ICs are manufactured layer by layer and each of the layers requires unique photomask. The process of developing photomask has become more complex as a new generation of ICs have around 25-60 layers. ICs are being used on a large scale in electronic devices such as smartphones and other consumer devices. With the evolution of automation in the semiconductor industry, the manufacturers of the photomask are focusing on quality control and new design of photomask for use in the semiconductor industry. Leading chipmakers are also entering into a partnership with major photomask manufacturers.
Global Photomask Market- Research Methodology
The report on the global photomask market offers in-depth analysis of the market based on primary and secondary research. The top-down and bottom-up approach has been used to provide estimation on the market size of the global photomask market. The report also comprises insights on all the major factors affecting market growth. The study includes market dynamics such as trends, opportunities, factors driving the market and opportunities. The interviews of market experts from the core and related industries were also conducted and the opinions offered by them were crosschecked with the available data sources. With the help of statistical analysis, the report provides product capacity, production value, supply and demand, and import and export.
The market for photomask is further divided by region, segments, and analysis of competitive landscape. Market attractiveness analysis along with SWOT analysis and Porter's five force analysis is also provided in the report. The secondary sources including annual reports, investor presentations, etc., were also used to provide data. Absolute dollar opportunity that helps in analyzing various opportunities in the market has also been provided in the research report.
Micro-economic and macro-economic factors had been considered to provide information on various market segments. The report also offers in-depth analysis on the leading players active in the global photomask market. It offers details on the opportunities and challenges faced by the companies in the global photomask market. The market study also enlightens on the types of products being offered, categories, market revenue, sales by the major players in the global photomask market. The report presents insights on the market based on the information collected from various informants such as regulatory bodies, suppliers, manufacturers, and stakeholders.
Global Photomask Market- Market Segmentation
The global photomask market provides overview on different segments such as photomask type, trade type, technology type, and region. Market segmentation on the basis of photomask type includes masters and reticles.
Based on the trade type, the market is segmented into merchant and captive. Meanwhile, on the basis of technology type, the market is segmented into emulsion, laser, and e-beam.
Geographical segmentation of the global photomask market consists various regions such as Latin America, Europe, Asia Pacific Excluding Japan (APEJ), North America, Japan, and the Middle East and Africa (MEA).
Leading Players in the Global Photomask Market
The global photomask market report provides vital information on the leading players in the market such as Applied Materials, Inc., KLA-Tencor Corporation, Photronics, Inc., Lasertec Corporation, Nippon Filcon Co., Ltd., Toppan Printing Co., Ltd., HOYA Corporation, SK-Electronics Co., Ltd., Taiwan Mask Corporation, and LG Innotek Co., Ltd.
Custom Market Research Services
TMR offers custom market research services that help clients to get information on their business scenario required where syndicated solutions are not enough.
REQUEST CUSTOMIZATION