Pediatric Radiology Market
Pediatric Radiology Market (Product Type - Ultrasound, MRI, X-Ray and Computed Tomography; End User - Hospitals, Pediatric Clinics, Diagnostic Centers and Other End Users; Modality - Standalone Devices, Table-top Devices and Portable Devices) - Global Industry Analysis, Size, Share, Growth, Trends and Forecast 2017 - 2026
Category :

Healthcare

Format :
As imaging specialism continues to penetrate through the global healthcare landscape, the adoption of radiology in diagnosis and medical imaging operations continues to gain grounds, particularly in pediatric care. Protecting the new-born babies from suffering traumas during or post- birth has fuelled the demand for employing the subspecialty medical imaging science of radiology in pediatric diagnosis. In the future, hospitals and child specialty centers will actively install pediatric radiology devices to improve the diagnosis of young infants and children. However, growing speculations of parents with respect to radiation exposure continues to put pediatric radiology in a bad light. Moreover, education of pediatric radiology remains nascent and radiographers are facing challenges in being updated with the upgradations in pediatric imaging techniques.
Transparency Market Research's latest forecast study observes that the global pediatric radiology market will expand vigorously in the near future. Despite the considerable restraints, the global adoption of pediatric radiology will reflect robust growth. During the forecast period, 2017-2026, the global pediatric radiology market will register a CAGR of 7.7%. The study further reveals that by the end of 2026, the global pediatric radiology market will touch a valuation of US$ 3.57 Bn. North America will represent the most lucrative marketplace for adoption of pediatric radiology devices. Robust healthcare infrastructure in the US, dense presence of medical device manufacturers and high spending of pediatric care will continue to drive the adoption of pediatric radiology in North America. By the end of 2026, North America's pediatric radiology market will be worth one-third of global market value forecasted in the report.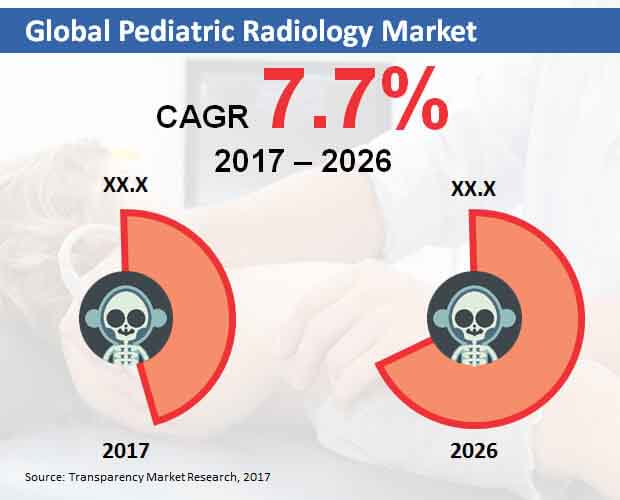 Ultrasound Devices to Outsell X-ray Systems Towards the End of Forecast Period
Effectiveness of pediatric radiology devices in terms of producing quality images, integrating clinical information, and accurately assessing the conditions of the imaged body part continues to influence their sales. In 2017, around US$ 640 Mn worth of x-ray pediatric radiology devices were sold across the globe. The demand for x-ray systems will remain high in the first half of the forecast period, albeit, will dwindle towards the end of 2026. Adoption of ultrasound pediatric radiology devices is anticipated to gain traction. By 2026-end, over 40% of global pediatric radiology market value will be netted from sales of ultrasound systems and devices.
Hospitals to Represent Largest End-user; Standalone Modality to Remain Sought-After through 2026
Pediatric diagnosis is widely available across hospitals as parents are willing to spend on providing highest level of care for their babies. Reduced hospitalization time and immediate access to treatment options continue to drive hospitals in instating departments on pediatric radiology. By the end of 2026, pediatric radiology devices will be largely used in hospitals, bringing in nearly US$ 1.5 Bn in global revenues. Pediatric clinics, on the other hand, will register fastest end-use by reflecting a value CAGR of 10.9% during the forecast period. The report further reveals that standalone devices worth over US$ 1 Bn were sold in the global pediatric radiology market by 2017-end. In terms of modality, standalone devices will remain more convenient for diagnosis and high-tech imaging. The report also reveals that portable modality of pediatric radiology devices will register fastest uptake, reflecting a 9.5% CAGR over the forecast period.
Global Pediatric Radiology Market: Key Stakeholders
Leading manufacturers of pediatric radiology devices have been profiled in the report. These include, Analogic Corporation, Esaote SpA, Fujifilm Corporation, General Electric Company, Hitachi, Ltd., Koninklijke Philips N.V., Mindray Medical International Limited, Toshiba Corporation, Samsung Medison Co. Ltd., and Siemens AG. Majority of these companies are observed to invest in lowering the hazards of radiology techniques when used on infants and children. Several market players are also likely to introduce multipurpose pediatric radiology devices in the upcoming years.
Increased Instances of Injuries and Fractures among Children Fuels Demand Opportunities in Pediatric Radiology Market
Pediatric radiology refers to a branch of the diagnostic radiology that is mainly used for the imaging of infants, children, adolescents, fetuses, and young adults. Nuclear medicine, X-ray, ultrasound, MRI (magnetic resonance imaging) scans, and CT (computed tomography) scans are some of the popular examples of pediatric radiology.
In recent period, there is remarkable growth in the number of children suffering from various injuries and fractures. As a result, there is extensive increase in the use of pediatric radiology imaging techniques in the healthcare sector from all across the world. This is one of the key factors fueling the expansion of the global pediatric radiology market.
Pediatric radiology devices are widely used to protect the new-borne babies from traumas during or after birth. These devices are gaining momentum owing to their ability to produce high-quality images, integrate clinical data, and precisely study the conditions of the imaged body part. Owing to all these benefits, the global pediatric radiology market is growing at promising pace. Several healthcare professionals from all worldwide locations are growing the use of pediatric radiology positioners as these tools help in the faster and accurate diagnosis. All the pediatric radiology procedures are performed by trained professionals named pediatric radiologists.
The worldwide healthcare sector is witnessing adverse impact of recent COVID-19 pandemic. As a result, there is notable decline in various surgeries as well as several diagnostic procedures. This factor is likely to result into declined sales in the global pediatric radiology market for upcoming few months. However, the companies engaged in the global market for pediatric radiology are focused on strategizing business moves and regain their regular production activities. Apart from this, players in the pediatric radiology market are slowly improving their supply chains. Owing to all these factors, the global pediatric radiology market is expected to shoe fast recovery from the loss due to recent pandemic.
Pediatric Radiology Market: Global Overview
The incidence of birth traumas continues to grow uncontrollably, lowering the life expectancy of infants across the globe. An increase in the average spending of parents on pediatric care is indicative that there is a growing need to avoid new-born infants from being infected with diseases and physical deformities during or at the time of birth. In addition, post-birth abnormalities in children is also emerging as a grave concern that has prompted an essential access to pediatric diagnostics and medical imaging. Radiology techniques are being used to detect physical damages in new-born babies. The use of pediatric radiology devices has played an instrumental role in early treatment of young infants during their fragile health conditions.
Transparency Market Research has developed an exclusive forecast study gauging the future prospects of pediatric radiology. The report offers objective information on how the demand for pediatric radiology devices will evolve in the near future. The report has been developed by procuring data on sales of pediatric radiology devices from each market player. Latest trends in medical device manufacturing and technological advancements in the field of pediatrics and radiology have been assessed for market size forecasting. The report puts forth presumptive scenarios on how the global pediatric radiology market will expand during the period, 2017-2026.
Market Taxonomy & Report Highlights
From qualitative insights to quantitative analysis, this study comprehensively breaks down the evolution of pediatric radiology markets and weighs their growth potential under multiple parameters and plausible conditions. With respect to qualitative data, the report has analyzed the factors influencing the growth of global pediatric radiology market. Adoption drivers, manufacturing restraints, growth opportunities and industry trends are identified and studied to ascertain the dynamics of global pediatric radiology market.
The report has further provided analysis on global pediatric radiology device supply chain. Cost structure and pricing of these devices is also studied to identify demand-supply trends. Insights on raw material sourcing strategies have been provided. The report also delivers an intensity map that traces the presence of market players across different geographies.
Leading pediatric radiology device manufacturers have been profiled in this report to understand a holistic competition backdrop of the global pediatric radiology market. Current market standings of these players have been revealed. With an unbiased approach, the study has also revealed the strategic developments of pediatric radiology device manufacturers. A detailed competition assessment is one of the biggest advantage of availing this report.
Research Advantage
The key advantage of availing Transparency Market Research's forecast report on global pediatric radiology market is understanding the competitors and tapping new markets. Furthermore, leading segments and least-lucrative sub-segments have been revealed in the inferences provided in the report. This information can help pediatric radiology device manufacturers in planning their next steps towards future market direction.
Key sections in the report offer segmental analysis and forecast on the global pediatric radiology market. The report has analyzed the global pediatric radiology market on the basis of product type, end use, modality, and region. Additional information of country-wise market size forecast and cross-segmented analysis is also offered in the report.
Region

North America
Latin America
Europe
Japan
APEJ
MEA

Product Type

Ultrasound
MRI
X-Ray
Computed Tomography

End User

Hospitals
Pediatric Clinics
Diagnostic Centers
Other End User

Modality

Standalone Devices
Table-top Devices
Portable Devices
Custom Market Research Services
TMR offers custom market research services that help clients to get information on their business scenario required where syndicated solutions are not enough.
REQUEST CUSTOMIZATION

Pediatric Radiology Market