Paper Bottles Market
Paper Bottles Market (Capacity: 15 ml to 100 ml [Small], 101 ml to 500 ml [Medium], and Above 500 ml [Large]; Primary Usage: Everyday, Sports, and Others; and End User: Water, Beverages, Personal Care & Cosmetics, and Others) - Global Industry Analysis, Size, Share, Growth, Trends, and Forecast, 2021-2029
Packaging
TMRGL70332
2021-08-30
150

Pages
Sustainable eCommerce Packaging Designs Creating Income Sources During COVID-19 Pandemic
As the COVID-19 pandemic enters year two, searching for innovative solutions to sustainable and new eCommerce packaging designs is growing prominent. Major brands such as PepsiCo, Diageo, and Absolut are seen developing paper bottles to offer sustainability benefits to eco-conscious consumers. Stakeholders in the paper bottles market are capitalizing on this opportunity to boost production capabilities during the ongoing pandemic. Although innovations in paper bottles are picking pace, poor market sentiments due to the pandemic are affecting growth of the paper bottles market. Manufacturers operating in the production of the paper bottles are restricted to carry the production activities limited to a certain time and with a limited working capacity. Moreover, due to the disruption in the supply chain and logistics, companies in the paper bottles market also are facing difficulties in the procurement of recycled raw material and other pulp extracts used in the manufacturing of paper bottles. Therefore, this is expected to add economic and financial challenges for the manufacturers of paper bottles across various regions.
However, even during the pandemic, R&D activities were still carried out effectively on the testing of paper bottle prototypes for use in the beverages industry. Along with the manufacturing of sustainable products, manufacturers these days are also preferring to pack the product with sustainable packaging in order to comply with sustainable manufacturing practices. Thus, stakeholders are focusing on critical industries including food & beverages (F&B), homecare, and personal care products to establish stable revenue streams during these unprecedented times of the pandemic.
There is an extensive demand in rigid packaging, owing to the improved protection to the product and availability of a variety of packaging formats. Other factors such as versatility and improved recyclability as compared to flexible packaging are also boosting the demand for rigid packaging from manufacturers.
In addition, eCommerce and online sales are emerging as major revenue generating sources in the paper bottles market.
Request a sample to get extensive insights into the Paper Bottles Market
Can Paper Replace Plastic in Bottle Packaging Applications?
Paper is being highly publicized as a substitute for plastic packaging and even, bio-plastics. However, the current available data indicates that paper packaging generally requires several times more mass to fulfill the same function as its plastic counterpart. Thus, the overall environmental impact tends to be higher for paper, except in its carbon footprint. Stakeholders in the paper bottles market are gaining awareness that paper packaging will continue to grow for adoption, but is not a substantial threat to plastics.
As the paper bottles market is projected to reach US$ 93.9 Mn in 2029, it is likley that several companies will be adopting paper packaging to reduce plastic waste.
To understand how our report can bring difference to your business strategy, Ask for a brochure
Manufacturers Increase R&D to Develop Fully Bio-based Paper Bottles
Coca Cola has been gaining recognition for joining forces with partner Paboco to look for alternatives involving paper and creating bottles using it. Companies in the paper bottles market are realizing the importance of R&D, and increasing investments to create paper bottles that can be recycled such as any other type of paper.
The paper bottles market is expected to surpass 126,864 thousand units by 2029. Manufacturers are increasing efforts to overcome various challenges to develop fully bio-based paper bottles. They are introducing bio-based barriers that withstand both water vapor and oxygen transmission.
Patented Packaging Technologies Take Lead in Paper Bottle Innovations
The paper bottles market is estimated to clock a CAGR of 5.4% in terms of value during the forecast period. Manufacturers are overcoming challenges such as increasing proficiency in the proprietary bottle base technology that uses the fiber properties to stay intact when exposed to high pressure for developing fully bio-based paper bottles.
Since water is expected to dictate the highest value and volume growth among all end user types in the paper bottles market, manufacturers are taking advantage of this opportunity to increase focus on the patented packaging technology. Paper Water Bottle - an industry-leading pulp packaging company, is gaining popularity for its patented packaging technology that is redefining liquid packaging through the use of natural materials and barriers.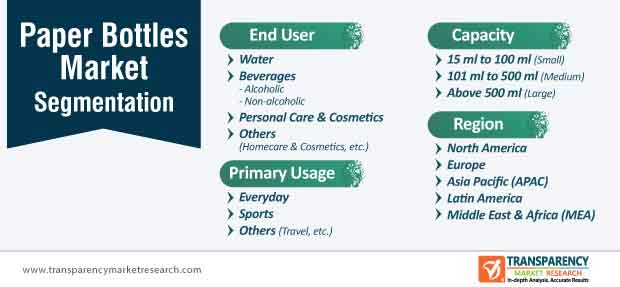 Stuck in a neck-to-neck competition with other brands? Request a custom report on Paper Bottles Market
Analysts' Viewpoint

Although the COVID-19 pandemic has led to a volatile demand and supply of products, manufacturers in the paper bottles market are riding the crest of popularity with the help of paper packaging for beverage and water applications. Paper bottles are gaining prominence in the packaged water segment. However, the cap and closure for these paper bottles is aluminum or plastic-based, which creates challenges in recycling, since this demands efficient collection and sorting to achieve high end-of-life processing success rates. Hence, companies should increase research to develop tethered caps made from either a bio-composite or pure paper to simplify recycling of paper bottles in the future.
Paper Bottles Market: Overview
According to Transparency Market Research's latest report on the global paper bottles market for the forecast period of 2021-2029, the market is projected to be driven by continuous research & development activities, which are leading to innovations in the paper bottles and demand for sustainable packaging for products
The global paper bottles market is expected to expand by approximately 1.6 times of the current market value with a CAGR of 5.4% during forecast period
Newly released data from the global paper bottles market analysis shows that global demand of overall paper bottles market is expected to experience a volume year-on-year (YoY) growth of 3.5% in 2021 to a total volume of 91 million units. The 101 ml to 500 ml (medium) capacity segment is expected to hold 4.4% yearly growth to reach 57 million units in 2021, while the above 500 ml (large) capacity segment is projected to accelerate with a value CAGR of 5.1% in 2021 and reach a value of 20.5 million by 2029.
In 2021, the U.S. paper bottles market grew 3.2% year-on-year, bucking initial skepticism about how the market would perform during a global pandemic. Paper bottles market in North America, total sales of 101 ml to 500 ml (medium) capacity bottles are anticipated to reach US$ 13.7 Mn in 2021.
Rising Demand for Increased Visibility, Sustainable Packaging Escalating Market Growth for Paper Bottles
In recent times, global rigid packaging has witnessed significant market growth due to added advantages, in terms of durability, versatility, and recyclability. Moreover, continuous R&D activities in rigid packaging have led to innovations in different rigid packaging materials, thereby driving the demand for paper bottles.
Paper bottles are an innovative and trending form of product packaging for various industries such as beverages, personal care & cosmetics, etc. They not only serve in the effective packaging of the product, but also have attractive appearance, owing to their eye-catchy prints on bottles. The matte surface of the paper bottle results in dark and bold prints, which ultimately results in an increase in the visibility for the brands. Therefore, nowadays, majority of the top beverages brands are preferring adoption of paper bottles to increase the brand value and qualify the sustainability parameter. The paper bottles are made of plant-based fiber material, which makes the bottle highly durable and recyclable, thus lowering carbon footprint.
Besides improved visibility and sustainability, paper bottles also provide longer shelf life to the product, owing to the durability of the paper bottle. The paper bottle is made of multiple layers of paperboard or cardboard, which offers enhanced strength to the bottle by protecting it from in-transit damage. The matte finish of paper bottles also results in ease & convenience in handling the product. Product development activities are leading to innovations in the paper bottles to enhance product characteristics such as added versatility and durability.
Customization, Versatility of Paper Bottles in Beverage Packaging Gaining Traction
Paper bottles are used to store and pack a variety of alcoholic and non-alcoholic beverages. The paper bottles can be easily customized according to the customer's requirements in terms of paper bottle caps, colors, shapes, and sizes. The majority of the top beverages manufacturers are looking toward customizations of paper bottles that could have attractive appearance with vibrant colors, thereby enhancing the brand value.
Majority of top beverages manufacturers such as Coca-Cola, Absolut, etc. are partnering with paper bottle manufacturers to launch innovative packaging solutions in terms of sustainability, customization, and versatility. Customizations and innovations are gaining demand these days as compared to traditional packaging and are therefore, forecast to uplift the market for paper bottles.
Paper Bottles Market: Key Findings
As per capacity type, 101 ml to 500 ml (medium) capacity segment is forecast to hold around ⅗ of the market share during the forecast period, owing to ease and convenience of handling paper bottles and their efficient storage
The target segment is anticipated to offer the total incremental opportunity of US$ 23.1 Mn over the next 10 years, and likely to expand 1.6 times of its market value during the forecast period
Europe is expected to capture lucrative opportunities in the paper bottles market, owing to the increased consumption of paper bottles in the beverages and personal care & cosmetics segment, thereby fueling the demand for the paper bottles. It is expected to accelerate at a CAGR of 5.4% during the forecast period.
North America is estimated to hold 34.4% of the global market share by the end of the forecast period, considering the growth in the beverages sector and continuous research & development activities leading to innovations in paper bottles
Paper Bottles Market: Competition Landscape
TMR studied and analyzed that the global paper bottles market is highly competitive, owing to new start-ups and entry of local players. This competition among key players is carefully studied based on innovations, developments, strategies, and segmental revenues of companies in the past five years.
The recent study on the paper bottles market includes profiles of players such as

Frugalpac
Paper Water Bottle
Kagzi Bottles
Just Water
Paper Bottle Company
PAPACKS Sales GmbH
LYS Packaging
Choose Packaging
Pulp Packaging International
Pulpex Ltd.
Shruti Agro
3Epack Group

TMR differentiated these players as Tier 1, Tier 2, and Tier 3 as per their segmental earnings. Among these players, Paper Bottle Company, Frugalpac, LYS Packaging, and 3Epack Group are identified as Tier 1 players in the paper bottles market. The Tier 2 players are Paper Water Bottle, PAPACKS Sales GmbH, and Kagzi Bottles. Tier 3 players are Choose Packaging, Pulp Packaging International, and Shruti Agro, among others.
COVID-19 Pandemic to Slowdown Market Growth Considerably
The COVID-19 pandemic has resulted in low to moderate impact on the logistics and supply chain, which has caused difficulty in the procurement of raw materials, especially, recycled paper and pulp. This has led to decreased production of paper bottles in prominent regions such as North America and Europe.
Strict rules and regulations framed by authorized regulatory bodies compelled manufacturing industries to shut down or work with limited resources and capacity, which ultimately resulted to a fall in production activities, thus affecting paper bottles production activities
Changing consumer preferences toward the adoption of recyclable and reusable paper bottles have also resulted in the increased demand for renewable paper bottles compared to glass or plastic bottles
As various countries are relaxing lockdown rules with proper precautionary measures, the demand for paper bottles is forecast to revive toward the end of 2021
Paper Bottles Market – Scope of Report
Transparency Market Research (TMR) started a new study on the global paper bottles market, providing forecast for the period of 2021-2029. In the study, the growth opportunity for the paper bottles market is witnessed.
The report provides valuable insights, which enable readers to make winning business decisions for future growth of their businesses. The report highlights significant factors that are constantly determining the expansion of the paper bottles market, untapped opportunities for manufacturers, trends and developments, and other insights across various key segments. Macroeconomic factors that are directly or indirectly affecting market growth are also incorporated in the report.
Key Questions Answered in TMR's Paper Bottles Market Report
What will be market size for paper bottles by the end of 2029?
What will be the impact of COVID 19 on the paper bottles market?
Which is the most preferred capacity for manufacturing paper bottles in the global market?
Which region will remain most lucrative for market growth?
Which end user segment holds maximum market share of the global paper bottles market?
Who are major key players in the paper bottles market?
Key indicators associated with the paper bottles market have been calculated thoroughly in the report. The study enumerates vital market dynamics such as key drivers, challenges, and trends, along with opportunities in the global paper bottles market. A comprehensive study on the value chain, which includes raw material suppliers, manufacturers, distributors, and end users have been incorporated in the global market report. Other key aspects laid down in the market include pricing strategy of leading market players and comparative analysis of paper bottles. Furthermore, forecast factors and forecast scenarios of the paper bottles market have been covered in the report to understand future prospects of the market.
A comprehensive evaluation and forecast on the paper bottles market are provided on the capacity, primary usage, end user, and region.
Y-o-Y growth comparison, volume and revenue comparison, and market share comparison of various market segments are provided in the report. The paper bottles market is analyzed at both regional and country levels.
The report delivers an exhaustive assessment on the structure of the paper bottles market, in tandem with a dashboard view of all leading company profiles in the report. Every company's share analysis on market players have also been presented in the report, apart from the footprint matrix of profiled market players. The report depicts the presence of paper bottles manufacturers by leveraging an intensity map. It also highlights key end uses for paper bottles.
The report includes company overview of key players in the market. Some of the key companies profiled in the paper bottles market report include Frugalpac, Paper Water Bottle, Kagzi Bottles, Just Water, Paper Bottle Company, PAPACKS Sales GmbH, LYS Packaging, Choose Packaging, Pulp Packaging International, Pulpex Ltd., Shruti Agro and 3Epack Group.
Research Methodology
A realistic methodology, along with a holistic approach makes the base for sharp insights, which are provided in the paper bottles market for the study evaluation period. The TMR report comprises of detailed information on growth prospects, along with riveting insights into the forecast assessment of the market.
Extensive primary and secondary researches have been employed to garner keen insights into the forecast study of the paper bottles market. The report has further undergone a cross-validation by in-house professionals to make the paper bottles market report one-of-its-kind, with the highest credibility.
Paper Bottles Market – Segmentation
The global paper bottles market has been divided on the basis of capacity, primary usage, end user, and region. Each of these segments are analyzed to provide readers with holistic view of the market.
Capacity

15 ml to 100 ml (Small)
101 ml to 500 ml (Medium)
Above 500 ml (Large)

Primary Usage

Everyday
Sports
Others (Travel, etc.)

End User

Water
Beverages
Personal Care & Cosmetics
Others (Homecare & Cosmetics, etc.)

Region

North America
Europe
Asia Pacific (APAC)
Latin America
Middle East & Africa (MEA)
Custom Market Research Services
TMR offers custom market research services that help clients to get information on their business scenario required where syndicated solutions are not enough.
REQUEST CUSTOMIZATION