Palatants Market
Palatants Market (Nature: Organic, Conventional; Form: Liquid Palatants, Dry Palatants; Source: Vegetable Derived Palatants, Meat Derived Palatants) - Global Industry Analysis, Size, Share, Growth, Trends, and Forecast, 2019 - 2027
Category :

Food & Beverages

Format :
Global Palatants Market: Pet Humanization to Transcend Growth
With the focus lying on the palatability profile of pet food, the entire gamut of the pet food industry is concentrated on premium pet food offerings. Pet ownership is now associated with the need for companionship and stress relief. This, being the case, the concept of 'pet humanization' is taking center stage in the pet food industry. This essentially means that, pet owners are extremely cautious about the nutrition needs and food of their pets.
These shifts towards flavorful and nutritious pet food have not only amplified the demand for palatability enhancers but have encouraged manufacturers to develop shelf-stable flavors. With the lines between animal and human food getting blurred, pet food manufacturers are under pressure to cater to specific palatant needs for different pets.
Taking into account the transition in consumer preference towards pet food and gauging the magnitude of growth of the pet food industry, Transparency Market Research (TMR) has conducted an exhaustive analysis of the global palatants market. In its study, TMR covers the key growth aspects and trends in the market, which will help manufacturers take a deep dive into the current consumer behavior and preferences.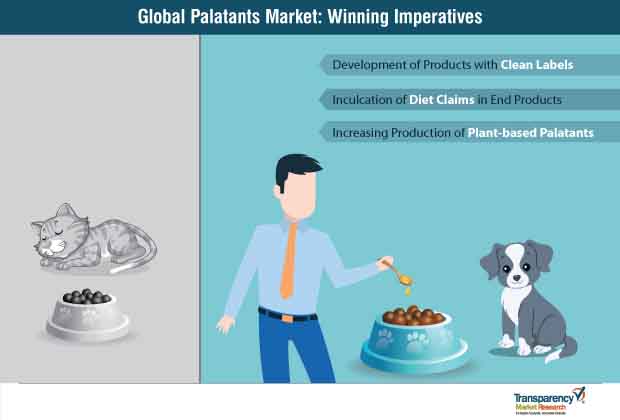 Planning to lay down future strategy? Perfect your plan with our report brochure here
Global Palatants Market: A Technology-driven Evolution
The pet food industry has been undergoing transitions that are mainly prompted by changes in consumer perspectives and evolving technologies. Manufacturers in the pet food industry have realized that developing highly nutritious pet food will fetch no results if rejected by pets. This has led to a rise in the emphasis on the 'aroma' of pet food products. The palatability quotient of pet food gets its very own eminence from the strides towards the 'premiumization' of products and inclination towards assessing the behavior of pets to gauge their food preferences. Over the years, reliance on the sensory characterization of food has increased, since the industry revolves around pets' preferences.
While 'pet preference' is one side of the aisle, the other is technologies used to manufacture palatants and pet food in general. In 2007, the development of electronic tongue technology by AFB International added a real feather in the cap of the global palatants industry. This technology helped in assessing the overall smell and taste of pet food. This innovation was followed by many other discoveries such as formulation of quality low-molecular weight pet food products in 2010, and the development of high barrier film applications for pet food packaging in 2019.
According to TMR analysts, the global palatants market is anticipated to attain a valuation of ~ US$ 3 Bn by 2027, progressing at a CAGR of ~ 4.5%. However, the high prices of premium and super premium pet food products may descend the market's growth. It may even drive away customers who are keen on buying premium pet food products.
Want to know the obstructions to your company's growth in future? Request a PDF sample here
Compelling Trends Redefining the Palatants Market
'Diet Claims' to be the New Catchphrase for Pet Owners
There is mounting pressure on manufacturers in the palatants industry to stay true to swaying diet claims such as fresh, organic, non-GMO, gluten-free, and natural. Pet owners are inclined towards products that come from a natural source or offer specific nutritional benefits. The real struggle for pet food manufacturers is developing products that are high in the natural or organic quotient while maintaining palatability. It also pushes manufacturers to develop palatability enhancers with high protein content and additional antioxidant protection, thus inculcating diet claims in their end products.
Pet Food Products with Clean Labels
'Mindful choices' is what customers believe in when it comes to pet food. Consumers are welcoming products that not only provide transparency in terms of ingredients used but provide peace of mind by satisfying the ethical and environmental claims. Clean label is not just a trend but a consumer requirement. Consumers are keen on knowing what the ingredients are and where they are derived from. This means that, manufacturers are increasingly using raw materials that offer traceability.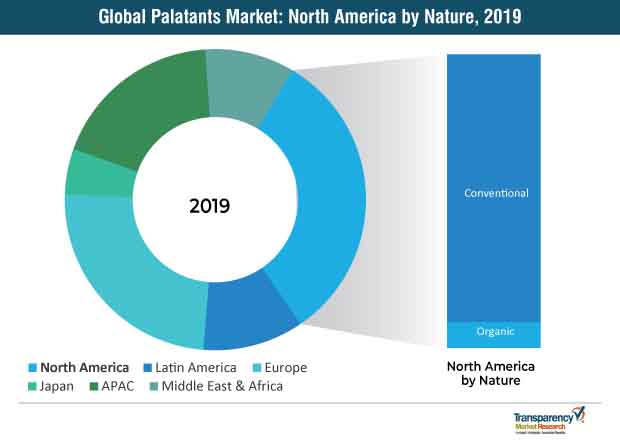 Looking for exclusive market insights from business experts? Request a Custom Report here
Key Winning Imperatives in the Palatants Market
Specific Product Launches to Fetch Revenue Benefits
Diet and nutrition requirements vary depending upon the species of animal. Moreover, these days, pet owners are highly aware of the nutrition requirements of their pets. Resultantly, they are likely to choose a specific product that suffices the nutrition needs of their pets, rather than a common pet food product. Sensing this change in consumer behavior, manufacturers are concentrating their efforts on launching separate products to cater to the supplement demands of different animals.
Strengthening Ties with Organic Grain Farmers
High demand for organic palatants means an increased dependency on raw material for organic feed. Moreover, it demands a continuous supply of organic grains. In a bid to reduce production costs and ensure the incessant supply of organic grains, manufacturers are strengthening their ties or engaging in backward integration with organic farmers. This will not only help them gain the supply of grains but considerably reduce production costs by reducing the volatility in organic grain prices. This is a key strategy that will help players enhance revenue benefits from the global palatants market.
Competitive Landscape: Expansion of Consumer Base to Remain Key Growth Strategy
The global palatants market features a highly fragmented vendor landscape with the presence of numerous market payers. Key companies operating in the market include AFB International, Frutarom Group, Kemin Industries, Alltech Inc., Nestlé S.A., Nutriad International NV, and others. Tier one companies alone accounted for a market share of ~ US$ 930 Mn in 2018.
Leading companies in the global palatants market are resorting to expansion of consumer base, looking at the rising demand for palatants. To do so, they are enhancing their geographical presence. They are targeting developed regions such as North America, Latin America, and Europe, in particular, gauging the high pet ownership and increased awareness among pet owners in these regions. Companies are also increasing the production of consumer products to enhance the sales of their products. For instance, Nestlé deployed the strategy of adding high value-added product lines and increased the focus on consumer products to cater to evolving consumer preferences. Similarly, Alltech Inc. is investing substantially in research and development facilities to come up with products that are highly demanded by consumers, globally.
Companies are also laying considerable emphasis on new product launches to garner consumer attention. Frutarom Group is focusing on innovation in product development and new product launches to support its core competencies and attract a large consumer base, while Kemin Industries Inc. developed a P series product in the Palasurance range that contains plant-based alternatives as a source. Apart from these strategies, manufacturers are also engaging in mergers and acquisitions, strategic investments, and expansion of production capacities to gain a strong foothold in the palatants market.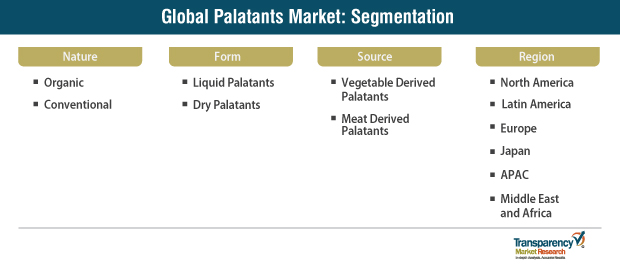 Analysts' Viewpoint

Authors of the report on the global palatants market are optimistic about its growth during the forecast period of 2019 to 2027. North America is perceived to be the most attractive region in the market, compelling players to consolidate their position in this region. Companies responding quickly to consumer trends are expected to gain an edge over other players in the market. Moreover, expansion in the production of organic palatants and increasing consumer awareness through clean labeling will help players attract consumer attention in the market. Overall, an expansion approach will bring good fortune to enterprises operating in the palatants market. As a result, players are expanding their product offerings across the globe and strengthening partnerships in high growth regions. Additionally, the market is expected to see an increasing inclination towards biologically-advanced products, encouraging players to increase the production of these products.
The American Pet Products Association (APPA recently said that, 39% of houses have dogs in the U.S. The increasing trend of pet ownership among the population is related to love, companionship, and stress relief. To increase the endurance and health of their pets, pet owners seek pet food with high nutrients and good palatants. Palatants are also known as palatability enhancers, and used to coat animal feed, which affects the sensorial behaviors of pets, as such, increasing feed consumption.
In the global palatants market, the U.S. holds a major share, owing to increasing pets and pet food companies in the region. In the global pet food market, there are more than 1,200 pet food manufacturers, and more than 175 are in the U.S., thus ensuring the growth of the palatants market in the region. Increasing pet ownership and growing pet food industry has generated high demand for pet food, directly increasing the demand for palatants. In addition, many companies are investing in R&D to come up with innovative palatants, which will affect the palatability of the end products.
Increased Pet Humanization is Flourishing the Demand for Palatability Enhancers (Palatants)
In the global pet market, pet owners treat their pets as family members, and they are more concerned about the nutrition, food, and eating habits of their companion pets. People love their pets for a number of reasons, such as they see them as a source of security and unconditional positive regard. Pet humanization, also known as anthropomorphism, has become a very popular phrase in the pet food industry, as many pet owners seek to provide human-like products to their pets. According to a 2017-2018 survey done by the American Pet Products Association (APPA), 28% dog owners have celebrated birthday parties for their pups.
The buzz of humanization is on the rise, and some companies are investing to add vibrant palatants in pet food. Companies such as Merrick Pet Care chose gourmet, bistro, and banquet to describe their cat and dog food. In addition, AFB International has developed various palatants that make pet food more appealing to both, companion animals and their owners.
Pet Food Quality Directly Proportionate to the Frequency of Purchase - Propelling Sales of Palatants
Consumer behavior has been primarily affected by technological proliferation into the palatants market. The frequency of purchase and the bulk volume purchased at a time are expected to be affected by the increasing palatability enhancers (palatants) in the market. Customers are more likely to purchase the product in bulk if it is more profitable. Palatants are specially designed to prepare pet food, supplements, and treats that taste better. These factors are boosting the sales of palatants around the globe.
Palatants Market: Specific Product Launch for Optimal Results
Many players are now satisfying varying supplement demands from different animals through separate products. Different animals require different pet food containing different bacterial amounts and specific flavors. Key players are now focusing on individual species of animals such as cats, dogs, and birds, and launching products accordingly, such as adding specific nutrient and palatants, resulting in greater consumer acquisition.
Palatants Market: Increasing Consumer Awareness Regarding Claims
In the global pet food market, many manufacturers collaborate with other research companies to develop special palatants to inculcate the diet claims in their end products. Diet claims that mainly attract pet food owners are natural, grain-free, and organic, where 'natural' is the leading claim across the pet food industry that has significantly increased the demand for natural palatants in the pet food industry. Adding high amounts of functional and specific nutrition in pet food end results in off taste end products, and to overcome this unpleasant taste, manufacturers generally use large amount of palatants in accordance with regulatory laws.
Furthermore, pet owners are also seeking for pet food with high protein content and low fat content, thus pushing pet food manufacturers to include palatants in their end products. In addition, pet food manufacturers also include certain antioxidant protection, which will further escalate the demand for palatants in pet food in the coming years. In order to attain the utmost palatability, manufacturers are focusing on using novel technologies that ensure the overall taste and odor of the end product. Since 2007, AFB International, a leading player in pet food technology, has been using the electronic tongue and electronic nose technology to scrutinize the overall odor and palatability of pet food. These innovations have revolutionized the palatants market to an extent, and also enhanced the quality of palatants. With an increasing number of pet food manufacturers across the globe, it can be anticipated that, the demand for palatants will increase over the forecast period.
Global Palatants Market: Key Players
A few of the key players operating in the global palatants market are
Kemin Industries
Nutriad International NV
Pancosma S.A.
Frutarom Group
Alltech Inc.
Diana Group
Yingtan WingBiotechnology Co., Ltd.
Nestle S.A.
BHJ A/S
AFB International
Darling Ingredients Inc., and others.
Transparency Market Research (TMR) recently published a study on the global palatants market for the forecast period of 2019 to 2027. The report offers incisive analysis of the prominent factors shaping the global palatants market's growth. It sheds light on the historical trends in the market, and elucidates how they impact the current market structure. It takes into account the microeconomic and macroeconomic factors impacting the growth of the global palatants market.
The report presents a thorough analysis of the key growth indicators, drivers, restraints, challenges and new opportunities in the global palatants market. A company share analysis has been provided that helps the readers understand where the leading companies stand in the palatants market. Additionally, it provides a dashboard view of all the companies profiled in the report.
Through this report on the global palatants market, stakeholders gain actionable insights pertaining to the key happenings in the palatants market, helping them take important business-related decisions. Forecast factors and forecast scenario of the palatants market have also been included in the report. The information is presented in a comprehensible manner for better understanding of the readers.
The study on the global palatants market divulges historical and forecast figures for each segment. Moreover, it highlights segment-specific trends and ascertains the leading players operating in different regions. The report encompasses a y-o-y growth comparison, market share comparison, and volume and revenue comparison of each segment.
Key Questions Answered in the Global Palatants Market Report
The study on the global palatants market covers an executive summary and market snapshot that gives a 360-degree view of the market. The report answers important questions related to the market, which will help stakeholders devise robust growth strategies for their business. Some of these questions are listed below:
Which region will prove to be the most lucrative for the palatants market's growth?
Which source will reap maximum revenue benefits for the palatants market during the forecast period?
How will the palatants market's growth unfold during the forecast period?
What are the key strategies adopted by leading players in the global palatants market?
What will be the volume of sales of meat derived palatants by the end of the forecast period?
How will the historical trends impact the future of the global palatants market?
Global Palatants Market: Research Methodology
Extensive primary and secondary research has been conducted to come up with key market figures for the global palatants market. A top-down and bottom-up approach has been deployed to gain a comprehensive idea about the palatants market. TMR analysts conducted interviews with numerous industry leaders, C-level executives, brand managers, and sales managers to understand the dynamics of the global palatants market.
TMR analysts further gathered information from reliable sources such as white papers, press releases, statistical data sheets, and webcasts to understand the structure of the palatants market. The report was cross-validated by in-house professionals to present data with the highest credibility. A holistic view of the market has been provided, and compelling insights have been divulged that help the readers gauge the market's future. Detailed information pertaining to the growth prospects instrumental in the evolution of the palatants market have been provided in a comprehensible manner.
Global Palatants Market: Taxonomy
The report on the global palatants market divides it into four broad categories – nature, form, source, and region. A holistic view of the palatants market has been provided by analyzing each segment in detail. The market has been analyzed on both, global and regional levels, to get accurate forecast figures.
Nature

Organic

Conventional

Form

Liquid Palatants

Dry Palatants

Source

Vegetable Derived Palatants

Meat Derived Palatants

Region

North America

Latin America

Europe

Japan

APAC

Middle East and Africa
Custom Market Research Services
TMR offers custom market research services that help clients to get information on their business scenario required where syndicated solutions are not enough.
REQUEST CUSTOMIZATION