Osmometers Market
Osmometers Market (Product: Freezing Point Osmometers, Vapor Pressure Osmometers, Membrane Osmometers, Others; Sample: Single Sample, Multiple Sample; Application: Clinical, Dairy Analysis, Pharmaceuticals and Biotech, Others; End User: Hospitals, Laboratory and Diagnostic Centers, Healthcare Companies, Contract Research Organizations, Contract Manufacturing Organizations, Food and Feed Industries, Others) - Global Industry Analysis, Size, Share, Growth, Trends, and Forecast, 2019 - 2027
Healthcare
TMRGL33812
2019-09-04
199

Pages
Osmometers – Keeping Clinical Labs Up and Running
Rapid innovations and the launch of new products are taking osmometry to the next level by offering a perfect balance of ease-of-use and improved analytical performance. With the rising number of pharmaceutical and biopharmaceutical companies seeking technologically-advanced tools for several quality check and process controls, analysts at Transparency Market Research (TMR) forecast steady growth of the global osmometers market at a CAGR of ~3% during the period of 2019-2027. Osmometers have garnered significant traction as a viable diagnostic tool that helps indicate the total concentration of dissolved solids present in plasma and other fluids. In an attempt to align with the ongoing 'patient-centric' trend in the healthcare industry, clinical labs are making great strides to report accurate patient results, while biopharmaceutical labs are focusing on developing quality therapeutics – potentially raising the demand for advanced osmometers.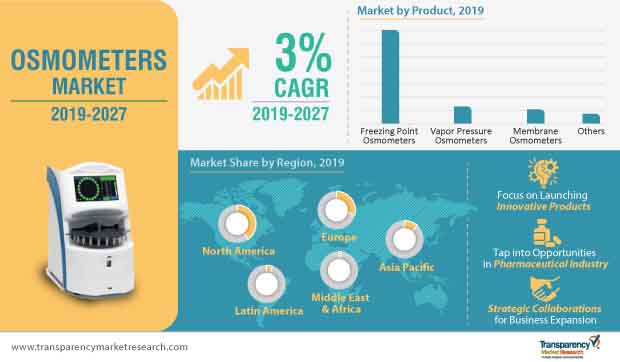 To know the segments analyzed in the TMR report, ask for a brochure here.
Multi-sample Osmometers to Gain Center Stage
Single sample osmometers continue to account for a major share of manufacturers' bottom lines, in view of offering sufficient testing capacity and performance. However, these systems require a significant amount of manual sample handling and tech time to complete the osmolality testing – misaligning with end user trends of improving automation and reducing labor requirements. To that end, manufacturers are focusing on increasing the production of multiple-sample osmometers, which are specifically designed not only to automate various aspects of osmolality testing but also to offer a host of added technological benefits as compared to the single sample variants.
Freezing point osmometers continue to account for higher demand as compared to vapor pressure and membrane osmometers, according to TMR's study. Independent from different physical characteristics of the liquid solution, along with user-friendly operational modes, freezing point osmometers have gathered significant momentum as the industry-preferred solution, and remain a gold standard in pharmaceutical research, clinical chemistry labs, and quality control labs, worldwide. As 7 in 10 osmometers sold in the market are based on freezing point depression, manufacturers are specifically focused on this category.
To know more about TMRs unique offerings for Osmometers Market, request a sample here
North America Leads, But Opportunities Abound in Developing Countries
While the war of innovation supremacy continues among stakeholders in the osmometers market, expansion of distribution networks through strategic collaborations remains a key focus area for increased global reach. North America and Europe continue to offer greater opportunities, in the view of high healthcare expenditure per capita and rise in the demand for laboratory automation. In consequence, manufacturers are targeted towards leveraging advanced technologies to not only develop 'best-in-class' osmometers but also to retrofit and renovate conventional equipment.
Market consolidation in developing countries in Asia Pacific will remain a key to gain competitive edge, as the region is increasingly being recognized for its unique healthcare ecosystems and innovative business models. TMR's analysts portend that, the osmometers market in Asia Pacific will record a relatively high CAGR as compared to other regions, during the predefined timeframe. The rising need for automation in clinical laboratory settings and an increase in the R&D investments of pharmaceutical and biotech companies in the region are further likely to lead to the realignment of manufacturers' strategies.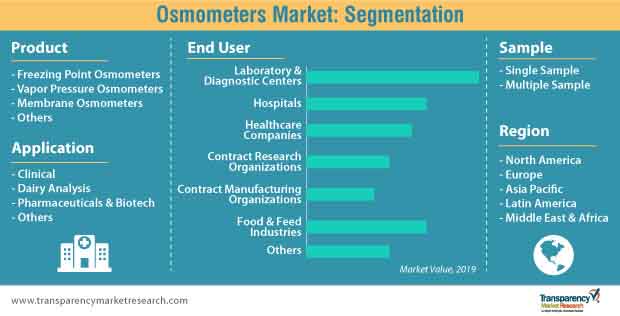 Get a snapshot of the latest report on Osmometers Market with Custom Report here
Analysts' Viewpoint

Report authors attempt to maintain a positive outlook of the market; however, the availability of a wide range of products at different price ranges has been representing a threat to the steady growth of manufacturers. In the fragmented landscape, with a large number of companies to compete with, manufacturers will need to do more than innovation and new product launches. These factors played an important role in Advanced Instruments' decision to launch a new web-based advanced QC peer group program. It allows laboratories to compare their osmometer urine and serum QC to peer data on a real-time and monthly basis. Such strategic moves are likely to set the ball rolling, as other stakeholders are expected to follow suit and focus on providing labs with increased assurance in proficiency survey and patient results.
Osmometers Market: Overview
The global osmometers market was valued at ~US$ 64 Mn in 2018, and is projected to expand at a CAGR of ~3% during the forecast period, to reach a valuation of ~US$ 84 Mn by 2027.
The global osmometers market is driven by a rise in the demand for osmometers, launch of innovative products by key players, and the expansion of pharmaceutical and biopharmaceutical companies.
For instance, in August 2016, Advanced Instruments launched OsmoPRO, a multiple sample osmometer for automated osmolality testing. ASTORI TECNICA announced the launch of an osmometer line, including OsmoTouch 1, OsmoTouch 20, and OsmoTouch 40. Product launches by key players are anticipated to boost the global osmometers market in the near future.
However, a highly competitive environment, owing to a highly fragmented market, is the major factor that is anticipated to restrain the global market. The market is hampered due to the availability of a wide range of products at different costs.
Global Osmometers Market: Segmentation Analysis
In terms of product, the global osmometers market has been classified into freezing point osmometers, vapor pressure osmometers, membrane osmometers, and others. The freeze point osmometers segment dominated the global market in 2018. The segment is projected to expand at a rapid pace during the forecast period. The freeze point standard method for testing osmolality provides a complete and accurate view of the sample.
Based on sample, the market has been bifurcated into single sample and multiple sample. The single sample segment dominated the global osmometers market in 2018. Increase in the demand for osmometers in clinical laboratories is likely to propel the segment.
Based on application, the osmometers market has been classified into clinical, dairy analysis, pharmaceuticals & biotech, and others. The clinical segment is projected to expand at a rapid pace during the forecast period. Continuous technological advancements and a rise in the need for the adoption of advanced medical facilities are likely to drive the segment.
Based on end user, the global osmometers market has been divided into hospitals, laboratory and diagnostic centers, healthcare companies, contract research organizations, contract manufacturing organizations, food and feed industries, and others. The laboratory & diagnostic centers segment dominated the global market in 2018, owing to high usage of osmometers in laboratory and diagnostic centers.
Each of the segments of the global osmometers market have been analyzed in detail for market trends, recent trends, and developments, drivers, restraints, opportunities, and useful insights. The report provides current and future revenues (US$ Mn) for each of these segments for the period from 2017 to 2027, considering 2018 as the base year. The compound annual growth rate (% CAGR) has been provided for each segment and market from 2019 to 2027, along with market size estimations.
Global Osmometers Market: Geography Overview
In terms of region, the global osmometers market has been segmented into North America, Europe, Asia Pacific, Latin America, and the Middle East & Africa. North America accounted for a prominent share of the global osmometers market in 2018. The market in the region is anticipated to be driven by the high rate of adoption of osmometers for clinical and laboratory analysis.
The study also offers a list of recommendations, highlights, and useful insights of the market, which would help new companies willing to enter the market and existing companies increase their market shares, and help in the decision-making process.
Global Osmometers Market: Major Players
The osmometers market report concludes with the company profiles section that includes key information about the major players in the market.
Major players operating in the global osmometers market include

KNAUER Wissenschaftliche Geräte GmbH
Advanced Instruments
Löser Messtechnik
Nova Biomedical
Precision Systems, Inc.
ELITechGroup
ARKRAY, Inc.
ratiolab
Labtek Services Ltd.
Osmometers Market – Scope of the Study
[199 Pages Report] Transparency Market Research, in its new research study, provides a future outlook for the 'osmometers market'. It provides a wealth of information on key market dynamics, including the drivers, restraints, trends, and challenges prevailing in the osmometers market, which can help identify the growth opportunities for market players. TMR's study outlines the growth trails of the osmometers market for the period of 2019-2027, along with forecast statistics in terms of value (US$ million).
Important indicators of the osmometers market, including value and supply chain analysis, pricing analysis, historical value and volume analysis, and Y-o-Y growth trend analysis have been provided in the report. Detailed information covered in the report can help readers anticipate the quantitative growth prospects of the osmometers market during the forecast period.
In addition to a detailed taxonomy of the osmometers market, TMR's study covers an incisive outlook on the competitive landscape. The report highlights the profiles of several incumbent companies as well as new entrants in the osmometers market, wherein, both, the organic and inorganic business strategies of these market players have been elucidated.

Key Questioned Answered in TMR's Osmometers Market Study
TMR's study provides a qualitative as well as quantitative breakdown of the osmometers market. In-depth insights provided in the osmometers market report answer several questions to help readers gain a deeper understanding of the market. Some of the key questions include:
What will be the growth rate of the osmometers market in the next five years?
What are the important sustainable strategies adopted by companies operating in the osmometers market?
Which segment is likely to have incremental growth prospects during the forecast period?
What is the impact of changing technological trends on the development of the osmometers market?
What are the risks and competition faced by osmometers market players?
What is the pricing analysis of osmometers across different geographical divisions?
Research Methodology
A unique approach and two-step research methodology have been adopted by TMR's analysts to carry out detailed research on various nodes and internodes of the osmometers market, and to arrive at precise conclusions on its future growth prospects. Analysts relied on both, primary and secondary resources to warrant the accuracy and reliability of the drawn conclusions.
Secondary resources referred to by the analysts include various white papers, research papers, industry association publications, annual reports, and presentations of manufacturing companies. To verify the information gathered from secondary resources, analysts conducted interviews and discussions with C-level executives, VPs, product managers, and marketing managers, along with key investors and distributors of companies in the supply chain of the osmometers market.
Key information obtained from both these resources has contributed to the compilation of the osmometers market report, which can help arm stakeholders with essential facts and figures to take well-informed decisions.
Osmometers Market – Segmentation
TMR's study on the osmometers market includes key insights categorized into five broader segments – product, sample, application, end user, and region. Changing industry trends and other important dynamics associated with these segments have been discussed in detail. The report includes market revenue comparison analysis and market attractiveness analysis to determine the impact of each segment on the overall growth of the osmometers market.
Product

Freezing Point Osmometers

Vapor Pressure Osmometers

Membrane Osmometers

Others

Sample

Single Sample

Multiple Sample

Application

Clinical

Dairy Analysis

Pharmaceuticals and Biotech

Others

End User

Hospitals

Laboratory and Diagnostic Centers

Healthcare Companies

Contract Research Organizations

Contract Manufacturing Organizations

Food and Feed Industries

Others

Region

North America

Europe

Asia Pacific

Latin America

Middle East & Africa
Custom Market Research Services
TMR offers custom market research services that help clients to get information on their business scenario required where syndicated solutions are not enough.
REQUEST CUSTOMIZATION