Orthopedic Digit Implants Market
Orthopedic Digit Implants Market (Product Type - Metacarpel Joint Implants (Upper extremity), Metatarsal Joint Implants (Lower extremity), Hemi Phalangeal Implants, Scaphoid Bone Implants, and Toe Intramedullary Implants; End-User - Hospitals, and Specialty Orthopedic Clinics; Material - Nitinol, Silicon Pyrocarbon, Titanium and Others) - Global Industry Analysis, Size, Share, Growth, Trends, and Forecast 2017 - 2026
Category :

Healthcare

Format :
An orthopedic digit implant is a medical device used for replacing a damaged bone or a missing joint in small joints segment, such as fingers, toes, ankle, elbow, and knee. Orthopedic digit implants are biocompatible, produced from materials such as stainless steel or titanium, and topped with a plastic coating that performs functioning as an artificial cartilage. Types of orthopedic digit implants currently available in the market include metacarpel joint implants (upper extremity), metatarsal joint implants (lower extremity), hemi phalangeal implants, scaphoid bone implants, and toe intramedullary implants.
Increasing Preference for Minimally Invasive Surgeries to Treat Orthopedic Diseases will drive Market Expansion
Prevalence of rheumatoid arthritis has witnessed a surge, resulting into an increasing demand for orthopedic procedures. With increasing awareness about health, the elderly cohort is leading more active lifestyles across the globe, particularly in developed regions, which in turn has led toward more stress and joint injuries. These factors have driven the demand for various orthopedic implants such as the digit implants. Orthopedic digit implants find widespread application in areas such as oncology, and traumatology. With increasing preference for minimally invasive surgeries to treat orthopedic diseases, and rapidly penetration of 3D printing technology in orthopedics, potential opportunities will be created for the market expansion in the foreseeable future.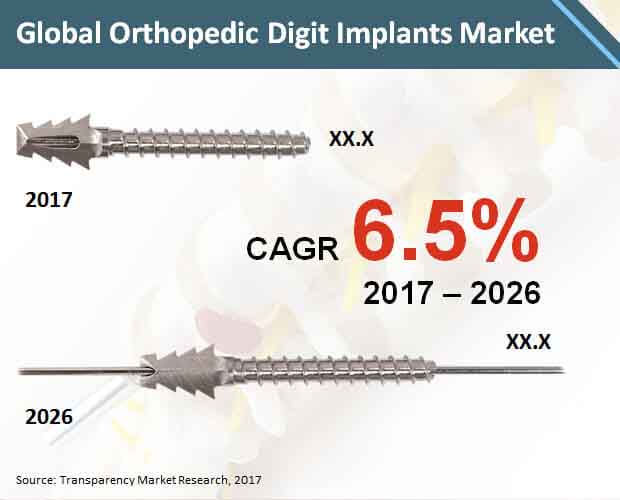 However, stringent regulatory approval procedures, and limited medical insurance coverage are likely to impede adoption of orthopedic digit implants. In addition, hypersensitivity, implant dislocation, post-surgery infections, and toxicity are major concerns among patients which might hinder growth of the market. A new report by Transparency Market Research (TMR) projects the global orthopedic digit implant market to reflect an impressive expansion over the forecast period (2017-2026). Global sales of orthopedic implants are estimated to exceed US$ 100 Mn by 2026-end.
Latin America to be Fastest Expanding Market for Orthopedic Digit Implants by 2026-end
Latin America is projected to be the fastest expanding market for orthopedic digit implants by 2026-end. However, revenues from the market in Latin America will remain comparatively lower than those from North America, Europe and Asia-Pacific excluding Japan (APEJ). Projected to exhibit an impressive expansion through 2026, North America will remain the most lucrative market for orthopedic digit implants, in terms of revenues. Between Europe and APEJ, the former will account for a comparatively larger market revenue share, while the latter will register a relatively faster expansion in the market during the forecast period.
In terms of revenues, metacarpel joint implants (upper extremity) and metatarsal joint implants (lower extremity) will remain dominant in the market, based on product type. However, sales of metatarsal joint implants (lower extremity) will continue ride on a comparatively higher CAGR than sales of metacarpel joint implants (upper extremity). In addition, hemi phalangeal implants and scaphoid bone implants are projected to be the fast-selling products in the market during 2017 to 2026. In contrast, sales of toe implants will continue to witness a sluggish expansion in the global orthopedic digit implants market.
Sales of Silicon Pyrocarbon to Exhibit Highest CAGR through 2026
Based on material, Nitinol is anticipated to remain sought-after among manufacturers of orthopedic digit implants, with sales estimated to reach nearly US$ 90 Mn by 2026-end. Silicon pyrocarbon will account for the smallest revenue share of the market, however their sales are projected to exhibit the highest CAGR through 2026. Revenues from sales of titanium for manufacturing orthopedic digit implants will remain relatively larger than those from silicon pyrocarbon over the forecast period.
Hospital will continue to be the largest end-users of orthopedic digit implants. Sales of orthopedic digit implants in hospitals will ride on a CAGR of nearly 7% through 2026. Specialty orthopedic clinics are projected to account for a very low revenue share of the market throughout the forecast period.
Competition Tracking
Key market players identified by TMR's report on the global orthopedic digit implants include Wright Medical Group N.V., Integra LifeSciences Corporation, TEIJIN NAKASHIMA MEDICAL CO., LTD., Stryker Corporation, DePuy Orthopaedics, Inc. (Johnson & Johnson), VILEX IN TENNESSEE, INC., and Merete Medical.
Heightening Geriatric Population and the Trend of Minimally Invasive Surgeries to Propel the Growth of the Orthopedic Digit Implants Market
The rising popularity of minimally invasive surgeries among a considerable chunk of the populace is proving to be a great growth factor for the orthopedic digit implants market. In addition, the escalating cases of rheumatoid arthritis among a considerable chunk of the populace will serve as a prominent growth opportunity. All these factors will invite substantial growth for the orthopedic digit implants market during the forecast period of 2017-2026.
Orthopedic digit implants are devices utilized for replacing injured or damaged joint segments or bones of the ankle, toe, knee, elbow, and others. These devices are made from stainless steel or titanium. They perform the function of acting as a bone replacement but artificially. The benefits attached to the orthopedic digit implants will prove to be a vital growth generator during the assessment period.
Geriatric population is witnessing a rapid rise over the years. Old age brings varied joint and bone problems with it. The growing geriatric populace is directly proportional to the rising number of arthritis and other joint or bone-related disorders. Thus, this factor will join the dots of growth.
The heightening investments by the government bodies of numerous countries on healthcare will prove to be a golden growth opportunity for the orthopedic digit implants market. Favorable reimbursement policies and healthcare policies will lay a red carpet of growth.
Research and development activities play a major role in increasing the growth rate. Novel developments such as 3D printing technologies and others will help in boosting the revenues of the players. Strategic collaborations are playing a crucial role in terms of growth advancements.
The novel coronavirus outbreak has impacted the growth of a large number of sectors and businesses around the world. The orthopedic digit implants market is no exception. However, the relaxations in lockdown restrictions will serve as a profitable growth opportunity for the players in the orthopedic digit implants market.
In one of its recently published report, Transparency Market Research (TMR) has offered an in-depth analysis on the global orthopedic digit implants market. By taking into consideration every unique aspect of orthopedic digit implants, its market has been accurately analyzed for the forecast period, 2017 to 2026.
The report encompasses imperative factors propelling the market expansion, untapped opportunities for key market participants, and trends & developments molding the market dynamics. A scrutinized analysis is done on the sizing of the market across its various segments for the historical period 2012 to 2016. Analytical tools have been utilized for reaching at most significant projections on future of the market for the assessment period 2017 to 2026.
Report Structure
The beginning chapter of the report offers an executive summary of the global orthopedic digit implants market, followed by a chapter offering the market's overview. A brief market introduction, along with the definition of "orthopedic digit implants" has been provided in the overview. The executive summary delivered is comprehensive yet concise. This chapter delivers all necessary information related to the market in a simplified format. Market size estimations given in the report have been interpreted via metrics such as the year-on-year expansion rates, compound annual growth rates, basis point share indexes, and absolute dollar opportunities.
Information associated with the market dynamics, distribution network, and technology roadmap has also been provided in the report. An intensity map included in the report plots presence of the market participants across the regional segments. The report also delivers an insightful analysis on the competitive landscape of global orthopedic digit implants market. The market participants identified by the report are analyzed on the basis of their current market scenario, strategic partnerships, and key developments.
Competitive Landscape
The report includes a weighted chapter on the market's competitive landscape, where key market players have been studied in detail. Information about prominent players in the market have been delivered in terms of company overview, key financials, product overview, key developments, and SWOT analysis. Information about novel strategies employed by the market players is provided in this chapter, which helps in increasing their portfolios, leveraging M&A for business expansion, making strategic alliances, and developing marketing strategies.
Research Methodology
Analysts at TMR have used a robust research methodology, where exhaustive primary interviews, which are conducted with the domain experts and key industry stakeholders, are combined with an in-depth secondary research employed for harnessing essential information & data related to the market. Healthcare industry partakers manufacturing orthopedic digit implants have been contacted & interviewed to gain information about their profitability index, revenue procurements, and net spending in last five years. Various tools are utilized for validating gathered data for attaining relevant market insights that are likely to significantly influence critical business decisions. The report represents key findings and insights on the market in a systematic manner.
Market Taxonomy
In its following chapters, the report offers insights about the global orthopedic digit implants market in the form of a segmentation analysis. The global market for orthopedic digit implants has been characterized on the basis of product type, end-user, material, and region. On the basis of region, the market is segmented into Japan, Middle East & Africa (MEA), Asia-Pacific excluding Japan, Europe, North America, and Latin America. The global orthopedic digit implants market's taxonomy has been exhaustively represented in a tabular form as depicted below.
Region

North America
Latin America
Europe
Japan
APEJ
MEA

Product Type

Metacarpel Joint Implants (Upper extremity)
Metatarsal Joint Implants (Lower extremity)
Hemi Phalangeal Implants
Scaphoid Bone Implants
Toe Intramedullary Implants

End User

Hospitals
Specialty Orthopedic Clinics

Material

Nitinol
Silicon Pyrocarbon
Titanium
Others
Custom Market Research Services
TMR offers custom market research services that help clients to get information on their business scenario required where syndicated solutions are not enough.
REQUEST CUSTOMIZATION

Orthopedic Digit Implants Market