Organic Fertilizers Market
Organic Fertilizers Market (Product - Peat based and Manure based; Application - Cereals & Grains, Oilseeds & Pulses, and Fruits & Vegetables) - Global Industry Analysis, Size, Share, Growth, Trends, and Forecast 2017 - 2025
Category :

Chemicals & Materials

Format :
Global Organic Fertilizers Market: Snapshot
The demand in the global organic fertilizers market is projected to increment at a healthy CAGR of 7.6% during the forecast period of 2017 to 2025, gaining traction from a number of factors such as increasing land area under organic cultivation, advances in the manufacturing process of organic fertilizers, increasing size of potential consumer base, and growing demand from the organic food industry. On the other hand, high cost and continued reliance on inorganic means of cultivation is challenging the market from attaining its true potential.
The global organic fertilizers market is estimated to reach a valuation of US$6.40 bn by the end of 2025, considerably up from its evaluated worth of US$3.37 bn in 2016. Stringent government regulations for eco-friendly solutions, relatively less investment in comparison to the benefits are a few other factors that will help the prosperity of the global organic fertilizers market in the near future.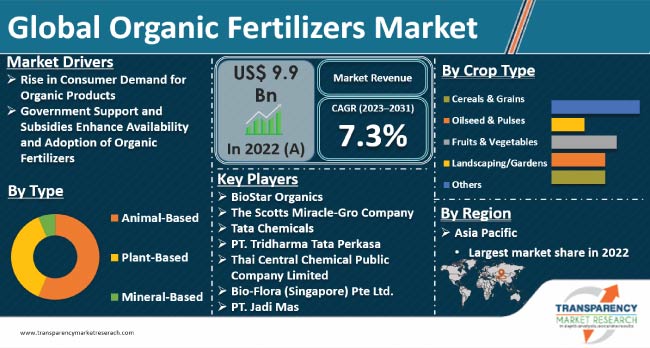 Manure-Based Fertilizers Serve Maximum Demand
Product-wise, the organic fertilizers market has been segmented into manure-based fertilizers and peat-based. The former contributed most of the demand in the global organic fertilizer market in terms of volume and value in 2016 and same trend is likely to continue during the forecast period. Livestock manure is available in huge quantity from pig farms, poultry farms, and the horse stables, particularly in the region of Europe, which is a great source of nitrogen. In addition to that, the management of livestock manure is a concern for the government authorities due to its availability in huge quantities. The governments of various regions are taking several initiatives to encourage the use of these fertilizers. As a result, the manure based fertilizers are extensively used in organic farming. Easy and abundant supply of nitrogen rich livestock manure is likely to propel the demand for manure based fertilizers during the forecast period.
Application-wise, fruits & vegetables category contributed the maximum share in the global organic fertilizers market in 2016, far more than the categories of cereals and grains, oilseeds and pulses, nurseries, and turg. The fruit and vegetables application-category is anticipated to grow at the most prominent CAGR during the forecast period, gaining popularity as a preferred application across the world, as organic fertilizers provide humus and nutrients to the soil. Soil rich in humus and the nutrients is very essential for healthy growth of fruits and vegetables. Cereals & grains application of organic fertilizer is also anticipated to expand at a significant growth rate.
Europe Most Lucrative Region
In 2016, Europe contributed majorly to the organic fertilizers market, significantly more than other regions such as North America, Latin America, Asia Pacific, and the Middle East and Africa. At the second position was the region of Asia Pacific, which is projected for the most impressive growth rate. This trend is likely to continue during the forecast period. Ample availability of raw materials, increasing government support towards organic fertilizers and implementation of incentive schemes on organic fertilizers, which are already implemented by the European Union are the major factors which are anticipated to contribute to the growth of organic fertilizer market in Europe. However, the European market is nearing its maturity due to which it may witness a decline in the overall market share. The organic fertilizer market in Asia Pacific is anticipated to expand at the highest CAGR due to the government initiatives to boost the use of organic fertilizers.
Rising Demand for Healthy Growth of the Plant to Benefit Organic Fertilizers Market
Organic fertilizers assist to soften and loosen the soil, stimulate healthy growth of microorganisms, and maintain more nutrients and moisture. All of these attributes contribute to better health of the plant, which is likely to foster growth of the global organic fertilizers market in the years to come. Organic fertilizers minimize the requirement for pesticides that include both harmful and beneficial chemicals for the soil. Organic fertilizers are made from various organic materials like animals and plants waste, with raw materials ranging from organic compost to cow manure. Organic ingredients utilized to produce organic fertilizers include fish emulsions, molasses, bone and blood meals, guano, and kelp.
Organic fertilizers are synthesized from byproducts of crude oil refining process and a variety of various naturally occurring and mined minerals. These fertilizers help to refill the soil and improve quality and quantity of crop. Synthetic fertilizers use, on the other hand, presents a danger of contamination of surface and groundwater bodies, as well as the transport of synthetic residues into the food chain. This can have a negative effect on both human and animal health. The soil is restocked with supplementary fertilizers, which provide potassium, phosphorous, and nitrogen amongst other essential nutrients so as to ensure optimal nutrition.
Increased Assistance from the Government is Estimated to Accelerate Growth of the Market
Growing uptake of organic farming amongst farmers in response to the increasing need for a sustainable environment is expected to provide the global organic fertilizers market with multiple growth opportunities. Increased government assistance via targeted subsidies, as well as increased funding in research and development programmes for producing novel organic fertilizers, are expected to present multiple opportunities for market growth.
Growing environmental concerns, as synthetic fertilizers have adverse environmental effect such as reducing soil fertility and causing environmental damage, are likely to boost the demand for organic fertilizers. Organic fertilizers are capable of increasing fertility of the soil and preserve water by preventing the flowing of harmful pesticides into bodies of water, which causes eutrophication or algae growth. Riding on the back of his factor, the sale of organic fertilizers sales are rising.
Organic fertilizers are the fertilizers that are derived from natural sources including plants, animals and minerals. Typical examples of naturally occurring organic fertilizers are animal matter, animal excreta, human excreta, vegetable matter, wastes from meat processing, peat, manure, slurry, and guano. Europe dominated the organic fertilizer market in terms of both value and volume, and is likely to do the same during the period of forecast. Usage of manure based fertilizers was dominant in the market and is anticipated to remain dominant during the period of forecast. Abundant availability of raw materials in terms of livestock manure in Europe and the related government initiatives to increase its use as fertilizers are driving the market for organic fertilizers in the region.
Global Organic Fertilizers Market: Trends and Opportunities
Increase in government support by providing various incentives on production of organic fertilizers and schemes to encourage the use of organic fertilizers is estimated to offer major opportunities to the organic fertilizers market during the forecast period. Manure based fertilizer segment is the dominant segment with manure based fertilizers mostly used in all the regions across the globe. The use of organic fertilizers was widely witnessed in fruits & vegetables segment in most of the regions.
This report analyzes and forecasts the market for organic fertilizers market at the global and regional level. The market has been forecast based on volume (in Kilo tons) and revenue (US$ Mn) from 2017 to 2025, considering 2015 as the base year. The study includes drivers and restraints of the global organic fertilizers market. It also covers impact of these drivers and restraints on demand for organic fertilizers market during the forecast period. The report also highlights opportunities in the organic fertilizers market at the global and regional level.
The report includes detailed value chain analysis, which provides a comprehensive view of the global organic fertilizers market. Porter's Five Forces model for the organic fertilizers market has also been included to help understand the competitive landscape in the market. The study encompasses market attractiveness analysis, where in products, and application are benchmarked based on their market size, growth rate, and general attractiveness.
Global Fertilizers Market: Segmentations
The study provides a decisive view of the global organic fertilizers market by segmenting it in terms of product, and application. In terms of product, organic fertilizers are classified as Peat based, Manure based, others. In terms of application, it is segmented into Cereals & Grains, Oilseeds & Pulses, Fruits & Vegetables, Others (Nursery, Turf, etc.). These segments have been analyzed based on present and future trends. Regional segmentation includes current and forecast demand for organic fertilizers in North America, Europe, Asia Pacific, Latin America, and Middle East & Africa.
The report provides the actual market size of organic fertilizers for 2015 & 2016 and estimated market size for 2017 with forecast for the next eight years. The global market of organic fertilizers has been provided in terms volume and revenue. Market volume has been defined in Kilo tons and revenue in US$ Mn. Market numbers have been estimated based on product, and application of organic fertilizers. Market volume and size have been provided in terms of global, regional and country level markets.
In order to compile the research report, we conducted in-depth interviews and discussions with a number of key industry participants and opinion leaders. Primary research represented the bulk of research efforts, supplemented by extensive secondary research. We reviewed key players' product literature, annual reports, press releases, and relevant documents for competitive analysis and market understanding. Secondary research includes a search of recent trade, technical writing, Internet sources, magazines and statistical data from government websites, trade associations, and agencies. This has proven to be the most reliable, effective, and successful approach for obtaining precise market data, capturing industry participants' insights, and recognizing business opportunities.
Secondary research sources that are typically referred to include, but are not limited to company websites, annual reports, financial reports, broker reports, investor presentations, SEC filings, and external proprietary databases, and relevant patent and regulatory databases such as Hoover's, oneSOURCE, Factiva and Bloomberg, national government documents, statistical databases, trade journals, market reports, news articles, press releases, and webcasts specific to companies operating in the market.
We conduct primary interviews on an ongoing basis with industry participants and commentators to validate data and analysis. These help validate and strengthen secondary research findings. These also help develop the analysis team's expertise and market understanding.
Global Organic Fertilizers Market: Competitive Landscape
The report comprises profiles of major companies operating in the global organic fertilizers market. Key players in the organic fertilizers market are Potash Corp., ScottsMiracle-Gro, Sustane Natural Fertilizers, Italpollina SpA, BioStar Organics, Talborne Organics, Mycsa AG, Inc., Bodisen Biotech Inc., Protan AG, Priya Chemicals, Biomax. Market players have been profiled in terms of attributes such as company overview, financial overview, business strategies, and recent developments.
The global organic fertilizers market has been segmented as follows:
By product

Peat based
Manure based
Others

By application

Cereals & grains
Oilseeds & pulses
Fruits & vegetables
Others (Nurseries, Turf etc.)

Regional Analysis

North America
Europe

Germany
France
Russia
Spain
CIS
Greece
Ukraine
Italy
Serbia
Rest of Europe

Asia Pacific

China
India
ASEAN(Ex Indonesia &Vietnam)
Indonesia
Vietnam
Japan
Australia
Rest of Asia Pacific

Latin America

Brazil
Mexico
Argentina
Rest of Latin America

Middle East & Africa (MEA)

South Africa
Iran
Israel
Nigeria
Morocco
Saudi Arabia
Egypt
Rest of Middle East & Africa
Custom Market Research Services
TMR offers custom market research services that help clients to get information on their business scenario required where syndicated solutions are not enough.
REQUEST CUSTOMIZATION

Organic Fertilizers Market