Sealers Market
Sealers Market (Product - Coal Tar, Acrylic, Bitumen & Asphalt; Applications - Pavement & Blocks, Driveway & Parking Lots) - North America Industry Analysis, Size, Share, Growth, Trends, and Forecast 2016 - 2024
Category :

Chemicals & Materials

Format :
Sealers Market: Snapshot
The sealers market in North America is projected to experience moderate growth over the course of the forecast period, driven primarily by the demand for sealers to be used in driveways and parking lots. The increased usage of acrylic sealers with added benefits such as low volatile emissions are likely to offer significant opportunities for growth in the future.
Transparency Market Research projects that the sealers market in North America will rise from a value of US$405.7 mn in 2015 to US$609.3 mn by 2024, expanding at a CAGR of 4.7% therein.
Increased Use of Sealers Anticipated in Driveways and Parking Lots
Driveways and parking lots formed the leading application segment of the North America sealers market, in terms of volume, accounting for a share of more than 80% in 2015. The use of coal tar and asphalt sealers in driveways and parking lots lends a sheen to the surface and provides protection against damage by water, lubricants, and external agents. Pavements and blocks will likely form the fastest-growing application segment of the sealer market between 2016 and 2024. Other applications of sealers include race tracks, airports, industrial constructions, and sport arenas.
By product, bitumen and asphalt-based sealers were the leading revenue generators in the North America sealers market in 2015. Rising bans on coal tar-based sealers, the improved performance of asphalt-based sealers, and competitive pricing strategies are expected to result in the increased consumption of bitumen and asphalt sealers in North America from 2016 to 2024.
Acrylic sealers are projected to expand at a significant pace during the forecast period, fueled by their superior product quality and increased penetration in the decorative concrete segment.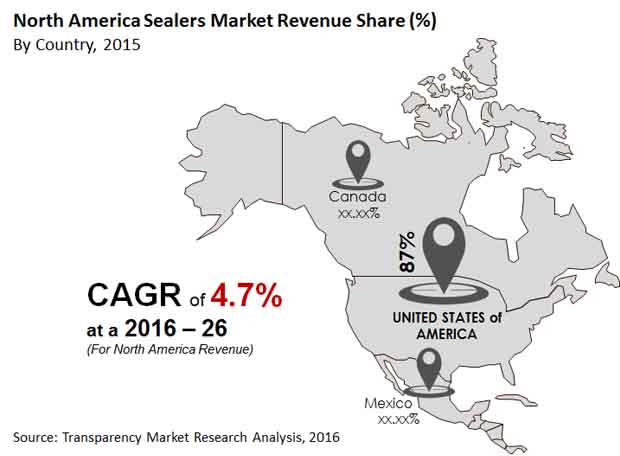 Consumer Preference for Bitumen and Asphalt-based Sealers Rises in U.S.
The North America sealers market comprises the U.S., Canada, and Mexico. In terms of volume, the U.S. held the leading share of more than 85% in 2015. This market has been undergoing a transition in demand from coal tar sealers to bitumen and asphalt-based sealers. Increasing awareness regarding PAH (poly-cyclic aromatic hydrocarbons) emissions from coal tar sealers has driven several states in the country to implement a ban on coal tar sealers. Several contractors and hardware stores, including Lowe's, Home Depot, and Ace Hardware, have also ceased applying and retailing coal tar-based sealers across the country. In the U.S., the acrylic segment is projected to expand at a significant pace during the forecast period, with the bitumen and asphalt segment accounting for a key share in the overall market in 2015.
Canada also held a considerable share in the sealers market in North America. The country is likely to witness a steady growth in the application of asphalt and bitumen as well as coal tar sealers in the future. Considering that currently Canada has no legislations or bans pertaining to the use of coal tar sealers, this market is expected to witness steady growth in the coming years. The demand for sealers in Canada stems from the driveway and parking lots application segment and the pavement and blocks segment is projected to present considerable scope for growth as well.
Key players in the North America sealers market include Neyra Industries, Inc., Bonsal American, Fahrner Asphalt Sealers LLC, Asphalt Coatings Engineering, Inc., RaynGuard, The Brewer Company, SealMaster, Vance Brothers, GemSeal Pavement Pro
Sealers are designed to beautify and protect driveways, parking lots and pavement & blocks from water damages. It reduces the maintenance cost & increases the shelf life of pavements. The sealers are primarily classified on basis of composition into: coal tar, bitumen & asphalt, acrylic and others (polyurethanes, silicone, epoxy based sealers). Sealers are used at commercial and residential constructions in pavements and blocks, driveways and parking lots, airports, race tracks and sport arenas. The choice of a sealer depends upon a number of variables including compatibility with surface of application, traffic, weather conditions, and project cost.
Increase in passenger vehicle is expected to boost the demand for driveways, garages, and parking lots in North America. However, growing governmental bans for coal tar based sealers in some U.S. states and upcoming bans in other counties and cities is projected to hamper the market growth. Rising research & development activities in soybean based bio-sealers are likely to offer large opportunities for sealers in the future.
The report includes detailed analysis of market drivers and restraints affecting the growth of the market over the forecast period. It also includes value chain analysis, which gives comprehensive overview of value addition at each stage of the value chain. The report maps upcoming opportunities in the sealers market and its impact on overall market growth. The study consist of future trend analysis and market attractiveness analysis.
The study is based on demand for sealers i.e. coal tar based, acrylic based, bitumen & asphalt based and others (epoxy, polyurethane, etc.). The various applications considered in the study include pavement & blocks, parking lots & driveway and airport, race tracks, etc. Pavement & blocks includes sidewalks, gardenways, courtyards and patios. Demand for sealers used on asphalt and concrete surfaces (block pavements) except road (highway and street roads) has been considered in the study. The study is focused only on North America region with further birfurcation on country level as U.S., Mexico and Canada. Each of the country is analyzed in terms of volume (kilo tons) and revenue (US$ Mn) on product and application segment from 2015 to 2024. For the research study, 2015 is considered as a base year and forecast period between 2016 and 2024.
In order to compile the research report, we conducted in-depth interviews and discussions with a number of key industry participants and opinion leaders. Primary research represents the bulk of research efforts, supplemented by extensive secondary research. We reviewed key players' product literature, annual reports, press releases, and relevant documents for competitive analysis and market understanding. Secondary research includes a search of recent trade, technical writing, Internet sources, and statistical data from government websites, trade associations, and agencies. This has proven to be the most reliable, effective, and successful approach for obtaining precise market data, capturing industry participants' insights, and recognizing business opportunities.
Secondary research sources that are typically referred to include, but are not limited to company websites, annual reports, financial reports, broker reports, investor presentations, SEC filings, National Asphalt Pavement Association (NAPA), Pavement Coating Technology Center (PCTC), Asphalt Institute, internal and external proprietary databases, and relevant patent and regulatory databases such as ICIS, Hoover's, oneSOURCE, Factiva, and Bloomberg, national government documents, statistical databases, trade journals, market reports, news articles, press releases, and webcasts specific to companies operating in the market.
Primary interviews are conducted on an ongoing basis with industry participants and commentators to validate the data and analysis. These help validate and strengthen secondary research findings. These also help develop the analysis team's expertise and market understanding.
The report comprises profiles of major companies operating in the North America sealer market. Key players profiled in the report include Neyra Industries, Inc., Bonsal American, Fahrner Asphalt Sealers LLC, Asphalt Coatings Engineering, Inc., RaynGuard, The Brewer Company, SealMaster, Vance Brothers, GemSeal Pavement Products and GuardTop. Market players have been profiled in terms of attributes such as company overview, financial overview, business strategies, and recent developments.
The report segments the sealer market as follows:
North America Sealer Market – Product Segment Analysis
Coal Tar
Acrylic
Bitumen & Asphalt
Others (Including polyurethanes, silicone, epoxy based sealers)
North America Sealer Market – Application Analysis
Pavement & Blocks
Driveway & Parking Lots
Other (Including airport, sports track, etc.)
North America Sealer Market – Country Analysis
Custom Market Research Services
TMR offers custom market research services that help clients to get information on their business scenario required where syndicated solutions are not enough.
REQUEST CUSTOMIZATION

North America Sealers Market