Non-volatile Memory Express (NVMe) Market
Non-volatile Memory Express (NVMe) Market (Component: Hardware (SSD, AIC, QAT, Storage Server, NVMeoF Cards, PCIe Connections, and Others) and Software; Communication Standard: Ethernet, Fiber Channel, and InfiniBand Network; Deployment Location: On-premise, Public Cloud, Private Cloud, and Co-lo Datacenters; Application: OLTP, OLAP, Cloud Services, Caching, Primary Storage, Data Virtualization, and Others; and End User: Hyperscale (Facebook, Amazon, Microsoft, Google, Tencent, Alibaba, and Baidu), Cloud Service Providers, and Enterprise/Traditional On-premises Datacenters) - Global Industry Analysis, Size, Share, Growth, Trends, and Forecast, 2019 - 2027
Category :

Electronics & Semiconductors

Format :
Non-volatile Memory Express (NVMe) Market – Operating Under the Cloud of Certainty
As businesses shift their growth tracks toward digitalization, data becomes the new crucial resource. With data being significant to assess consumer behavior and drive profitability, storage of the data being generated at an explosive rate remains a key challenge for enterprises.
Non-volatile memory express, also known as NVM express (NVMe), used for facilitating faster and efficient access to SSDs, has been emerging as the preferred interface for storage. Since large, mid, and some small level enterprises rely on cloud-hosting services to achieve global access to data, cloud service providers increasingly step up their efforts to leverage the prowess of NVM express to facilitate high-speed data transmission. With consistent upgrades in the specifications and the growing need of enterprises for digitalization, applications of NVM express are likely to advance in the future.
Foreseeing the growing adoption curve of non-volatile memory express, Transparency Market Research, in its latest report, points at the significant drivers and novel trends that unlock high sales opportunities in this market space.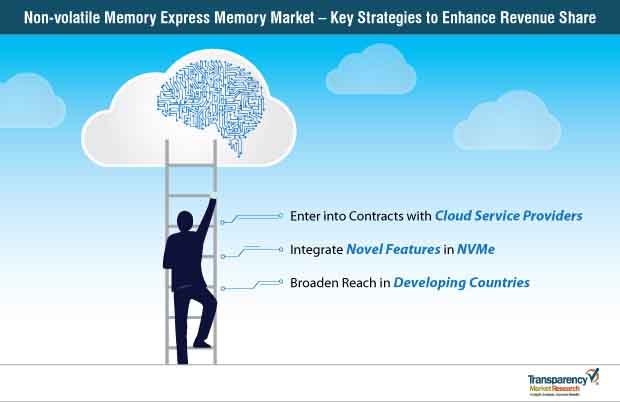 Planning to lay down future strategy? Perfect your plan with our report brochure here
Non-volatile Memory Express – A Journey from Niche Deployments to Being Mainstream
In recent times, more businesses than ever before have been operating under the exigency to perform ultra-fast data transfers across large-scale networks for business-critical missions. The popularity of NVM express relying on SDDs puts an end to the HDD era, and results in high adoption in enterprise servers and storage arrays. This has unlocked robust sales opportunities for NVM express. In 2018, the sales of NVMe registered a value of ~ US$ 19 billion.
With lower latency and high performance, NVM express is likely to foster innovation in data-driven technologies such as machine learning, automation, and artificial intelligence. The surging workload in enterprises will further push the demand for NVM express for performance acceleration. With the growing requirement for interfaces that reduce latency, NVM express over fabrics is likely to penetrate deeper into the applications for eliminating the need for SCSI translation. Analyzing the impact and relevance of the trends, the NVM express market is likely to record a robust CAGR of ~ 28% during the forecast period.
Want to know the obstructions to your company's growth in future? Request a PDF sample here
Asia Pacific to Emerge as the New Lucrative NVMe Market
In a digital landscape, where consumer-centricity and personalization distinguish the market leaders from market slowcoaches, digital businesses resort to data analytics to comprehend the shifting paradigms of consumer behavior. North America, being home to data-driven companies such as Facebook, Amazon, Google, and Microsoft, leads the global non-volatile memory express market. In addition, as enterprises of all scales are keen on migrating their on-premise servers to the cloud, NVM express is likely to spectate bullish sales prospects in the region.
In Asia Pacific, the non-volatile memory express market has been on ascension, as enterprises consistently tend to look for solutions to optimize their business processes. Manufacturers are evincing their competency by introducing newer and better versions such as NVMe 1.3 and NVMe 1.4, which is likely to augur well for the adoption of NVMe. With a high number of smartphone users in China and India, and penetration of 4K video technology, online video streaming service providers are advancing towards the adoption of NVM express to facilitate the study of consumer behavior, which will aid them in providing their consumers with personalized offerings.
With the era of 5G on the horizon, consumers will be more inclined towards leveraging the prowess of technology to meet their routine needs, which will generate more data for enterprises to translate into sales opportunities. Such instances will solidify the position of the Asia Pacific non-volatile memory express market by driving its size to the north.
The unprecedented growth of the market, however, is likely to be impeded by the unattractive price tag of NVM express, which relies on SDDs for operation. The high cost of SDDs turns the entire application of non-volatile memory express cost-prohibitive, which shifts the focus of some enterprises to their cheaper alternatives - HDDs.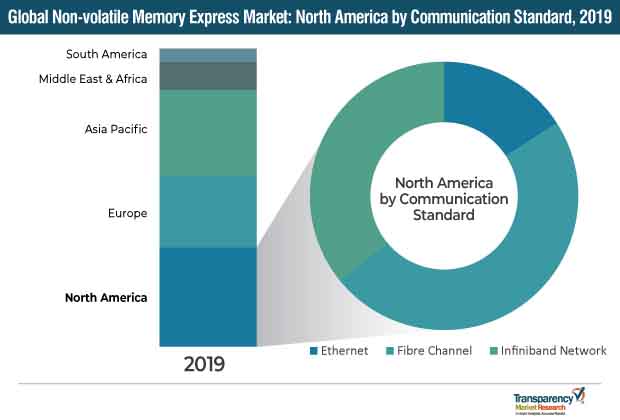 Looking for exclusive market insights from business experts? Request a Custom Report here
Non-volatile Memory Express Market – Winning Imperatives
Broaden Reach in Developing Countries
With high population density and deeper penetration of smartphones, developing countries serve as a goldmine of opportunities for long-term investment in the NVMe market. As NVM express remains preferable for the manufacturing of smartphones, leading producers of smartphones - China, followed by India - have a high ROI potential. Additionally, matching the footsteps of developed countries, enterprises in developing countries are increasingly relying on digitalization to achieve horizontal business growth, which further bodes well for the NVMe market.
Prioritize Contracts with Cloud Service Providers
As towering concerns apropos of maintaining expensive software and hardware prevails in enterprises, technological innovation in the cloud computing landscape has been flamboyant. Realizing the efficiency, flexibility, productivity, and ease of collaboration that cloud computing has in store, enterprises are found availing cloud services to cope up with issues such as quality control, cyber security, and handling big data, which has been turning cloud service providers into the key end users of NVMe. Manufacturers can leverage the opportunity to steer their efforts towards the development of NVMe that is specific for use in cloud-based services.
Integrate Novel Features in NVMe
The NVM express landscape has been going through a phase of consistent transmutation, given the enhancements in its specifications that make it suitable for diversified applications and deployments. This offers an opportunity for manufacturers to distinguish their product offerings by providing NVMe with improved performance, low power consumption, efficient data transfer, and low latency.
Non-volatile Memory Express Market - Competitive Landscape
The NVMe market spectates a high intensity of competition, with the presence of numerous established service providers. As a long run in the NVM express market highly relies on technological expertise, established players encounter a low threat from new entrants.
Frontrunners in the NVMe market hold a dominant share of ~ 51% and comprise:
Samsung Electronics Co. Ltd
Intel Corporation
These players have impressive expertise in the development of memory and storage solutions. For instance, Intel Corporation launched two SSDs - one for consumers and one for data center applications. These SSDs boast capacities of 500GB, 1TB, and 2TB storage. In January 2019, Samsung averred the launch of Samsung 970 EVO Plus, the new line in the NVM express SSD portfolio with advanced features. This novel NVMe is specifically developed for end users dealing with intensive workloads regarding data volume.
The focal point of prominent players - Western Digital and Toshiba - is on the diversification of their product portfolios, and they account for ~ 20% of the total NVM express market share. In February 2018, Western Digital announced new additions to its already wide range of NVMe-based systems, platforms, SSDs, and memory drives for data center and cloud customers.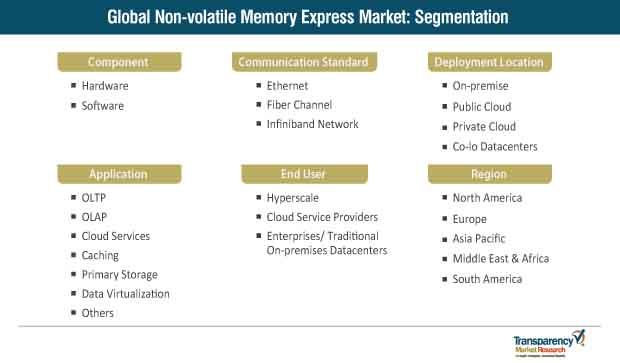 Analysts' Inference of the Non-volatile Memory Express Market

Author mark the growth prospects of the NVMe market as bullish, with high gains likely due to the popularity and adoption of cloud-based services. Investments made in developing markets will offer high returns, as the penetration of smartphones is high in these regions, in terms of both, usage and manufacturing. NVM express developers can capitalize on the opportunities ascending in the Asia Pacific region, as enterprises learn to embrace the digital culture, following the digital natives of developed countries.

Strategic partnerships with smartphone manufacturers will sort the long-term supply issues for NVM express service providers; however, constant enhancements in products will unlock high sales opportunities in cloud-based applications. However, service providers need to step up their efforts in the direction of controlling the cost to have a successful long run.
According to Transparency Market Research's latest research report on the non-volatile memory express (NVMe) market for the historical period of 2017 - 2018 and the forecast period of 2019 - 2027, the rising demand for non-volatile memory express from datacenters is expected to boost the global NVMe market during the forecast period.
In terms of revenue, the global non-volatile memory express market is estimated to reach ~ US$ 159 Bn by 2027, expanding at a CAGR of ~ 28% throughout the forecast period.
Robust Growth in Data Volume across the Globe: A Key Driver
There has been significant rise in data volume across the globe, which is increasingly being leveraged by companies in order to know their consumers better and drive their profitability. This rise can be attributed to the widespread adoption of advanced technologies including mobile, social, Internet of Things, Big Data, Deep Learning, and Artificial Intelligence (AI).
In addition to the rise in data volumes, the complexity associated with the data is also rising. Data generated from video streaming, social media, and users' text messages is highly unstructured in nature.
In line with this, various innovative technologies are emerging in addition to advancements in flash storage and software-defined infrastructures, which is greatly aiding transformation in the datacenter landscape.
However, IT spending is not rising in proportion to rising data volumes. Datacenter customers faced a complex challenge of tradeoff between high cost and high speed to manage data, and low cost and low speed for the same. Traditionally, they mostly preferred HDDs (hard disk drives) for storage, as they are inexpensive and offer abundant storage space. In some cases, they would prefer SSDs (solid state drives) for cache-based storage, which would offer higher data transfer speed.
Key providers of storage solutions are actively introducing advanced solutions for datacenters, which can help them manage their complex data more efficiently. Non-volatile memory express used as an interface of SSDs provides customers with a high-bandwidth and low-latency framework for SSDs. Furthermore, NVMe specifications are characterized by multitenant and multiple queues, which support a large number of deep queues and commands per queue. This is beneficial for hyperscale environments.
Thus, significant increase in data volumes is estimated to promote the adoption of NVMe as an interface for SSDs, and, in turn, fuel the market for non-volatile memory express. This factor is expected to have a medium impact on the global NVMe market in the near future.
Introduction of Advanced NVMe Solutions by Key Market Players
Non-volatile memory express technology was devised in 2011, and since then, it has gained popularity among enterprises, owing to its various advantages such as lower latency, quicker data transfers, low power consumption, and improved performance.
Key players operating in the global NVMe market are increasingly focusing on introducing advanced solutions pertaining to NVMe interfaces. This move would help these companies in accelerating the adoption of NVMe for enterprises as well as consumers in smartphones, laptops, and tablets.
These trends are expected to have a positive impact on the global non-volatile memory express market in the near future.
High Costs Associated with NVMe Technology to Pose a Major Challenge
Over the last few years, NVMe technology has been gaining prominence among enterprises as well as consumers, owing to its lower power consumption, lower latency in data transfer, more consistent data delivery, and higher I/O per Second (IOPS), which translates into reduced overall cost of ownership for enterprises.
However, the operation of NVMe depends upon high-performance SSDs, which are expensive in nature as compared to HDDs. This makes them an unattractive choice to store a large volume of data and opt for inexpensive HDDs.
This factor may hinder the global NVMe market in the next few years.
Global Non-volatile Memory Express (NVMe) Market: Competition Landscape
Detailed profiles of manufacturers of non-volatile memory express have been provided in the report to evaluate their financials, key product offerings, recent developments, and strategies.
Key players operating in the global NVMe market are

Broadcom Inc.
Cisco
Dell
IBM
Intel Corporation
Marvell
Micron Technology, Inc.
Microsemi
NetApp
Oracle
Samsung
Toshiba Corporation
Western Digital Corporation.
Global Non-volatile Memory Express (NVMe) Market: Key Developments
Key manufacturers of non-volatile memory express such as Oji Holdings Corporation are strengthening their overseas sales structure by increasing their production capacities. Some other key developments in the global NVMe market are as follows:
In March 2019, Micron Technology, Inc., a key player operating in the global NVMe market, announced the launch of a new solid-state drive called Micron 2200 PCIe NVMe SSD, featuring support for the NVMe protocol for the purpose of increasing bandwidth and reducing latency. This solution would help the company address the increasing requirement for NVMe storage-class drives from OEMs and other industries, including cloud service providers and hyperscale industries.
In March 2019, Huawei launched an all-flash entry-level OceanStor Dorado3000 v3 array and added NVMe support to mid-range and high-end all-flash Dorado storage. OceanStor Dorado3000 v3 is a storage area network array that ranges from high-end arrays to low-end arrays consisting of Dorado18000 v3, Dorado6000 v3, Dorado5000 v3, and Dorado3000 v3.
In the report on the global non-volatile memory express market, we have discussed individual strategies, followed by company profiles of manufacturers of NVMe. The 'Competition Landscape' section has been included in the report to provide readers with a dashboard view and company market share analysis of key players operating in the global non-volatile memory express market.
Non-volatile Memory Express (NVMe) Market – Opportunity Assessment
Transparency Market Research (TMR), in its latest study, draws an outline tracing the growth trajectory of the non-volatile memory (NVMe) express market for the forecast period of 2019 to 2027. This comprehensive market study offers key research findings that stakeholders can leverage to gain an upper hand over their competitors.
The research report delivers dynamics of the NVM express market, which includes the drivers, restraints, opportunities, and threats to assess the growth prospects. The global study maps key market indicators that offer information regarding the potential of the non-volatile memory express market. The NVM express market has been evaluated in terms of value (US$ Mn) and volume (Mn Units).
This exclusive study comprises key developments and trends that hold the potential to influence the growth of the NVM express market during the forecast period. An analysis of Porter's Five Forces has been included in the NVM express market study in order to offer insights into the competitive landscape. In addition, the research report also includes a revenue share analysis by company. The study profiles key players operating in the NVMe market, along with their recent development, geographical presence, key competitors, revenue, and SWOT analysis.
Non-volatile Memory Express (NVMe) Market – Key Questions Answered
The study of the NVM express market offers exclusive insights regarding the trends affecting its growth at a microscopic as well as macroscopic level during the forecast period. Insights offered in the report aims at addressing the concerns of stakeholders, so as to equip them with reliable data that they can leverage to devise well-informed strategies and acquire a significant market share. Some of the key questions answered in the research report include:
What are the significant drivers influencing the growth of the NVMe market?
What is the revenue share of different components in the segments?
What are the key competitive strategies of leading players functioning in the NVMe market?
What is the market share of key players operating in the NVM express market?
Which end user is likely to offer lucrative growth opportunities to the NVMe market?
Which region will remain a key market for the non-volatile memory express market?
Non-volatile Memory Express (NVMe) Market – Research Methodology
A systematic research approach has been taken to arrive at the market numbers. Data-driven insights into the NVMe market have been obtained through exhaustive secondary as well as primary research methodology. In order to conduct primary research, key industry experts, vendors, distributors, and players were interviewed. For conducting secondary research, the annual reports of companies, their financial reports, government publications, case studies, white papers, press releases, and reliable paid publications were studied. Post the data validation stage, qualitative as well as quantitative information regarding the NVM express market can be obtained.
Non-volatile Memory Express (NVMe) Market – Segmentation
In order to assess the NVM express market at a granular level, our analysts have bifurcated the market into six broad categories – component, communication standard, deployment location, application, end user, and region. Each of these segments have been assessed in a comprehensive manner to obtain incisive data apropos of recent developments and trends. A country-wise analysis of the non-volatile memory express market has been included in the study, which helps in analyzing the overall size of the market in North America, Europe, Asia Pacific, the Middle East and Africa, and South America region.
Component

Hardware

Software

Communication Standard

Ethernet

Fiber Channel

Infiniband Network

Deployment Location

On-premise

Public Cloud

Private Cloud

Co-lo Datacenters

Application

OLTP

OLAP

Cloud Services

Caching

Primary Storage

Data Virtualization

Others

End User

Hyperscale

Cloud Service Providers

Enterprises/ Traditional On-premises Datacenters

Region

North America

Europe

Asia Pacific

Middle East and Africa

South America
Custom Market Research Services
TMR offers custom market research services that help clients to get information on their business scenario required where syndicated solutions are not enough.
REQUEST CUSTOMIZATION

Non Volatile Memory Express Nvme Market