Non-opioid Pain Patch Market
Non-opioid Pain Patch Market (Patch Type - Lidocaine Patches, Diclofenac Patches, Methyl Salicylate Patches, Capsaicin Patches, Ketoprofen Patches; Distribution Channel - Hospital Pharmacies, Online Pharmacies, and Independent Pharmacies and Drug Stores) - Global Industry Analysis, Size, Share, Growth, Trends, and Forecast 2016 - 2024
Category :

Pharmaceutical

Format :
Global Non-opioid Pain Patch Market: Need for Non-addictive Chronic Pain Treatment to Foster Growth
Researchers have prioritized the search for non-opioid drugs with escalating rates of opioid addiction. For years, physicians had been providing an aggressive treatment for chronic treatment resulting in narcotic-addiction among patients. However, the healthcare industry is no longer marrying the concept of pain relief with narcotic analgesics. Medical pain-management as a whole is drifting away from addictive procedures or treatments towards evidence-based treatments using non-opioid analgesics.
The sharp rise in the number of overdose deaths only echoes the magnitude of the crisis caused by the opioid epidemic. According to the World Health Organization, 27 Mn people suffered from opioid disorders in 2016. Overdose deaths accounted for around a third and a half of all the drug-related deaths.
The rising popularity of non-opioids as the "analgesics of the future" and efforts focused on tackling the crisis of "opioid epidemic" calls for a need to conduct an in-depth analysis of the non-opioid pain patch market. In its latest offering, Transparency Market Research talks about how the changes in healthcare trends and consumer demographics have impacted the market's evolution.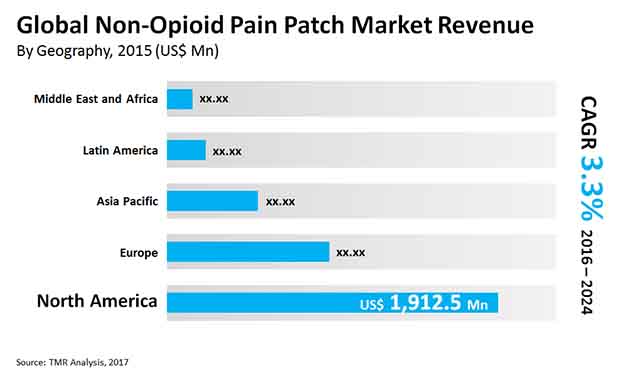 A Walk through the Evolutionary Timeline
As the consumers realized the ill-effects of opioid treatment, companies manufacturing and marketing these drugs faced public backlash. This acted as a stepping stone for the development of new non-opioid treatments which have redefined the non-opioid treatment market's growth. In a bid to promote the use of non-opioid analgesics, the U.S. Food and Drug Administration (FDA) launched a campaign called the "innovation challenge". It was aimed at the development of medical devices that could combat opioid use disorder.
The non-opioid pain match treatment market has come a long way from the development of the first patch product for PHN treatment in 2013 to the launch of OTC water-free lidocaine patch in March 2016. Furthermore, in February 2018, Tremeau Pharmaceuticals, Inc., closed the equity raise of $5.2 Mn to fund non-opioid treatments for rare diseases.
With the escalating new developments, the global non-opioid pain patch market is poised to rise from its initial valuation of US$ 3,750 Mn in 2015 to reach US$ 4,983.3 Mn in 2024. However, the high popularity of oral pain relief drugs due to their ability to mitigate pain in a short duration may act a stumbling block in the non-opioid pain patch market.
Trends Causing a Stir in the Non-opioid Pain Patch Market
Rising Popularity of Transdermal Drug Delivery
Transdermal delivery despite being an unexplored aspect of drug delivery is gradually entering the league of blockbuster drugs. Capitalizing on this riveting trend, non-opioid drug manufacturers are developing transdermal non-opioid painkiller patches. Moreover, the Food and Drug Administration is keen on approving transdermal drugs because of their efficacy in reducing postoperative pain. For instance, in March 2018, the FDA approved the non-opioid painkiller patch developed by Sorrento. Market players are not only launching new non-opioids but relaunching high-selling NSAIDs as into transdermal drug delivery systems.
Replacement of Existing Pain Patches with Next Gen Patches
In a bid to enhance the efficiency of the pain patch treatment, leading players are concentrating their efforts on upgrading the existing pain patches or replacing them with next-generation pain patches. This trend of introducing the existing drug with a better design has helped manufacturers garner considerable attention from the physicians and the patients. One such example of upgradation of pain patches is the study conducted by SCILEX Pharmaceuticals Inc., for the development of ZTlido, an anhydrous patch created using the patented technology. The development of such trailblazing products has amplified the adoption of non-opioid pain patches for the treatment of chronic pain.
Key Winning Imperatives
Development of Personalized Non-opioid Pain Patches
Personalized medicines have taken the medical industry by a storm with soaring number of drug manufacturers tailoring the medicines as per the patient's needs. Banking on the rising demand for "tailored medicine", manufacturers are relying on patient genotyping to develop personalized pain patches for the patients. Following the same trends, Assurex Health, Inc. is working on introducing a genomics test to check the suitability of pain patches. This move is also aimed at developing solution for chronic pain with considerably low side effects. This incorporation of pharmacogenomics in the non-opioid pain patch unlocks a major growth opportunity for the market players.
Building Alliances with Leading Hospitals
According to TMR's study, consumers are most likely to buy non-opioid drugs from hospital pharmacies, making it the most preferred distribution channel for the manufacturers. Hospital pharmacies accounted for 48.3% of the non-opioid pain patch market's share in 2016. As a result, manufacturers are building strong alliances with the leading hospitals to gain access to their customer base.
Players are also gradually moving towards online sales channels due to the improvements in the electronic payment technology. Consumer interest is gradually shifting towards online pharmacies due to the extensive range of medications available online and transparency offered in terms of prices.
A Walk through the Competition Landscape
Market players in the non-opioid pain patch market share a moderate rivalry as the market is still in its nascent stage. Although the number of market players is less, they have remarkably high global reach due to strong brand identities. The top three players in the market including Hisamitsu
Pharmaceutical Co., Inc., Acorda Therapeutics, Inc., and Endo International plc account for nearly 40% of the global market share.
These companies are relying on mergers and acquisitions, co-promotion agreements, and developing novel treatments to sustain their position in the market. Below are a few recent strategies deployed by the leading market players:
Acorda Therapeutics has two phase 3 and one phase 2 drug candidates for Parkinson's disease as of December 2016.
In February 2015, Endo International plc acquired Litha Healthcare Group in order develop advanced products using its expertise in specialty medicines.
In December 2016, Hisamitsu Pharmaceutical Co., Inc. filed an application for a transdermal drug for the treatment of allergic rhinitis in Japan.
Mushrooming companies in regional markets are focusing on expanding their geographical reach through collaborations with leading pharmaceutical companies. Leading market players are supporting this move as it helps them gain access to local markets. However, it is hard to ignore the fact that this substantially increases the threat of new entrants and gives them a significant platform to proliferate the global market.
Asia Pacific hosts the highest number of regional players due to high prevalence of chronic pain and the history of opioid addiction. Some of the regional players in Asia Pacific include TEH SENG PharmaceuticalMfg. Co., Ltd., Teikoku Seiyaku Co., Ltd., and Hisamitsu Pharmaceutical Co., Inc.
Analysts' Viewpoint

Authors of the report have a positive outlook on the non-opioid pain patch market's growth during the forecast period. According to TMR analysts, manufacturers should engage in research and development to develop advanced next generation paint patches to expand their precincts in the market. Moreover, as there is a high demand for personalized medicines, it will be worthwhile for the market players to develop personalized non-opioid pain patches. Moreover, in order to keep up with the recent trend, companies are increasingly developing transdermal non-opioid pain patches.

The market is expected to have a high threat of new entrants during the forecast period. The easy manufacturing process of non-opioid pain patches and less investments provide a vital entry point for the new comers. They are also collaborating with the established companies in the non-opioid pain patch market, in order to expand their footprints across the globe.
Global Non-opioid Pain Patch Market: Overview
Transdermal drug delivery systems (TDDS) is a systemic drug therapy approach which eliminates the risk of gastro-intestinal adverse reactions. The low concentrations of drugs are delivered using these systems as first pass metabolism in the liver is bypassed by using them. The non-opioid pain patch market is witnessing a steady growth due to stable adoption rates. Currently there are three generations of the transdermal drug delivery systems in the market, out of which majority of the FDA approved patches belong to first-generation products. Non-opioid pain patches offer efficient transdermal drug delivery option for the treatment of various pain conditions for a prolonged period of time. The non-opioid pain patches have various functional features such as occlusive backing film prevents inadvertent drug loss, and also improves drug penetration, the protective drug release liner maintains the patch integrity, and prevents accidental exposure before its application.
The market overview section of the report comprises qualitative analysis of the overall non-opioid pain patch market considering the factors determining the market dynamics such as drivers, restraints and opportunities, along with Porter's five force analysis and market attractiveness analysis. In addition, such as market opportunity analysis for the patch type, and distribution channels, and key industry developments has also been provided. Key industry developments include the major events occurred in past decade and are expected to occur during the forecast period which are likely to affect the market dynamics. The WHO pain ladder for pain management treatment has also been provided, along with the percentage prevalence rates of acute pain by region as well as by countries. The snapshot of patch design technologies has been given in the market overview section.
Global Non-opioid Pain Patch Market: Market Segmentation
The global non-opioid pain patch market has been segmented on the basis of patch type, and distribution channels. In terms of patch type, the global non-opioid pain patch market is divided into lidocaine patches, diclofenac patches, methyl salicylate patches, capsaicin patches, ketoprofen patches, and others. Furthermore, on the basis of distribution channels, the global non-opioid pain patch market has been classified as hospital pharmacies, online pharmacies, and independent pharmacies & drug stores. The market for these patch type, and distribution channels has been extensively analyzed on the basis of factors such as non-opioid patch usage pattern, sales revenue, geographic presence and technological developments. The market size and forecast in terms of revenue (US$ million) for each of these segments have been provided for the period 2014 to 2024, considering 2015 as the base year. The report also provides the compounded annual growth rate (CAGR) for each segment for the forecast period 2016 to 2024.
Geographically, the non-opioid pain patch market has been classified into five segments namely, North America, Europe, Asia-Pacific, Latin America, and the Middle East & Africa. The market size and forecast for each region has been provided for the period 2014 to 2024, in terms of patch type, and distribution channels, along with the CAGR (%) for the forecast period 2016 to 2024.
Global Non-opioid Pain Patch Market: Competitive Landscape
The report also provides a section on the competitive landscape, wherein the market share analysis of leading players in the global non-opioid pain patch market, in terms of percentage share in 2016 (expected) has been discussed. A list of recommendations has also been included for new entrants as well as existing market players to help them establish a strong presence in the market and increase their market share. The report concludes with the profiles of major players in the global non-opioid pain patch market such as Acorda Therapeutics, Inc., ALLERGAN, Endo International plc, GlaxoSmithKline plc, Hisamitsu Pharmaceutical Co.,Inc., IBSA Institut Biochimque SA, Mylan N.V. , Pfizer, Inc., TEH SENG Pharmaceutical Mfg. Co., Ltd., and Teikoku Seiyaku Co., Ltd., among others. The major market players are evaluated on various parameters such as company overview, financial overview, product portfolio, business strategies and recent developments.
The global Non-opioid Pain Patch market has been segmented as follows:
by Non-opioid Pain Patch Type

Lidocaine Patches
Diclofenac Patches
Methyl Salicylate Patches
Capsaicin Patches
Ketoprofen Patches
Others

by Distribution Channel

Hospital Pharmacies
Online Pharmacies
Independent Pharmacies & Drug Stores

by Geography

North America
Europe
Asia Pacific
Latin America
Middle East & Africa
Custom Market Research Services
TMR offers custom market research services that help clients to get information on their business scenario required where syndicated solutions are not enough.
REQUEST CUSTOMIZATION

Non Opioid Pain Patch Market