Neurology Devices Market
Neurology Devices Market (CSF Shunts, CSF Drainage, Clot Retriever, Snare, Embolic Coil, Flow Diversion, Neurosurgery & Neurostimulation Devices) - Global Industry Analysis, Size, Share, Growth, Trends and Forecast, 2013 - 2019
Category :

Healthcare

Format :
Increased sophistication and technological advances has paved a new path for treatment of acute and chronic neurological diseases. According to the WHO, neurological disorders constitute approximately 12% of the total deaths worldwide, of which cerebrovascular diseases are responsible for 85% of the deaths due to neurological disorders. In addition, rise in ageing population and increasing awareness of neurological disorders has triggered the growth of this industry. According to the Brain Aneurysm Foundation it is estimated that around 6 million people in the U.S. alone have unruptured brain aneurysm and the annual rate of rupture is approximately 8 to 10 per 10,000 or about 30,000 people in the U.S. suffer a aneurysm rupture. Thus rise in number of surgeries compounded with rise in incidence of neurological diseases have boosted the overall growth of neurological devices industry.
Neurological devices include CSF management devices, interventional neurology, neurosurgical devices and neurostimulation devices. The neurostimulation devices market is expected to foresee the highest growth rate during the forecast period and also accounted for the largest market in year 2012. This market holds immense growth owing to the aging population in the developed economies in the world, technological advancements in the field of medical devices, increasing prevalence of lifestyle induced diseases such as obesity and depression, increasing demand for minimally invasive medical procedures and rising healthcare related consumer expenditure in the developed economies. The interventional neurology market is also expected to have a healthy growth rate after neurostimulation devices market. The neurothrombectomy devices segment of interventional neurology is expected to have a strong growth in coming years of forecast period. This growth has been attributed to rise in incidence cases of stroke and cerebral aneurysms.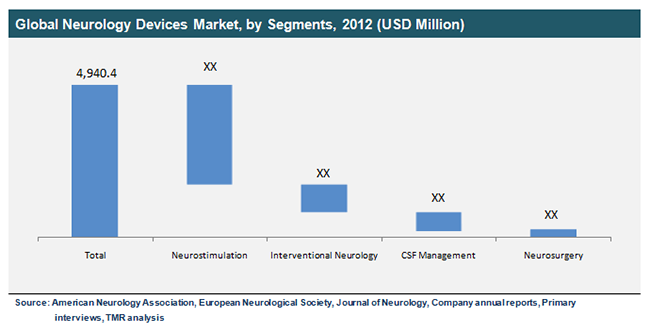 The growing burden of these diseases coupled with uncertain economic conditions in the U.S. and Europe has compelled the OEMs to introduce cost effective devices for treatment of neurological disorders. Tax reforms along with increased regulatory compliance norms are also restraining the growth and profitability of the major companies.
Geographically, the North American region constituted the largest market for neurological devices market in 2012; however, Asia-Pacific is predicted to foresee the highest growth rate of over 18% from 2013 to 2019. This growth has been attributed to increase in respiratory disease population and rising disposable incomes coupled with change in lifestyle. In addition, economic development and healthcare reforms would increase the government funding in its intensive R&D and would trigger the growth of this market in Asia-Pacific region.
The major players of this market are Medtronic, Covidien, Johnson & Johnson, Stryker, Integra, St.Jude, Boston Scientific and others.
Neurological disorders-conditions that affect the nervous system-are on the rise, and so is the demand for treating these conditions. This, in turn, has given the demand for neurology devices a fillip. The market for neurology devices is currently in expansion mode, and this research report charts this growth path between 2013 and 2019.
Given that about 12% of all deaths globally are related to neurological disorders, the growth of the neurology devices market will occur in a sustained and organic manner, the report observes. For the purpose of this study, the global neurology devices market has been systematically segmented and sub-segmented on the basis of product types and geographical regions. An analysis of the key performance indicators of the market has been carried out to understand the future course of growth of the global neurology devices market.
A market share analysis forms an important part of the report and has been applied to both the competitive scenario as well as the segments (products and geographical regions).
The report segments the global neurology devices market on the basis of segments into: Cerebrospinal fluid management devices, interventional neurology devices, neurosurgery devices, and neurostimulation devices. In the same vein, the market is also segmented on the basis of geography into: North America, Europe, Asia Pacific, and Rest of the World.
The report estimates the growth of the neurology devices market for a six-year period ranging from 2013 – 2019; whereas 2012 has been taken as the base year for all calculations, unless otherwise stated.
Overview of the Global Neurology Devices Market
Of all deaths linked to neurological disorders globally, 85% occur due to cerebrovascular diseases. This alarming increase in the number of cerebrovascular diseases is a result of the expanding aging population base and a general rise in the diagnosis of and awareness about neurological disorders. To address the growing burden of neurological disorders on healthcare systems, governments are imposing price controls on various medical devices used to treat these conditions. OEMs are thus seen introducing cost-effective neurology devices, furthering the expansion of the market.
Although growth is occurring, it is stunted by the presence of various levies and compliance norms being adopted not just by the developed, but also developing economies. This problem is only heightened by an almost-stagnant growth in the neurology devices market in developed countries. This brings developing economies such as China, India, and Brazil on the radar of OEMs in the neurology device market.
The sub-segments under the cerebrospinal fluid management devices market are: cerebral external drainage and cerebral shunts. Likewise, the market for interventional neurology devices has been split into: Neurothrombectomy devices (clot retrievers, snare devices, and suction aspiration devices), cerebral balloon angioplasty and stents (carotid artery stents, filter devices, balloon occlusion devices), aneurysm coiling and embolization (embolic cells, flow persion devices, and liquid embolic agents), and support devices (micro guidewires and micro catheters).
The report also segments the neurosurgery devices market into: neuroendoscopes, stereotactic systems, ultrasonic aspirators, and aneurysm clips. The sub-segments analyzed under the neurostimulation devices market are: spinal cord, deep brain, vagus nerve, sacral nerve, and gastric electric stimulation devices.
Companies profiled in the report
The leading players in the global neurology devices market that have been profiled in the report are: Medtronic, Boston Scientific Group, St. Jude Medical, Cyberonics, and Covidien.
Global Neurology Devices Market, by Segments
Cerebrospinal Fluid Management Devices Market

Cerebral External Drainage

Interventional Neurology Devices Market

Neurothrombectomy Devices

Suction Aspiration Devices

Cerebral Balloon Angioplasty & Stents

Balloon Occlusion Devices

Aneurysm Coiling & Embolization
Support Devices
Neurosurgery Devices Market
Neurostimulation Devices Market

Spinal Cord Stimulation Devices

Deep Brain Stimulation Devices

Sacral Nerve Stimulation Devices

Vagus Nerve Stimulation Devices

Gastric Electric Stimulation Devices
Neurological Devices Market, By Geography
North America
Europe
Asia Pacific
Rest of the World
This report gives you access to decisive data such as:
Market growth drivers
Factors limiting market growth
Current market trends
Market structure
Market projections for the coming years
Key highlights of this report
Overview of key market forces propelling and restraining market growth
Up-to-date analyses of market trends and technological improvements
Pin-point analyses of market competition dynamics to offer you a competitive edge
An analysis of strategies of major competitors
An array of graphics and SWOT analysis of major industry segments
Detailed analyses of industry trends
A well-defined technological growth map with an impact-analysis
Offers a clear understanding of the competitive landscape and key product segments
Custom Market Research Services
TMR offers custom market research services that help clients to get information on their business scenario required where syndicated solutions are not enough.
REQUEST CUSTOMIZATION