Molded Plastics Market
Molded Plastics Market (Material Type - Polypropylene, Polyethylene, Polyvinyl Chloride, Polystyrene, Polyethylene Terephthalate, Polyethylene Terephthalate; Technology - Injection Molding, Injection Molding, Blow Molding, Thermoforming; Application - Packaging, Consumable & Electronics, Automotive & Transportation, Building & Construction) - Global Industry Analysis, Size, Share, Growth, Trends and Forecast 2016 - 2024
Category :

Chemicals & Materials

Format :
Global Molded Plastics Market – An Overview:
A multitude of factors are helping the Global Molded Plastics Market chart a notable growth trajectory over the forecast period of 2016 to 2024. Some of the industries that are growing, driving the demand for molded plastics, are consumable and electronics, building and construction, and automotive and transportation. And, as the Global Molded Plastics Market grows, the landscape would be market by new growth opportunities that players who are active and aggressive will leave no stone unturned to make the most of.
Some of the notable developments and factors that are helping the Global Molded Plastics Market chart the projected growth over the forecast period are elaborated below.
Construction volumes are growing and the pace is remarkable. As per a recent study, 85% increase would be noted in these volumes by 2030 and that would help the market accrue a USD 15.5 trillion worth of revenue. It is pertinent to note here that countries that will be at the forefront of this growth are just three and are India, China, and the United States of America.
There would be an increase in demand for automotive and transportation and construction and building over the forecast period owing to an increase in human population on the planet which is estimated to be to the tune of 2 billion, increasing the current number of 7.7 billion to 9.7 billion by the year 2050. These extra people inhabiting the year by 2050, will demand extra houses, offices, recreational centers, and civic amenities, leading to a growth in the Global Molded Plastics Market. They would also require transportation means and modes to go about their daily business, adding to demand for vehicles. This again would be a significant growth propeller in the market over the stated period.
Molded Plastics Market: Snapshot
Increased oil and gas production activity and associated industrial development, as well as rapid expansion in the construction and packaging industries have contributed significantly to the rise in demand for molded plastic products. Collaboration with multinational players has helped plastic converters develop molded plastics that comply with world-class quality requirements and over the decades, plastics have replaced key materials such as metals, glass, and paper to become an integral part of our everyday life.
The global molded plastics market was valued at US$124.8 bn in 2015 and is projected to reach US$202.2 bn by 2024 at a CAGR of 5.6% therein. In terms of volume, the market is expected expand at a 4.3% CAGR from 2016 to 2024.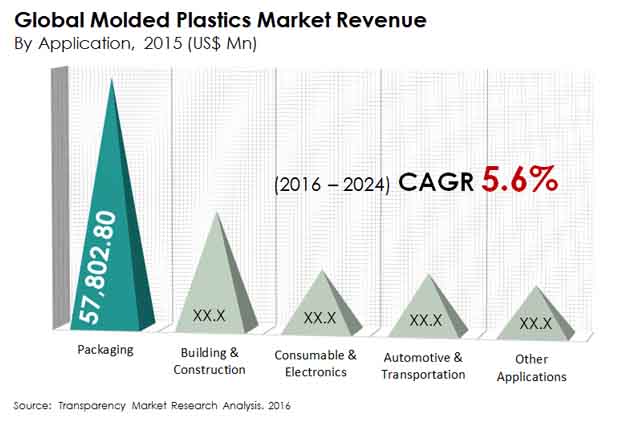 Growing Usage of Molded Plastics in Packaging and Building & Construction
Molded plastics find application in various end-use industries, including packaging, consumables and electronics, automotive and transportation, and building and construction.
The packaging application leads the molded plastics market in terms of volume as well as value. This industry is anticipated to remain the most prominent consumer of molded plastics during the forecast period, with the consumption volume amounting to almost 30% more than any other application. The price of molded plastics used for packaging has been slightly higher than that for any other application and this is also contributing to the growth of the packaging segment by value.
The commercialization of advanced polymers is supporting the demand for molded plastics in the building and construction sector. Transparency Market Research has observed that molded plastic products used for building and construction have been witnessing increased growth and the emerging markets in Asia Pacific are significant contributors to this growth.
Europe and North America Face Maturity, APAC to Present Lucrative Opportunities
Geographically, the molded plastics market has been segmented into five regions: North America, Asia Pacific, Europe, the Middle East and Africa, and Latin America. Asia Pacific, with countries such as India and China, led the global molded plastics market by volume, and is anticipated to account for a share of 49% by the end of 2016. This is followed by Europe and North America and the total revenue in these two regions together will constitute around 29% of the total market value by 2016 end.
Asia Pacific is expected to remain the most attractive region for the molded plastics market given that more than half the global population and emerging markets are in Asia Pacific. As a result, international players have increased their focus on the region.
The Middle East and Africa is a fast-growing region, with the GCC leading the market for molded plastics in terms of volume. This regional market is anticipated to expand at a CAGR of 6.5% between 2016 and 2024. Companies such as SABIC in Saudi Arabia are rapidly increasing their capacity for polypropylene, polyethylene, and other polymers to take advantage of untapped avenues.
The markets for molded plastics in North America and Europe are rather mature and provide limited opportunities in terms of untapped potential. However, the CIS region in Europe is a bright spot where the molded plastics market is expected to expand at a faster pace than in other parts of the region.
Key players in the molded plastics market include BASF SE, Eastman Chemical Company, SABIC, Huntsman Corporation, LyondellBasell Industries N.V., INEOS Group AG, Chevron Phillips Chemical Company LLC, Reliance Industries Limited, Harwal Group, Al Watania Plastics, Obeikan Investment Group (OIG), and Takween Advanced Industries.
Global Molded Plastics Market: Overview
Plastic molding is called the process of using a rigid frame. These are synthetic compounds which can be sculpted in different application-based forms. Pigment can be added to their synthesis polymers to redesign molded plastics. Due to variables like the increasing packaging and the petrochemicals sector, the use of plastics in the production of household products, plastic components ' use in consumer electronics, and increasing consumption of molded plastics in the automotive industry, the molded plastics market is likely to experience growth.
The market for polypropylene, polyethylene, polyvinyl chloride, polystyrene, polyethylene terephthalate (forms), polyethylene terephthalate (other) and others has been divided on the grounds of the material. The market was divided into injection molding, blow molding, and thermoforming (rotor molding and casting) by molding technology. In addition, numerous uses, including packaging, consumables & electronics, auto & transport, building & building and other applications, have been divided in the market for molded materials.
This study provides an evaluation of the drivers of the global molded plastics industry, of the difficulties, opportunities, and trends, and an extensive industry review. The study examines further the product's impact on the sector concerned. The study on the markets underlines the main supplier strategies that clarify potential barriers to respondents in the new market. Research is a comprehensive guide to the global molded plastics market during the predicted era.
At US$ 124.8 billion in 2015, the global molded plastics market is expected to achieve US$ 202.2 billion by 2024 rising at a 5.6% CAGR. The market is forecast to grow by 4.3% from 2016 through 2024 with regard to volume.
Automotive Application Segment to Witness Promising Growth
One type of section is expected to develop on the largest level of CAGR in the prediction era in the molded plastics section. This segment is grown by its outstanding characteristics, such as high rigidity and ESC, high load melting strength, and outstanding rigidity. This segment is very strong. For molding applications, high-density polyethylene is widely used.
Due to their corrosion resistance and electric insulation characteristics, polypropylene parts are commonly used in food packaging and electrical contacts. The segment is anticipated to see the most development over the forecast period, based on the abovementioned figures.
Injection-molded plastics have enormous potential, especially in the medical and automotive industries. In the medical devices and components sector, the industry is anticipated to experience the greatest development. The strong trend towards steel substitution with plastics in the automotive sector is anticipated to boost development in the forecast era of injection molded plastics. Car manufacturers focused on decreasing vehicles ' general weight to enhance their fuel efficiency. Increased use of plastics for automotive component metals and alloys is anticipated to drive automotive product demand and thus provide huge chance for the industry to develop in the near future.
Asia Pacific to Emerge as Lucrative Regional Market
In view of the fact that over half of the worldwide population and emerging markets in Asia-Pacific, Asia Pacific is anticipated to stay the most appealing region for the molded plastics industry. This has improved its focus on the region among global players.
In North America and Europe, molded plastics markets are fairly mature and offer restricted prospective possibilities. But in the CIS area of Europe the market for molded materials is anticipated to grow more quickly than in other areas of the area.
Key vendors operating in the global molded plastics market include Chevron Phillips Chemical Company LLC, Huntsman Corporation, Eastman Chemical Company, Al Watania Plastics, Reliance Industries Limited, and SABIC, among several others.
Custom Market Research Services
TMR offers custom market research services that help clients to get information on their business scenario required where syndicated solutions are not enough.
REQUEST CUSTOMIZATION