Mice Model Market
Mice Model Market (Type - Transgenic Mice Model, Hybrid/Congenic Mice Model, Knockout Mice Model, Carcinogen-induced and Spontaneous Mice Model, Outbred Mice Model, Inbred Mice Model, Transplantation Mice Model, and Conditioned/Surgically Modified Mice Model; Specialty - Immunology, Central Nervous System, Oncology, Cardiovascular, Diabetes, and Metabolism and Regulation; Services - Breeding and Rederivation Services, Cryopreservation and Cryorecovery Services, Quarantine Services, Genetic Testing Services, Model In-licensing Services, In vivo and In vitro Pharmacology Services, Genetically Engineered Model Services, and Surgical and Line Rescue) - Global Industry Analysis, Size, Share, Growth, Trends and Forecast 2015 - 2023
Category :

Pharmaceutical

Format :
Global Mice Model Market: Snapshot
Biomedical research has taken a front seat in the healthcare and pharmaceutical industries, to a point where a nation's research and development landscape can be gauged by its level of investment in biomedical research. The past decade has consequently witnessed a staggering rise in biomedical research in most countries, both developed and developing. A significant part of this research investment typically goes into animal models, more specifically, mice models. This forms the primary driver for the global mice models market.
Another factor promoting the increased use of mice models is the recent number of improvements that have been made in mice models. These improvements have not only enhanced their utility in current applications, but also increased the overall scope of applications for mice models. Biomedical research can use mice models for increasingly complex diseases, such as the use of mutated mice models for studying the ALS disease, or the use of advanced mice models to understand lung injury repair.
The factors above and similar ones that promote the use of mice models are responsible for imparting a positive growth rate to the global mice models market, which is expected to be valued at US$1.79 bn by the end of 2023.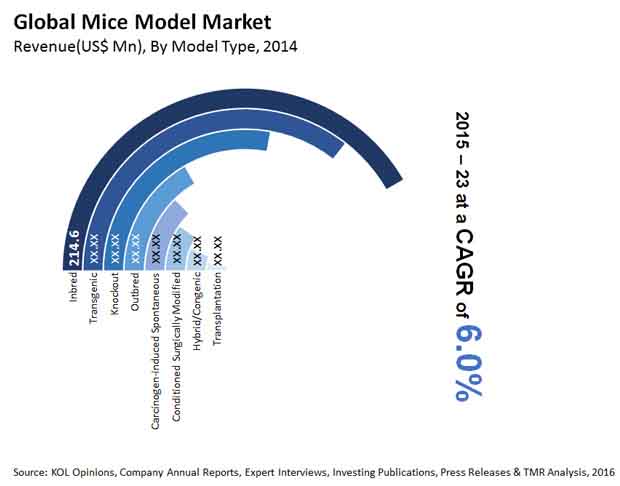 Demand for Mice Models in North America Remains High
44.9% of the global market for mice models is expected to be held by North America in 2023, in terms of revenue. Europe at the same time is expected to emerge as the second-leading market for mice models, followed closely by Asia Pacific. North America and Europe have an established pharmaceutical industry and an advanced biosciences research field. Both regions are still showing a high demand for mice models that are meant to be used in advanced drug discovery processes and other medical research.
However, their overall share in the market value has dropped since 2014, owing to the significantly high demand for mice models in Asia Pacific. This region is showing an especially high demand for knockout and transgenic mice models. Close to half of the global mice models business in the world for these types is taken up by the Asia Pacific countries of China, India, Malaysia, and Singapore.
Inbred Mice Models Continue to Show High Demand, Demand for Hybrid Models on the Rise
Based on model types, the global market for mice models is expected to progress at a CAGR of 6.4% from 2015 to 2023, ending at US$1.79 bn by the end of 2023. Among the various mice model types, inbred mice models have consistently been the popular ones, owing to the ease with which scientists can reproduce the data and the overall cost effective system of obtaining inbred mice models. Additionally, the size of samples in inbred mice models can be considerably smaller than their outbred counterparts.
However, the demand for congenic or hybrid mice models is expected to rise significantly over the coming years owing to a high preference for them in the expanding cardiovascular research. Transgenic mice models are the second most popular models in the world. They possess a high volume of research capability in the fields of angiogenesis, breast cancer, and Alzheimer's disease.
The key providers of mice models from a global standpoint include Charles River Laboratories, The Jackson Laboratory, Harlan Laboratories, and Taconic Biosciences.
Global Mice Model Market: Brief Account
The world mice model market is envisaged to be primarily advantaged by the growing investments in biomedical research which plays a vital role in pharmaceutical and healthcare sectors. Investment in biomedical research is considered to be a crucial determinant for gauging the level of research and development achieved by a nation. Mice models could attract a decent demand in such investments, which could eventually increase in the near future because of their diversified applications.
Recently, a mice model with fragile X syndrome was used to test the effect of metformin, a type 2 diabetes drug. The results revealed a reversal of brain and behavioral abnormalities in the mice model. According to the report offered herewith, the world mice model market could find extensive opportunities birthing from different type, specialty, and services segments.
The authors of the report have provided a vast study of the world mice model market in terms of several aspects such as business opportunities, restraining factors, key drivers, and vendor landscape. Readers are expected to gain a significant understanding of the market and plan for a better position therein.
Global Mice Model Market: Trends and Opportunities
The employment of mice models by the ALS Association for deep research on the disease amyotrophic lateral sclerosis (ALS) is regarded as a fine instance of the rising demand in the market. This is evident of the latest developments in various services and types of mice model that are anticipated to improve existing research procedures. The penetration of mice models in several medical research domains could be another factor strengthening the demand in the market.
Irrigation assay system, computer-generated simulations, and other alternative solutions incorporating a streamlined procedure and faster conclusion development process are foretold to impede the growth of the world mice model market. This could be owing to the efforts to reduce or restrict the requirement of animal models. However, studies of advanced diseases incorporating the application of new mice models are prognosticated to add to the growth of the market. Lung disease repair and other cutting-edge researches also cover the use of innovative mice models.
Global Mice Model Market: Geographical Analysis
Expert analysts foresee the international mice model market to mainly operate in key geographies such as Asia Pacific, Europe, North America, the Middle East and Africa, Latin America, and Rest of the World. In respect of revenue, North America could take a leading position in the market with a significant share secured under its belt. Narrowly followed by Asia Pacific, Europe is anticipated to be another region cementing a strong position in the market. Both these markets could be riding on their sophisticated biosciences research and well-established pharmaceutical sectors.
Nevertheless, the staggering shares in North America and Europe are predicted to lose their grip on the international mice model market in future on account a telling demand in Asia Pacific. Nearly half of the business for transgenic and knockout mice models could be taken up by Asia Pacific in Singapore, Malaysia, India, and China.
Global Mice Model Market: Companies Mentioned
Some of the important players studied in this research publication could be Harlan Laboratories, Inc., GenOway S.A., Deltagen, Inc., Crescendo Biologics Limited, and Charles River Laboratories. A quality analysis of the key companies operating in the worldwide mice model market is expected to help participants to stay watchful and make informed decisions in their business operations.
The global mice model market is segmented into the following categories:
Global Mice Model Market by Type
Transgenic Mice Model
Hybrid/Congenic Mice Model
Knockout Mice Model
Carcinogen-induced and Spontaneous Mice Model
Outbred Mice Model
Inbred Mice Model
Transplantation Mice Model
Conditioned/Surgically Modified Mice Model
Global Mice Model Market by Specialty
Immunology
Central Nervous System
Oncology
Cardiovascular
Diabetes
Metabolism and Regulation
Global Mice Model Market by Services
Breeding and Rederivation Services
Cryopreservation and Cryorecovery Services
Quarantine Services
Genetic Testing Services
Model In-licensing Services
In vivo and In vitro Pharmacology Services
Genetically Engineered Model Services
Surgical and Line Rescue
Global Mice Model Market by Geography
North America
Europe

Germany
U.K.
Rest of Europe

Asia Pacific (APAC)
Latin America (LATAM)

Brazil
Mexico
Rest of LATAM

Middle East and North Africa (MENA)

Saudi Arabia
A.E.
Israel
Rest of MENA

Rest of the World (RoW)
This report gives access to decisive data, such as:
Market growth drivers
Factors limiting market growth
Current market trends
Market structure
Market projections for the coming years
Key highlights of this report include:
Overview of key market forces propelling and restraining market growth
Up-to-date analyses of market trends and technological improvements
Pin-point analyses of market competition dynamics to offer you a competitive edge
An analysis of strategies of major competitors
An array of graphics and SWOT analysis of major industry segments
Detailed analyses of industry trends
A well-defined technological growth map with an impact-analysis
Offers a clear understanding of the competitive landscape and key product segments
Custom Market Research Services
TMR offers custom market research services that help clients to get information on their business scenario required where syndicated solutions are not enough.
REQUEST CUSTOMIZATION