Metal Powder Market
Metal Powder Market (Type: Iron & Steel, Aluminum, Copper, Nickel, and Others; and Application: Automotive, Electrical & Electronics, Machinery, and Others) - Global Industry Analysis, Size, Share, Growth, Trends, and Forecast, 2019 - 2027
Category :

Energy & Natural Resources

Format :
Metal Powder Market - Snapshot
Rise in the manufacturing output of industrial and automotive component is estimated to generate demand for metal in these industries. This factor is likely to propel the expansion of the global metal powder market in the years to come. The metal powder is a way more efficacious when compared with various conventional procedures such as stamping, forging, and casting. Augmented efficiency of this metal is expected to accentuate the demand for metal powder in the automotive component manufacturing industry, such as filters, engine bearings, clutches, brakes, and carbon brushes. In the global metal powder market, automotive is an important end user, which is expected to widen the scope of the global metal powder market in the years to come.
Metal powders refer to those base materials that are needed for the making of metallic components. These powders make use of additive manufacturing and traditional powder metallurgy route in the process of manufacturing metallic components. Making of metal powders comprise the very first step in the process of powder metallurgy. There are four different processes in the production of powder, which are
electrolysis
solid-state reduction
chemical
atomization
High Demand for Lightweight Vehicles to Amplify the Application Opportunities
The global metal powder market is prophesized to be influenced by the numerous benefits that the product offers, such as recyclability, high volume capacity, cost efficiency, and less time needed in the manufacturing process. These properties are estimated increase its adoption in the automotive manufacturing industry. Increased demand for lightweight vehicles is predicted to exert positive influence on the growth of the market.
In addition to automotive, metal powder based products find wide use in several end use sectors such as healthcare, firearms, electronics, and industrial. Powder metallurgy can produce highly advanced, magnetic, and structural parts together with tribological components. Such wide use is likely to bolster the growth of the global metal powder market. In addition, powder metal coated parts also find use in the making of pistol breech block, rifle bolt, and triggers in the firearms industry.
Metal Powder – Enabling New & Improved Components
Humans have been making materials and things from metal powders for a long time. However, it's only in the last century that the powder metal manufacturing industry has really emerged. In the last three decades, the rate of change has significantly increased - just like the world outside powder metallurgy. A plethora of components that would not have even been possible a few years back are now being made with high standards using a variety of metal powders.
With rapid technological advancements complementing the use of metal powders in a large number of products, such as rocket fuels, paint pigments, printing inks, and many others, opportunities in metal powder market continue to multiply at an unprecedented pace. This falls in line with the growing awareness about the role of metal powders as base materials for producing metallic components through the powder metallurgy route or the emerging field of additive manufacturing. Gauging the high adoption momentum and opportunistic value of metal powder, Transparency Market Research (TMR), in its latest business intelligence, analyzes how technologically-advanced ways of producing metal powders are paving the way for high-purity solutions, thereby, shaping the growth of the metal powder market.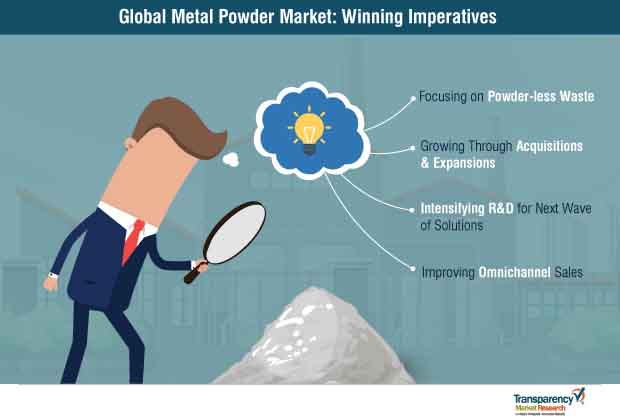 Planning to lay down future strategy? Perfect your plan with our report brochure here
Metal Powder Market - Historical Development & Futuristic Outlook
Metal powder is a holy grail for any product; however, it took decades for it to garner traction as a key brick for building essential metal-based components that hold massive industrial value. By the 1920s, manufacturers started leveraging metal powders to make versatile and potent tools and self-lubricating bearings. Years later, the list of metal powder products witnessed expansion, with German engineers making metal powder-based firearm components.
It was only after World War II that powder metallurgy witnessed major growth and diffusion across the industrialized world. The traction for automobiles grew vividly, and so too did the production of sintered metal parts based on metal powders. Since then, the market for metal powder didn't look back, and garnered increased traction with every passing year, as the TMR analysis indicates an upward trajectory for this industry. The TMR analysis indicates that, the growing adoption of metal powders for manufacturing desired metallic compositions and components armed the market to account for a revenue worth ~ US$ 6.8 Bn in 2018.
Want to know the obstructions to your company's growth in future? Request a PDF sample here
Compelling Trends that are Here to Stay
Additive Manufacturing - High-Value, Long-Term Opportunity
The metal powder industry has incessantly reinvented itself in the modern era to fit in rapidly changing technologies such as additive manufacturing (AM). Additive manufacturing is finding wide employment for the production of a series of components using metal powders for the most demanding applications. This has led to the growing focus of manufacturers on forming gas atomized metal powder that is specially designed for additive manufacturing for applications within; for instance, rapid tooling areas.
Automotive Production – Mine of Applications for Metal Powder
The popularity of 3D printing using powder metals has spiked over the recent past, owing to their wide benefits such as shorter lead times, less labor, reduced waste, and fewer process steps. With quality advances in powder metal (PM) processes, armed with industrial gas technology pushing the additive manufacturing and automotive industry into the fast-forward gear, stakeholders are highly likely to reap unabated gains in the forthcoming years. Iron and steel powder is the most predominately employed metal powder in automotive part production processes due to their high density and precision.
Monumental Significance of Metal Powder Metallurgy Favoring Sales
Rapid increase in the significance of powder metallurgy has set the stage for the colossal production of metal powders, primarily iron and steel, closely trailed by aluminum, copper, and nickel. Increased focus of manufacturers on converting metal powders into beneficial engineering components continues to sustain the growth of the market. With metal powders enabling various component manufacturers to achieve desired shapes that would be challenging or impossible to create with solid metal, their sales are likely to reach a milestone in the years to come.
Iron & Steel Powder Keeping Market Lucrativeness Intact
Shifting focus of companies on leveraging powdered metals over solid metals for wide applications such as magnetic assemblies, filtration systems, sharp gemstone-grinding blades, and auto metal components continue to uplift market gains. The lucrativeness of iron and steel powder is growing notably, as it managed to account for ~ US$ 2.6 Bn in 2018, and is estimated to witness significant adoption in 2019 and beyond. Additionally, the rising demand for metal powders with high stability and heat resistance will further augment the sales of iron and steel powder.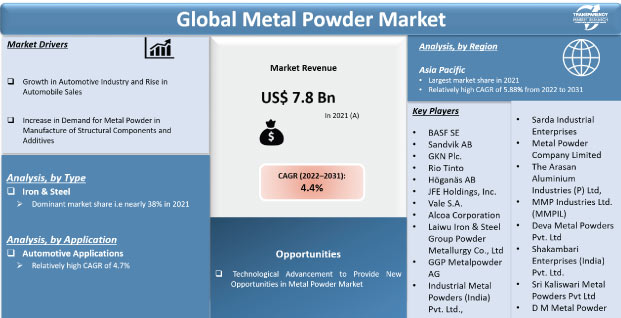 Looking for exclusive market insights from business experts? Request a Custom Report here
Winning Strategies to Break Down the Barriers to Success
Intensifying R&D for the Next Wave of Solutions
The accelerating demand for high-purity metal powders that are in tune with the prerequisites of surging additive manufacturing has led to a drastic shift in the focus of manufacturers towards enhancing R&D. For instance, market players such as Rio Tinto, BASF SE and GKN Plc. have been investing in R&D to manufacture metal powders that are tailored to meet in-demand particle size distribution prerequisites. Enhanced process control to offer unparalleled powder flowability and sphericity, and variants with prerequisite characteristics for use in industries is another key area of focus of market players.
Laser Sharp Focus on Unparalleled Opportunities in Asia Pacific
The Asia Pacific metal powder market witnessed sales worth US$ ~ 2.4 Bn in 2018, and is estimated to gain considerable pace with the traction for aluminum powder likely to expand at a notable CAGR through 2019-2027. Moreover, Asia Pacific has become the area of interest of stakeholders, owing to it being an automotive hub. The brownie determinant of Asia Pacific remains the availability of low-cost labor and lucrative incentive policies from the government of China that continue to appeal to leading automotive producers and electrical and electronics manufacturers to make investments in the region. The opportunistic value of metal powders continues to grow due to the increasing demand for automotive components from countries such as China and India. Rise in the production projects of diverse industries is projected to augment the attractiveness of China for partakers from a metal powder adoption point of view.
Acquisitions & Expansions
In light of the potential lucrativeness of acquisitions and expansions in metal powder market, several market goliaths are acquiring local players to expand their geographical footprint. For instance, in May 2019, GKN Powder Metallurgy opened its new powder metallurgy headquarters and Additive Manufacturing Customer Center in North America. This falls in line with the company's strategy that is aimed at expanding the global 3D printing network, and extending the scope of in-house powder metallurgy capabilities.
On Point Competitive Analysis
In the business journey, several metal powder manufacturers are inducing technology at an unprecedented rate to attain a revolutionary edge in the market. For instance, Montreal-headquartered metal powder producer PyroGenesis has developed the NexGen® Plasma Atomization System, a patent-pending process to produce metal powder for additive manufacturing at a rate of over 25kg/h. Growing technology-induced manufacturing processes in the metal powder market continue to enable the use of metal powder as an instrumental component to develop revolutionary parts with applications in various industries.
The metal powder market can be characterized by the presence of four leading players - Rio Tinto, Hoganas AB, GKN Plc., and Sandvik AB, who are focusing on innovation to address the growing end user quest for fine metal powders. In a fragmented market with a large number of small players, the development of new production plants is garnering increased focus as a solid step in the staircase that leads to a strong hold in market. Sensing the potential gains of setting up new production plants, in February 2018, Sandvik invested SEK 200 Mn in a new manufacturing plant for the production of titanium and nickel fine metal powders, with an aim to complement the company's existing metal powder portfolio and strengthen its market standing.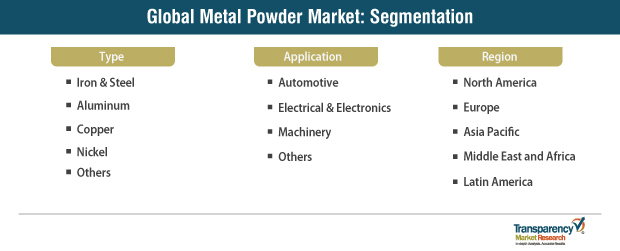 Analysts' Viewpoint

Authors of the report on the global metal powder market are optimistic about its growth during the foreseeable period of 2019 to 2027. In view of the broad applications of metal powders and their growing use in powder metallurgy to form products that hold imminent value across diverse industries, stakeholders are expecting higher gains ahead. Competition among partakers is highly likely to intensify, as they are engaged in exhaustive R&D activities, and are developing powders that are in tune with the rapidly changing trends and customer expectations. Companies that leverage constant innovation to develop powders compatible with modern component manufacturing technologies and focus on capacity expansion will gain a stronger hold in the market space.
Most metal powders are available with particle sizes of around 25 µm to 200 µm. Powders generally depict behavior, which is intermediate to that of liquid and solid forms of metals. They can easily flow into die cavities or containers akin to a liquid. They can also be compressed akin to a gas. These characteristics enable metal powders to be easily shaped with the desirable properties of a solid metal.
High Demand for Metal Powder for Manufacturing Structural Components and Additives
The manufacture of structural components is one of the major applications of metal powders. Iron and steel are the key ingredients used in structural components. Improved cost-to-performance ratios for parts manufactured from metallurgy process, lesser waste, and closer tolerance components encourage manufacturers to adopt press and sinter techniques. This, in turn, drives the metal powder market.
Rise in the demand for structural components in various applications such as agriculture machinery, motorcycles, home appliances, and automotive parts is boosting the metal powder market.
Increase in the demand for high fuel efficiency and rise in focus on lighter and thinner components with greater dimensional precision, sintering, and thermal processing are propelling the demand for metal powder across the globe.
The manufacture of additives for the production of components based on 3D layers is a promising technology that is propelling the demand for metal powder. Rise in the demand for spherical metallic shapes for manufacturing additives via metal injection molding (MIM) or 3D-printing is also driving the demand for metal powder.
Currently, additive manufacturing technology constitutes a minimal share of the global metal powder market. However, the demand for additive manufacturing technology is expected to increase significantly due to its characteristics such as short production time, less tooling, and flexibility in design changes. This is projected to drive the metal powder market during the forecast period.
Limitations on Finished Part Size and Weight
Metal powders are preferred for producing prismatic shapes where numerous shape complexities can be achieved. However, metal powder has limited use in the production of three-dimensional products, i.e. through-thickness or axial direction.
Metal powders are relatively expensive feedstock as compared to other raw materials such as steel bars and billets. Furthermore, the capital cost of metal powder processing equipment is comparatively higher. Hence, it needs to be amortized over a long production run. Thus, metal powder proves to be a viable option for applications that meet the requirements mentioned above. However, recent technological advancements are anticipated to help metal powder application technology overcome a majority of its limitations in the near future.
Recent Developments, Expansions, Acquisitions, and New Contracts
In February 2018, Sandvik AB announced plans to invest around SEK 200 Mn in a new plant for the manufacture of titanium and nickel fine metal powders in the Sandvik Materials Technology business area. This investment is expected to complement the existing powder offerings, and strengthen the company's position in the rapidly growing markets for metal powder and metal additive manufacturing.
In December 2017, Höganäs AB signed an agreement to acquire Germany-based H.C. Starck Group's Surface Technology & Ceramic Powders division, STC. The acquisition of STC enabled the company to obtain access to new customers within aerospace, and add a complementary geographic fit with STC's strong presence in Europe in addition to its strong geographical presence in Asia and the Americas.
In April 2016, GKN Hoeganaes announced that it had started the production of high-quality automotive grade powders in China for the market in Asia. The new joint venture with Bazhou Hongsheng Industrial Company Ltd further expands the footprint of GKN Powder Metallurgy in China, and makes Hoeganaes the only atomized iron powder manufacturer with complete production facilities in three major automotive producing regions in the world.
In April 2015, Höganäs AB completed the acquisition of Abril Industrial Waxes Ltd, a Wales-based lubricants manufacturer. This strategic acquisition is likely to allow Höganäs AB to enhance its expertise in lubricants, and further develop its offerings of sophisticated metal powder mixes.
Asia Pacific Expected to be a Highly Lucrative Region for Metal Powder
Asia Pacific dominated the global metal powder market in 2018. The market in the region is anticipated to expand at a rapid pace during the forecast period, due to the rise in population, increase in disposable income, and growth in FDI investments in the electrical & electronics sector. China, India, and Japan are major contributors to the metal powder market in Asia Pacific.
Europe accounted for a key share of the global metal powder market in 2018. It is anticipated to be a lucrative region during the forecast period. Manufacturers of metal powders in Europe are focused on maintaining environmental sustainability, owing to the rise in consumer awareness about the usage of eco-friendly products. The target of reducing greenhouse gases by 2020 through the adoption of alternative energy sources is expected to provide lucrative opportunities to these manufacturers in the next few years.
Additionally, major automotive manufacturers such as BMW, Volkswagen, Daimler, Volvo, and Renault operate in Europe. This is positively impacting the metal powder market in the region.
Highly Competitive Market with Dominance of Top Players
The global metal powder market is highly fragmented, with the presence of a large number of local, regional, and global players.
Key players operating in the global metal powder market are

Rio Tinto
Höganäs AB
GKN Plc.
Sandvik AB
BASF SE,
JFE Holdings, Inc.
Vale S.A.
Alcoa Corporation,
Laiwu Iron & Steel Group Powder Metallurgy Co., Ltd
GGP Metalpowder AG
Sarda Industrial Enterprises
Metal Powder Company Limited (MEPCO)
The Arasan Aluminium Industries (P) Ltd
MMP Industries Ltd. (MMPIL)
Deva Metal Powders Pvt. Ltd
Shakambari Enterprises (India) Pvt. Ltd.
Innomet Powders
Sri Kaliswari Metal Powders Pvt Ltd
Industrial Metal Powders (India) Pvt. Ltd.
D M Metal Powder.
Metal Powder Market Report: Introduction
A latest research study published by Transparency Market Research (TMR) evaluates the historical and current scenario of the global metal powder market to accurately assess its future development. It includes in-depth information regarding the drivers, restraints, and significant trends that are shaping the growth of the metal powder market, to identify the opportunistic business potential for stakeholders. The report also presents detailed information about how the metal powder market will accelerate during the study period of 2019-2027.
The report offers incisive insights about the different aspects and nuances of the metal powder market, to assist market players in making winning decisions. TMR's report also sheds light on the key changes that are likely to shape the metal powder market during the forecast period. It includes a key indicator assessment to highlight various growth prospects of the metal powder market, and forecast statistics pertaining to the market progress in terms of value (US$ million) and volume (kilo tons).
The report provides a comprehensive taxonomy of the metal powder market and actionable insights on the competitive landscape. The study profiles companies operating in the metal powder market, wherein, numerous developments and winning strategies adopted by the leading players have been provided in detail.
The report offers unique information about the metal powder market on the basis of comprehensive research related to the macro and microeconomic determinants that are playing a key role in shaping the progress of the metal powder market. The details mentioned in the report answer the salient questions for currently operating companies and the ones looking forward to enter into the metal powder market, to assist them in forming strategies and taking business-driven decisions.
What are the Key Questions Answered in TMR's Report on the Metal Powder Market?
Which type of metal powder will register the highest value for the market in 2023?
How market goliaths are successfully capitalizing on the attributes of metal powder?
What will be the Y-o-Y growth of the metal powder market between 2020 and 2022?
What are the unique strategies of market forerunners in the metal powder market?
Which type of metal powder witnessed the highest traction in 2018?
What rate of ROI can metal powder manufacturers expect from its application in the automotive industry in the next 5 years?
Research Methodology – Metal Powder Market
The research methodology followed by analysts for the development of the metal powder market report includes comprehensive research through primary as well as secondary sources. By delving in the industry-validated information that is obtained and verified by relevant resources, analysts have mentioned actionable insights and authentic forecasts of the metal powder market.
During the primary research phase, analysts interviewed C-level executives, sales and marketing managers, regional managers, vice presidents, brand managers, raw material suppliers, as well as industry players and investors. Based on the information obtained through the interviews of relevant resources, analysts shed light on the development scenario of the metal powder market.
For secondary research, analysts delved deep into multiple annual report publications, research publications, industry association publications, while papers, case studies, and company websites to obtain the required understanding of the metal powder market.
Metal Powder Market - Segmentation
TMR's study evaluates the metal powder market on the basis of type, application, and region. The report offers comprehensive market dynamics and rapidly changing trends associated with different segments, and how they are impacting the growth of the metal powder market.
Type

Iron & Steel

Aluminum

Copper

Nickel

Others

Application

Automotive

Electrical & Electronics

Machinery

Others

Region

North America

Europe

Asia Pacific

Middle East and Africa

Latin America
Custom Market Research Services
TMR offers custom market research services that help clients to get information on their business scenario required where syndicated solutions are not enough.
REQUEST CUSTOMIZATION