Vacuum Pumps Market
Vacuum Pumps Market (By Application Range - Low Vacuum Pressure, Medium Vacuum Pressure, High and Ultra-high Vacuum Pressure; By Type - Entrapment Pumps and Gas Transfer Vacuum Pumps; By End-use Application - Oil & Gas, Industrial and Manufacturing, Power, Chemical Processing, Semiconductor & Electronics and Others) - MEA Industry Analysis, Size, Share, Growth, Trends and Forecast 2015 - 2025
Factory Automation
TMRGL4760
2015-06-03
86

Pages
Vacuum pump provides high ultimate vacuum and high-speed evacuation. Due to its versatility, it is widely adopted in various applications. Latest innovations such as compact design, light weight, low level of vibration and noise, and easy integration capability are enhancing the adoption rate of MEA vacuum pumps in various fields. These innovations are anticipated to fuel growth of the MEA vacuum pump market in coming years.
MEMS technology coupled with vacuum pumps industry has large range of application in consumer electronics (CE), such as video game systems, smart phones, and tablets. MEMS devices consists of silicon wafers and fabrication process tools. Also, vacuum is used by the integrated circuit (IC) industry for MEMS fabrication. This, in turn, fuels demand for mea vacuum pumps.
Further, MEA vacuum pumps market is witnessing tremendous demand for dry vacuum pump. The dry vacuum pump is cost effective when compared to that of oil lubricated pump. Also, dry vacuum pump produces less noise and vibration and is compact in size. Besides, there is no exhaust emission from oil and is highly energy efficient. Chemical and pharmaceutical industries are prominent end users of the segment.
Moreover, demand from energy & power and oil & gas is driving MEA vacuum pumps market. Due to harsh environmental conditions, the end use vertical are susceptible to corrosion. This emphasizes the requirement for vacuum pumps in accordance with several industry regulations.
The vacuum pumps are used for removal of air or gas particles from the container that created vacuum in the vessel.
North America market is likely to hold major share in the vacuum pump landscape. Vacuum pumps are widely used at both residential and industrial sectors.
Also, growing pharmaceutical industry is fuelling MEA vacuum pumps market. The vacuum pumps are used in pharmaceutical industry for production of ingredients, bulk drugs, and intermediate products.
Vacuum technology and processes make it possible to replace processes that impact and harm the environment with others protecting the environment. Vacuum technology includes vacuum pumps and vacuum components such as the measuring devices and leak detectors deployed in many industrial applications. These applications include vacuum packaging of food, evacuation and environment-friendly charging of refrigerators and air conditioners, production of ultrapure high-strength metals, evacuation of lamps and CRT's, manufacture of flat-panel displays, and coating. Vacuum technology/components are categorized into three main sub segments: vacuum pumps, vacuum instrumentation, and vacuum hardware.
Key factors driving the growth of the vacuum pumps market include growth in the demand for energy and resurgence of large project activity after economic slowdown. Additionally, process industries have increased the popularity of vacuum pumps. With the advancement of technology, vacuum pumps offer a viable cost-effective solution to achieve effective and efficient vacuum-process-based applications in various industrial sectors.
The major exporters of vacuum technology, inclusive of vacuum pumps, are Germany, the U.S., and Italy in the financial year ending 2014. MEA forms one of the major export destinations for the aforementioned exporting countries, where vacuum pumps are exported to GCC countries, Iraq, and Iran for process-industry-based applications. Vacuum pump manufacturers operating out of subsidiaries situated in India, and Japan-based vacuum manufacturers are leaders in vacuum pump exports to countries within GCC, such as the UAE, Kuwait, and Qatar. By 2030, India is expected to become the UAE's top export destination, surpassing the current export partner, Japan.
In 2014, GCC countries accounted for 30% of the total MEA vacuum pumps market. The region is characterized by accelerated development in the fields of construction, industrial and agricultural infrastructure apart from petrochemicals, and chemicals industries. The development of non-oil-&-gas-based industries, such as food & beverages, textile, and power are driving the demand for the vacuum pumps market. The growth in the manufacturing sector's share of the real GDP of the GCC countries has indicated that the region is moving away from primary products export and adopting an export diversification model.
By region, the GCC was one of the largest contributors to the MEA vacuum pumps market in terms of revenue in 2014 on account of large demand from SME manufacturing and industrial enterprises and the presence of leading oil & gas producing companies deploying vacuum pumps in this region. According to a report published by the International Monetary Fund (IMF) in December 2014, Bahrain and Saudi Arabia were leading the composition of manufacturing sector to the real GDP with 13% and 11%, respectively. Meanwhile, Oman, Qatar, the UAE, and Kuwait recorded 6%, 3%, 9.5%, and 2%, respectively. Government-funded capital projects and infrastructure development activities in the utilities and construction sector are also driving the demand for vacuum pumps. The region is also investing in water resource projects, such as the building of desalination stations, recycling of sewage water, the construction of dams for reserving surface water, and increasing the utilization of underground water resources.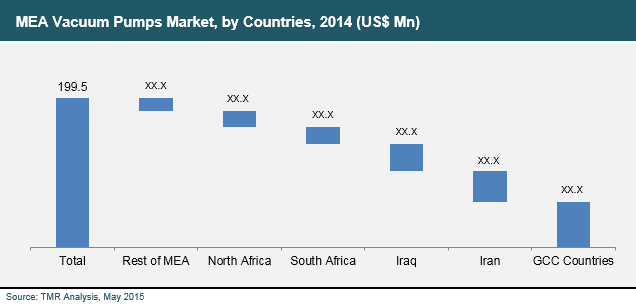 Some of the leading players operating in the region are Gardner Denver, Inc., Pfeiffer Vacuum GmbH, ULVAC, Inc., Oerlikon Leybold Vacuum GmbH, Atlas Copco AB, Tuthill Corporation, Graham Corporation, Dekker Vacuum Technologies, Inc., Ebara Corporation, and Sterling SIHI GmbH.
This report aims to provide comprehensive strategic analysis of the MEA vacuum pumps market along with the market size and growth forecast for the period from 2015 to 2025. The key factors driving the growth of MEA market include growth in demand for energy, large project activities undergoing. In addition, growth of enterprises and small scale industries in industrial and manufacturing sector and process industries have led to growth of vacuum pumps in the MEA market.
This research study on the MEA vacuum pumps market provides a detailed analysis of types of application range wherein vacuum pumps are designed as per the operating pressure ranges. Different end-use applications are categorized on the basis of the pressure range they are operating in. The report offers an in-depth analysis of various factors such as market drivers, restraints, and growth opportunities affecting the market dynamics. These factors enable the analysis of various trends that would affect the market during the forecast period from 2015 to 2025. The report includes a comprehensive coverage of PESTLE, BCG Matrix, Industry analysis and upstream and downstream materials analysis influencing the vacuum pumps market. The market positioning analysis of key vacuum pump manufacturers throws light on the prevalent competition in this market.
Based on type of end-use application, the MEA vacuum pumps market has been segmented into Oil & Gas, Industrial and Manufacturing, Power, Chemical Processing, Semiconductor & Electronics and others. Based on factors such as pressure range, type of vacuum pump, customers/companies choose a best-fit solution to address their requirements. Based on product type, the vacuum pump market has been classified into entrapment and gas transfer vacuum pumps.
The report also provides a competitive landscape of the MEA vacuum pumps market and identifies various business strategies adopted by the leading players. In addition, the report provides a detailed cost analysis of distribution channel analysis. There is also mention of cost price production value gross margin analysis. The company profiles section of this report provides an overview of the companies operating in the market, strategies deployed by them to gain competitive advantage, annual revenue generated for past financial year, and recent developments. The companies profiled in this report include Gardner Denver, Inc., Pfeiffer Vacuum GmbH, ULVAC, Inc., Oerlikon Leybold Vacuum GmbH, Atlas Copco AB, Tuthill Corporation, Graham Corporation, Dekker Vacuum Technologies, Inc., Ebara Corporation and Sterling SIHI GmbH.
The MEA Vacuum Pumps market has been segmented as follows:
Vacuum Pumps Market, by Application Range
Low vacuum Pressure
Medium vacuum Pressure
High and Ultra-high vacuum pressure
Vacuum Pumps Market, by Type
Entrapment Pumps
Gas Transfer Vacuum Pumps
Vacuum Pumps Market, by End-use Application
Oil & Gas
Industrial and Manufacturing
Power
Chemical Processing
Semiconductor & Electronics
Others
Vacuum Pumps Market, by Country
Iran
Iraq
GCC Countries
North Africa
South Africa
Rest of MEA
Custom Market Research Services
TMR offers custom market research services that help clients to get information on their business scenario required where syndicated solutions are not enough.
REQUEST CUSTOMIZATION