Global Mattress Market: Snapshot
The global mattress market is a progressive one on the back of revival of the global economy post the economic slump of 2008. Following this, developed countries are witnessing a surge in home ownership leading to increased sale of home furnishings such as mattresses and bed linen. In developing economies, growth of the construction sector to serve residential needs is indirectly boosting the mattress market.
The growth of the hospitality sector worldwide is also serving to boost the growth of mattress market. International hotel chains display demand for made to order mattresses that promise excellent comfort and sound sleep.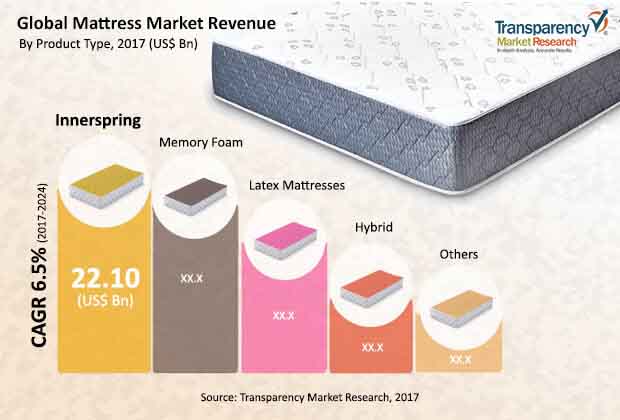 On the downside side, scarce availability of raw materials for mattresses obtained from natural resources is leading suppliers to raise prices. This, in turn, is leading to price hike of premium end products. In this scenario, price-sensitive consumers especially in emerging economies are increasingly buying local products thereby hampering the growth of global market. Owing to these factors, the global mattress market is predicted to clock a CAGR of 6.5% between 2017 and 2024.
Attributes of Size Suitable for Varying End-use Makes Queen Size Segment Dominant
The global mattress market is segmented in terms of product type, size, and region. Depending upon product type, memory foam, innerspring, hybrid, latex mattresses, and others are the segments into which the mattress market is divided. Of them, innerspring holds clear dominance; going forward, the segment is likely to stay dominant holding 77.3% of the overall market by 2024. Increasing incidence of back disorders that are related to uncomfortable sleeping surfaces is the key factor behind the growth of innerspring mattress segment. The rising number of affluent consumers in emerging economies is also stoking demand for premium mattress with innerspring technology.
In terms of size, twin, twin XL, queen, double size, and king size are the segments into which the mattress market is divided. Among them, queen size mattress displays the leading demand accounting for the leading revenue generation to the overall market. Queen size mattress are best suited for apartments, which are most popular in metropolitan areas of large cities. On the other hand, full or double size segment is anticipated to witness moderate demand through 2024. However, the twin XL segment is predicted to expand at a significant CAGR to hold 5.8% of the overall market by 2024.
Rising Number of Affluent Households Makes Asia Pacific Attractive
Region-wise, the mattress market is classified into North America, Asia Pacific, Europe, and Rest of the World. Asia Pacific, among them, is currently the leading regional market for mattress; the region is anticipated to display promising growth in the years ahead too. Strengthening economies leading to growth of the construction sector bodes well for ancillary industries in the region. Rising number of affluent households in emerging economies that spend liberally on premium home furnishings is boosting the mattress market in Asia Pacific.
Powered by the U.S., North America is a key market for mattress. Consumer inclination for best quality mattress coupled with brand-consciousness is boosting the growth of North America mattress market. Rising incidence of sleep disorders also accounts for considerable spending on comfortable mattresses in the region.
Key companies currently operating in the global mattress market include Tempur-Pedic International Inc, Serta Inc., Simmons Bedding Company LLC, Spring Air Company, Select Comfort, Kingsdown Inc., Southerland Bedding Co., Sealy Corporation,., KING KOIL Inc., and Paramount Bed Holdings Co. Ltd.
Global Mattress Market: Overview
The research report on the global mattress market is a veritable business decision making instrument for its offerings. The report analyzes the global mattress market for the forecast timeframe between 2017 and 2024, considering 2016 as the base year. Included in the report is 2015 values for historical information.
The report studies vital market indicators such as demand drivers and growth trends that could influence the market between 2017 and 2024. Furthermore, it looks into other aspects that could influence the growth of this market over the aforementioned forecast period. Macroeconomic indicators such as socio economic factors, natural calamities, and political disturbances that could influence the growth of this market have not been considered.
The report studies the global mattress market in terms of product type, size, and region. Key segments under each criteria are examined for their growth behavior in the past based on which their market size and revenue contribution estimated.
In-depth Research Methodologies help Gauge Market Attractiveness
The making of the report involved an elaborate research phase. The primary research phase accounted for majority of the research effort. It involved reaching out to industry experts and opinion leaders for their insightful inputs. Analysts conducted interviews and discussions with industry experts on a continual basis for data validation and insights on growth trends. E-mail, face-to-face interviews, and telephonic interviews were the channels industry experts were reached out to. Participants reached out in the primary phase typically include CEOs, VPs, market intelligence managers, marketing/product managers, and national sales managers. In addition, outside experts reached out in the primary phase include investment bankers, valuation experts, and research analysts specializing in niche market segments.
Interactions with industry experts typically help to serve the following;
It provides veritable information on market indicators, market size, growth trends, and competitive outlook, etc.
It helps to endorse secondary research findings
It helps to boost analytical ability and market comprehensibility of research team
Secondary research phase involved tapping industry-centric databases which include annual reports, trade journals, product literature, press releases, and technical writings. It also involved reaching out to government websites, relevant business documents of companies, and internal and external databases. Data collected in the secondary research phase are scrutinized using industry-centric analytical tools.
The combination of primary and secondary research served to be the most reliable, effective, and successful approach. This helped to present a near-conclusive analysis of the market along with capturing industry participants'' insights and recognize business opportunities.
Valuable Competitive Insights Add Report's Credibility
Included in the report is a section dedicated to the competitive landscape. Key companies operating in the global mattress market are mentioned and each one of them profiled for their distinguishing business attributes. Product portfolio, technological advancements, financials, and SWOTs are the parameters key companies in the mattress market are profiled in this report. Insights into key players' competitive strategies and changing competitive hierarchy over a timescale are highlights of this report.