Matcha Tea Powder Market
Matcha Tea Powder Market (Product Grade: Ceremony and Culinary; Packaging Style: Loose Tea and Packaged Tea; Pricing: Low, Medium, and High; End Use: Residential, Commercial, and Industrial; and Distribution Channel: Online and Offline) - Global Industry Analysis, Size, Share, Growth, Trends, and Forecast, 2021-2031
Category :

Consumer Goods & Services

Format :
Matcha Green Tea Potential to Inactivate Coronavirus, Other Bacteria
Antiviral effects, antimicrobial, and cardioprotective properties of matcha green tea are grabbing the attention of consumers. Manufacturers in the matcha tea powder market are capitalizing on this opportunity to increase their marketing activities and maintaining robust supply for products. Since tea is one of the essential commodities, companies are able to keep the economy running during the ongoing pandemic. However, the idea of matcha tea being a privileged beverage may not see high sales amongst medium and low-income groups.
Green tea catechins are effective against many viruses that effect the human health, such as Zika, Hepatitis, and herpes simplex. Such findings are translating into value-grab opportunities for companies in the matcha tea powder market are boosting their online marketing and eCommerce business, since green tea catechins have the potential to inactivate coronavirus and influenza.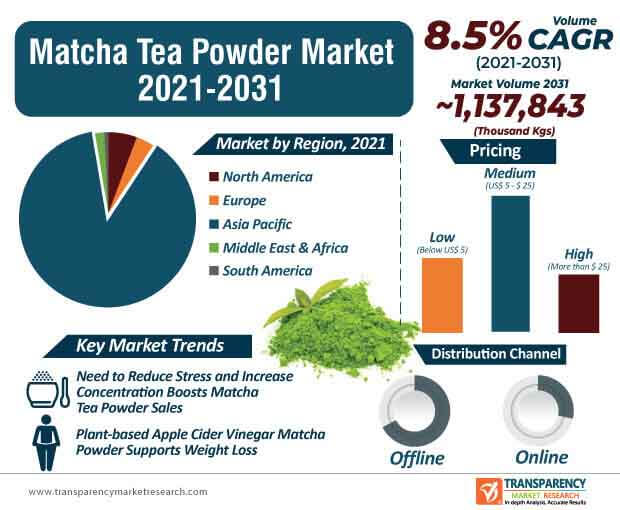 Request a sample to get extensive insights into the Matcha Tea Powder Market
Potential Side Effects of Matcha Tea Influence Buyers' Decisions
The matcha tea powder market is estimated to surpass ~1,137,843 thousand Kgs by 2031. However, potential side effects of matcha tea are influencing the consumers' buying decisions. Diarrhea, upset stomach, anemia, and insomnia are possible side effects of matcha tea that consumers need to take into consideration before opting to consume it. Brands are adopting clean labels that specify its ingredients and educate consumers about the right procedure to consume it. It is expected that labels provide disclaimers on products that suggest possible side effects and doctors' recommendation to consumers in order to avoid any complaints.
Brands should tailor important information about matcha tea consumption through their advertising to educate the masses.
To understand how our report can bring difference to your business strategy, Ask for a brochure
Matcha Making System Intensifies Competition in Global Market
The matcha tea powder market is undergoing a significant change with tech innovations. Cuzen Matcha has been gaining recognition in the TIME's 100 Best Inventions of 2020 in the design category for its matcha making system. In this way, companies in the matcha tea powder market are directly and indirectly making available freshly ground matcha tea powder for its consumers. This trend is being fueled with the need to stay both physically and mentally healthy due to the ongoing COVID-19 outbreak.
Competition in the matcha tea powder market has intensified with the introduction of matcha making system. Companies are increasing their R&D and innovation capabilities to develop similar systems that can serve as an ideal gift since tea gifts are considered auspicious in Japan. The growing interest for Japanese traditions are contributing toward market growth.
Matcha Tea Powder Gains Prominence as Functional Food
Matcha green tea is perceived as a nutrition powerhouse. It is being publicized for its properties of relaxation, powerful antioxidant compounds, and other health benefits. Brands in the matcha tea powder market are scaling business expansion opportunities, since matcha provides several times more the nutritional value as compared to conventional green tea. Healthcare and pharmaceutical companies are anticipated to unlock incremental opportunities with nutraceutical matcha, which is being sought after in supplements, beverages, and foods, owing to its pleasant taste and unique nutrition.
The growing popularity of matcha tea is contributing toward the expansion of the global functional food & beverage segment. Tea and coffee are among the products that are fueling the demand for functional ingredients such as matcha tea. Top health concerns of consumers such as anxiety, sleep, and inflammation are helping to boost sales for matcha tea powder.
Highest Quality Matcha Being Sourced from Japan by Startups
Startups are increasing focus in matcha tea powder market. Sorate - an online retail that includes matcha and green tea subscriptions is being highly publicized for its Matcha Ceremonial Grade tea powder, which is exclusively grown from the rolling hills of Uji, Japan. Matcha tea powder is being known for its savory and full taste. Startups have entered the competition to source rich matcha leaves from Japan. In order to generate online conversions, startups are providing beginner monthly boxes and yearly subscription discounts.
The highest quality matcha is being sourced from Japan by startups in the matcha tea powder market. This is evident since matcha has the most amount of amino acids and vitamin A as compared to most traditional Japanese tea. These compounds promote fat burning, prevention of muscle damage and lean muscle growth among other advantages.
Asia Pacific Emerging as Perfect Mood Board for Tea Culture
Asia Pacific is estimated to dominate the highest revenue share among all regions in the matcha tea powder market during the forecast period. Right from festive traditions to the art of tea, Asia Pacific has been the preferred choice by the U.S. multinational chain of coffeehouses and roastery reserves Starbucks for launching its Pure Matcha beverage globally. There is a high demand for high quality and pure Japanese matcha tea powder, which is offering cafes and restaurants with flexibility to adjust the flavor, sweetness & intensity of seasonal matcha beverages.
Asia Pacific is emerging as one of the perfect mood boards for rich tea and coffee culture. Companies in the Asia Pacific matcha tea powder market are tapping into revenue opportunities in this region to debut new flavors and iconic beverage collections.
Instagram-friendly Butterfly Pea Matcha Tea, Drinks Grow Popular in HoReCa
Delicious matcha drinks are growing popular in Seattle, the U.S. The Matcha Café Maiko in Seattle is being publicized for its matcha-induced ice creams, sponge cakes, and waffle cones. The rapidly growing social media culture is another driver for growth in the matcha tea powder market. An increasing number of cafes and coffe houses is upgrading their beverages with matcha and cheese foam in order to customize the drinks and tap sales opportunities with the help of non-dairy milk. Matcha latte and whole matcha waffle cones are grabbing the attention of customers.
Instagram-friendly butterfly pea matcha tea or mushroom and matcha tea are becoming popular in the HoReCa (Hotel, Restaurant, Café) sector. On the other hand, plant-based apple cider vinegar with the mother and matcha tea is helping to meet weight management needs of consumers.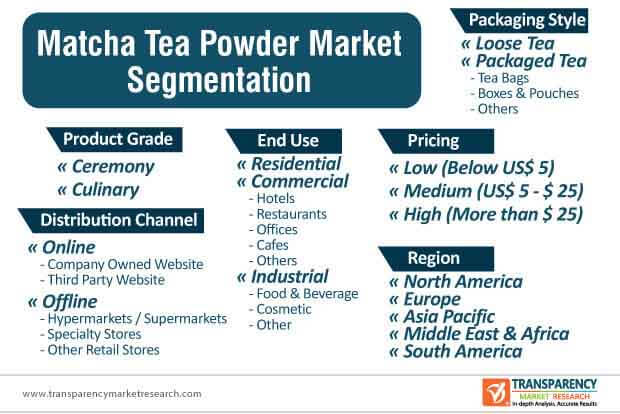 Stuck in a neck-to-neck competition with other brands? Request a custom report on Matcha Tea Powder Market
Analysts' Viewpoint

Antiviral and neuroprotective properties of matcha tea are helping consumers to stay physically and mentally fit amid the coronavirus outbreak. The matcha tea powder market is projected to advance at a robust CAGR of ~9% during the assessment period. However, the hojicha tea is emerging as a potential alternative to matcha tea, since in many cases, matcha does not appeal everyone, owing to its strong grassy flavor in case the powder is not brewed properly. Hence, brands should source high quality matcha leaves from Japan so that users in the HoReCa sector and at home to get the flexibility to adjust its flavor in foods, desserts, and beverages.
Matcha Tea Powder Market: Overview
According to a latest market report published by Transparency Market Research on the matcha tea powder market for the period 2021–2031 (wherein 2021 to 2031 is the forecast period and 2020 is the base year), growing preference for herbal tea coupled with consumer shift toward natural products are key factors responsible for the growth of the matcha tea powder market
Globally, revenue generated by the matcha tea powder market accounted for over US$ 9.5 Bn in 2020, which is expected to expand at a CAGR of ~9% in terms of value during the forecast period
Growing Preference for Herbal Ingredients: Key Driver of Matcha Tea Powder Market
Over the years, matcha tea drinking has become very popular with restaurants and cafes, along with homegrown tea companies offering varieties of tea. Consumers are paying greater attention to the origin of tea, health benefits of drinking tea, and tea blends, and this factor drives the market demand for matcha tea powder currently.
Matcha tea offers several health benefits such as anti-oxidative properties that help stabilize harmful free radicals, which are compounds that can damage cells and cause chronic disease. In fact, by one estimate, matcha tea has catechins up to 137 times greater than other types of tea. Consumption of matcha tea helps in improving memory, relieving pain, protecting the liver, promoting heart health, and preventing the risk of several cancers. Thus, consumption of matcha tea is a good option to deal with obesity and digestion issues. Matcha tea powder blends well with other herbs or with green tea to make an especially refreshing iced tea for summertime. This is found to be attractive among users.
Considering the numerous health benefits and escalating demand from customers, global demand for matcha tea powder is expected to witness robust growth in the near future. In addition, promotion of matcha tea in the form of food additive, cosmetic, beverage, and home ingredients for overall health is likely to drive demand for matcha tea powder.
Collaboration with Tea Vendors, Cafes, eCommerce Platforms – Significant Opportunity for Matcha Tea Powder Market
Matcha tea is found to be a popular choice among the youth for refreshment. Increasing tea retailing chains, cafes, and vendors across the globe provides an opportunity to suppliers to collaborate with these sellers for the supply of a wide range of matcha tea powder products. Processors can also target major hubs of traditional tea such as India, Sri Lanka, Pakistan, and Southeast Asia for the supply of matcha tea powder, as consumers in these countries are switching to innovative tea products. In addition, growth of the eCommerce industry has created huge opportunities for manufacturers and distributors in the matcha tea powder market to meet the requirements of consumers across the globe.
Moreover, intense competition among online retailers help consumers to avail very good deals, when they buy such products through online modes of distribution. Customers also receive attractive discounts, exchange offers, and installment schemes to drive their attention toward the exclusive range of products.
Increasing Preference for Refreshing Beverage Products: Key Trend of the Matcha Tea Powder Market
Demand for matcha tea powder products, especially tea bags, is driving the overall sale of the product as consumers find it to be the most convenient form in terms of usage. Increasing number of workspaces across the globe is gaining demand for refreshing beverage products, in which matcha tea powder products are found to be the most popular choice among users. Consumers are spending considerably to purchase matcha tea powder through online modes of distribution with respect to different varieties, blends, and pack sizes. Increasing awareness about the multiple health benefits of consuming matcha tea to boost memory is a factor encouraging the demand for the product. Increasing trend of drinking matcha tea in social spaces outside the home and its usage in a variety of food are also expected to increase the sales of matcha tea powder products in the near future.
Additionally, suppliers are also coming with innovative tea concepts to drive sales, which is likely to provide opportunity to customers to explore the respective products and offerings more extensively. For instance, Tata Consumer Beverages partnered with popular Out of Home Cafes such as Starbucks to fulfill the requirement of consumers and offer innovative products. Numerous opportunities for matcha tea powder processors exists in emerging or developing countries to cater to untapped markets in terms of tea products.
Worldwide Economic Slowdown, Presence of Several Alternatives to Hamper Growth of Matcha Tea Powder Market
The outbreak of coronavirus has resulted in economic slowdown in almost all countries. The spread of coronavirus has led to lockdown in many countries, thus affecting consumer spending power. The lockdown has led to shutdown of restaurants, offices, factories, production plants, gyms, tea vendors, and other social places. The decline in production activities across various industries around the world acts as a restraint to the global matcha tea powder market.
Another factor that might act as a restraint to the market is the growing geo political tension which affects the supply chain cycle and increases trade barriers. Increasing dependence on farmers for procurement of raw material by processors to process matcha tea powder, and fluctuation in production output owing to external environmental factors are likely to be market restraints during the forecast period. In addition, presence of several alternatives is also a major challenge to the growth of the matcha tea powder market.
Matcha Tea Powder Market: Competition Landscape
Detailed profiles of manufacturers of matcha tea powder have been provided in the report to evaluate their financials, key product offerings, recent developments, and strategies
Key players operating in the matcha tea powder market include

Associated British Foods plc
Yamamotoyama Co. Ltd.
Encha
Mizuba Tea Co.
Matcha Tea Powder Market: Key Developments
Prominent players in the matcha tea powder market are increasing investment on innovative products to fulfill the needs of end users and offer them customized solutions. Manufacturers are also planning to expand their product range and presence in various geographies through mergers & acquisitions and offer customized solutions to end users.
Some key developments in the matcha tea powder market are highlighted below:

In August 2020, The Republic of Tea received two sofi™ Gold Awards from the Specialty Food Association for two tea products namely organic SuperAdapt Burnout Blocker and the Beautifying Botanicals Daily Beauty in the functional beverage category
On July 15, 2020, R.C. Bigelow Inc. introduced a new product line of light and refreshing water herbal infusions under the brand name Bigelow Botanicals. This is likely to promote the sales of herbal based ingredients such as matcha tea powder.
Matcha Tea Powder Market – Scope of the Report
A new study on the global matcha tea powder market has been published by Transparency Market Research (TMR). It presents a wealth of information on key market dynamics, including drivers, market trends, and challenges, as well as the structure of the global matcha tea powder market. TMR's study offers valuable information about the global matcha tea powder market to illustrate how the market would grow during the forecast period of 2021 - 2031.
Key indicators of market growth, which include value chain as well as supply chain analyses, and Compound Annual Growth Rate (CAGR), are elucidated in TMR's study in a comprehensive manner. This data can help readers interpret quantitative growth aspects of the global matcha tea powder market during the forecast period.
An extensive analysis on business strategies of leading market players is also featured in TMR's study on the global matcha tea powder market. This can help readers understand principal factors to foresee growth in the global matcha tea powder market. In this study, readers can also find specific data on the qualitative and quantitative growth avenues for the global matcha tea powder market, which is expected to guide market players in making apt decisions in the future.
Key Questions Answered in TMR's Matcha Tea Powder Market Study
What are the key factors influencing the matcha tea powder market in each region?
What will be the CAGR of the global matcha tea powder market between 2021 and 2031?
What is the future scope and changing trends in processing and packaging of the global matcha tea powder market?
Which factors will impede the growth of the global matcha tea powder market during the forecast period?
Which are the leading companies in the global matcha tea powder market?
Research Methodology – Matcha Tea Powder Market
A unique research methodology has been utilized by TMR to conduct a comprehensive research on the growth of the global matcha tea powder market and arrive at conclusions on the future growth prospects of the market. This research methodology is a combination of primary and secondary research, which helps analysts warrant the accuracy and reliability of the drawn conclusions.
Secondary sources referred to by analysts during the production of the global matcha tea powder market report include statistics from company annual reports, SEC filings, company websites, World Bank database, investor presentations, regulatory databases, government publications, and industry white papers. Analysts have also interviewed senior managers, product portfolio managers, CEOs, VPs, and market intelligence managers, who contributed to the production of TMR's study on the matcha tea powder market as a primary source.
These primary and secondary sources provided exclusive information during interviews, which serves as a validation from matcha tea powder industry leaders. Access to an extensive internal repository and external proprietary databases allows this report to address specific details and questions about the global matcha tea powder market with accuracy. The study also uses the top-down approach to assess the numbers for each segment and the bottom-up approach to counter-validate them. This has helped in making TMR's estimates on the future prospects of the global matcha tea powder market more reliable and accurate.
Matcha Tea Powder Market – Segmentation
TMR's study on the global matcha tea powder market includes information categorized into six sections ? product grade, packaging style, pricing, distribution channel, end use, and region. Changing industry trends and other crucial market dynamics associated with these sections of the matcha tea powder market are discussed in detail.
Product Grade
Packaging Style

Loose Tea
Packaged Tea

Tea Bags
Boxes & Pouches
Others

Pricing

Low (Below US$ 5)
Medium (US$ 5 - $ 25)
High (More than $ 25)

Distribution Channel

Online

Company Owned Website
Third Party Website

Offline

Hypermarkets / Supermarkets
Specialty Stores
Other Retail Stores

End Use

Residential
Commercial

Hotels
Restaurants
Offices
Cafes
Others

Industrial

Food & Beverage
Cosmetic
Other

Region

North America

U.S.
Canada
Rest of North America

Europe

Spain
Italy
France
Belgium
Germany
U.K.
Netherlands
Rest of Europe

Asia Pacific

India
China
Hong Kong
Singapore
Japan
Thailand
Australia
Rest of Asia Pacific

Middle East & Africa

Turkey
Iraq
Iran
Saudi Arabia
UAE
South Africa
Rest of Middle East & Africa

South America

Chile
Colombia
Brazil
Argentina
Rest of South America
Custom Market Research Services
TMR offers custom market research services that help clients to get information on their business scenario required where syndicated solutions are not enough.
REQUEST CUSTOMIZATION