Marine Coatings Market
Marine Coatings Market (Product - Anti-Fouling Coatings, Anti-Corrosion Coatings, and Foul Release Coatings; Resin - Epoxy, Silicone, and Acrylate; Marine Segment - Dry Docking and New Shipbuilding; Application - Coastal, Containers, Deep Sea, Leisure Boats, and Offshore Vessels) - Global Industry Analysis, Size, Share, Growth, Trends, and Forecast 2017 - 2025
Category :

Chemicals & Materials

Format :
Global Marine Coatings Market: Snapshot
Marine coatings are utilized in marine conditions for protection against salt water, consumption, fouling, and UV radiation. The safety of the ship both above and underneath the waterline is vital. The coatings hold fast to essentially any surface and make them impenetrable to water. Marine coatings help counteract UV radiation harm, over the waterline, while fouling and erosion, is averted underneath the waterline. Vessel docks, pontoon structures, or some other surface that is presented to water can likewise be fixed with marine coatings to anticipate erosion. An expansion in life of marine vessels and hardware is seen on utilization of marine coatings.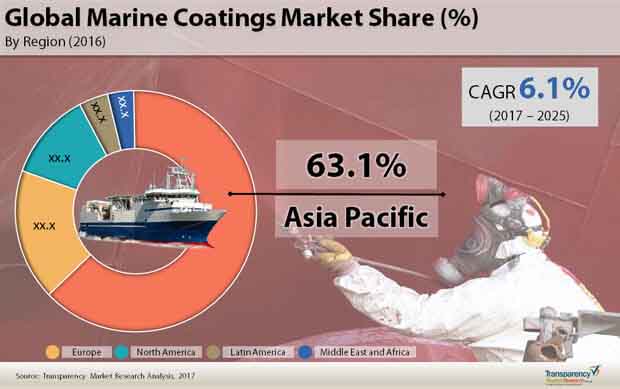 Marine coatings market has seen a decent recuperation after the worldwide financial downturn. Regardless of the production of new ships not achieving the past level, repair and upgrade tasks of the vessels has a high product demand. This is a prominent trend that is anticipated to lead over the forthcoming years. The compulsory utilization of the product to increase the factor of wellbeing and additionally the aesthetic features will improve the general product market in the coming years. Expanding ocean exchange and utilization of vessels for stimulation and relaxation have spiked the interest for marine coatings to a critical degree. Today, an extensive variety of coatings are utilized for looking after yachts, vessels, sub-marines, ships, and kayak among others.
According to report by Transparency Market Research, the global marine coatings market is predicted to attain a value of US$14.52 bn by 2025 from US$8.53 bn in 2015 by rising at a CAGR of 6.1% between 2017 and 2025.
Product Segment of Anti-Fouling Agents to Soar
Anti-fouling agents are connected on the marine vessels and gear to avert bio-fouling, which is the development of green growth, smaller scale living beings, plants, and creatures on wetted surfaces. Increment in drag is seen due to bio-fouling which brings about soaring fuel costs. The use of foul discharging agents makes the surface of materials smooth, low erosion and dangerous, anti-fouling living beings to join to the surface. These are eco-accommodating substitutes for anti-fouling agents.
The most exhaustive users of anti-fouling agents is the marine business, as it works amidst an exceedingly destructive saline condition. Covering decreases the regular requirement for the costly procedure of dry docking, limiting working expenses. The oil and gas industry utilizes marine coatings on subsea gear that are subjected to threatening weight and temperature conditions in profound water and ultra-profound water zones.
Asia Pacific to Emerge as Key Regional Market, Propelled by Marine Activities in China
In terms of geography, by far most of interest for marine coatings is witnessed in the Asia region yet there is sizable demand on a worldwide premise too. In 2016, it held more than 60% share of the market. The region is likewise anticipated that would eclipse all others in terms of growth rate by timing a CAGR of 6.45%.
There is likewise demand where drydocking ship upkeep happens, which incorporates China and Korea, as well as in the Middle East, Northern Europe and North America. It is generally evaluated that 90% of newbuilding takes in Asia. China and Korea have market share, trailed by Japan. Newbuilding additionally happens in Europe, however for uncommon vessel and journey vessels. Marine upkeep takes after the proprietor's area.
North America and Europe marine coatings market will be is expected to be popularized for maritime ships alongside individual relaxation pontoons and yachts. Ascending at a CAGR of 5.42% in the figure time frame, the market in North America is anticipated to trim its offer to 11.2% by 2025.
The Middle East and North Africa are unrefined petroleum rich zones. The oil tanker segment is a noteworthy player in this region. The oil delivered in these regions is traded to Asian, European and North American markets.
Booming Shipbuilding Industry to Bring Extensive Growth Opportunities for the Marine Coatings Market
The thriving shipbuilding and repair industry is the key to the growth of the marine coatings market during the assessment period of 2017-2025. The growing demand for protecting the surfaces of the ships from corrosion will serve as a prominent growth contributor for the marine coatings market across the forecast period of 2017-2025.
Marine coatings are the types of coating applied on the surfaces of yachts, vessels, ships, cruises, and offshore structures such as bridges and oil rigs that are exposed to seawater. These coatings help in increasing the durability of the surfaces and provide great protection from corrosion. The advantages of marine coating application on these surfaces will serve as a great growth opportunity for the marine coatings market between 2017 and 2025.
The inclination of a large chunk of the global populace toward the utilization of eco-friendly products is urging the players to produce coatings that do less harm to the environment. Manufacturers in the marine coatings market, through intense research and development activities, are trying to develop coatings that are more beneficial and environmentally better. This factor will boost the growth of the marine coatings market to a certain extent.
Strategic collaborations and expansion activities play a crucial role in increasing the growth rate of the marine coatings market. The players prioritize these activities for expanding their revenue mechanisms, eventually leading the marine coatings market toward growth.
The novel coronavirus pandemic has serious repercussions on almost all businesses and sectors around the world. The strict lockdown restrictions imposed by numerous countries at the start of the year 2020 still haunt many businesses and sectors. These restrictions had a large impact on the growth projections of the marine coatings market.
The manufacturing of these coatings was stalled abruptly due to the restrictions. These restrictions led to a decline in the production and demand for marine coatings. However, the relaxations in lockdown restrictions will help the marine coatings market to regain lost growth.
Global Marine Coatings Market: Overview
Marine coatings are applied on marine vessels, ships, cargo ships, tugs, tanks and containers, offshore vessels, yacht, super yacht, bulk carriers, chemical tankers, and military vessels for functional purposes such as prevention of corrosion, fouling due to microbes, aquatic shelled animals such as mollusks, mussels, etc. Anti-fouling coatings, anti-corrosion coatings, and foul release coatings are the various types of marine coatings available in the market. These coatings are manufactured using various bases or resins such as epoxy, silicone, acrylate, alkyd, urethane etc.
The report estimates and forecasts the marine coatings market on the global, regional, and country levels. The study provides forecast between 2017 and 2025 based on volume (tons) and revenue (US$ Mn) with 2016 as the base year. The report comprises an exhaustive value chain analysis for each of the product segments. It provides a comprehensive view of the market. Value chain analysis also offers detailed information about value addition at each stage. The study includes drivers and restraints for the marine coatings market along with their impact on demand during the forecast period.
The study also provides key market indicators affecting the growth of the market. The report analyzes opportunities in the marine coatings market on the global and regional level. Drivers, restraints, and opportunities mentioned in the report are justified through quantitative and qualitative data. These have been verified through primary and secondary resources. Furthermore, the report analyzes substitute analysis of marine coatings and global average price trend analysis.
The report includes Porter's Five Forces Model to determine the degree of competition in the marine coatings market. It comprises qualitative write-up on market attractiveness analysis, wherein products, processes, applications and countries have been analyzed based on attractiveness for each region. Growth rate, market size, raw Process availability, profit margin, impact strength, technology, competition, and other factors (such as environmental and legal) have been evaluated in order to derive the general attractiveness of the market. The report comprises price trend analysis for marine coatings between 2017 and 2025.
Global Marine Coatings Market: Segmentation
The study provides comprehensive view of the marine coatings market by dividing it into product, resin, marine segment, application and geography. The marine coatings market has been segmented by product into anti-fouling coatings, anti-corrosion coatings, foul release coatings and other marine coatings. Based on resin the market is segmented as epoxy, silicone, acrylate, and others. Based on marine segment the market is segmented as dry docking and new shipbuilding. Based on application the market is segmented as coastal, containers, deep sea, leisure boats, offshore vessels, and other applications. The segments have been analyzed based on historic, present, and future trends.
Regional segmentation includes the current and forecast of marine coatings in North America, Europe, Asia Pacific, Latin America, and Middle East & Africa (MEA). Key countries such as the U.S., Norway, Germany, Netherlands, Italy, Turkey, China, South Korea, Japan, ASEAN, South Africa, Mexico, and Brazil have been included in the study. Market segmentation includes amount of marine coatings consumed by product, resin, marine segment, and application in all the regions and countries.
Global Marine Coatings Market: Competitive Analysis
The report covers detailed competitive outlook that includes market share and profiles of key players operating in the global market. Major players profiled in the report Akzo Nobel N.V., PPG Industries Inc., Jotun A/S, Hempel A/S, Chugoku Marine Paints Ltd. and Sherwin-Williams Company. Company profiles include attributes such as company overview, number of employees, brand overview, key competitors, business overview, business strategies, recent/key developments, acquisitions, and financial overview (wherever applicable).
Secondary research sources that were typically referred to include, but were not limited to company websites, financial reports, annual reports, investor presentations, broker reports, and SEC filings. Other sources such as internal and external proprietary databases, statistical databases and market reports, news articles, national government documents, and webcasts specific to companies operating in the market have also been referred for the report.
In-depth interviews and discussions with wide range of key opinion leaders and industry participants were conducted to compile this research report. Primary research represents the bulk of research efforts, supplemented by extensive secondary research. Key players' product literature, annual reports, press releases, and relevant documents were reviewed for competitive analysis and market understanding. This helped in validating and strengthening secondary research findings. Primary research further helped in developing the analysis team's expertise and market understanding.
The marine coatings market has been divided into the following segments.
by Product

Anti-Fouling
Anti-Corrosion
Foul Release
Others

by Resin

Epoxy
Silicone
Alkyd
Others

by Marine Segment

Dry Docking
New Shipbuilding

by Application

Coastal
Containers
Deep Sea
Leisure Boats
Offshore Vessels
Others

by Region

North America
Europe

Norway
Germany
Netherlands
Italy
Turkey
Rest of Europe

Asia Pacific

China
South Korea
Japan
ASEAN
Rest of Asia Pacific

Middle East & Africa

GCC
South Africa
Rest of Middle East & Africa

Latin America

Brazil
Mexico
Rest of Latin America
Custom Market Research Services
TMR offers custom market research services that help clients to get information on their business scenario required where syndicated solutions are not enough.
REQUEST CUSTOMIZATION