Malted Barley Flour Market
Malted Barley Flour Market (Nature: Organic and Conventional; Product Type: Diastatic Flour and Non-diastatic Flour; Sales Channel: Direct Sales/B2B and Indirect Sales/B2C [Hypermarkets/Supermarkets, Convenience Stores, Mass Grocery Retailers, Specialty Stores, and Online Retailers], and End Use: Industrial Food Processing, Pet Food, In-store Bakery, Restaurants & Quick Service, and Household) - Global Industry Analysis, Size, Share, Growth, Trends, and Forecast, 2019 - 2029
Category :

Food & Beverages

Format :
Craft Brewing and Clean Label Product Manufacturers Target Health-conscious Consumers
The growing number of health-conscious consumers has encouraged companies in the malted barley flour market to develop products with clean label malted ingredients. For instance, Muntons - a supplier of malted ingredients for the worldwide F&B industry, manufactures high-quality clean-label malt ingredients targeted at health-conscious consumers. This trend has bolstered the output of malted barley flour market which is expected to reach ~7,382,500 metric tons by the end of 2029.
The brewing industry is one of the key focus points for companies in the malted barley flour market, owing to the rapidly growing craft brewing movement worldwide. Companies are investing for the development of new production facilities that can specially focus on brewing applications. They are making bold investments to incorporate test breweries, test kitchens, and conference facilities to help stakeholders have an interactive approach toward innovations in craft brewing. These investments have helped market players to closely identify the needs of their customers.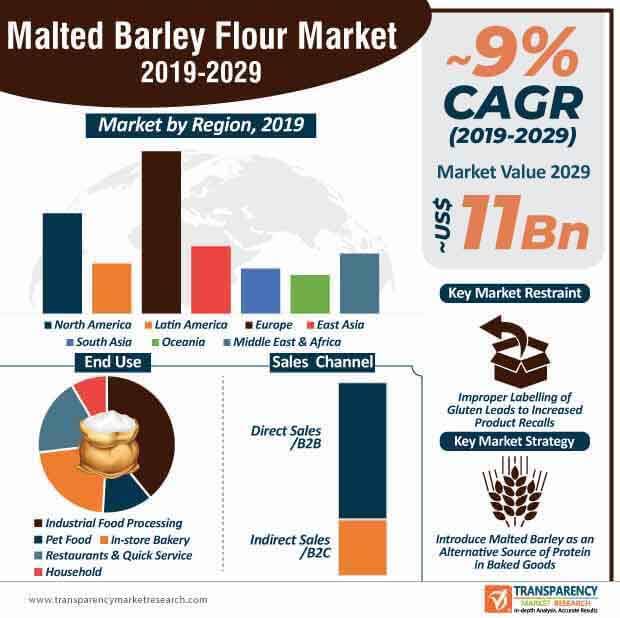 Request a sample to get extensive insights into the Malted Barley Flour Market
Brainstorming Sessions and Collaborations with Food Technologists Lead to Product Innovations
The Europe malted barley flour market is flourishing due to the emergence of new production facilities of leading market players. As such, the malted barley flour market in Europe is projected for aggressive growth. The region is estimated to lead the malted barley flour market during the forecast period.
The trend of home beer making has driven investments in state-of-the-art product development and innovation facilities. Companies in Europe are strengthening their supply chains by developing malted barley flour products, kibbles, flakes, and flour blends to meet consumer requirements. They are inviting potential customers to book the facilities in order to conduct brainstorming sessions with in-house bakers, head brewers, and food technologists to gain insights on changing consumer preferences. On the other hand, companies are introducing malted barley in baked goods as an alternative source of protein.
To understand how our report can bring difference to your business strategy, Ask for a brochure
Malted Barley Flour versus Spent Grains: Which is better?
Spent grains are gaining popularity due to their low-sugar/starch content and are high on fiber and protein. However, malted barley flour has small amount of fiber as compared to spent grains. Hence, companies in the malted barley flour market are increasing awareness about the enzymatic activity of the flour in the production of baked goods that provides desired results to end users. Thus, manufacturers are creating revenue streams by increasing the production of sweeter bread products, doughnuts, cakes, and the likes. This trend has led to exponential growth of the malted barley flour market, which is anticipated to progress at a healthy CAGR of ~9% during the forecast period.
Companies are creating stable business streams by tapping opportunities in bakery products segment. As such, bakery & confectionary sub-segment is projected to lead the in industrial food processing segment. On the other hand, spent grains are gaining popularity for their high-fiber attributes, contributing toward reduced ecological footprint.
Diverse Segments such as Pet Food Create Incremental Opportunities for Companies
The malted barley flour market is expected to reach the global revenue of ~US$ 11 Bn by the end of 2029. However, improper labeling of gluten-containing malted barley flour has led to incidences of product recalls. For instance, Premier Foods-a British food company, announced product recalls for Hovis Granary Bread Flour, since it contained gluten and was not mentioned on the label. This issue is likely to slow down market growth. Hence, manufacturers in the malted barley flour market are adopting 'full-ingredient' labels to avoid the issue of misleading labeling and prevent incidence of product recalls.
Apart from bakery & confectionary, producers are leveraging incremental opportunities in diverse segments such as pet food and breakfast cereals. Lately, pet owners are growing increasingly aware about gastrointestinal and joint problems of animals. In order to avoid such health issues in pets, pet parents are opting for products with malted barley flour to maintain optimum health of their animals.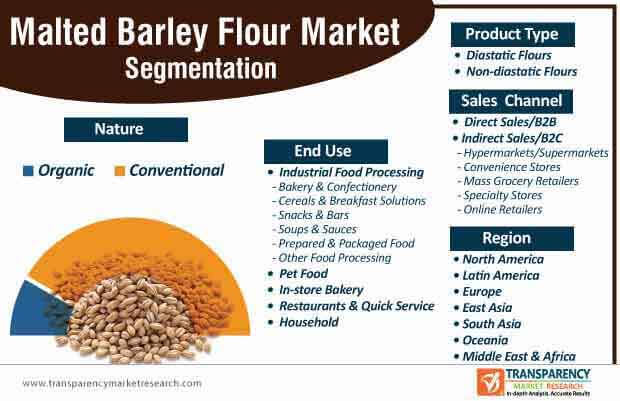 Stuck in a neck-to-neck competition with other brands? Request a custom report on Malted Barley Flour Market
Analysts' Viewpoint
Continuous growth of the malted barley flour market largely contributes to the number of fragmented market players, which account for ~55-60% of the market stake. This has enabled innovations in craft brewery. Moreover, high prevalence of millennial population has contributed to the business of craft brewery with the growth of HoReCa, especially in developing economies of East and South Asia.

Bakery & confectionary is one of the key focus segments of producers. However, improper labelling of gluten in malted barley flour products has led to issues of product recalls. Hence, companies should adopt 'full-ingredient' labeling to prevent product recalls. Companies should explore untapped opportunities in Latin America and Middle East & Africa, since the malted barley flour market is predicted for exponential growth during the forecast period.
Malted Barley Flour Market: Overview
The global malted barley flour market value stood at ~ US$ 4.7 Bn in 2019, finds Transparency Market Research (TMR) in a recent study. According to the report, the market is anticipated to reach ~US$ 11 Bn by 2029, at a CAGR of ~9%.
The increasing demand for bakery and RTE products is a key factor responsible increasing sales of malted barley flour. Apart from this, the change in food habits of consumers is fueling the demand for malted barley flour in the food and beverage industry.
Malted Barley Flour: Market Frontrunners
Based on product type, diastatic flour was the leading segment in 2019 accounting for approximately ~85.2% of the market share. Furthermore, the non-diastatic flour segment accounted for 14.8% of the market in terms of value.
By nature, the conventional malted barley flour is the prominent segment; however, the organic malted barley flour segment is anticipated to show growth at a higher rate as compared to conventional malted barley flour.
Europe is leading the global malted barley flour market followed by North America and South & East Asia. Europe accounts for around 37.3% share in the global market.
On the basis of the sales channel, the B2B segment holds approximately 71% of the total market share, whereas the B2C segment holds the remaining market share in the global malted barley flour. Online retailing is gaining popularity among the sales channel in recent years.
Malted Barley Flour Market: Trends
The organic trend has become very popular in the food & beverages industry. Additionally, the demand for organic food is very high in developed as well as in developing regions. As organic products do not contain any synthetic chemicals, customers prefer them more than conventional products. Manufacturers of malted barley flour have started offering organic flour since it is highly nutritive and is labelled GMO-free. According to the 2014 survey released by NASS (the U.S. Department of Agriculture's National Agricultural Statistics Service), there are approximately 14,000 certified organic farms in the United States that valued around US$ 5.5 Bn from the organic products in 2014, which is a rise by 72% since 2008. This statistics shows that the demand for organic products is gaining traction. Hence, the manufacturers, as well as new entrants in the malted barley flour market, should also focus on the launching of organic products to catch hold the large consumer base.
Health Benefits Associated with Malted Barley Flour to Augment Sales
Multiple health benefits are associated with the consumption of malted barley flour. Some of these health benefits are reduction in cholesterol level and triglycerides. Malted barley flour consumption also helps in preventing arteriosclerosis, which leads to coronary disease. Malted barley flour helps to reduce the risk of certain intestinal disorders. For instance, the fiber present in barley helps to prevent constipation and its complications. Malted barley flour is highly recommended by doctors for patients suffering from indigestion, colitis, gastroenteritis, and gastroduodenal ulcer. Increasing awareness about health benefits associated with malted barley flour is will therefore enable growth in the market.
Manufacturers are emphasizing on attracting consumer focus to health benefits of malted barley flour during the marketing and promotional activities, which will rapidly boost the consumption of malted barley flour
Malted Barley Flour Market: Strategies
Key manufacturers operating in the global market are focusing on new product launches to attract a huge consumer base. Customers easily get fascinated by those companies/brands that offer products with innovations, and have improved product quality and taste.
Marketing Campaign: Apart from innovations, manufacturers are investing in various marketing activities for their product promotion
Target Region for Market
Europe has emerged as a dominant market holding the largest share of the global malted barley flour market in 2019. It is anticipated to remain at the top position in the market during the forecast period. However, this market in Oceania and Latin America is estimated to show higher rate of growth in the forthcoming years.
Malted Barley Flour Market: Players
Key players operating in the market, as profiled in the study,

Archer Daniels Midland Company
Ardent Mills, LLC
IREKS GmbH
Muntons plc.
Briess Malt & Ingredients Co.
Imperial Malts Ltd
The Malt Company Private Limited
Munari F.lli s.p.a
Maltexco S.A
Mirfak Pty Ltd.
Miller Milling Company
Cereal & Malt Extract (Pty) Ltd.
Edme Limited
Galletti S.n.c.
Cereal Food Manufacturing Company, among others
Malted Barley Flour Market - Scope of the Report
Transparency Market Research (TMR) has recently published a market study on the malted barley flour market. It provides a detailed assessment of key market dynamics, including the drivers, trends, opportunities & restraints, and detailed information about the malted barley flour market structure. The market study presents exclusive information about how the malted barley flour market will grow during the forecast period of 2019-2029.
Key indicators of market growth, which include year-on-year (Y-o-Y) growth of the market, value chain, supply chain analysis, and compounded annual growth rate (CAGR) are elaborated in the study in a comprehensive manner. This information is intended to help readers understand the quantitative growth prospects of the malted barley flour market during the forecast period.
The study is intended to offer a holistic market overview to stakeholders in the malted barley flour manufacturers, suppliers, distributors, and investors, and to help them develop winning growth strategies. Stakeholders in the malted barley flour market, which include investors, industry experts, researchers, and journalists, and business researchers, can leverage the information and data presented in TMR's study.
The study also includes statistics and facts related to the macro as well as microeconomic factors that are impacting expansion of the market. It also offers actionable insights into the future trends in the malted barley flour market. Furthermore, small businesses and new entrants in the malted barley flour market can make use of the information presented in this study, based on which, they can make appropriate business decisions in order to gain momentum in the market.

Key Questions Answered in TMR's Malted Barley Flour Market Report
Which region will continue to remain the most profitable regional market for malted barley flour market players?
Which factors will induce a change in the demand for malted barley flour during the assessment period?
How will the changing trends impact the malted barley flour market?
How can market players capitalize on the low-hanging opportunities in the malted barley flour market in developed regions?
Which companies are leading the malted barley flour market?
What are the winning strategies of stakeholders in the malted barley flour market to catapult their position in the forefront?
Malted Barley Flour Market: Research Methodology
In TMR's study, a unique research methodology is used to conduct extensive research on the growth of the malted barley flour market and identify future growth parameters. This research methodology is a combination of primary and secondary research, to help analysts ensure the accuracy and reliability of the conclusions.
Secondary resources referred to by analysts for compiling the malted barley flour market study include statistics from governmental organizations, trade journals, white papers, and internal and external proprietary databases. Analysts have interviewed senior managers, product portfolio managers, CEOs, VPs, marketing/product managers, and market intelligence managers, who contributed to the development of this report as a primary resource.
Information acquired from primary resources and secondary resources is compiled in a comprehensive manner. This also acts as a validation from companies in the malted barley flour market, which makes TMR's projections more accurate and reliable.
Malted Barley Flour Market – Segmentation
TMR's studies the malted barley flour market in terms of a few important segments. These are nature, product type, sales channel, end use, and region. This report offers comprehensive data and information about the important market dynamics and growth parameters associated with these categories.
Nature

Product Type

Diastatic Flour
Non-diastatic Flour

Sales Channel

Direct Sales/B2B
Indirect Sales/B2C
Hypermarkets/Supermarkets
Convenience Stores
Mass Grocery Retailers
Specialty Stores
Online Retailers

End Use

Industrial Food Processing
Breads & Flatbreads
Cakes & Pies
Bagels & Rolls
Biscuits, Cookies, and Crackers
Batters, Breadings, and Mixes
Others

Cereals & Breakfast Solutions
Snacks & Bars
Soups & Sauces
Prepared & Packaged Food
Other Food Processing

Pet Food
In-store Bakery
Restaurants & Quick Service
Household

Region

North America
Latin America
Europe
East Asia
South Asia
Oceania
Middle East & Africa
Custom Market Research Services
TMR offers custom market research services that help clients to get information on their business scenario required where syndicated solutions are not enough.
REQUEST CUSTOMIZATION

Malted Barley Flour Market