Malt Ingredient Market
Malt Ingredient Market for Bakery (Product Type - Dry Malt, Liquid Malt, Malt Flour; Grade - Standard and Specialty; Source - Barley and Wheat; Application - Bread, Biscuits, Brownie, Cookies, Cakes & Pastries, Doughnuts, and Pizza) - Global Industry Analysis, Size, Share, Growth, Trends, and Forecast 2016 - 2024
Category :

Food & Beverages

Format :
Global Malt Ingredient Market – An Overview
The growth in confectionary business is a major factor of growth in the global malt ingredient market, and from 2016 to 2024, the growth will only increase further. As per Transparency Market Research, the market is set to grow at a sturdy pace and one of the other factors that will drive this growth is an overall expansion in food industry, bakery and confectionary in particular. For instance, cakes have become an integral part of all celebrations, even those that traditionally used local sweet meats. A similar demand is noted for parties and events.
As per Transparency Marker Research, the global malt ingredient market is growing at a 4.7% from 2016 to 2024. Revenue generated over the period will help the market reach a valuation of USD 7.3 bn. by 2024.
Some of the major players that are helping the global malt ingredient market are Malt Products Corporation, VIVESCIA Industries, Malteries Soufflet SAS, Cargill, Boosrtmalt Group, and Simpsons Malt Limited. Players would focus on gaining an edge over market players. .Some would try to achieve this advantage by entering new markets or by improving market penetration into some. This might be done by entering key alliances via mergers and acquisitions. Some would look for partnerships and collaborations based on mutual synergies, leading the global malt ingredients market on to further growth. Aggression among players would determine growth in individual shares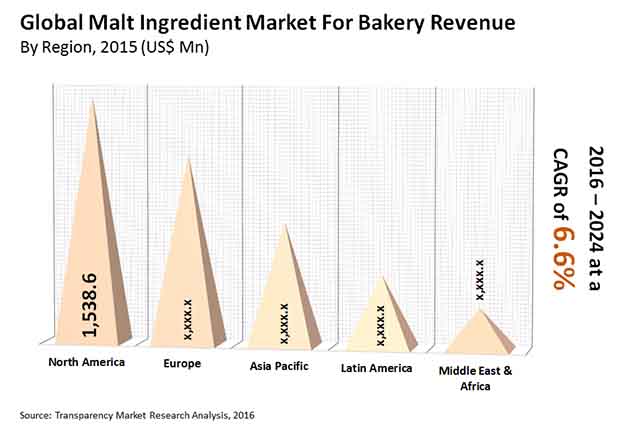 Pizza and Doughnut to be Prominent Contributors of Growth in the Global Malt Ingredient Market over the Forecast Period
The global malt ingredient market report is segmented on the basis of product type, source, application, and grade. Grades include standard and specialty. Application includes doughnuts, cakes and pastries, cookies, brownie, biscuits, and, bread. On the basis of source, segmentations is as follows – barley and wheat. Product type includes dry malt, liquid malt, and malt flour.
Out of these, demand for doughnuts and pizzas will lead the global malt ingredient market as trend of fast foods remain intense and is fuelled by a lack of time to cook elaborate meals at home. A part of this growth is fuelled by hectic work schedules and increase of nuclear, dual income families. Additionally, as disposable income increases some parts of the world such as in countries of Asia Pacific, the demand for bakery and confectionary good will see a massive increase over the forecast period.
North America to be one of the Prominent Regional Markets over the Forecast Period
The global malt ingredient market report, as prepared by Transparency Market Research covers important regional markets in terms of strengths, weaknesses, opportunities, and threats. The regions include North America, Latin America, Asia Pacific, Europe, and Middle East and Africa.
Among these, the region that will top the growth charts is the North American region. The reason behind this growth in the regional landscape is growth in bakery and confectionery in countries such as Canada, and the United States of America. It is noted that the region sees a high demand of pizza and cookies, helping the global malt ingredient market chart a high growth curves.
It is pertinent to note here that in Europe too demand for cookies and doughnuts is helping the global malt ingredient market chart a notable growth curve over the forecast period. Players would witness significant opportunities in the region.
Specialty Ingredient Manufacturers See Wide Scope in Malt Ingredient Market
There exists a wide range of food and beverages applications for malt ingredients. The drive for non-alcoholic malt beverages among consumers and millennials is a key trend boosting the growth potential in the malt ingredient market. The growing popularity of malt beverages has boosted the prospects for specialty ingredients producers in the market. The popularity is underpinned by the growing demand for alcohol-free beverages. Over the past few decades, the concepts of wellness and health has undergone some striking changes. New and exciting flavors have come to be tested in the malt ingredients market. Growing number of packaged food products that have barley malt with them is a key trend boosting the sales in the market. Growing incorporation of malt ingredients in gluten-free products has increasingly attracted prospective consumers. Worldwide, due to gluten intolerance, such products are gathering immense momentum in the coming few years. A number of experts have recently endorsed the nutritional profile of some of the brands currently available in the market. Extensive advertisement over the past few years has boosted the attractiveness of the products, presenting a vast avenue for specialty ingredient manufacturers in the market.
The COVID-19 pandemic has upended the global healthcare systems and have led to several unexpected disruptions since the virus struck China in 2019. The highly contagious nature of the virus and conspicuous lack of healthcare infrastructure have been behind the rising viral loads in the peaks in 2020 and 2021. Lack of access to adequate hospital care even in emerging economies has spurred the acceptance and preference of homecare. Patients and caregivers have in recent months got increasingly attracted toward nutraceuticals. This is expected to prove a new avenue for players in the malt ingredients market in the near future. Further, adoption of new strategic frameworks and operational systems have enabled manufacturers to see new consumer propositions for market players.
The report covers forecast and analysis for the global malt ingredient market for bakery on the global as well as regional levels. The study provides actual data of 2015 along with forecast for 2017 to 2024 based on volumes (metric tons) and revenue (US$ Mn). The study includes drivers, restraints, opportunities, and trends for the global malt ingredient market for bakery with their impact on demand during the forecast period. Market dynamics in the report are justified with the help of quantitative and qualitative data, which are verified by primary and secondary sources. The report includes segmentation, targeting & positioning (STP) analysis and value proposition analysis to enable clients to differentiate their strategy.
In order to provide users of this report with comprehensive view of the market, TMR have included detailed competitiveness analysis and profiles of company players with unique selling propositions. The competition dashboard provides detailed comparison of malt ingredient manufacturers on parameters such as strategic focus, unique selling proposition, and market share. The study also provides market attractiveness analysis by application, product type, by source, by grade and by region.
Inflation is not part of pricing in this report. Prices of malt ingredient vary in each region. Hence, similar volume-to-value ratio does not follow for each individual region. Prices of malt ingredient across major regions have been taken into account while estimating and forecasting market revenue on the global basis. We have used bottom-up approach to arrive at the global market, considering individual product segments and integrating them to deduce global numbers.
For this research report, we conducted in-depth interviews and discussions with key industry experts and opinion leaders. We reviewed key players' product literature, press releases, white papers, annual reports, and relevant documents for competitive analysis and market understanding. Secondary sources include technical documents, statistical data from government websites, trade associations, and agencies. This has proven to be an effective, reliable, successful approach to deduce precise market data and recognize business opportunities.
Key players in global malt ingredient market for bakery in the report include Simpsons Malt Limited, Malteries Soufflet SAS, Briess Malt & Ingredients Co., Malt Products Corporation, Polttimo Oy, Muntons plc, VIVESCIA Industries, Dohler GmbH, IREKS GmbH, GrainCorp Malt Group, RAGLETH LTD., Cargill, Incorporated and Axereal Group.
The global malt ingredient market has been segmented as follows:
Global malt ingredient market for bakery on the basis of product type

Dry Malt
Liquid Malt
Malt Flour
Others

Global malt ingredient market for bakery on the basis of source
Global malt ingredient market for bakery on the basis of application

Bread
Biscuits
Brownie
Cookies
Cakes & Pastries
Doughnuts
Pizza
Others

Global malt ingredient market for bakery on the basis of grade
Global malt ingredient market for Bakery– Regional Analysis by region

North America
Latin America

Brazil
Mexico
Rest of Latin America

Europe

Germany
France
U.K.
Spain
Italy
Russia
Poland
Rest of Europe

Asia Pacific (APAC)

China
India
Japan
Australia & New Zealand
Rest of Asia Pacific

Middle East and Africa (MEA)
Custom Market Research Services
TMR offers custom market research services that help clients to get information on their business scenario required where syndicated solutions are not enough.
REQUEST CUSTOMIZATION

Malt Ingredient Market For Bakery