Magnetometer Market
Magnetometer Market (Technology: Scalar Magnetometers (Porton Precession, Overhausar Effect, and Optical Pumped Magnetometers (Ionized Gas) (Cesium, Helium, Rubidium, Potassium)) and Vector Magnetometers (Fluxgate, SQUID, Search Coils, Rotating Coils, Magnetometer Resistive, and NV Magnetometers; Product: Single Axis and Three Axis; Form Factor: Portable and Fixed; and End-use Industry: Energy, Healthcare, Aerospace & Defense, Consumer Electronics, Surveyors, Industrial, and Others) - Global Industry Analysis, Size, Share, Growth, Trends, and Forecast, 2019 - 2027
Category :

Electronics & Semiconductors

Format :
Magnetometer Landscape Transforming with Advancements in Quantum Technology
Long hailed for its widespread use in scouring the Earth's magnetic field, the adoption of magnetometers has effectively resonated in various industrial applications that involve geophysical surveys and detecting magnetic anomalies. With the ever-expanding range of industrial applications of magnetometers, end users are voicing demand for advancements in their features, such as improved sensitivity, accuracy, and precision.
With the advent of emerging technology, manufacturers in the magnetometer market are focusing on enhancing the quantum properties of atomic sensors to improve the sensitivity and speed of magnetometers, and ultimately improve their efficiency in industrial applications. Ongoing research and development in quantum technologies is expected to contribute toward improving the sensitivity and precision of magnetometry measurements, enabling market players to stand out in the competition with high-performance magnetometers.
The global magnetometer market report generated by our top analysts at Transparency Market Research scrutinizes the prevailing trends, threats, opportunities, and the key determinants that are fueling the growth of this market during the forecast period.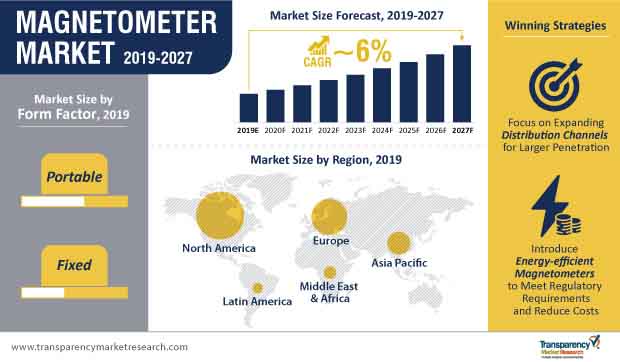 Looking for Customized Insights to build your business for future, ask for a sample report here
Magnetometers - How This Market Will Continue to Gather Impetus
Over the years, the magnetometer market has gained momentum, reaching a valuation of ~US$ 2.9 billion in 2018. The landscape is growing fast, owing to the rapidly changing and dynamic environment that has promulgated their use for the detection of mineral deposits, coal exploration, and identifying precious archaeological artefacts, along with their inclusion in consumer electronics and the smartphone industry. This market is expected to touch the ~US$ 3 billion mark by 2019.
The demand for magnetometers is likely remain comparatively higher in developed regions such as North America and Europe, holding a formidable revenue share of the magnetometer market, and continuing their dominance especially in the area of consumer electronics. Though the market is likely to stabilize in the United States and Canada, the market for magnetometers in the European Union (EU) is growing at a fast rate. European countries, including Germany, the United Kingdom, and France are expected to account for one-third revenue share of the global magnetometer market, mainly attributing to the presence of key market players, their penetrative reach across the region, and the heavy funding and investments done in the semiconductor and medical industries in the EU.
To get glimpse of what our report offers, ask for a report brochure here
Rising Demand for 3-Axis Magnetometers in Aerospace & Defense: An Emerging Trend
Magnetometers are one of the most integral components used in the aviation industry and spacecraft telemetry for developing spacecraft magnetic cleanliness designs. The use of magnetometers in aviation is not restricted to Global Positioning System (GPS) monitoring and tracking, but also involves their application in Unmanned Aerial Vehicles (UAVs) for aerial mapping and investigation. These are some of the key trends that are boosting the sales of magnetometers in the aerospace industry.
The aerospace & defense industry generated over one-third of the total revenue of the global market for magnetometers in 2018, and this demand will only get amplified in the coming years. Ongoing advancements in technologies are enabling manufacturers to improve the performance characteristics of magnetometers to suit the specific requirements vis-à-vis their applications in the aviation and defense industries.
End users in the aerospace & defense industries are showing preference towards the adoption of three-axis magnetometers with unique variable permeability properties, along with excellent noise performance, high sensitivity, and good linearity. Leading stakeholders are likely to increase their focus on capturing the opportunities pertaining to the integration of magnetometers with UAV technology.
In addition, OEMs and magnetometer suppliers stand to hugely profit due to substantial investments in arenas such as crop monitoring, infrastructure inspection, and accident analysis. Thereby, the increasing use of drones in land mining, farming, and construction lead to faster results and clearer decision making, which will spearhead the sales of magnetometers in these industries over the forecast period.
However, although magnetometers are incorporated into in various devices and equipment, engineers continue to face challenges due to complexities in designing the features of magnetometers, such as noise fluctuations, linearity, and sensitivity. Minor deviations in GPS that use magnetometers for forecasting natural disasters can give out error-prone and misleading information. Further, temperature differences, and the presence of hard iron objects, such as a speaker or magnetized piece of iron, lead to biases and distortions in sensor readings. Such challenges may continue to negatively impact the developments in the magnetometer market.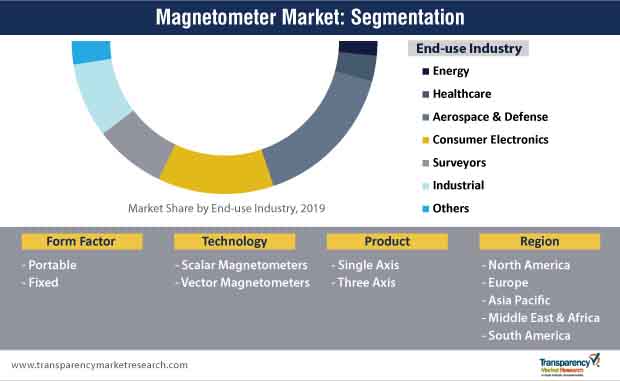 To get a bird's eye view of Magnetometer Market's forecasts, ask for a Custom Report
Revolutionary Innovation of Magnetometers in Wide-ranging End-use Industries
The demand for magnetometers has increased significantly across industries such as consumer electronics, healthcare, and industrial archaeology, owing to the versatile roles they play in various industrial applications.
Healthcare innovations in magnetometers serve as a directional compass for key market players, giving subtle signs of where the magnetometer market is headed, and allow them to astutely discern what patients' needs are, and what can help them overhaul and modernize their business models. For instance, wireless, wearable magnetometer-based sensors have changed the way sleep can be monitored. Transformative methods to detect the crucial sleep parameters of patients suffering from sleep-related conditions, such as sleep apnea, can be achieved by examining variations in the Earth's magnetic field.
In addition, optical magnetometer optical sensors can be effective substitutes to more exorbitant medical imaging applications such as electrocardiogram (ECG) and magnetic resonance imaging (MRI). This key trend in the magnetometer market could, in turn, reduce the healthcare costs for global economies and provide more cost-effective solutions to stakeholders in the healthcare industry.
Magnetic sensors for the Internet of Things (IoT) is not a novel technological concept in the smartphone industry anymore, as it is emerging as a rapidly growing trend in the magnetometer market. Magnetometers can provide turnkey solutions by their usage in cell phones and tablets, and with their noise filtering capabilities, incredibly dynamic ranges, and reduced power consumption, they will continue to find applications in the consumer electronics landscape in the coming years.
The Dynamic Competitive Landscape
The global magnetometer market is fairly fragmented, and is witnessing an upsurge in competition, owing to rapid shifts and advancements in technology. Leading manufacturers of magnetometers, such as Bartington Instruments Ltd, Honeywell International Inc., and Gem Systems Advanced Magnetometers, account for ~30% revenue share of the magnetometer landscape with their robust collaborative strategies and penetrative distribution channels.
Ruling the roost is Bartington Instruments, a U.K.-based company displaying prowess in high precision magnetometers. The key behind its colossal global expansion is its vast distribution channel, with its arms reaching out across Europe and as far as Asia Pacific. In May 2019, Bartington Instruments re-launched the 3-axis Mag13X fluxgate sensor with a temperature sensor and an electric shield that is designed to reduce emissions, thus making it more environmentally-viable. Being used in bio-medicine and data storage, this re-launched product addresses the special needs of complex sensors in the consumer electronics and automotive industries.
Following close behind is Cryogenic Limited, a U.K.-based company headquartered at London. With a revenue of US$ 12.8 million for the year 2018, it continues to grow by leaps and bounds. Cryogenic Limited has emerged as a leading market player due to the edge it has over its competitors in the manufacturing of highly sensitive magnetometers, including its SQUID magnetometer. Its SQUID magnetometer has a very intricate and patented internal design, which keeps the magnet circuitry at a steady temperature, and makes it stand out in the intensely competitive market for magnetometers.
The Analysts Speak

A comprehensive view of the magnetometer market has led our analysts to conclude that, the magnetometer market is growing at a moderately-fast rate, with North America being the leading market for magnetometers. The rising usage of magnetometers in myriad fields such as healthcare, consumer electronics, and archaeology, and their usage in the aerospace & defense industries is spurring the demand for magnetometers. While the impact of the use of magnetometers at archaeological sites is moderate, it is likely to increase with the advent of sophisticated scanning tools such as nuclear magnetic resonance magnetometers, during the forecast period.

Technological breakthroughs such as the development of miniature optical magnetometers and stringent government policies for energy-efficient appliances are the key market dynamics that should be the prime focus of manufacturers in this landscape. Companies with vast distribution channels will gather impetus, and big players who are leveraging technology will continue to have a lion's share of the market. However, the presence of hard and soft iron elements in magnetometers could restrain the growth of the market.
According to Transparency Market Research's latest research report on the magnetometer market for the historical period of 2017–2018 and the forecast period of 2019–2027, increasing implementation of magnetometers in smartphones and tablets is expected to boost the global magnetometer market during the forecast period.
In terms of revenue, the global magnetometer market is estimated to reach a value of ~ US$ 4.7 Bn by 2027, expanding at a CAGR of ~ 6% throughout the forecast period.
Development of Optical Magnetometers for Healthcare Industry: A Key Driver
Optical magnetometers use an optical technique to detect and measure strong as well as weak magnetic fields generated from various sources.
Furthermore, optical magnetometers are highly useful across the healthcare industry, as they efficiently measure magnetic fields produced from organs in the human body, i.e. muscles, brain, heart, and the nerves.
Human organs produce a magnetic field that can be measured by these magnetometers. This creates valuable data related to the human body. Correct detection of the magnetic field produced by these organs can resolve several health issues.
Moreover, an optical magnetometer has the ability to measure the magnetic field coming out from a single nerve at a high precision level. Optical magnetometers are highly sensitive to quantum effects. This high sensitivity enables these optical magnetometers to detect magnetic fields associated with the nerves.
Optical magnetometers function well at body temperature as well as room temperature. They are also best suited for use in any clinical setting, due to small size of their sensors. Moreover, optical magnetometers are best suited for use across the field of neurology, as they can detect changes in the magnetic field, after finding out any alteration in the polarization of gaseous cesium atoms with the help of lasers.
Development of Miniaturized Optical Magnetometers: Latest Trend among Key Market Players
A magnetometer is a device equipped with sensors to measure strength, direction, and other information pertaining to a magnetic field. Optical magnetometers are used to develop different optical techniques; for instance, Kerr magnetometer. Furthermore, optical magnetometers, such as SQUIDs, are useful in several applications such as magneto encephalography and magnetic resonance imaging.
Considering a wide range of applications of optical magnetometers, especially in the field of healthcare, such as the detection and measurement of human heartbeats, researchers have started developing miniature optical magnetometers. Miniature optical magnetometers can be used to find out weak magnetic fields generated from the brain or heartbeats to diagnose certain heart disorders.
For instance, in 2018, researchers from the University of Arizona, the U.S., announced the development of innovative optical polymer material for use in the manufacture of miniature optical magnetometers. Additionally, this polymer material is composed of nanoparticles that are made of cobalt and magnetite. Moreover, this material is coupled with an interferometer to produce a sensor that can optically detect weak magnetic fields.
Miniature optical magnetometers equipped with optical sensors can be a replacement for medical equipment such as MRIs (medical resonance systems) and ECGs (electrocardiograms), which are used to detect activities of the brain and the heart, respectively.
Distortions in Magnetometers Led by Hard and Soft Iron Elements to Pose a Major Challenge to the Market
Distortion in magnetometers can be observed due to the presence of hard and soft iron elements that are present nearby these magnetometers.
A magnetometer always gets distorted by ferromagnetic parts and other electric equipment such as INSs (inertial navigation systems) and the power circuit module integrated with the system. This can lead to the geomagnetic vector measurement error of thousands of nT (nanotestlas) in magnetometers.
If hard iron distortion occurs, it results in permanent bias in the sensor output. On the other hand, in case of soft iron distortion, alternations or deflections arise in the existing magnetic field.
Global Magnetometer Market: Competition Landscape
Detailed profiles of the manufacturers of magnetometer have been provided in the report to evaluate their financials, key product offerings, recent developments, and strategies.
Key players operating in the global magnetometer market are -

Bartington Instruments Ltd
Cryogenic Limited
Gem Systems Advanced Magnetometers
Geometrics
FOERSTER Holding GmbH
Honeywell International Inc
Infineon Technology
Lake Shore Cryotronics, Inc.
Lockheed Martin Corporation
NXP Semiconductors N.V
Scintrex Limited
Marine Magnetics Corp
Tristan Technologies, Inc.
VectorNav Technologies
Global Magnetometer Market: Key Developments
Key manufacturers of magnetometers, such as Bartington Instruments Ltd, are strengthening their overseas sales structure by increasing their production capacity. Some other key developments in the global magnetometer market are as follows:
In December 2018, Bartington Instruments Ltd. announced the launch of the Spacemag-Lite magnetometer meant to observe the geomagnetic field from a low Earth orbit.
In June 2019, Bartington Instruments Ltd. announced the launch of Oculus-ASR from the Kennedy Space Center in Florida, the U.S. The satellite carries Mag-03MRN, a three-axis magnetometer. This would be the largest satellite that has been launched with a Bartington magnetometer aboard.
In the report on the global magnetometer market, we have discussed individual strategies, followed by the company profiles of manufacturers of magnetometers. The 'Competition Landscape' section has been included in the report to provide readers with a dashboard view and market share analysis of the key players operating in the global magnetometer market.
Analysts at Transparency Market Research, in their recently generated research report, have given detailed, comprehensive, and objective insights on the expansive market landscape of magnetometers. The study is impactful, insightful, and actionable, and will equip B2B stakeholders with strategic tools that will serve as game-changers and considerably improve their bottom line.
The report extensively brings out the dynamics of the magnetometer industry that are currently affecting its market landscape. Special emphasis has been laid on the drivers, restraints, opportunities, and threats/trends. The in-depth research report also has an extensive SWOT analysis of the leading industry heavyweights, in an attempt to garner information on industry strongholds as well as areas of improvement. This gives stakeholders a holistic view of the magnetometer market, especially during the forecast period.
The study on magnetometers also has a thorough appraisal of Porter's Five Forces analysis. It is an attempt to let leaders know what the growth strategies and underlying opportunities that could enable business leaders make expert decisions in the vast landscape of the magnetometer market. An extensive global research done on the market also strives to highlight the key market trends in the magnetometer industry that are likely to propel its growth during the forecast period. The competitive analysis of manufacturers in the magnetometer market by our top researchers perhaps remains the most vital ingredient in giving insights about mergers, acquisitions, research and development, and technological innovations in this market space. These allow competitors maneuverability to accelerate their growth in the right direction.
Statistical assessments of magnetometer market growth have been carried out in terms of value (US$ Mn) and Volume (Million Units).
Magnetometer Market – Key Questions that Have Been Answered
Authors of this report at Transparency Market Research, through a comprehensive study and intelligent analytics, have arrived at some key questions that give business stakeholders a holistic and refreshing perspective of the magnetometer landscape. Through statistical analysis, detailed figures have been arrived at that describe the growth of the magnetometer market. Influential trends help answer critical questions, some of which are listed below:
What are the key factors that are influencing the magnetometer market in each region?
What are the prevalent trends and how do they affect the future scope of the magnetometer market?
What are the revenue portfolios and key strategies of the major market players who manufacture magnetometers?
What are the revenue figures of the global magnetometer market by product, technology, form factor, end-use industry, and region?
What kind of regulatory frameworks have been adopted in the arena of magnetometers, and how will these shape-shift the market?
What are the major developments that will take place in the magnetometer market during the forecasted period of 2019- 2027?
Magnetometer Market Research Methodology
Extensive research by our authors has been carried out using both, primary and secondary research parameters. Information on the magnetometer market has been sourced from Transparency Market Research's internal repositories as well as client-specific databases. Qualitative and quantitative information on the magnetometer industry is then culled out by exhaustive research. Our research has been lauded and widely sought-after, thanks to the infinite supply of information that we obtain from company websites, industrial publications, and government statistics. Face-to-face discussions give us valuable inputs in the planning stage of the research. Key opinion leaders, distributors, and vendors also aid us in analyzing the demand-supply gap, if any.
Magnetometer Market – Segmentation
In order to understand the finer and broader nuances of the market, the segmentation of the magnetometer market has been done on the basis of technology, product, form factor, end-use industry, and region. This is one way by which incremental opportunities can be assessed in the market landscape.
Product

Single Axis

Three Axis

Technology

Scalar

Proton Precision
Overhauser Effect
Optical Pumped Magnetometers

Vector

Fluxgate
SQUID
Search Coils
Rotating Coils
Magneto Resistive
NV Magnetometers

Form Factor

Portable

Fixed

End-use Industry

Energy

Healthcare

Consumer Electronics

Industrial

Surveyors

Others

Aerospace and Defense

Consumer Electronics

Region

South America

North America

Europe

Middle East and Africa

Asia Pacific

South America

North America

Europe
Custom Market Research Services
TMR offers custom market research services that help clients to get information on their business scenario required where syndicated solutions are not enough.
REQUEST CUSTOMIZATION