Magneto Resistive RAM (MRAM) Market
Magneto Resistive RAM (MRAM) Market (Product Type - Toggle MRAM and Second Generation MRAM (STT-MRAM); Application - Consumer Electronics, Robotics, Automotive, Enterprise Storage, Aerospace and Defense) - Global Industry Analysis, Trend, Size, Share, and Forecast 2019 - 2027
Category :

Electronics & Semiconductors

Format :
Global Magneto Resistive RAM (MRAM) Market: Snapshot
On account of the rising demand for fast, scalable, low power consuming, and non-volatile memory devices, especially in the automotive, enterprise storage, and aerospace and defense sectors, the global market for magneto resistive RAM (MRAM) is likely to gain significant impetus over the forthcoming years.
In 2018, the worldwide MRAM market stood at US$113.1 Mn. Supported by the infinite cycling endurance and high speed reading/writing capabilities of MRAM, the opportunity in this market is likely to expand at a CAGR of 43.0 % between 2019 and 2027 and reach a value of US$ 2819.3 Mn by 2027.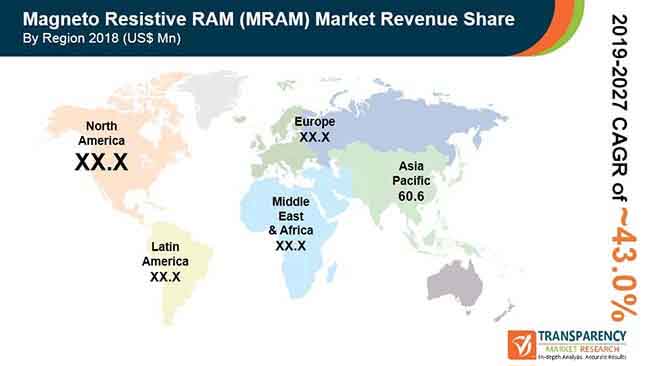 Request a sample to get extensive insights into the Magneto Resistive RAM (MRAM) Market?
Enterprise Storage Sector to Report Strong Demand for MRAM
The enterprise storage, consumer electronics, automotive, robotics, aerospace and defense sectors have emerged as the key application areas of MRAM. Among these, MRAM finds the most prominent application in the enterprise storage sector. In enterprise storage solutions, the deployment of MRAM improves the networking and data center fault recovery systems, reducing the overall system downtime to a great extent, and eventually, decreasing the total operational cost. Over the coming years, this factor is likely to add significantly to the popularity of MRAM and will lead to a remarkable increase in their demand in the enterprise storage sector.
To understand how our report can bring difference to your business strategy, Ask for a brochure
Nowadays, several consumer electronics applications utilize technologically advanced memory devices in a bid to gain reliability, ensure data integrity, and enable low energy consumption, which in turn, is anticipated to create lucrative opportunities for the global market for MRAM in the coming years.
Asia Pacific to Remain Leading Contributor to Global MRAM Market
On the geographical front, Asia Pacific has surfaced as the leading contributor to the global MRAM market. The ongoing development of the data center infrastructure in this region, thanks to the rising penetration of internet and the robust usage of cloud computing, is acting at the key driving factor behind the growth of the Asia Pacific MRAM market. Researchers expect this regional market to remain dominant over the forecast period.
Stuck in a neck-to-neck competition with other brands? Request a custom report on Magneto Resistive RAM (MRAM) Market
North America emerged second in the global market for MARM in 2018. Supported by a strong concentration of key vendors and the rise in research and development activities, the North America market for MRAM is likely to retain its position during the period of forecast. Apart from this, the growing need to curtail data consumption, together with the increasing number of computationally intensive applications, is projected to boost the demand for fast and highly scalable memory solutions in North America, which is anticipated to create attractive growth opportunities for MRAM manufacturers over the next few years. On the other hand, Europe is likely to experience a moderate demand for MRAM devices in the near future.
NVE Corp
Hewlett-Packard Enterprise
Avalanche Technology Inc
Everspin Technologies Inc.
Honeywell International Inc.
Spin Transfer Technologies
Toshiba
Samsung Electronics Co. Ltd.
Intel Corp.
are some of the leading vendors of MRAM across the world. The leading players in this market are investing heavily for the development of technologically advanced MRAM and are expected to focus on product innovation in the coming years.
Advancements in Electronic Products to Boost the Growth of the Magneto Resistive RAM Market
The magneto resistive RAM market is expected to gain tremendous growth across the assessment period of 2019-2027. The growing influence of the latest advancements in the electronics sector is anticipated to bring good growth opportunities for the magneto resistive RAM market during the forecast period. The magnifying influence of devices like wearables and flexible electronic products will serve as a vital growth opportunity.
Magneto resistive RAM assists in accelerating the performance. It consumes less power and is capable of data retention, even during power cuts. Thus, the benefits etched with magneto resistive RAM and abundant advantages as compared to traditional NAND will prove as a great contributor and help in accelerating the growth rate.
The rising influence of research and development activities has influenced the growth to a considerable extent. The players in the magneto resistive RAM market invest heavily in research activities. These activities help in expanding the growth opportunities. The players are also involved in expansion activities that assist in seamless production and distribution process.
Mergers and acquisitions are a crucial aspect. These collaborations help in enlarging the influence of the players to a great extent, ultimately leading to an increase in the growth rate of the magneto resistive RAM market.
The novel coronavirus outbreak has influenced almost all sectors and businesses around the world. The high-transmission levels of the virus forced many countries to impose stringent lockdowns. These lockdowns caused great distress to many businesses and sectors. The manufacturing units were closed for a brief period which led to notable damage in terms of production levels and demand. This aspect ruined the growth prospects to a considerable extent.
Nevertheless, the relaxations in lockdown restrictions and the expanding vaccination drives across various countries are giving rise to the hope of going back to normal.
Global Magneto Resistive RAM (MRAM) Market: Overview
MRAM or Magneto-resistive random-access memory technology has been under development since the 1990s. MRAM is a non-volatile random access memory technology that utilizes magnetic charges for storing data instead of electric charges as in the case of DRAM (dynamic random access memory) and SRAM (static random access memory) technologies. Unlike DRAM and SRAM technologies, that requires constant flow of electricity to maintain data integrity, MRAM retains data even if power is turned off and requires very less amount of electricity in order to store data bits in it.
MRAM, by combining the inherent advantages of both DRAM in terms of density and SRAM in term of read and write speed has the potential of becoming a universal memory in the coming years. The global MRAM market is predicted to have tremendous growth opportunity in the coming years as a nonvolatile solid state memory in order to replace other electrically erasable programmable read-only memory (EEPROM) and flash memory where high write endurance is required.
Surge in the demand of flexible and wearable electronics market is the primary factor predicted to boost the demand of MRAM during the forecast period from 2019 to 2027. Currently rapid technological advancements is taking place in the field to flexible and wearable consumer electronics. Flexible magnetic memories forms an integral part of the flexile and wearable consumer electronic devices for storing and processing data.
Moreover, the major challenge of fabricating high performing memory chips on soft flexible substrates without reducing the performance is also eliminated by technologically advanced MRAM technology. MRAM outperforms the traditional NAND memory used in wearable and flexible electronics in terms of data retention capacity after power cut off, low power consumption along with increased processing speed. In addition, MRAM has the capability of operating in extreme temperature condition and can resist very high radiation. Thus, MRAM is also predicted to witness huge demand from various aerospace and military applications in the coming years.
Global Magneto Resistive RAM (MRAM) Market: Segmentation
For the purpose of providing detailed study of the market, the global MRAM market has been segmented on the basis of product type, application and geography. MRAM is available in two different product types including toggle MRAM and second generation MRAM (STT-MRAM). In order to track the market accurately, the third generation MRAM that is predicted to get commercialized by the beginning of 2022, has also been considered within the scope of research. MRAM also finds its application across different product segments such as consumer electronics, robotics, automotive, enterprise storage, aerospace and defense and others. The others segment includes application of MRAM in sensing devices, medical devices and smart meters.
Geographically, the market has been segmented into Asia Pacific, North America, Europe, Latin America and Middle-East and Africa (MEA). In terms of revenue and growth, the Asia Pacific region is anticipated to drive the market of MRAM in the coming years due to rapid growth in computationally intensive applications and rising demand for highly scalable memory solutions. Global MRAM market report provides an in-depth study of the current market trend and future forecast during the period from 2019 to 2027 in terms of revenue (USD Million).
Global Magneto Resistive RAM (MRAM) Market: Competitive Landscape
This report also provides an exhaustive study of the global MRAM market including the key strategies adopted by leading players, market attractiveness analysis by product type, value chain analysis, industry evolution and comparative advantage of MRAM over other memory solutions.
Moreover, the penetration rate of MRAM across various industry verticals during the period from 2017 to 2021 is also highlighted in this report. In addition, detailed analysis of the drivers, restraints and opportunities that are predicted to affect the market in the coming years is provided in this report. Some of the major players operating in the global MRAM market includes Everspin Technologies Inc. (U.S), Avalanche Technologies (U.S) and Spin Transfer Technologies (U.S) among others.
Global Magneto Resistive RAM (MRAM) Market is Segmented Into:-
Global Magneto Resistive RAM (MRAM) Market, by Product Type
Toggle MRAM
Second Generation MRAM (STT-MRAM)
Global Magneto Resistive RAM (MRAM) Market, by Applications
Consumer Electronics
Robotics
Automotive
Enterprise storage
Aerospace and Defense
Others
Global Magneto Resistive RAM (MRAM) Market, by Geography
North America

The U.S.
Canada
Rest of North America

Europe

The U.K.
Germany
France
Rest of Europe

Asia Pacific

China
India
Japan
Rest of Asia Pacific

Middle East & Africa

GCC
South Africa
Rest of Middle East & Africa

South America

Brazil
Rest of South America South
Custom Market Research Services
TMR offers custom market research services that help clients to get information on their business scenario required where syndicated solutions are not enough.
REQUEST CUSTOMIZATION

Magneto Resistive Ram Market