LNG Engine Market
LNG Engine Market (Type: Spark-ignited, Diesel-ignited, and Direct Gas Injection; and End Use: Marine and Power Generation) - Global Industry Analysis, Size, Share, Growth, Trends, and Forecast, 2020-2030
Category :

Energy & Natural Resources

Format :
U.S. LNG Exports Surge as Consumption Increases Post COVID-19 Crisis
As gas prices surged in Europe and Asia during the coronavirus pandemic, the U.S. LNG exports also witnessed jump in exports. Companies in the U.S. LNG engine market are capitalizing on this opportunity to strengthen their supply chains for super-cooled fuel. Even though consumption was lagging during the months of March to August, manufacturers are seen offsetting their loss with growing consumption as industries become fully functional and consumer spending is on the rise.
Companies in the LNG engine market are tapping into incremental opportunities in South Korea, as the country has been successful in controlling the COVID-19 crisis and has seen steady LNG imports. They are encouraging a shift from coal to LNG in countries such as Japan who are conscious about clean fossil fuels.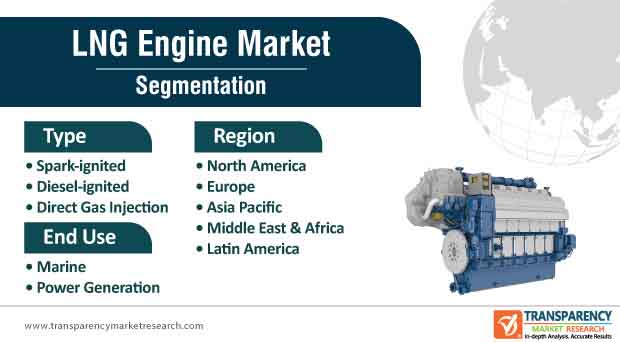 Request a sample to get extensive insights into the LNG Engine Market
Yearly Fluctuating Demand, Alternate Gas Production Options Hinder Market Growth
The LNG supply system is in a rapid development stage in many countries, but issues such as difficulties in optimizing the LNG supply chain network, price, and demand uncertainty and alternate gas production options are problem clouds looming over. The global LNG engine market is predicted to surpass the valuation of US$ 2.6 Bn by the end of 2030. However, manufacturers are faced with challenges such as variable distribution modes and yearly fluctuating demands. Hence, manufacturers are increasing efforts to manage the dynamic supply-demand structure and determine an optimum supply chain for LNG.
There is a growing demand to strengthen the infrastructure and improve inventory routing in the LNG engine market.
To understand how our report can bring difference to your business strategy, Ask for a brochure
Diesel LNG Engines Gain Prominence in Heavy Duty Trucks for Fuel Economy
Diesel-LNG internal combustion engines are gaining popularity in light and heavy-duty trucks. This is evident since the LNG engine market is projected to advance at a healthy CAGR of ~6% during the assessment period. Manufacturers are witnessing a shift toward a mixed electric-hydrogen renewable energy economy. This has led to the uptake of diesel-LNG internal combustion engines, owing to similarities of on-board fuel storage and the injection technology.
Heavy-duty trucks are one area of lucrative development for companies in the LNG engine market, since lowering of emissions and fuel economy can be achieved with the help of LNG engines. As far as the cryogenic temperatures are concerned, LNG is a more practical option for heavy-duty trucks, as they are constantly in movement compared to passenger vehicles that are mostly parked.
Maritime Transport Witnesses Shift from Fossil Fuels to Low Carbon Fuels
The trend of decarbonizing maritime transport is acting as a key growth driver for companies in the LNG engine market. Stakeholders are increasing efforts to reduce global anthropogenic GHG (greenhouse gas) emissions by half of the current rate in order to meet the Paris Agreement goals. LNG's favorable hydrogen to carbon ratio compared to marine gas oil (MGO) or bunker fuel is translating into low carbon emissions in the maritime sector.
The LNG engine market is undergoing a significant change with a shift from fossil fuels to low carbon fuels and engine technologies.
Bio, Synthetic LNG Hold Future Growth Prospects for Manufacturers
Apart from advancements in new fuels such as bio- and synthetic methane, ammonia, and hydrogen, manufacturers are increasing their focus in LNG, LPG, and biodiesel. Wärtsilä Corporation— a Finnish company, which manufactures and services power sources and other equipment, is innovating in bio- and synthetic LNG to deploy cost efficiency in heavy-duty trucks and maritime transport. It has been found that LNG offers significant decline in GHG emissions compared to heavy fuel oil used in maritime transport.
Bio- and synthetic LNG can be used initially as drop-in fuels, alongside conventional LNG to reduce fossil carbon content. This logical and feasible technique is grabbing the attention of stakeholders in the LNG engine market who intend to later increase supply and replace LNG entirely with bio- and synthetic LNG.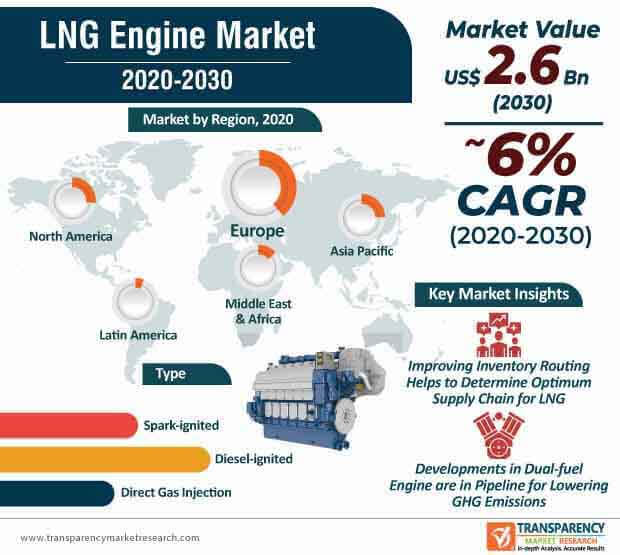 Stuck in a neck-to-neck competition with other brands? Request a custom report on LNG Engine Market
Analysts' Viewpoint

Since thermal coal is increasingly struggling on a cost basis against LNG and renewables during the COVID-19 crisis, companies in the LNG engine market should capitalize on this opportunity to encourage consumers for a shift toward low carbon fuels. Developments in dual-fuel engines are in the pipeline, owing to its demonstration of lowering GHG emissions. However, the problem of LNG distribution, due to capacitated vehicle routing problem in the marine sector is emerging as a hurdle for stakeholders. Hence, companies in the LNG engine market should focus on optimal small-scale LNG distribution allocation and draw advancements in improving the LNG transportation infrastructure.
LNG Engine Market: Overview
According to Transparency Market Research's latest research report on the global LNG engine market for the historical period 2019 and the forecast period of 2020 to 2030, implementation of stringent government regulations and policies to lower carbon emissions is the key factor expected to boost the global LNG engine market during the forecast period. LNG engine is extensively used in a wide range of applications such as marine, power generation, and transportation.
In terms of value, the global LNG engine market is estimated to reach US$ 2.6 Bn by 2030, expanding at a CAGR of ~6% during the forecast period. Based on end use, marine is anticipated to be a highly lucrative segment of the global LNG engine market during the forecast period. The IMO 2020 regulation has established guidelines to reduce pollution and the amount of sulfur oxide emission from ships. The usage of LNG engine is estimated to reduce sulfur oxide (SOx) emissions by 90%-95%. This is projected to boost the demand for LNG engine in the marine sector.
Increase in LNG Trade Activities: Key Driver of LNG Engine Market
Trade activities related to liquefied natural gas have been increasing significantly across the globe. The global LNG trade volume increased from 334 billion cubic meters in 2014 to 485 billion cubic meters in 2019. The growth in LNG trade can be ascribed to the rise in demand for natural gas among end-use industries such as power generation, marine, and steel plant.
Economic expansion and shift of governmental policies toward cleaner fuel sources are some of the major factors propelling the demand for LNG engines. Furthermore, natural gas accounts for around 21% of the global demand for energy; of this, LNG constitutes around 10.7% share.
Asia Pacific is the leading LNG exporting region; it accounted for 38.4% of total exports in 2018. This share is consistent with its share of global exports since 2016, when it became the largest LNG exporting region, after being second to the Middle East from 2010 to 2015. Growth in exports from Asia Pacific was supported by new trains coming online and higher production from existing trains. This surge in LNG trade has boosted the demand for liquefied natural gas. Thus, rise in global demand for LNG to comply with the emission norms set by governing bodies is estimated to drive the demand for LNG engine in the near future.
Rise in Usage of LNG Engine in Power Generation and Marine Sectors
Demand for LNG engine has been increasing in power generation and marine sectors, owing to rise in implementation of stringent government regulations to reduce carbon emissions. Marine vessels run on bunker fuel, which causes high level of pollution. Furthermore, greenhouse gases are a major concern across the globe. Every year, air pollutants such as carbon monoxide, nitrogen oxide, sulfur oxide, and particulate matter are released in large amounts into the environment.
LNG is used as fuel in LNG engines. It is the cleanest-burning fossil fuel. Therefore, vehicles running on LNG produce lower levels of toxic emissions and air pollution.
Thus, LNG engines can play a major role in lowering pollution and carbon emission in power generation and marine sectors
LNG Engine Market: Competition Landscape
Detailed profiles of companies operating in the global LNG engine market have been provided in the report to evaluate their financials, key product offerings, recent developments, and strategies
Key players operating in the global LNG engine market are

Cummins Inc.
Fairbanks Morse
Caterpillar
Wärtsilä Corporation
Rolls-Royce plc
MAN Energy Solutions
Anglo Belgian Corporation nv
MITSUBISHI HEAVY INDUSTRIES, LTD.
HHI Engine & Machinery
DAIHATSU DIESEL MFG. CO., LTD.
Scania
LNG Engine Market: Strategic Partnerships
Prominent companies operating in the global LNG engine market are focusing on strategic partnerships and acquisition activities to expand their global footprint. Other key developments in the global LNG engine market are highlighted below:

On December 18, 2020, MITSUBISHI HEAVY INDUSTRIES, LTD. and Equinor Energy signed a Memorandum of Understanding (MoU) for a low carbon technology collaboration. The non-exclusive cooperation agreement is expected to help both the companies develop and use technology to reduce the carbon footprint of oil & gas operations. In particular, the companies aim to further develop hydrogen and carbon capture, utilization, and storage (CCS/CCUS) value chains.
On July 16, 2020, Wärtsilä Corporation announced that it had been contracted to deliver complete bridge system installation for five ice breaking LNG engine-fueled tankers to be constructed for the Arctic LNG-2 project. The navigational systems would be delivered by Wärtsilä Voyage, the new business responsible for digital solutions and decision support tools to enhance safety and reliability of shipping operations. The order with Wärtsilä Voyage was placed in the first quarter of 2020. Currently, it is in the process of execution in partnership with Samsung Heavy Industries Co., Ltd.

In the global LNG engine market report, we have discussed individual strategies, followed by company profiles of providers of LNG engines. The 'Competition Landscape' section has been included in the report to provide readers with a dashboard view and company market share analysis of key players operating in the global LNG engine market.
LNG Engine Market – Scope of the Report
The latest study collated and published by Transparency Market Research (TMR) analyzes the historical and present-day scenario of the global LNG engine market to accurately gauge its growth potential. The study presents detailed information about important growth factors, restraints, and key trends that are creating the landscape for growth of the global LNG engine market in order to identify opportunities for stakeholders. The report also provides insightful information about how the global LNG engine market would expand during the forecast period of 2020 to 2030.
The report offers intricate dynamics about different aspects of the global LNG engine market, which aids companies operating in the market in making strategic decisions. TMR's study also elaborates on the significant changes that are anticipated to configure growth of the global LNG engine market during the forecast period. It also includes key indicator assessment that highlights growth prospects for the global LNG engine market and estimates statistics related to the market in terms of value (US$ Mn).
This study covers detailed segmentation of the global LNG engine market, along with key information and a competition outlook. The report mentions company profiles of players that are currently dominating the global LNG engine market, wherein various developments, expansions, and winning strategies practiced by these players have been presented in detail.
Key Questions Answered in TMR's Report on LNG Engine Market
The report provides detailed information about the global LNG engine market on the basis of comprehensive research on various factors that are playing a key role in accelerating the growth of the market. Information mentioned in the report answers path-breaking questions for companies that are currently operating in the global market and are looking for innovative methods to create a unique benchmark in the global market so as to help them design successful strategies and make target-driven decisions.
Which end use segment of the global LNG engine market would emerge as a major revenue generator during the forecast period?
How are key market players successfully earning revenues in the global LNG engine market?
What would be the Y-o-Y growth trend of the global LNG engine market between 2020 and 2030?
What are the winning imperatives of leading players operating in the global LNG engine market?
Research Methodology – LNG Engine Market
The research methodology adopted by analysts for compiling the report on the global LNG engine market is based on detailed primary as well as secondary research. With the help of in-depth insights of the market-affiliated information obtained and legitimated by market-admissible resources, analysts have offered riveting observations and authentic forecasts of the global LNG engine market.
During the primary research phase, analysts have interviewed market stakeholders, investors, brand managers, vice presidents, and sales and marketing managers. Based on data obtained through interviews of genuine sources, analysts have emphasized the changing scenario of the global LNG engine market.
For secondary research, analysts have scrutinized numerous annual report publications, white papers, market association publications, and company websites to obtain the necessary understanding of the global LNG engine market.
LNG Engine Market – Segmentation
TMR's research study assesses the global LNG engine market based on type, end use, and region. The report presents extensive market dynamics and progressive trends associated with different segments and how they are influencing growth prospects of the global LNG engine market.
Type

Spark-ignited
Diesel-ignited
Direct Gas Injection

End Use
Region

North America
Europe
Asia Pacific
Middle East & Africa
Latin America
Custom Market Research Services
TMR offers custom market research services that help clients to get information on their business scenario required where syndicated solutions are not enough.
REQUEST CUSTOMIZATION