Isomaltulose Market
Isomaltulose Market (Grade: Food and Pharma; End Use: Confectionery [Chewing Gums, Hard Candies, Soft Candies, Gummies & Jellies, and Chocolates], Bakery Products, Breakfast Cereals, Dairy Products, Frozen Desserts, Beverages [Fruit Juice Beverages, Malt Beverages, Powder-based Drinks, and Carbonated Beverages], Flouridated Salt, Table Top/Spoon-for-spoon Sweeteners, Supplements & OTC Medicine, Ingredients, and Polyols [Intense Sweeteners, Non-cariogenic Sweetener, and Others]) - Global Industry Analysis, Size, Share, Growth, Trends, and Forecast, 2020 - 2030
Category :

Food & Beverages

Format :
High Demand from Health Conscious and Favorable Functional Properties Likely to Boost Market Growth
The 21st Century has witnessed an exponential rise in the number of consumers who have adopted an active and healthier lifestyle. At present, consumers are increasingly investing more number of hours on health and fitness-related activities, including sports, home-workouts, running, gym, and swimming. As the number of sports and fitness enthusiasts across the world continues to grow at an impressive pace, the demand for sports nutrition products such as gels, shakes, protein bars, and hydration beverages is witnessing a high demand. Over the past decade, emphasis on sports nutrition around the world has consistently moved up the ladder due to which, an array of branches related to sports science has come under the spotlight.
As the demand for sports nutrition or active nutrition products grow, the isomaltulose market is projected to witness consistent growth during the forecast period. In recent years, isomaltulose has emerged as an ideal alternative to sucrose due to the low glycemic index and sugar-content. Surge in the consumer demand for clean label and low-sugar food products is another factor that is expected to drive the expansion of the global isomaltulose market during the assessment period. At the back of these factors, the global isomaltulose market is expected to attain a market value of ~US$ 1 Bn by the end of 2030.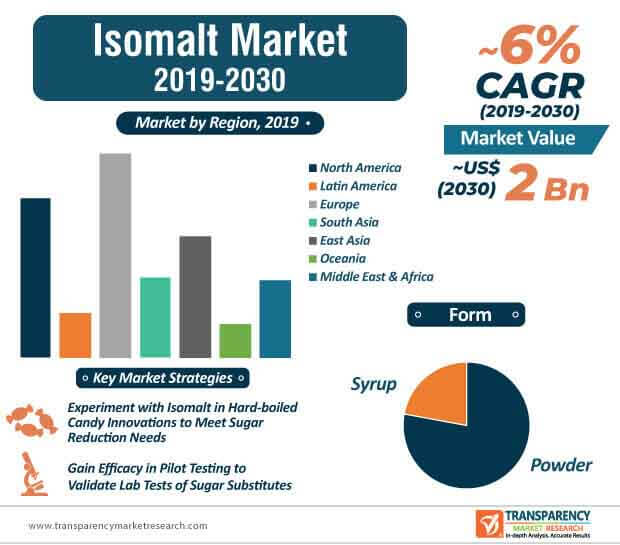 Request a sample to get extensive insights into the Isomaltulose Market
Research and Development Activities Advocate Isomaltulose as Weight Loss Agent
Over the past decade, research and development activities within the sports nutrition and science space have increased at a rapid pace. At present, there is growing evidence supporting the claims that isomaltulose aids in weight loss. According to BENEO, a tier-1 company operating in the isomaltulose market, a recent study has revealed that isomaltulose aids in loss of body weight and overall fat mass. As more number of scientific studies continues to support the claim, isomaltulose is increasingly being used in the powdered form in an array of foods, including cereal bars, cereals, baked products, frozen desserts, dairy products, and beverages.
To understand how our report can bring difference to your business strategy, Ask for a brochure
In addition, several industry experts are of the opinion that as isomaltulose provides the same quantity of carbohydrate energy as sucrose, along with an exceptional glucose-fructose binding, it has emerged as an ideal substitute to sucrose. Besides, isomaltulose is primarily derived from natural sugar beet, which makes it an appealing sweetener alternative for health-conscious and modern-day consumers who are increasingly opting for natural and clean label food products.
Isomaltulose – Gaining Popularity among Athletes and Video Gamers
As research and development activities offer evidence regarding the potential benefits of consuming isomaltulose, a significant number of individuals within the sports fraternity are making the switch to sports and active nutrition products that contain isomaltulose as it enables athletes to attain their fitness goals and also offers a higher rate of fat-oxidation during endurance training. Moreover, as per the research conducted at the Oxford Brookes University's Functional Food Center, isomaltulose offers immense promise in improving metabolism and aids the process of fat burning. In the past couple of years, market participants have identified the gaming community as a potential consumer. An array of energy drink companies are including isomaltulose in their beverages, as it aids the concentration of gamers or esports athletes.
Several energy drink brands are leaning toward effective marketing and branding strategies to promote their products and raise awareness among consumers. For instance, Danish energy drink company, State, with the help of top athletes and sports ambassadors such as Caroline Wozniacki, Kevin Magnussen, and Christian Eriksen are raising awareness regarding the importance of stable blood glucose, while simultaneously promoting their own brand. These marketing campaigns are expected to play an imperative role in influencing the expansion of the global isomaltulose market.
COVID-19: Offline Sales Likely to Take a Hit, Brands to Focus on Boosting Sales via Online Platforms
The onset of the novel COVID-19 pandemic has clipped the wings of several industrial companies. Lockdowns, trade restrictions, and self-isolation measures enforced by governments across the world are likely to affect the offline sales of sports nutrition products, which are tipped to directly impact the growth of the isomaltulose market. However, market players should focus on boosting sales via online platforms and at the same time, focus on diversifying their product portfolio in tune with current consumer demands. As consumers are likely to find different ways to maintain a healthier lifestyle, the demand for sports nutrition wherein isomaltulose is increasingly being used is likely to grow at a moderate pace.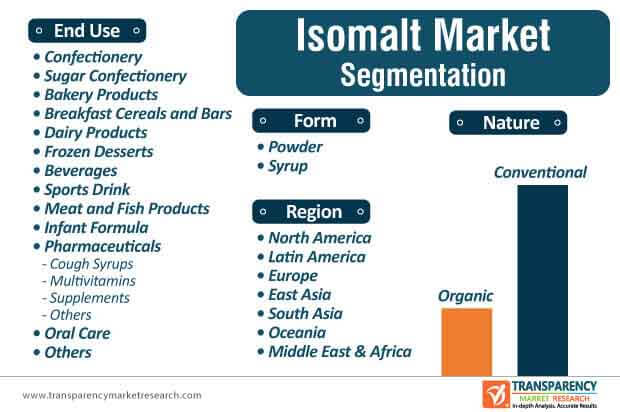 Stuck in a neck-to-neck competition with other brands? Request a custom report on Isomaltulose Market
Analysts' Viewpoint
The global isomaltulose market is expected to expand at a moderate CAGR of ~5% during the forecast period. The surge in the number of health-conscious consumers, increasing awareness regarding the benefits of isomaltulose, desirable sugar level, and low glycemic index are some of the leading factors that will augment the global market. As government authorities around the world continue to give the green signal to products that contain isomaltulose, consistent growth of the isomaltulose market is projected during the forecast period.
Isomaltulose Market: Overview
The global isomaltulose market is estimated to be ~US$ 711.1 Mn in 2020, finds Transparency Market Research (TMR) in a recent study. According to the report, the market is expected to reach ~US$ 1 Bn by 2030, at a CAGR of ~5%.
The isomaltulose market is expected to be a lucrative business due to the growing demand from different end-use industries. With consumers looking for alternatives such as plant-based foods, the isomaltulose market is expected to gain traction. Furthermore, the expansion of vegan population will augur well for the market.
Chief factors that make consumers opt for isomaltulose are increasing concerns about the effects of isomaltulose on human health and growing consciousness toward general well-being. The consumption of isomaltulose products may offer diabetic patients benefits commonly associated with the consumption of sugar substitute, as it reduces blood triglyceride levels. The growing fitness trend among customers is driving market players to include nutritious sports products in their product portfolio. Consequently, isomaltulose producers are expected to witness significant opportunities, if they introduce healthy drinks using isomaltulose as a key ingredient in the consumer-driven market.
Isomaltulose: Market Frontrunners
Food and pharmaceuticals are the main segments by grade, with food accounting for around 93.7% of the market in terms of value in 2020
Ingredients is the leading end-use segment in the global market for isomaltulose. Beverages and confectionery goods follows as the second-leading segment. These segments represented 19.6% of the industry, and 14.6% of the value-based industry in 2020, respectively.
Europe leads the global market with a share of approximately ~27.9%, followed by North America and East Asia. These regions hold a share of 21.9% and ~18.9%, respectively, in the market.
Isomaltulose Market: Trends
Increasing popularity of low calorie sweeteners
In today's world, where people are more concerned about their health and fitness, consumers are attracted towards products that contain less amount of calories. At the back of this factor, there is increase in consumption of sweeteners containing less calories, which creates a positive outlook for players in the isomaltulose market.
Consumers adopting sports nutrition
In sport nutrients, low glycemic index carbs help to increase body's fat oxidation potential and also manage fuel for endurance. Isomaltulose provides advantages to those participating in physical activities to help the approaches for weight control. Isomaltulose also provides ample carbs with fewer variability for high intensity endurance efficiency, higher rates of fat burning, no gastrointestinal discomfort, and protects against hypoglycemia throughout exercise. Some athletes favor nutritious isomaltulose beverages to reduce fatigue, while improving efficiency rather than caffeine. This allows the sports industry to create greater demand for isomaltulose.
Isomaltulose Market: Strategies
Key players in the global isomaltulose market are introducing various isomaltulose-based products via e-Commerce/online retailing, and are also offering concessions on products to expand their online business
Product releases and main innovations: Manufacturers have started to sell products that enhance digestive health and help boost diabetes disease.

In 2019, with its functional carbohydrate and Palatinose™, BENEO showed the first toffees. It removes over 30 percent of high glycaemic sugars in a typical toffee recipe, promoting a lower response to blood glucose. The growing global emphasis on healthy eating means a rising number of customers are opting for guilt-free indulgence. BENEO's new product idea was designed to provide customers with a safer and healthier alternative to toffee.
Target Region for Isomaltulose Market
As of 2020, Europe has the leading market share, in terms of value, and during the forecast period, it is projected to continue to dominate. Following Europe, East Asia holds the largest share of the global market in the coming years in second place.
Isomaltulose Market: Players
Some of the key manufacturers operating in the isomaltulose market, as profiled in the study, are,

Now Food
BENEO GmbH
Merck KGaA
Cargill Inc.
ErgoNutrition™,
Isomaltulose Market – Scope of the Report
Transparency Market Research (TMR) has recently published a market study on the isomaltulose market. It provides a detailed assessment of key market dynamics, including the drivers, trends, opportunities & restraints, and detailed information about the isomaltulose market structure. The market study presents exclusive information about how the isomaltulose market will grow during the forecast period of 2020-2030.
Key indicators of market growth, which include year-on-year (Y-o-Y) growth of the market, value chain, supply chain analysis, and compounded annual growth rate (CAGR) are elaborated in the study in a comprehensive manner. This information is intended to help readers understand the quantitative growth prospects of the isomaltulose market during the forecast period.
The study is intended to offer a holistic market overview to stakeholders in the isomaltulose, including manufacturers, suppliers, distributors, and investors, and to help them develop winning growth strategies. Stakeholders in the isomaltulose market, which include investors, industry experts, researchers, and journalists, and business researchers, can leverage the information and data presented in TMR's study.
The study also includes statistics and facts related to the macro as well as microeconomic factors that are impacting the expansion of the market. It also offers actionable insights into the future trends in the isomaltulose market. Furthermore, small businesses and new entrants in the isomaltulose market can make use of the information presented in this study based on which, they can make appropriate business decisions in order to gain momentum in the market.
Key Questions Answered in TMR's Isomaltulose Market Report
Which region will continue to remain the most profitable regional market for isomaltulose market players?
Which factors will induce a change in the demand for isomaltulose during the assessment period?
How will the changing trends impact the isomaltulose market?
How can market players capitalize on the low-hanging opportunities in the isomaltulose market in developed regions?
Which companies are leading the isomaltulose market?
What are the winning strategies of stakeholders in the isomaltulose market to catapult their position in the forefront?
Isomaltulose Market: Research Methodology
In TMR's study, a unique research methodology is used to conduct extensive research on the growth of the isomaltulose market and identify future growth parameters. This research methodology is a combination of primary and secondary research, to help analysts ensure the accuracy and reliability of the conclusions.
Secondary resources referred to by analysts for compiling the isomaltulose market study include statistics from governmental organizations, trade journals, white papers, and internal and external proprietary databases. Analysts have interviewed senior managers, product portfolio managers, CEOs, VPs, marketing/product managers, and market intelligence managers, who contributed to the development of this report as a primary resource.
Information acquired from primary resources and secondary resources is compiled in a comprehensive manner. This also acts as a validation from companies in the isomaltulose market, which makes TMR's projections more accurate and reliable.
Isomaltulose Market – Segmentation
TMR's study on the isomaltulose market offers information divided into important segments— grade, end use, and region. This report offers comprehensive data and information about the important market dynamics and growth parameters associated with these categories.
Grade

End Use

Confectionery

Chewing Gums
Hard Candies
Soft Candies
Gummies & Jellies
Chocolates

Bakery Products
Breakfast Cereals
Dairy Products
Frozen Desserts
Beverages

Fruit Juice Beverages
Malt Beverages
Powder-based Drinks
Carbonated Beverages

Flouridated Salt
Table Top/Spoon-for-spoon Sweeteners
Supplements & OTC Medicine
Ingredients
Polyols

Intense Sweeteners
Non-cariogenic Sweetener

Others

Region

North America
Latin America
Europe
East Asia
South Asia
Oceania
Middle East & Africa
Custom Market Research Services
TMR offers custom market research services that help clients to get information on their business scenario required where syndicated solutions are not enough.
REQUEST CUSTOMIZATION