Isobutanol Market
Isobutanol Market (Type - Synthetic Isobutanol and Bio-based Isobutanol; End Use Industry - Paints and Coatings, Oil and Gas, Pharmaceuticals, Chemicals, and Textiles) - Global Industry Analysis, Size, Share, Growth, Trends, and Forecast, 2017 - 2025
Category :

Chemicals & Materials

Format :
Global Isobutanol Market: Snapshot
Isobutanol is a primary alcohol and an organic compound with a molecular formula of (CH3)2CHCH2OH. It is a colourless, flammable liquid used predominantly as solvent and chemical intermediate to manufacture wide range of chemical formulations. Although it has limited miscibility in water, it is easily soluble in a wide range of regular solvents such as ketones, alcohols, ether, gycols, aromatic hydrocarbons, and aldehydes. Isobutanol also performs a number of functionalities, including playing the role of extractant, additive, humectant, dehydrating agent, and starting material.
The global market for isobutanol has witnessed a steady pace of expansion in the past few years owing to high demand from a number of industries. The market continues to expand at a steady pace and is expected to exhibit a healthy CAGR of 5.2% over the period between 2017 and 2025.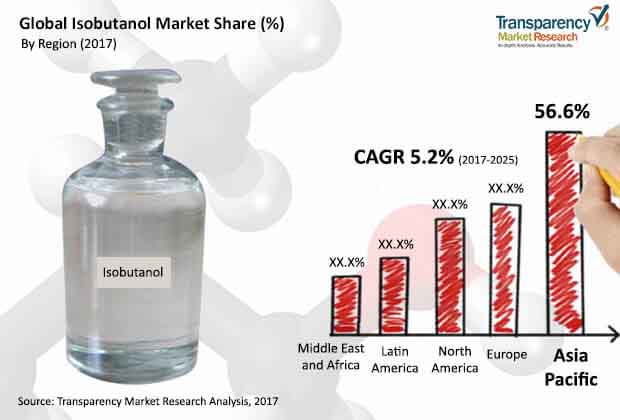 Increased Demand for Bio-based Products to Compel Isobutanol Manufacturers to Turn to Renewable Feedstock
On the basis of type, isobutanol is classified as synthetic isobutanol and bio-based isobutanol. Synthetic isobutanol is majorly produced by the carbonylation of propylene. The industry uses two methods to produced synthetic isobutanol namely - hydroformylation and Reppe carbonylation. Among these two hydroformylation is more common. However, due to environmental concerns, isobutanol manufacturers are shifting their focus on producing bio-based isobutanol, which is manufactured with the use of renewable feedstocks. Bio-based isobutanol is a cost effective alternative to isobutanol derived from fossil feedstock. Bio-based isobutanol serves as an excellent bio-based fuels which helps to lower carbon alternative. As a fuel, it can be blended with gasoline in higher concentration than ethanol without compromising compatibility and performance.
On the basis of end user segment isobutanol is segmented into paints and coatings, oil and gas, pharmaceuticals, chemicals, and textiles. Isobutanol in the form of colorless, oily liquid is used as an industrial solvent that can be used in paints and coatings. When used in paints, isobutanol contributes in reducing viscosity and removes the brush flow of the end product. Isobutanol also helps to reduce the formation of oil residue. The paints and coatings industry is likely to remain one of the key consumers of isobutanol in the next few years as demand for paints and coatings has substantially increased from the construction and automotive sectors.
North America to Emerge as Leading Regional Market for Isobutanol
Asia-Pacific is one of the prominent consumers of isobutanol in the global market and is likely to remain a key force over the report's forecast period as well. The isobutanol market in Asia-Pacific is anticipated to expand at a fast pace during the forecast period due to the steady expansion of the paints and coatings and chemicals industries in the region.
North America followed Asia Pacific in terms of consumption of isobutanol in 2016, with thriving demand for a variety of chemicals, bio-fuels, and paints and coatings from countries such U.S and Canada driving the market. Various small players that offer isobutanol operate in U.S.; hence, the market is fragmented in the region. North America is also key chemical producer, consuming high volumes of isobutanol across a number of applications in the industry. Therefore, the region is likely to be a leading market for isobutanol during the forecast period. The isobutanol market in Middle East and Africa and Latin America held meagre shares in 2016. The isobutanol market in these regions is estimated to anticipate expand at a sluggish pace during the forecast period.
Key players operating in the isobutanol market are The Dow Chemical Company, Mistsubishi Chemical Company, BASF SE, Eastman Chemical Company, Gevo, Grupa Azoty S.A., Saudi Butanol Company, Andra Petrochemicals Limited, Oxea GmbH.
Utilization of Biosynthesized Isobutanol to Boost the Growth of the Isobutanol Market
The isobutanol market will observe considerable growth on the back of the escalating demand for biosynthesized isobutanol among a considerable populace. The heightening demand for isobutanol across the oil and gas industry may also serve as a prominent growth opportunity.
Isobutanol is a colorless and flammable liquid with a typical smell. This chemical is used vitally as a chemical intermediate and solvent. The derivatives of isobutanol are used largely across the chemical industry. These chemicals are also used in coatings and lacquer production. Thus, these functionalities ignite growth across the isobutanol market.
The booming construction sector and the magnifying oil and gas industry will bring enormous growth opportunities. The demand for isobutanol in antibiotics, camphor, and vitamins in tandem with the advancements in the healthcare and medical sector will bring great growth opportunities for the isobutanol market.
The growing influence of bio-based isobutanol across a large number of sectors and industries will bring tremendous growth opportunities. The emergence of bio-based isobutanol as a feasible alternative to gasoline will further strengthen the growth prospects. A rise in the research and development activities by various players to create novel growth-strengthening formulations will help in increasing the revenues.
The SARS-CoV-2 pandemic has negatively affected the growth projections of several businesses and sectors around the world. The isobutanol market is no exception. The rising threat of virus transmission forced many countries to enforce stringent lockdowns. These restrictions led to the shutting down of manufacturing facilities and production units. This aspect led to immense losses.
All the aforementioned factors ruined the growth prospects to a certain extent. The relaxations introduced by various countries to bring the economy on track will prove to be a golden opportunity for the players in the isobutanol market. The mass vaccination drives across numerous countries will bring more relief to the players in the isobutanol market.
Global Isobutanol Market: Overview
Isobutanol is a bulk chemical used in many industrial applications such as paints & coatings, oil & gas, chemicals, textiles, pharmaceuticals etc. Isobutanol can be defined as a colourless flammable liquid with a characteristic smell which is mostly used as a solvent and chemical intermediate. Isobutanol is produced by the carbonylation of propylene. Many isobutanol derivatives are used in the chemical industry. Isobutyl acetate is one of the majorly used for the production of lacquers and coatings. Isobutyl esters is the other majorly used derivatives used as a plasticizer agents in plastics, rubbers and others dispersions. Isobutanol can also be dehydrated to produce butenes. Butenes plays an important role in the production of materials such as lubricants, synthetic rubber etc.
Global Isobutanol Market: Scope of the Report
The report estimates and forecasts the isobutanol market on the global, regional, and country levels. The study provides forecast between 2017 and 2025 based on volume (Tons) and revenue (US$ Mn) with 2016 as the base year. The report comprises an exhaustive value chain analysis for each of the type and end-user industry segments. It provides a comprehensive view of the market. Value chain analysis also offers detailed information about value addition at each stage. The study includes drivers and restraints for the isobutanol market along with their impact on demand during the forecast period. The study also provides key market indicators affecting the growth of the market. The report analyzes opportunities in the isobutanol market on the global and regional level. Drivers, restraints, and opportunities mentioned in the report are justified through quantitative and qualitative data. These have been verified through primary and secondary resources.
The report includes Porter's Five Forces Model to determine the degree of competition in the isobutanol market. The report comprises a qualitative write-up on market attractiveness analysis, where in types, end user industry and countries have been analyzed based on attractiveness for each region. Growth rate, market size, raw material availability, profit margin, impact strength, technology, competition, and other factors (such as environmental and legal) have been evaluated in order to derive the general attractiveness of the market. The report comprises price trend analysis for isobutanol between 2017 and 2025.
Global Isobutanol Market: Segmentation
The study provides a comprehensive view of the isobutanol market by dividing it on the basis of type, end user industry and geography segments. The isobutanol market has been segmented into type – synthetic isobutanol and bio-based isobutanol and end user industry- paints & coatings, oil & gas, chemicals, textiles, pharmaceutical and others. The segments have been analyzed based on historic, present, and future trends.
Regional segmentation includes the current and forecast demand for isobutanol in North America, Europe, Asia Pacific, Latin America, and Middle East & Africa (Middle East & Africa). Additionally, the report comprises country-level analysis in terms of volume and revenue for application segments. Key countries such as the U.S., Canada, Germany, France, the U.K., Spain, Italy, India, China, Japan, ASEAN, Mexico, and Brazil, GCC, South Africa have been included in the study. Market segmentation includes demand for individual applications in all the regions and countries.
Global Isobutanol Market: Research Methodology
Secondary research sources that were typically referred to include, but were not limited to company websites, financial reports, annual reports, investor presentations, broker reports, and SEC filings. Other sources such as statistical databases and market reports, news articles, national government documents, and webcasts specific to companies operating in the market have also been referred for the report.
In-depth interviews and discussions with a wide range of key opinion leaders and industry participants were conducted to compile this research report. Primary research represents the bulk of research efforts, supplemented by extensive secondary research. Key players' product literature, annual reports, press releases, and relevant documents were reviewed for competitive analysis and market understanding. This helped in validating and strengthening secondary research findings. Primary research further helped in developing the analysis team's expertise and market understanding.
The report covers detailed competitive outlook that includes market share and profiles of key players operating in the global market. Key players profiled in the report includes The Dow Chemical Company, Mitsubishi Chemical Corporation, BASF SE, Eastman Chemical Company, Gevo, Grupa Azoty S.A., Saudi Butanol Company, Andra Petrochemical Limited, Oxea GmbH. Company profiles include attributes such as company overview, number of employees, brand overview, key competitors, business overview, business strategies, recent/key developments, acquisitions, and financial overview (wherever applicable).
The global Isobutanol market has been segmented as follows:
Type Analysis

Synthetic Isobutanol
Bio-based Isobutanol

End-User

Paints & Coatings

Automotive
Wood & Coatings
Others

Oil & Gas
Pharmaceuticals
Chemicals
Textiles
Others

Regional Analysis

North America
Latin America

Brazil
Mexico
Rest of Latin America

Europe

Germany
U.K.
France
Italy
Spain
Rest of Europe

Asia Pacific

China
India
Japan
ASEAN
Rest of Asia Pacific

Middle East & Africa

GCC
South Africa
Rest of Middle East & Africa
Custom Market Research Services
TMR offers custom market research services that help clients to get information on their business scenario required where syndicated solutions are not enough.
REQUEST CUSTOMIZATION